The lush coastal route that wraps around the south west of Australia, from Esperance to Perth, was quite simply - magic. It is also home to our favourite camp spot so far.
I'm writing this from Exmouth, so it's fair to say we've covered enough ground for this to be a big claim - get out your 'list of places to camp around Australia', you'll want to jot this one down.
We left Esperance begrudgingly. If you've read my last blog post you'll know how much we loved that pocket of Australia, but a rain storm was rolling our way and we knew if we timed it just right, we could drive through it, pop out the other side, and set up camp where the storm would have already been and gone. So that's exactly what we did.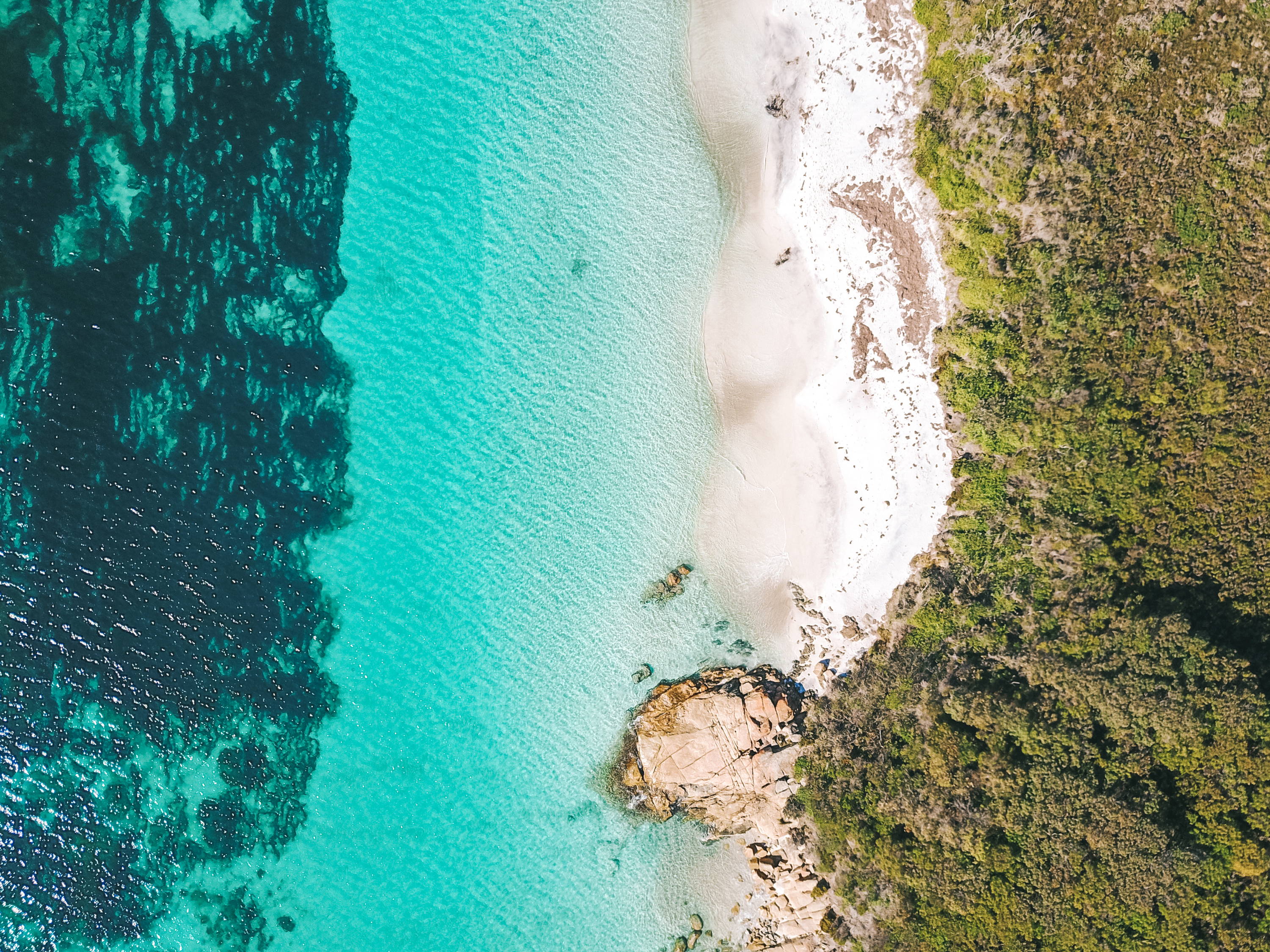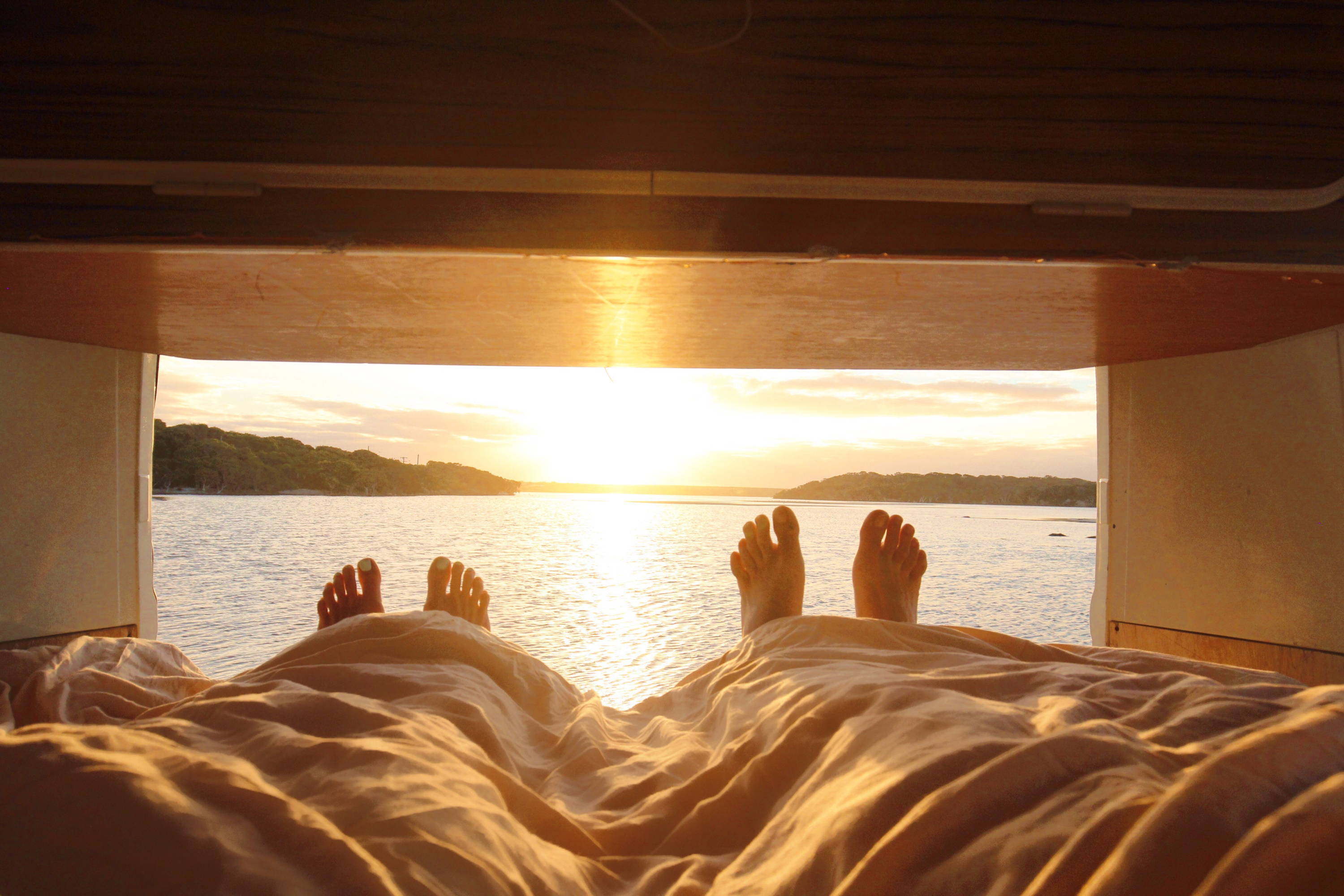 BREMER BAY
We arrived in Bremer Bay just as the sun started to shine again, and we high-fived each other for our good timing.
However, our drive through the rain wasn't without misery. We hit our first (and only so far) kangaroo. Having just spent time camping with a bunch of these friendly furry friends at Lucky Bay, we found it pretty upsetting. We had to call a ranger to come and put it down… and I'm sharing this because it does happen. It's Australia. The roo jumped out of nowhere, and then zigzagged straight into us. We couldn't have avoided it but we felt pretty terrible all the same.
 
Bremer Bay is a pretty, quiet little seaside town. We tried to pay for a shower at the caravan park, but we were informed that they "don't do that". They had us trapped, in need of a hot shower, and with nowhere else to go... so we spent the first night in the caravan park. Our second night we free camped by the rivermouth. It was serene, with a spectacular sunset and sunrise, however, FYI - there was a no-camping sign so... do so at your own risk.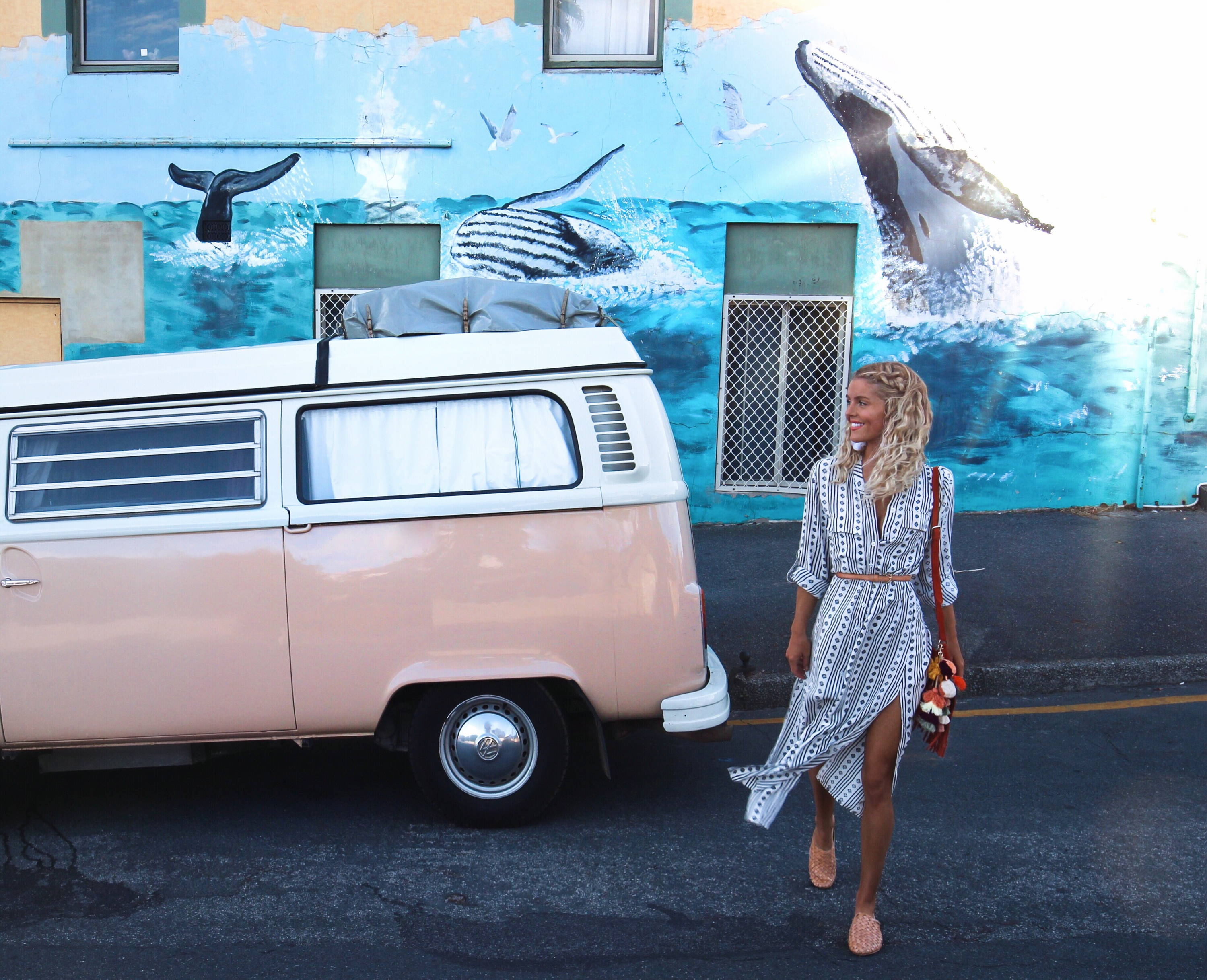 ALBANY

After doing a lap or two of the town (picking up supplies) we drove out to Vancouver Peninsula. On one side it looks back across the harbour towards Albany, and on the other looks straight out over the azure ocean. We camped out here for a few nights, in the spot pictured below. Yep, it was a carpark… but it was a really nice carpark guys. Again - probably not somewhere you're meant to set up camp, but good gravy we liked it here. Not a soul in sight, our own little turquoise bay, a picnic bench, a patch of grass, and a toilet (emphasis on that last one - this place kicked goals!).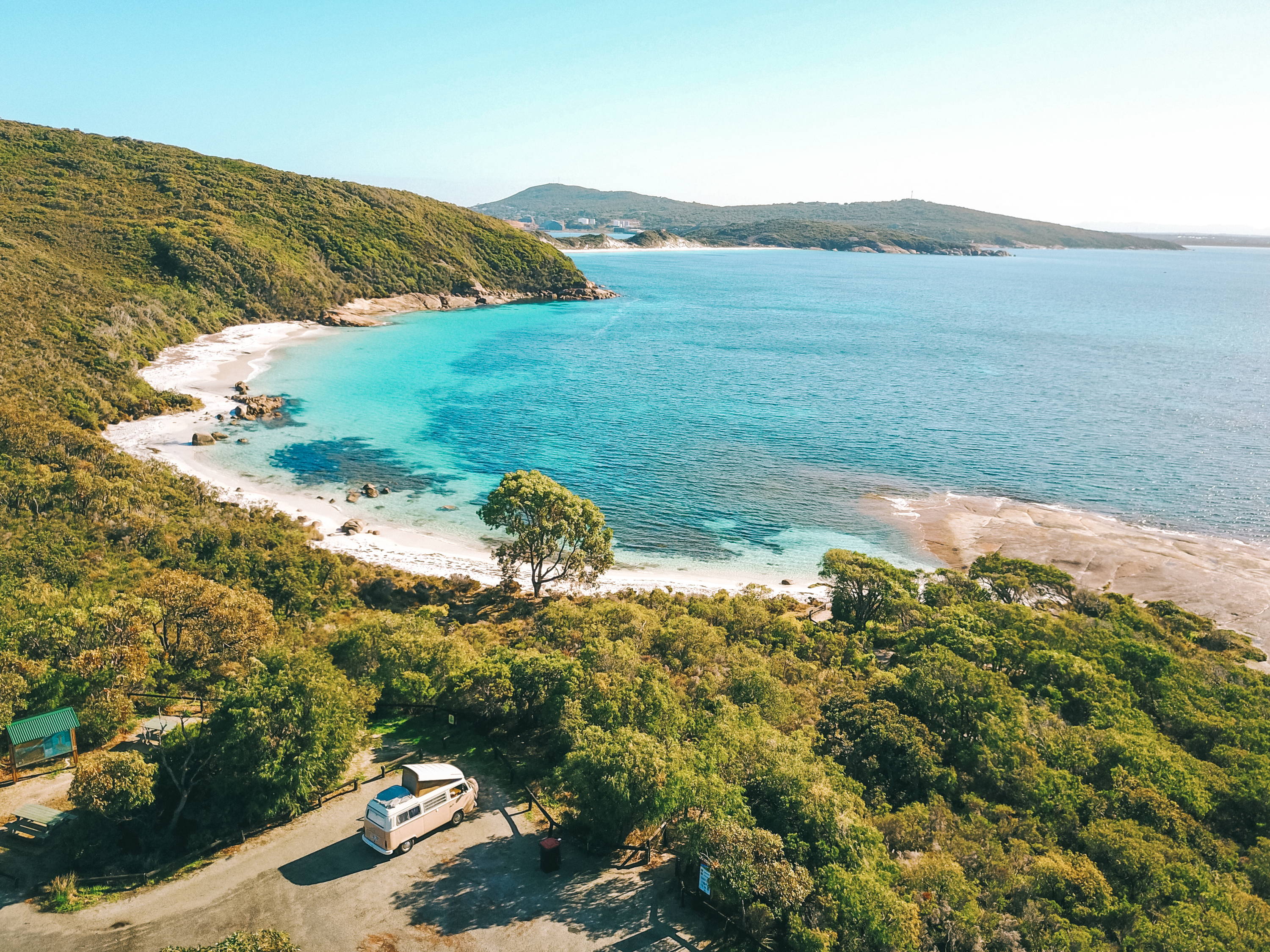 Before we left we swung back past Albany and stocked up on a week's worth of supplies, and took a shower at the swimming centre. Five dollars gets you a swim, a hot spa, and a hot shower... what more can you ask for?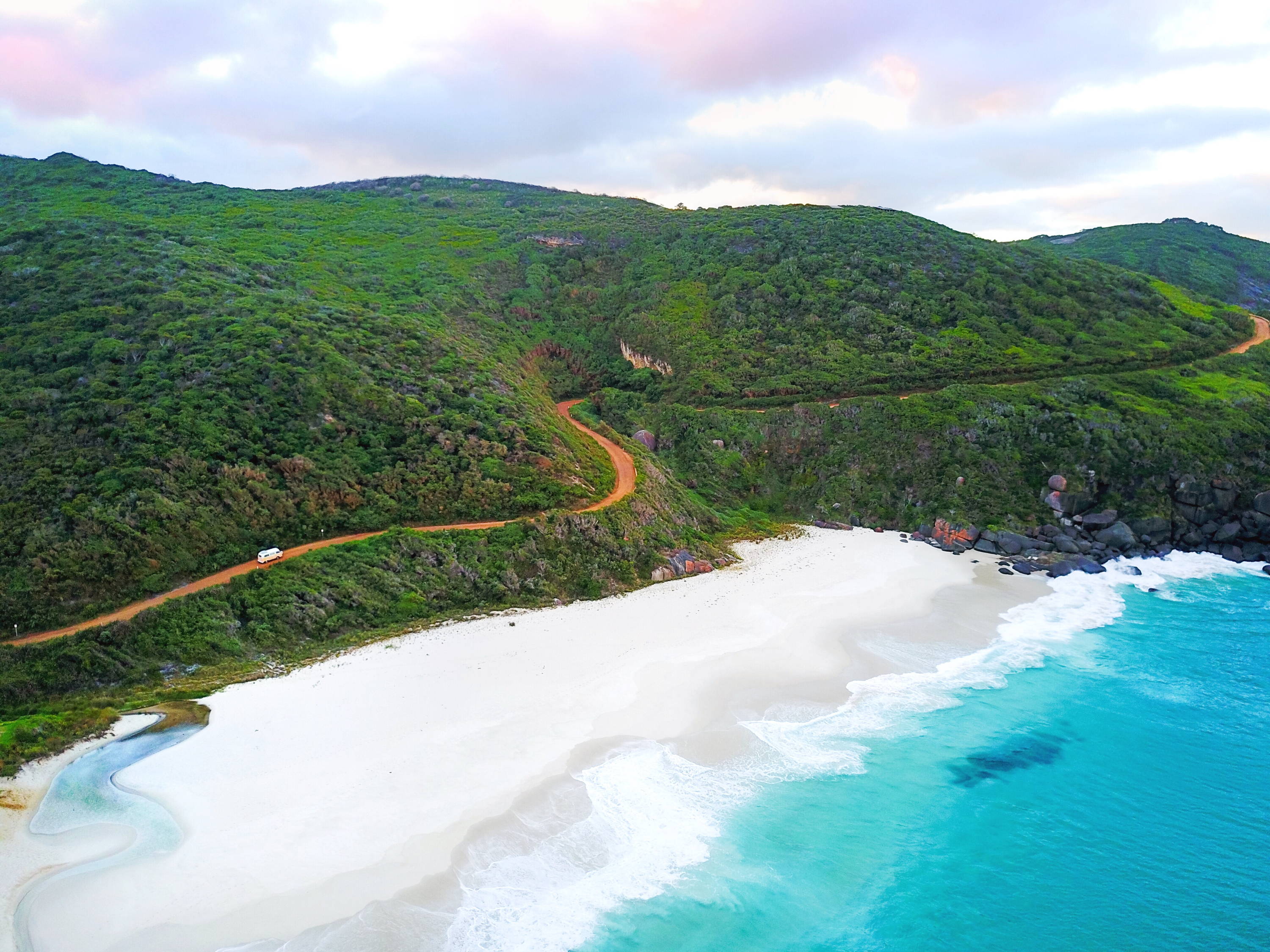 WEST CAPE NATIONAL PARK
Ok… now we're getting to the good stuff. We nearly drove past this national park, but a beautiful stranger sent me a message on Instagram with this tip - Shelly Beach. Our aforementioned favourite camping spot thus far.
We were fighting the clock for sunlight, and were worried about roos, but we slowly made our way along the dirt road that winds down to this little slice of heaven (pictured above). And here we spent a glorious week legally free camping. Yep, you read that right - no camping fees and stay as long as you please. Maybe I shouldn't have spilled the beans, we're hoping it will still be like this a few years from now when we hope to return.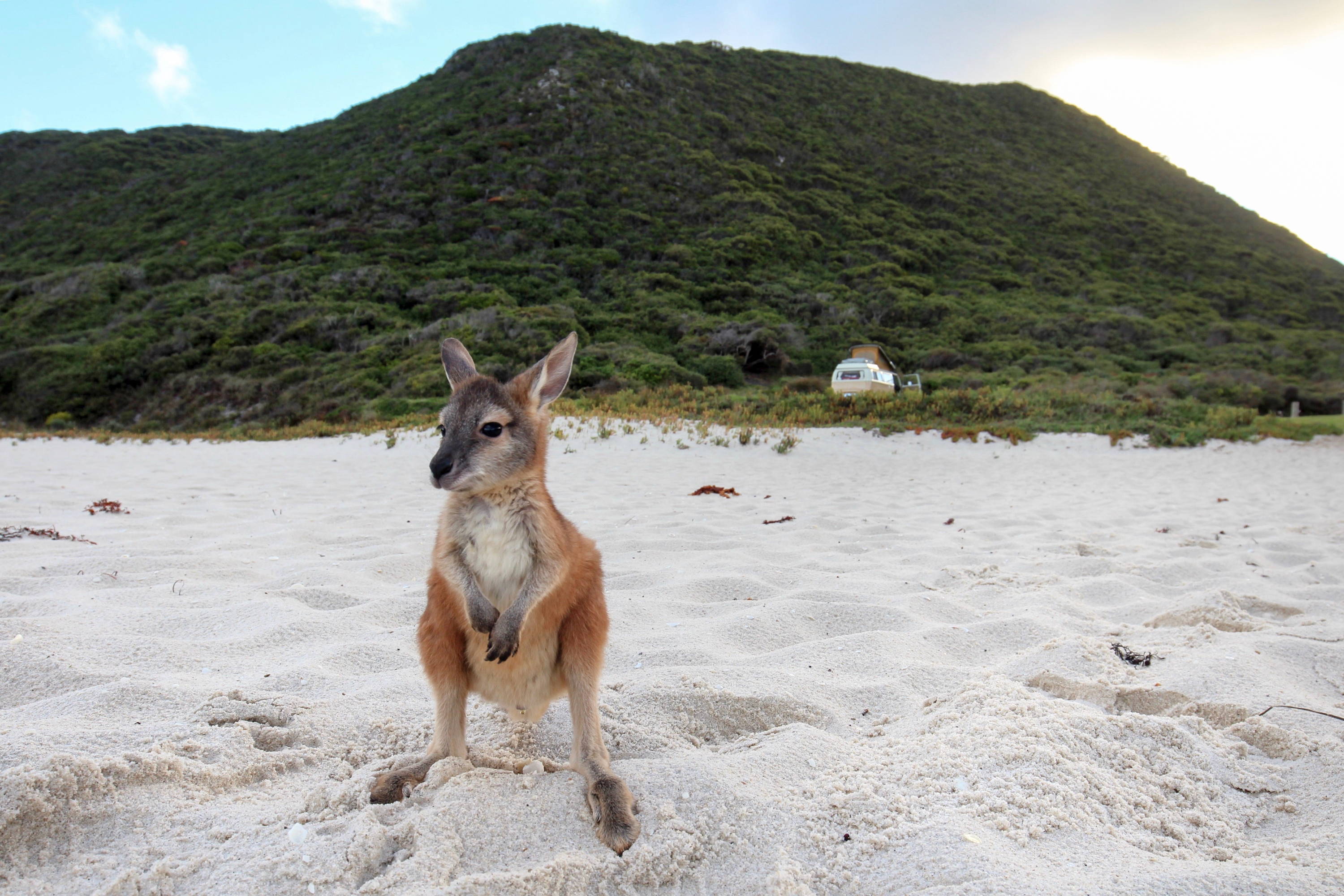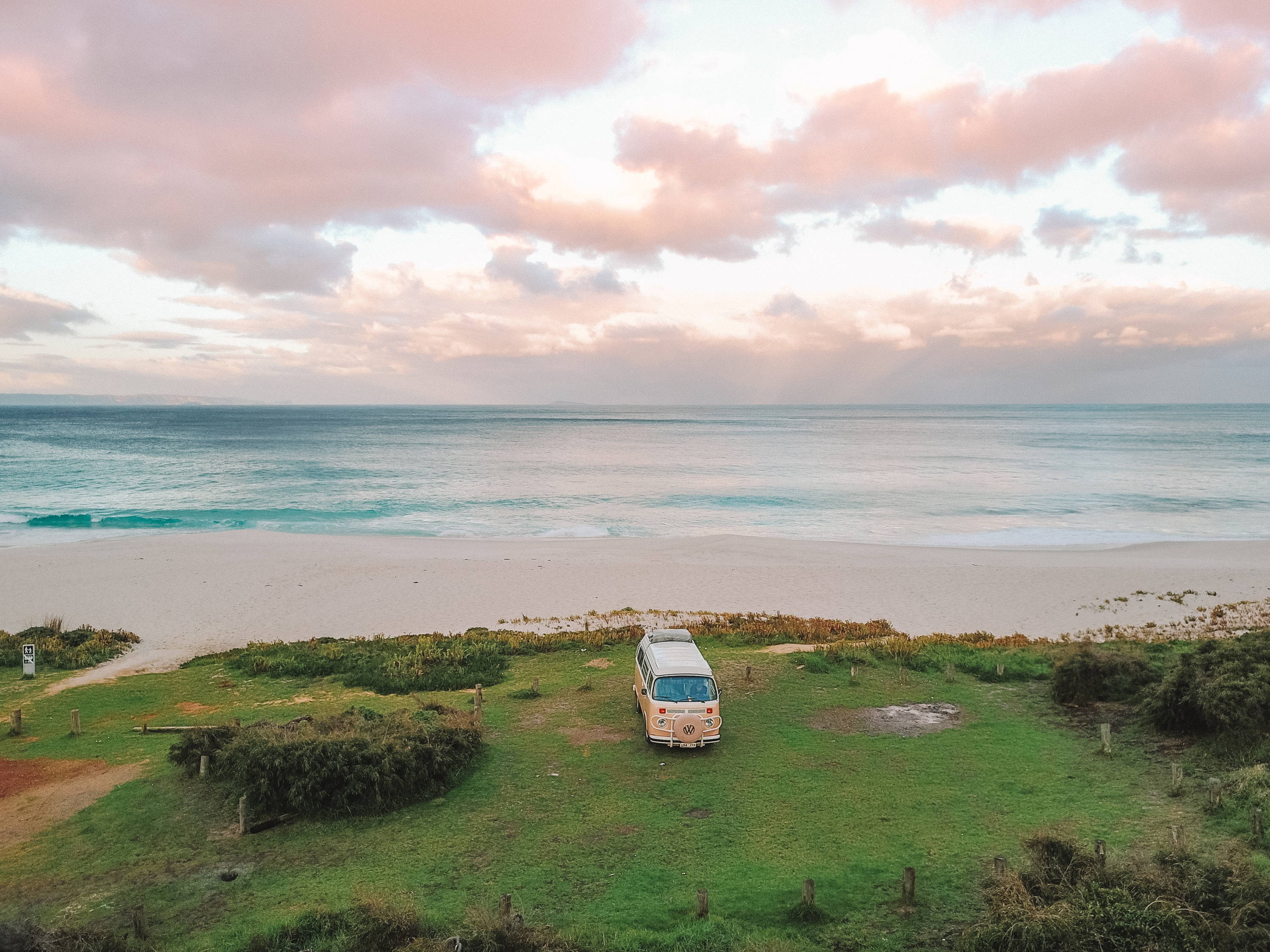 A quiet little grassy campground right on the beach, nestled between green mountains and looking straight out to turquoise water. There was even a very clean long drop toilet tucked back in the bushes.
It's the kind of place you can switch off; spend timeless days waking up with the sun, drinking coffee on the sand, running up and down the beach, jumping into the water with gratitude, sitting in silence, reading, talking, writing, thinking… enjoying the last golden glow of each day, and then waking up to do it all again.
Oh! And we met the cutest little joey hanging out on the sand out front :) Maybe it's our favourite because this was our experience, but I tell you what; I'm glad we brought enough supplies to last the week. Our diminishing necessities were the only reason we left. On day five a ranger rocked up and we got that, 'crap - are we about to get a fine?' feeling, just because we'd been there so long. But he walked over, said a friendly hello, asked if he could take any rubbish for us, and told us to enjoy the rest of our time. We smiled at each other and high-fived.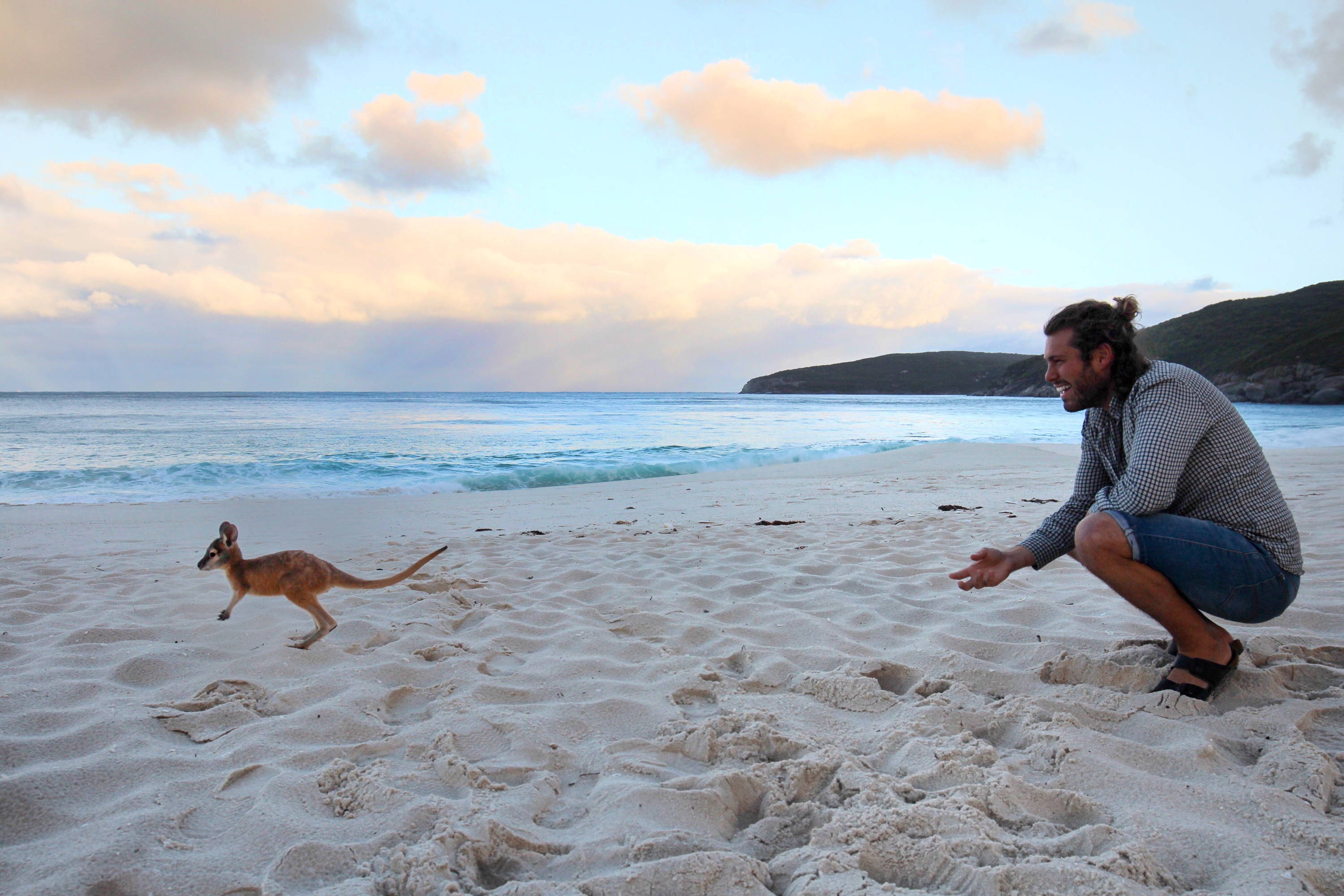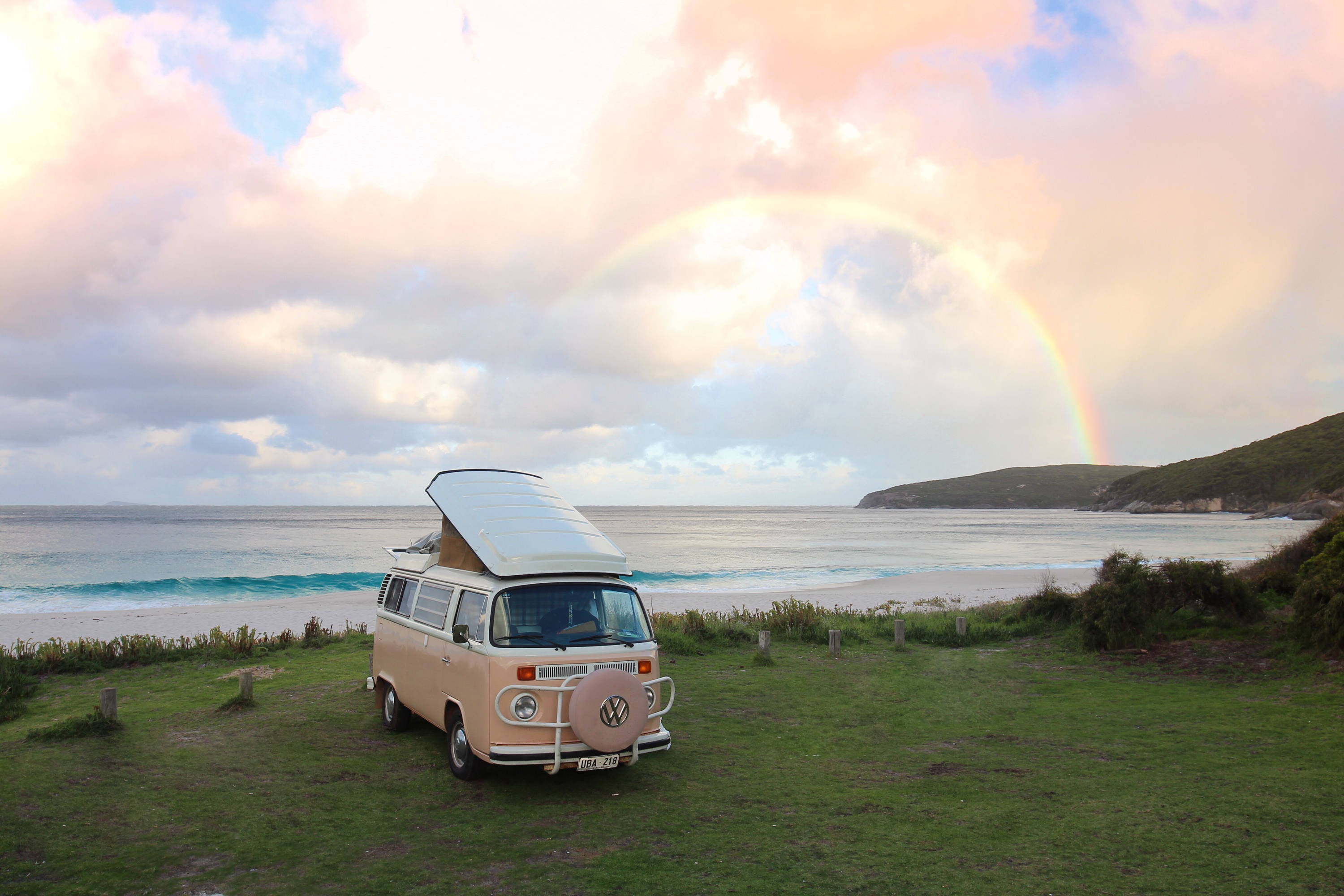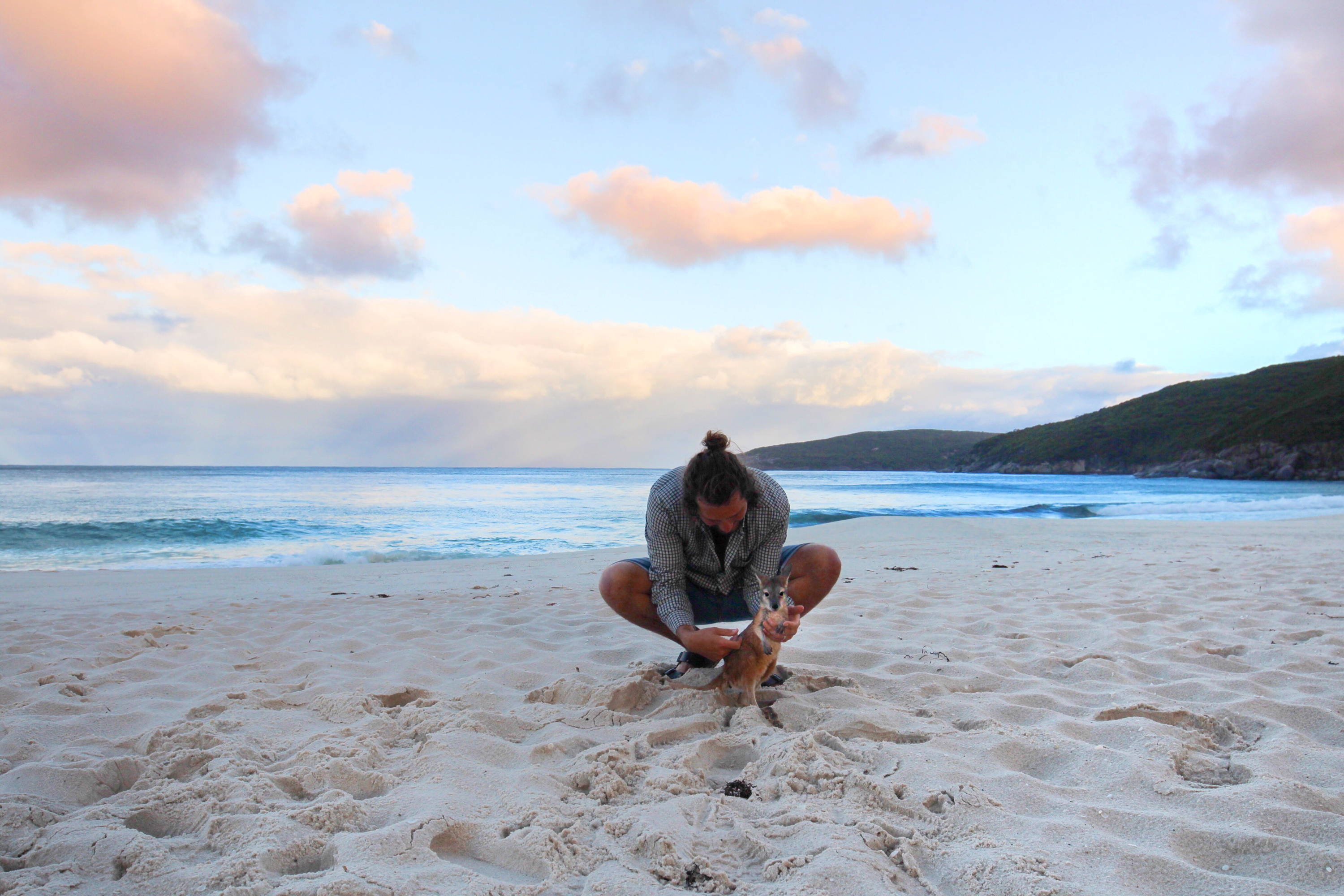 DENMARK
A place we will most definitely return to. A beautiful blend of lush green vegetation and bright blue coastline… apparently. It absolutely bucketed down the whole time we were there. This is when free camping with no toilet kinda sucks - because you have to get changed every time you need a wee because you get drenched. But hey, you take the good with the bad.
We can recommend some good coffee spots though: Lucious Coffee Bar - a lovely little organic coffee nook where we spent a day working and reading their awesome mag selection (some of the best magazines we'd never heard of before).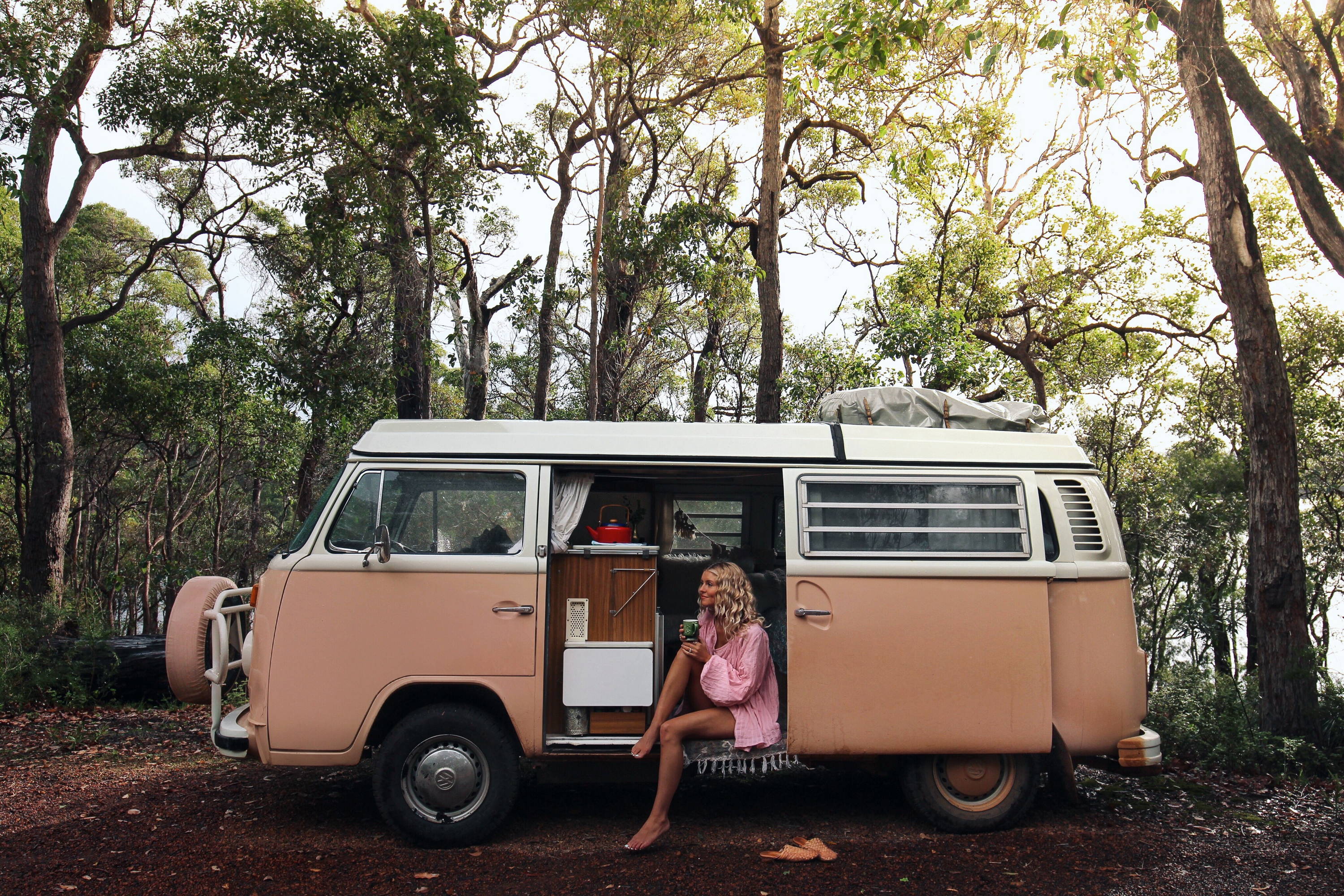 PEMBERTON
The drive along this stretch of WA, all the way up to Margaret River… I want to relive all over again. Everything is so ALIVE. Long stretches of road straight through tall green forests. Passing lakes, rivers, ocean, and vibrant fields. Windows down, sun shining again, music drifting from the speakers, smiling at each other thinking, 'We don't know where we're going and that's ok. We're going, we're free, and we're happy to be living.'
Truth is, that sensation comes about on most of our long drives, this was just a particularly pretty drive - especially remembering how alive and green it was (as I mentioned, I'm writing this from up north where, for the last few weeks, everything we've driven past has been sundrenched, dry and barren - which is it's own kind of beautiful.)
Because we arrived late we camped in the caravan park in Pemberton, and what a beautiful caravan park. We got a spot down by the creek, under brightly coloured trees and on a blanket of crimson and marigold fallen leaves. The amenities were a little old, but clean, and I would recommend this spot if you're passing through.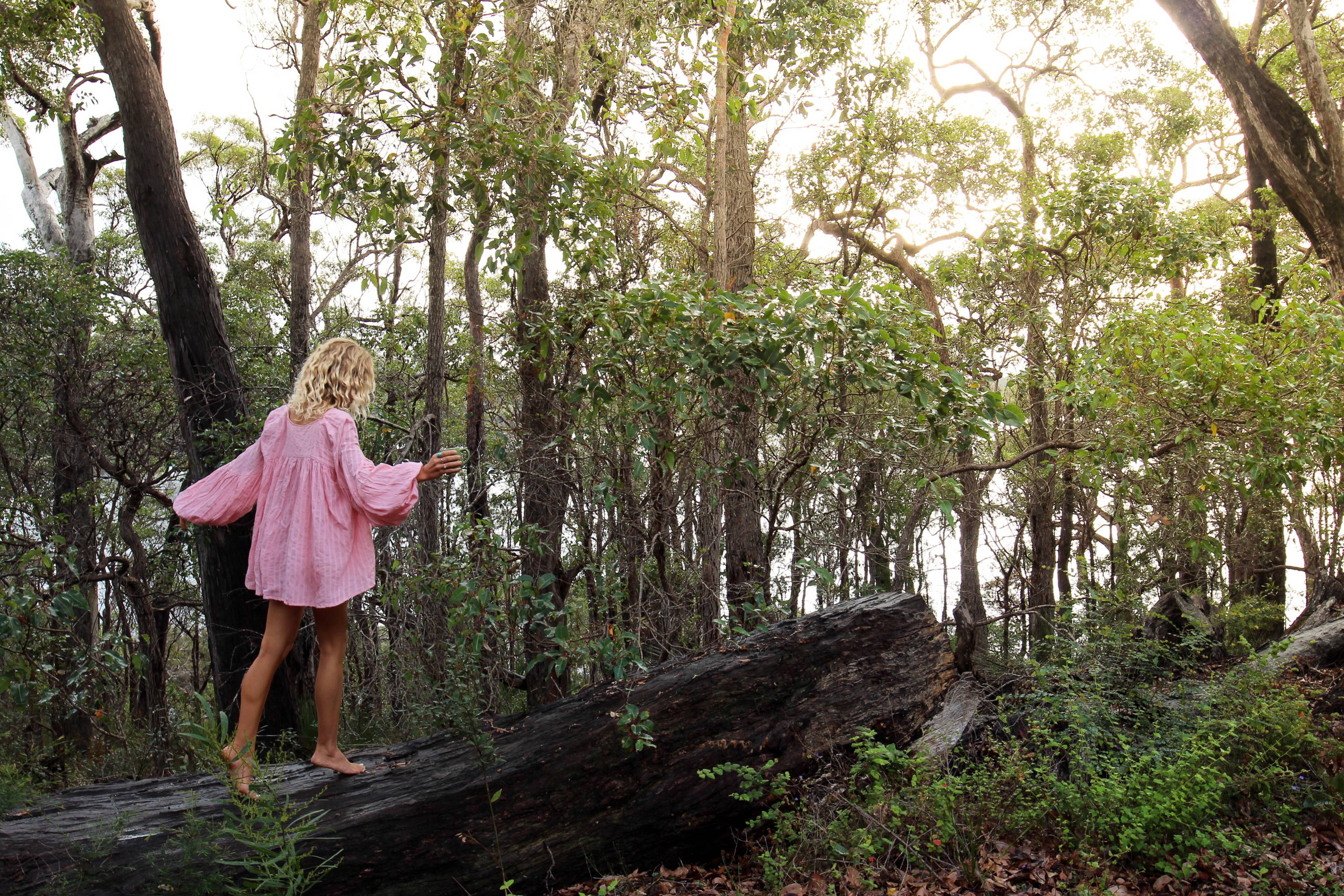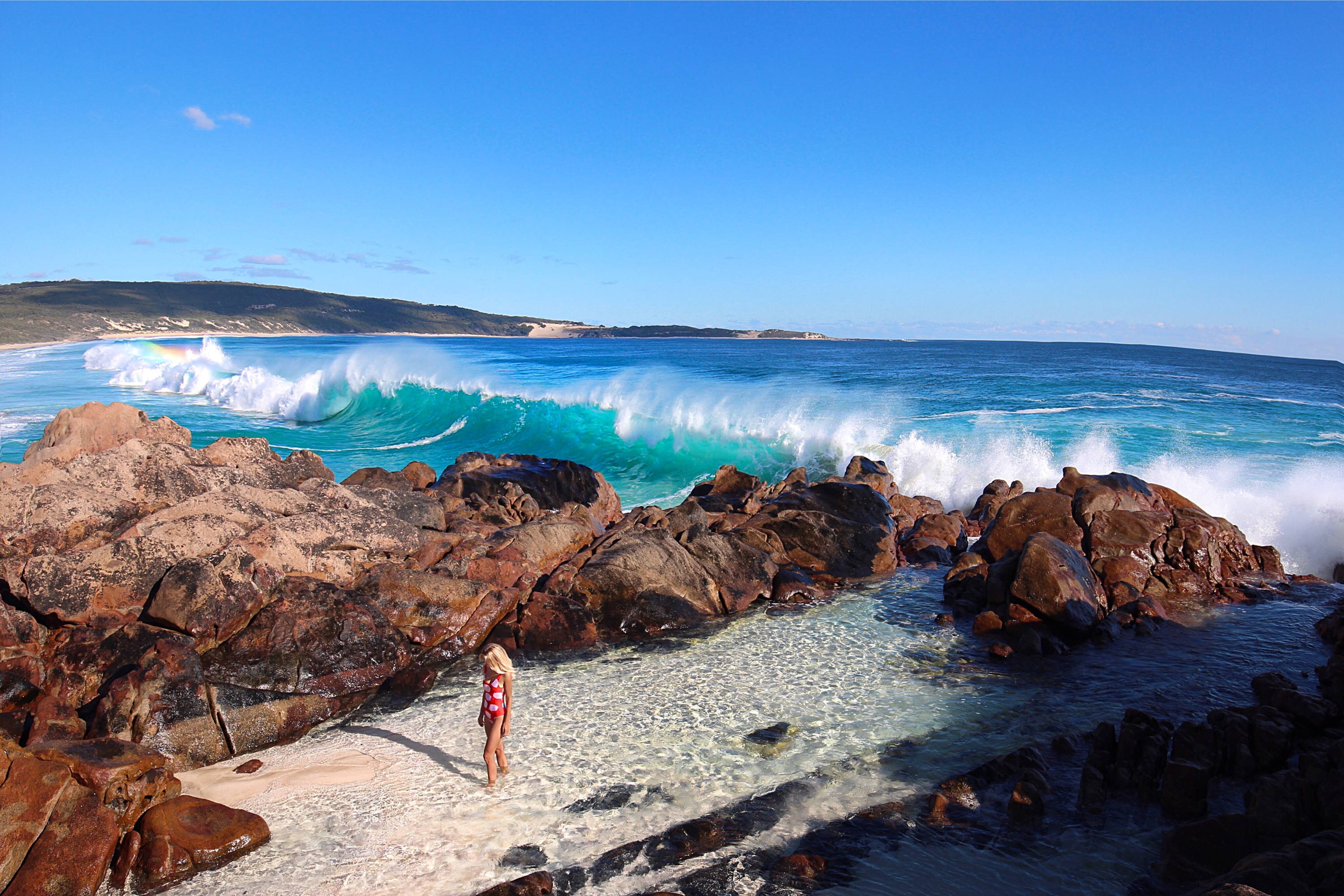 MARGARET RIVER
We did a lot of free camping and caravan park camping all over this region. We spent a few weeks here and there's almost too much to write, so I'll keep it short.
SPOTS:
Free camping:
We didn't find any legal free camping spots, so again… at your own risk, but this is where we stayed.
Cape Clairault Road - There are a few little bays off this road which is near Injidup (the beach / rock pool pictured above)  - and there's no 'no camping' signs which is rare, so it may or maynot be legal. But it is the most beautiful spot to watch the sun sink into the horizon (pictured below).

Carpark at Castle Rock - didn't get bothered, beautiful little bay and surrounded by bush and vegetation.

Gas Bay Road Carpark (near Prevelly). We didn't get bothered, and right on the beach.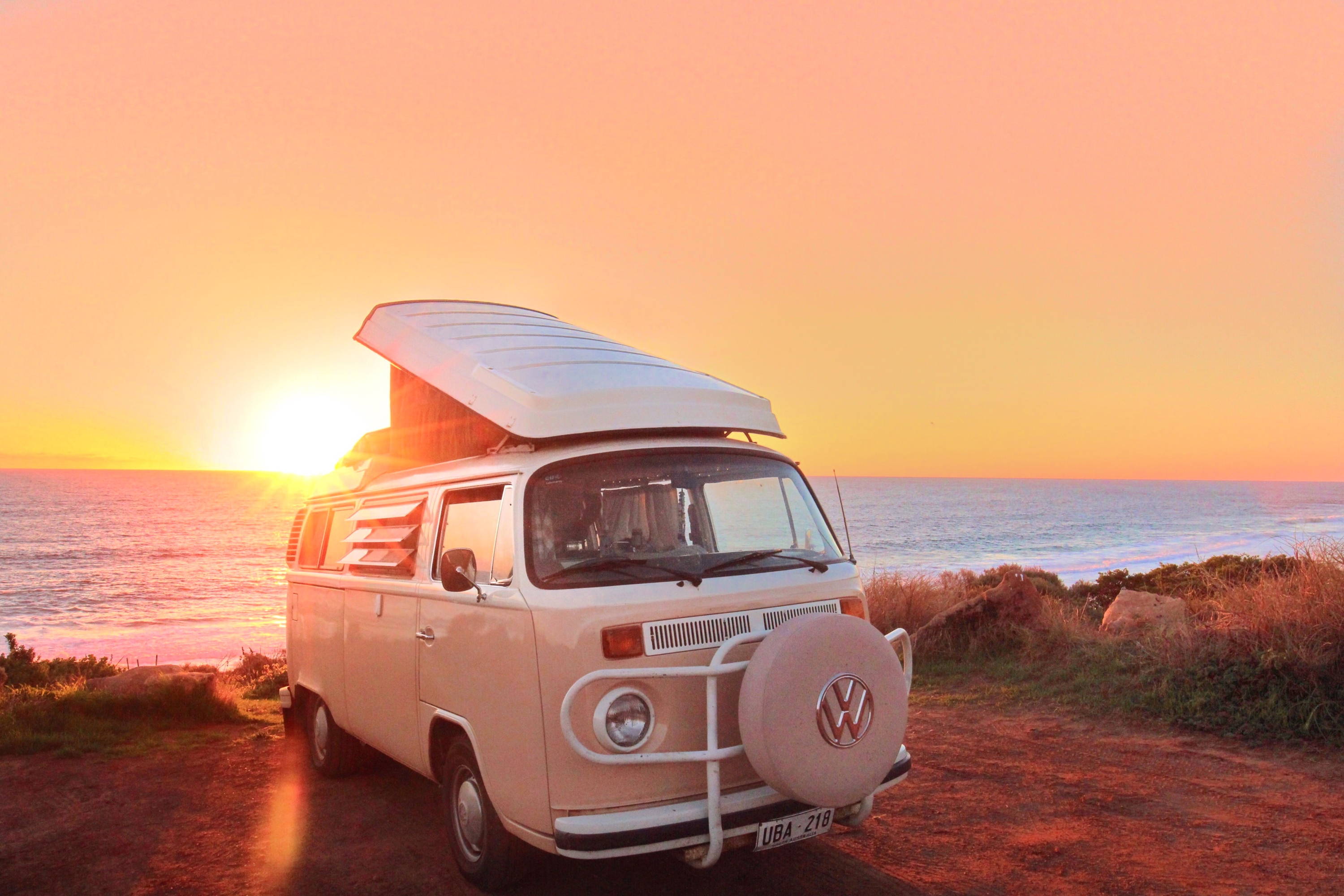 Caravan Parks:
Prevelly Caravan Park - a little run down, but grassy and in a good position (close to beach, great for the Cape to Cape run in the morning, and close to Margs town).

Dunsborough RAC Caravan Park - very well priced, well run, caravan park with new amenities.
A Little Lux Livin':
We were lucky enough to be invited to stay at this glorious little heaven for a couple of nights. My highlight? Having a bathtub. If there's one thing I do miss living in a van, it's running a bath.
This place has been so thoughtfully and beautifully designed. You can't help but feel calm and peace. Nestled amongst the bush and vineyards it's a quiet, very comfortable oasis. The breakfast spread in the morning was rather delightful, and the staff are incredibly welcoming and accommodating.
We both had an incredible massage at the spa, and floated back to our spacious suite, sat on the balcony and popped a bottle of bubbles to celebrate the fact that… we were here :)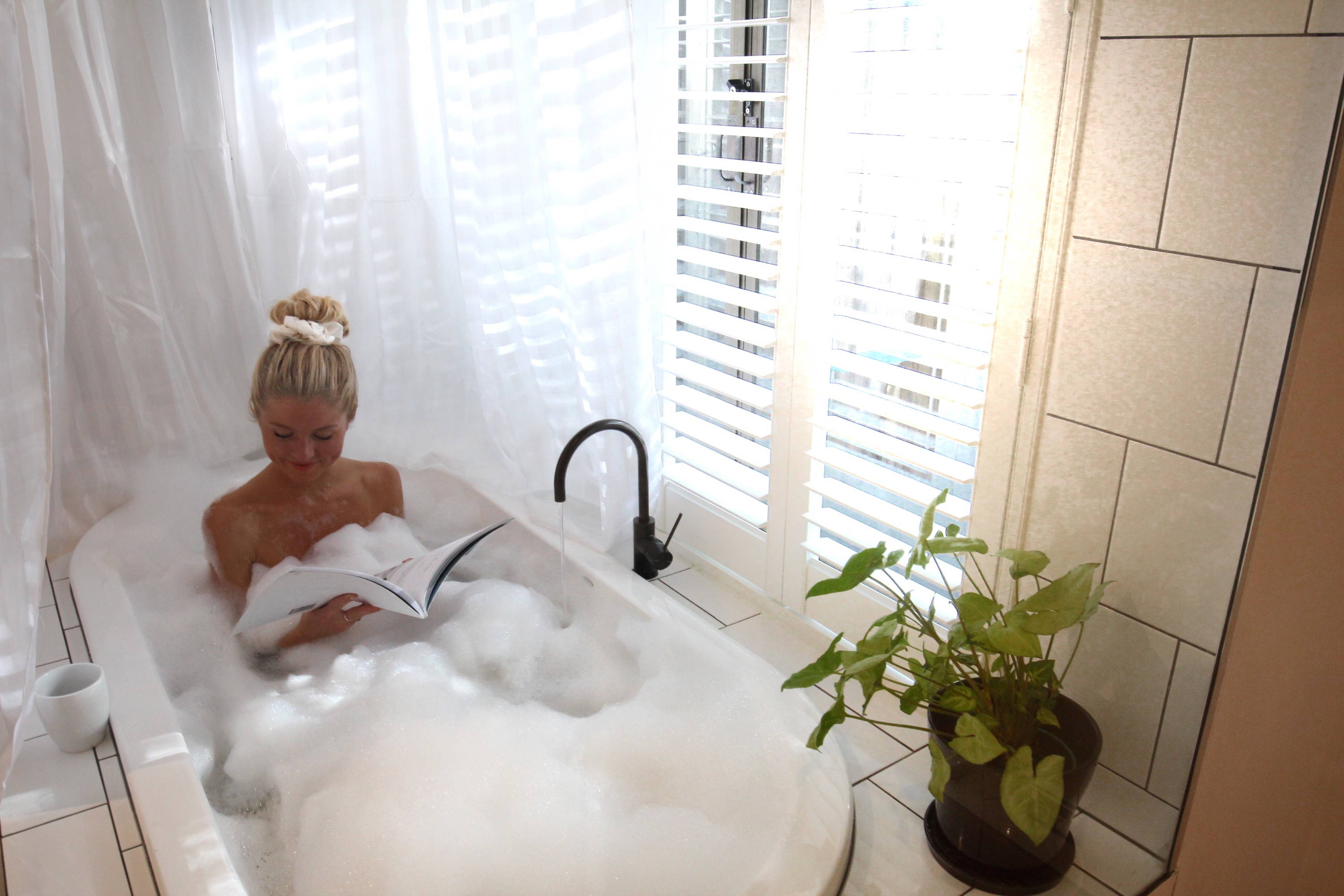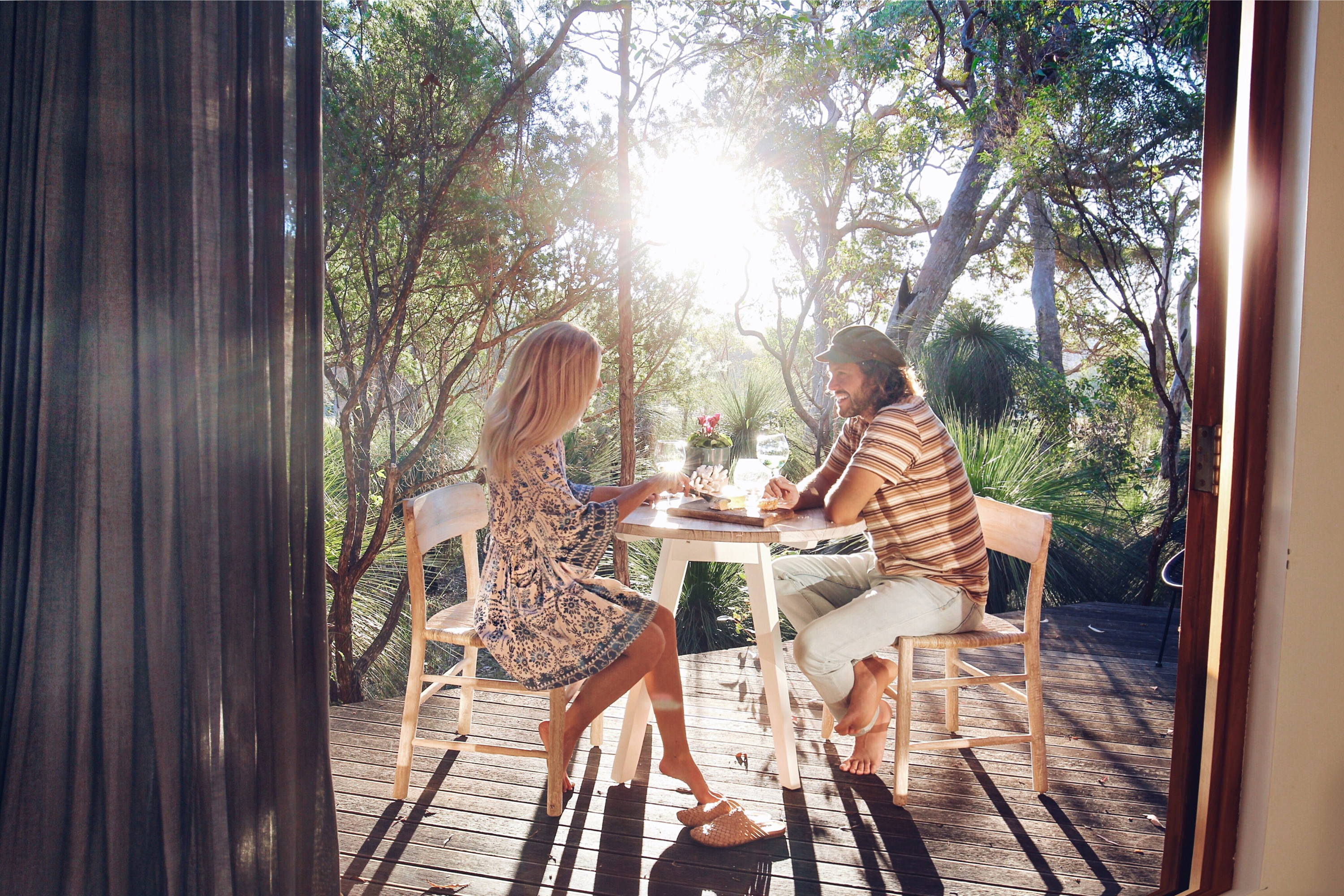 WINERIES:
We were very excited to both be exploring this wine region for the first time, and spent our two weeks visiting 2 or 3 cellar doors daily. There's a lot of big, grand estates to see and experience, but to be honest, we were a little underwhelmed with most of these. Wonderful to experience, and a decent drop to be tried at many, but for us they lacked a bit of soul. It was the smaller gems that we were drawn to.
Our top 4 picks to visit: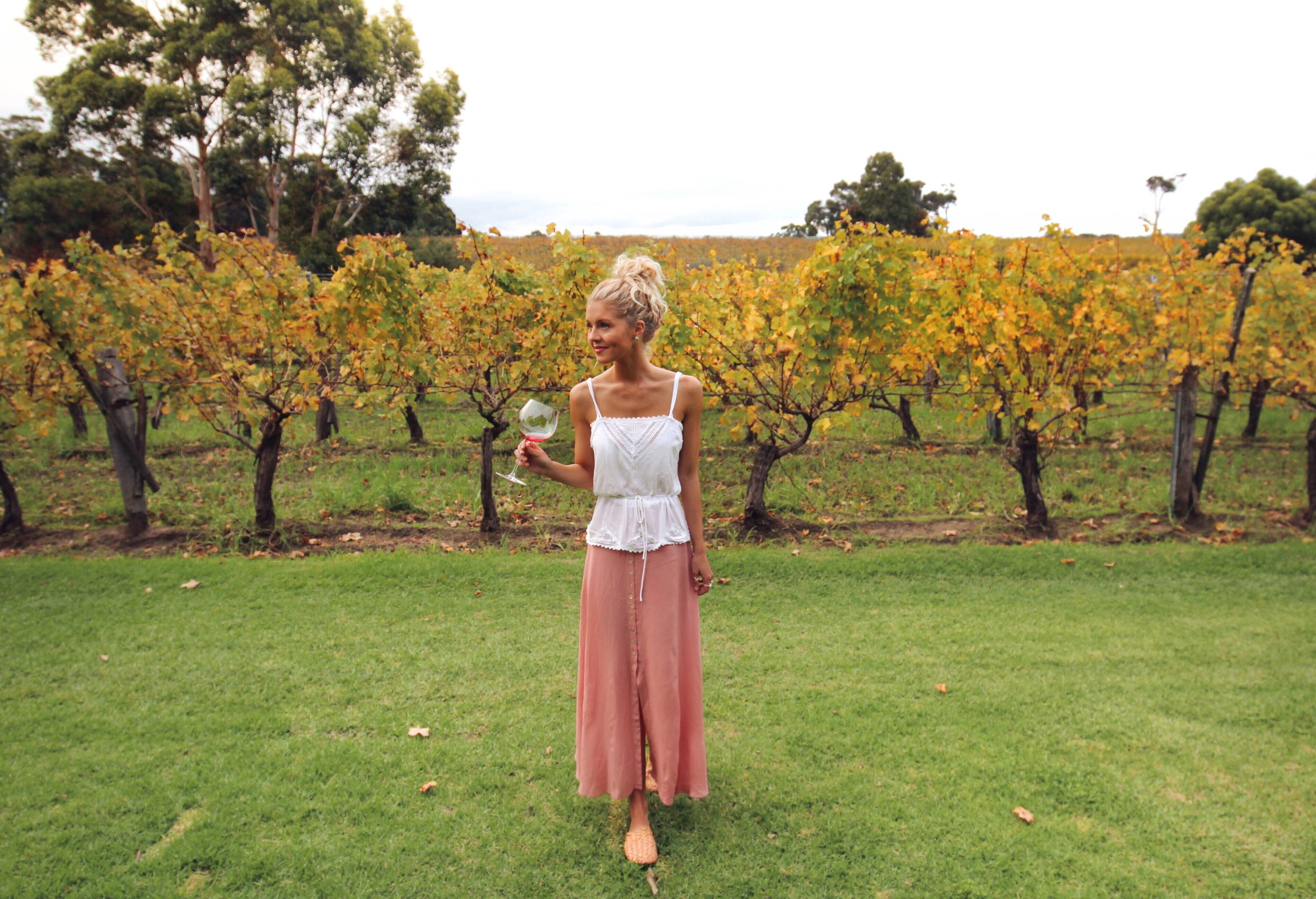 Our time came to an end in this region when, on the morning we planned to depart anyway, Scout overheated after driving 100 meters. After waiting on the side of the road, where many friendly people stopped to offer help, or even a beer, and then a night at a motel, we ended up being towed all the way to Perth. Lesson in this? If you are doing a trip anywhere in Australia, pay the extra whatever it is a year and get the top roadside assistance cover. The first tow, the motel, hire car, and the second tow all the way to Perth were totally covered. Hallelujah!
Or - option B; just don't drive a really old car around Australia. But, I'll go with option A. Because, for her breakdowns, this old car makes me smile.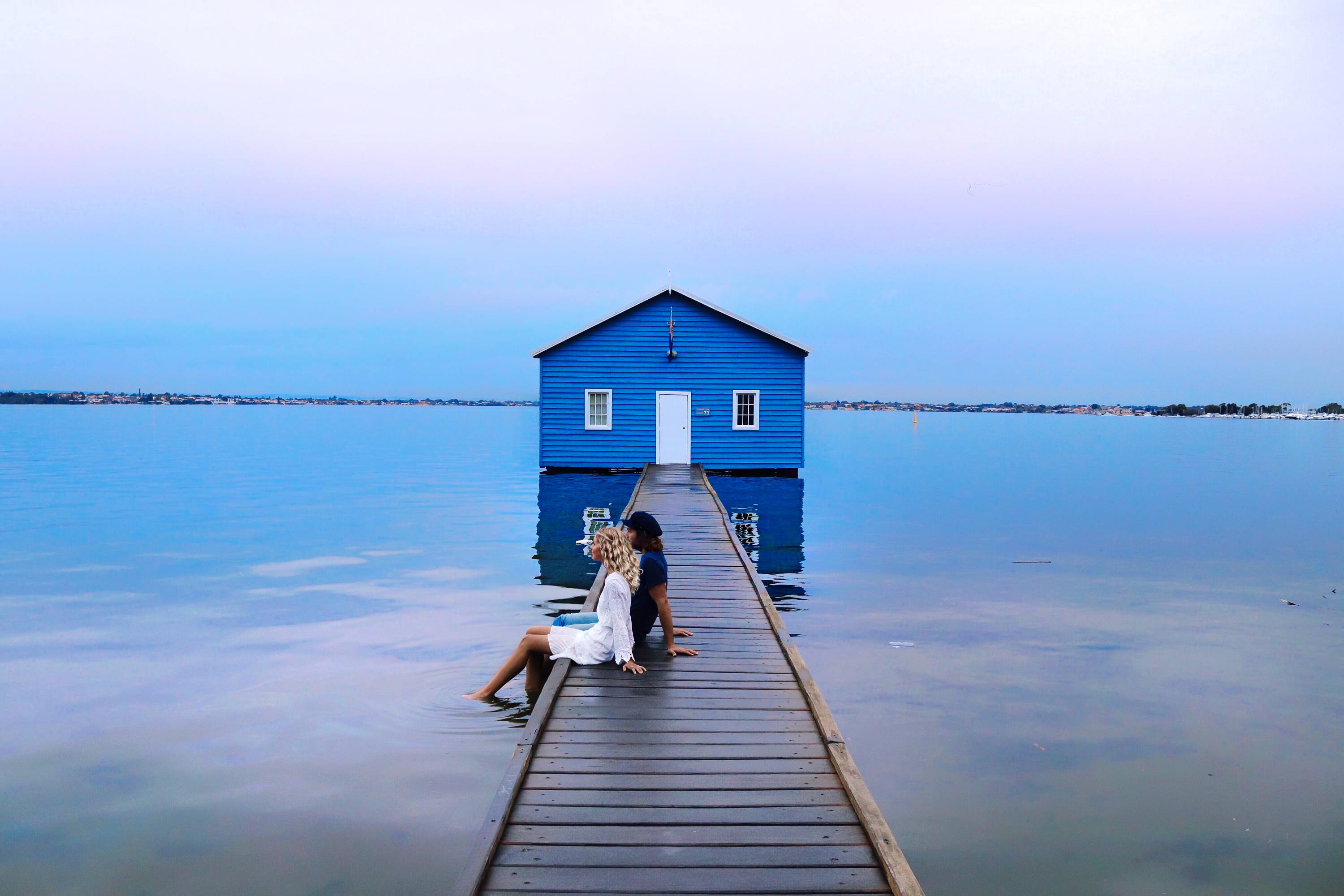 PERTH
While Scout was worked on we stayed with the most wonderful family in the Perth Hills - the Antonelli's, who welcomed us and had us feeling like an extension of their own family instantly. We went back and forth but ended up spending five wonderful weekends with them. They introduced us to our favourite WA wine region, which it seems no one in Perth knows about - The Bickley Valley. I could list a bunch of places, but my fingers are getting tired… so just go - explore - and enjoy. Thank me later :) Such a beautiful region, only 40 minutes out of Perth, and the wineries are small, fantastic, and full of soul.
We had a lot of fun exploring Perth and showing our wines around. They were a hit, which was no surprise to us haha. Good wine, made with a lot of love, and drunk with even more love!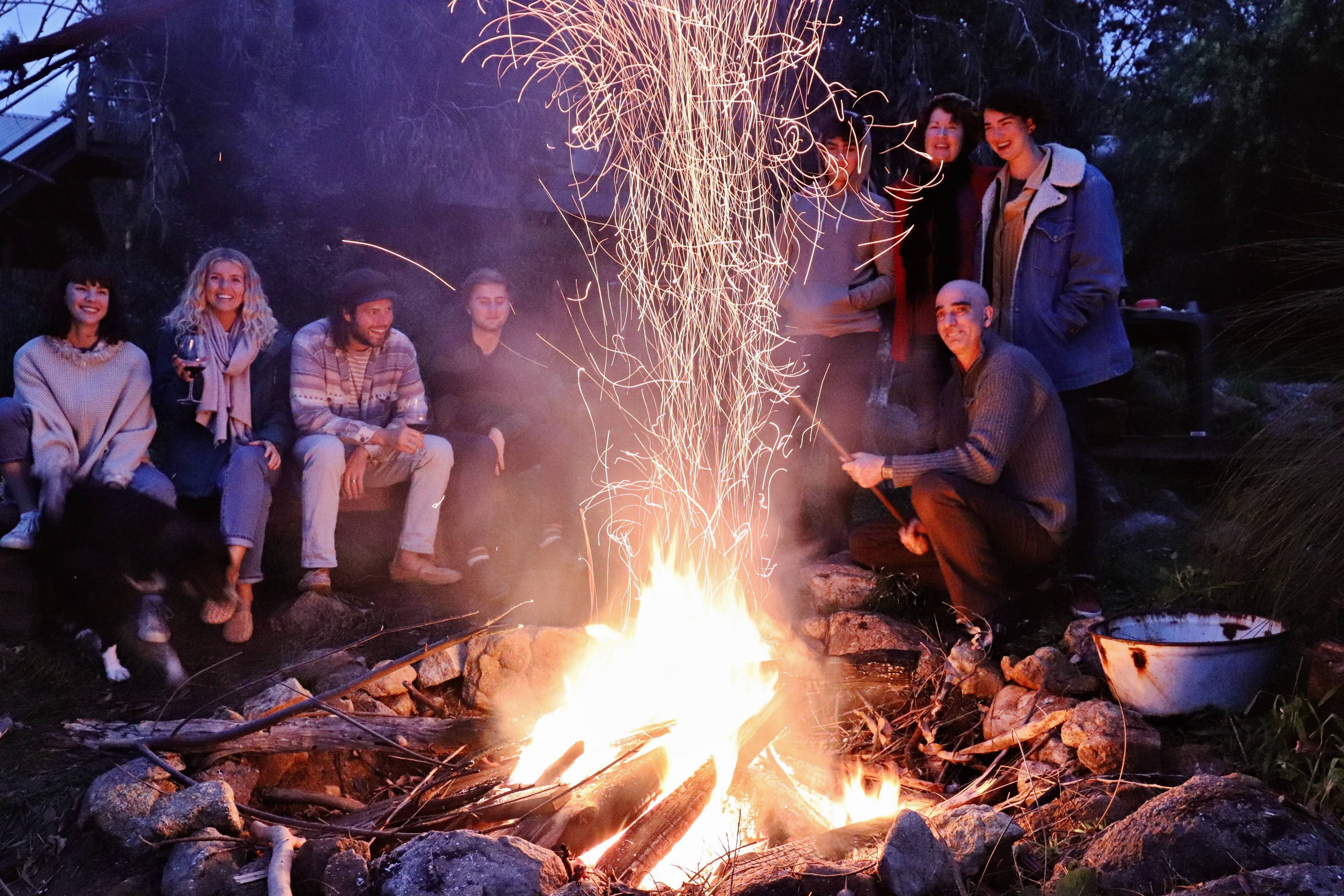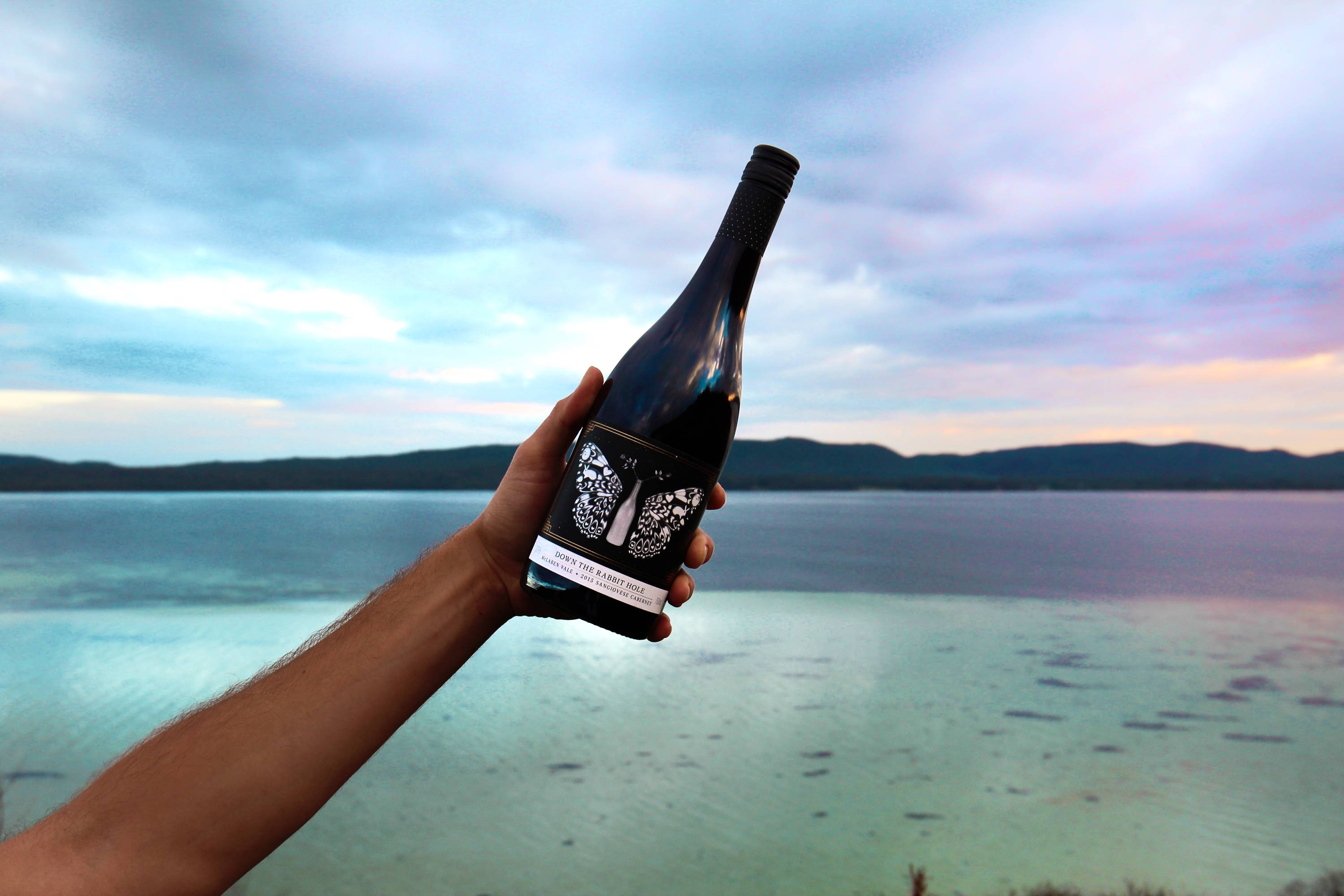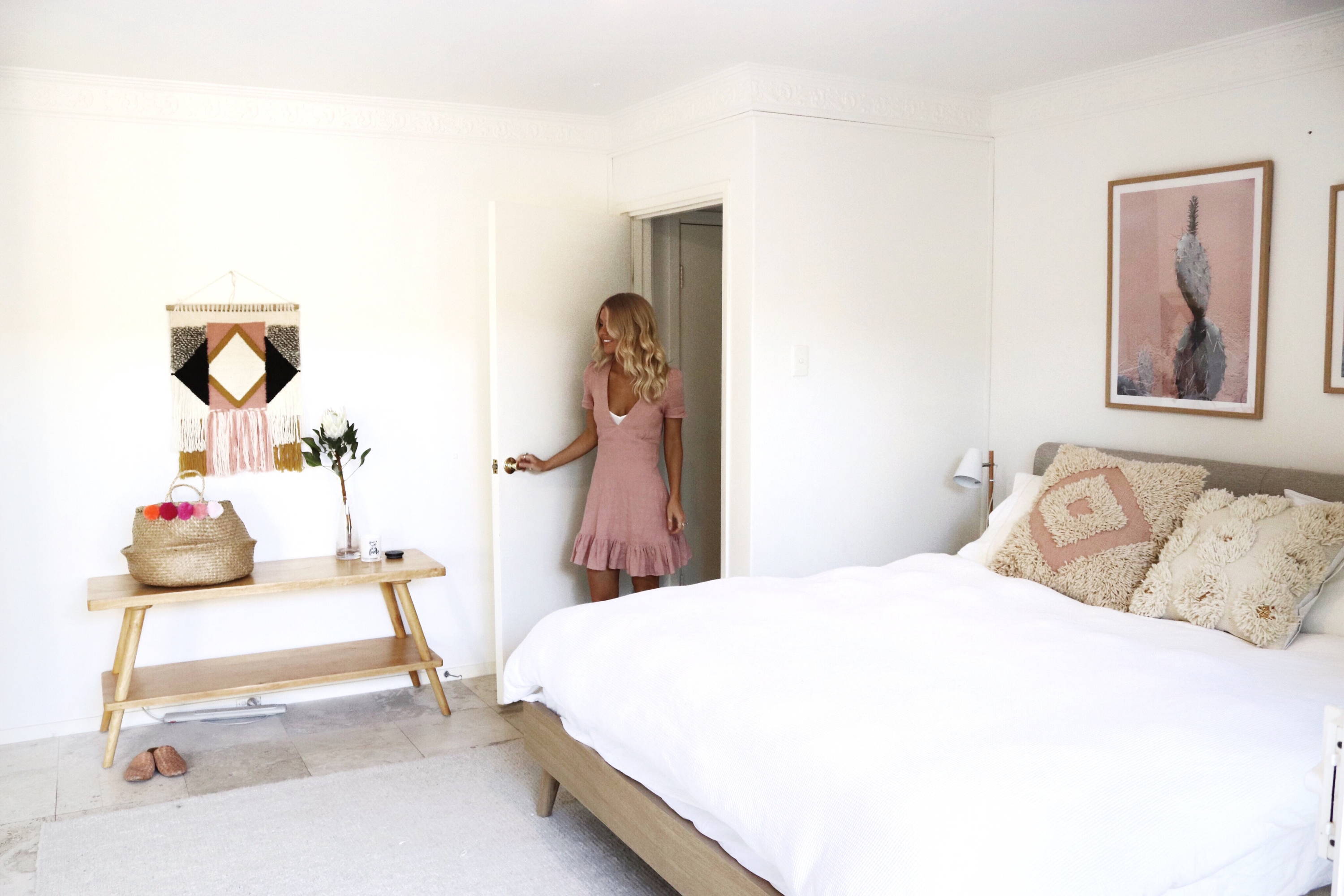 We also stayed at a lovely little Airbnb in Cottesloe - which I HIGHLY recommend if you're ever visiting the pretty city of Perth.
The Little Seaside Prince is a delight, so well priced, and the sundrenched courtyard was a highlight. And there's a carpark if you need it. Also the hosts are amazing (and their little girl is the most gorgeous thing you've ever seen).
Before we left Perth we took a ferry across to Rottnest Island, hired two bikes, and spent the day riding right around the island, beach hopping, and dodging Quokkas.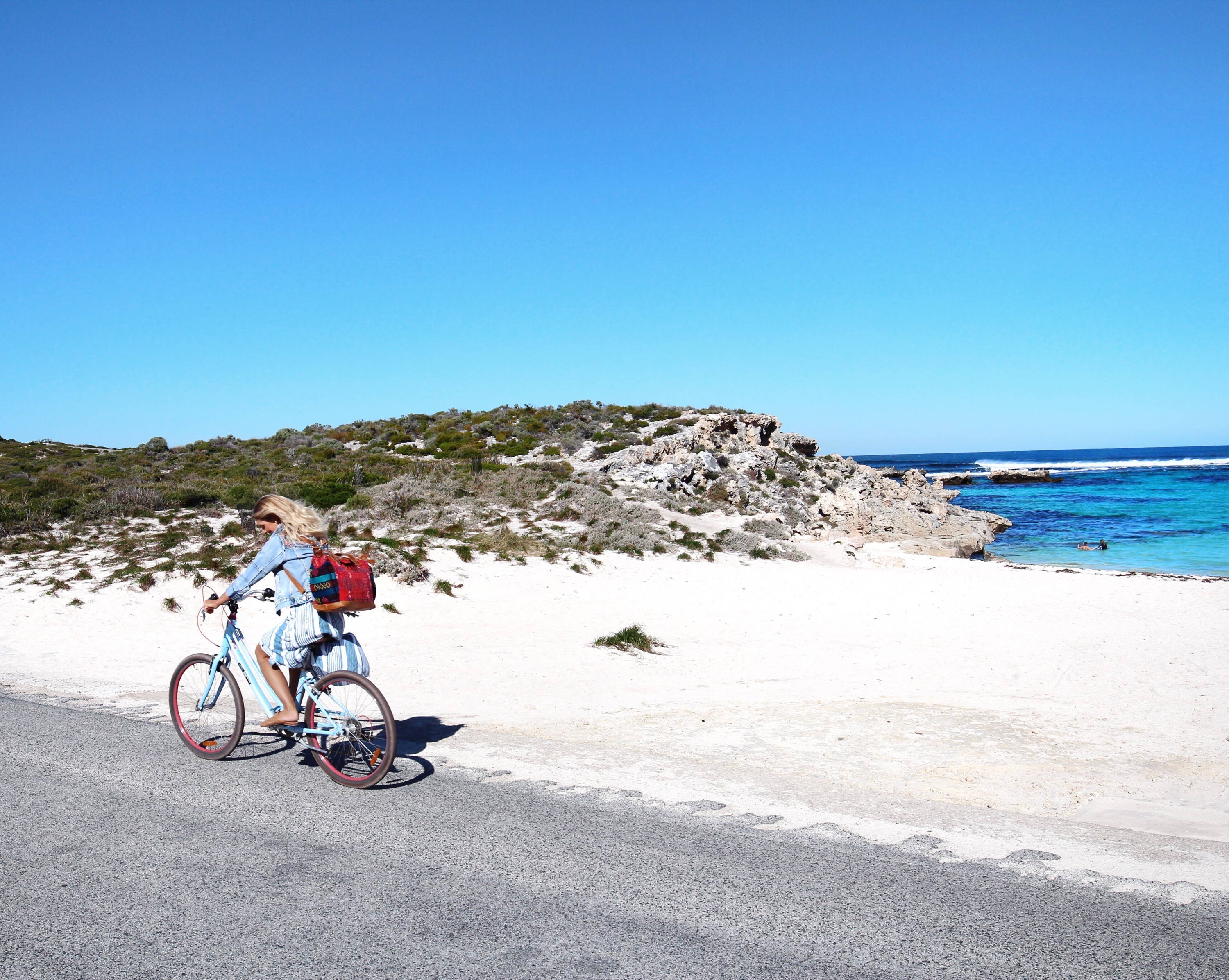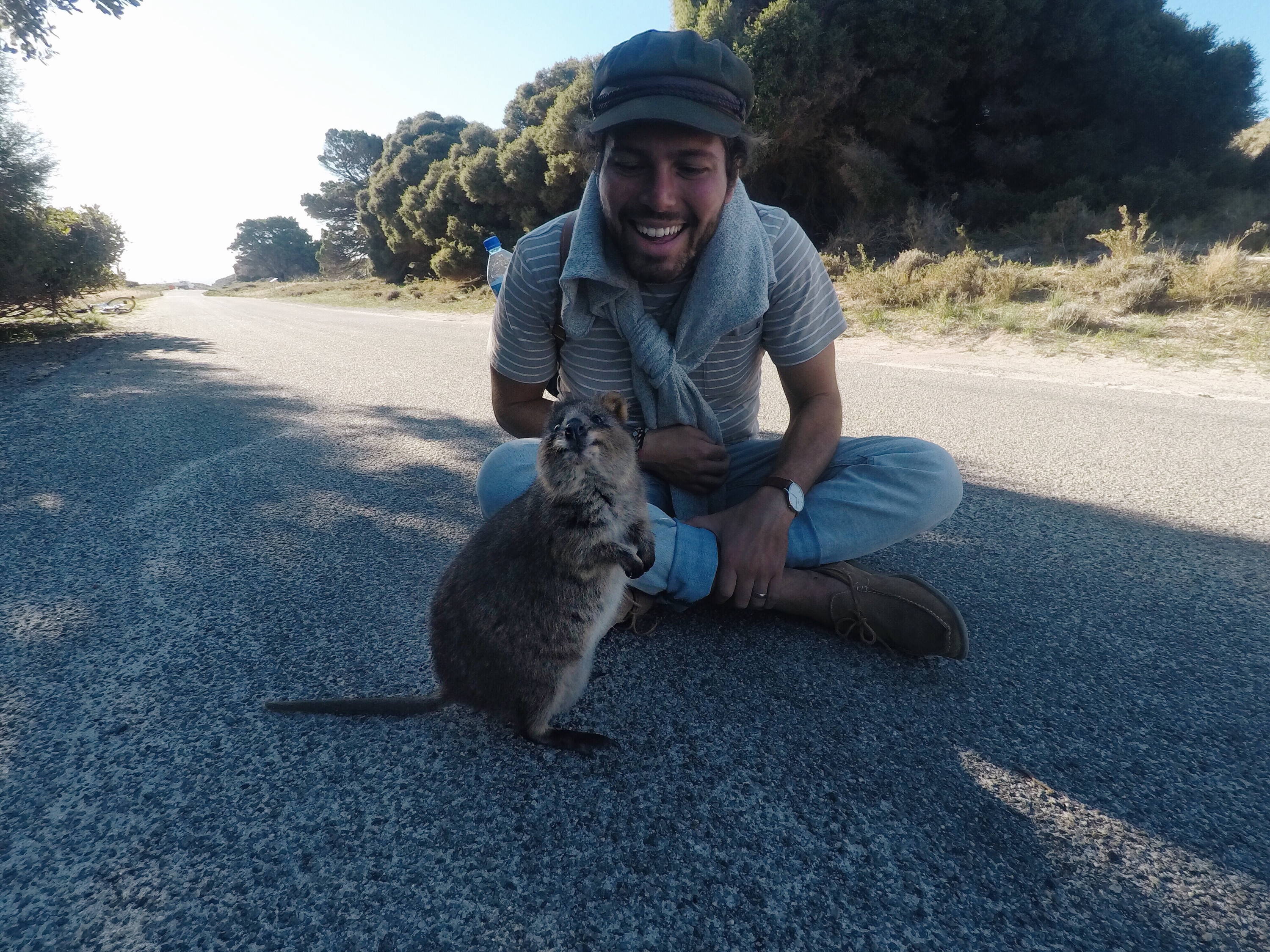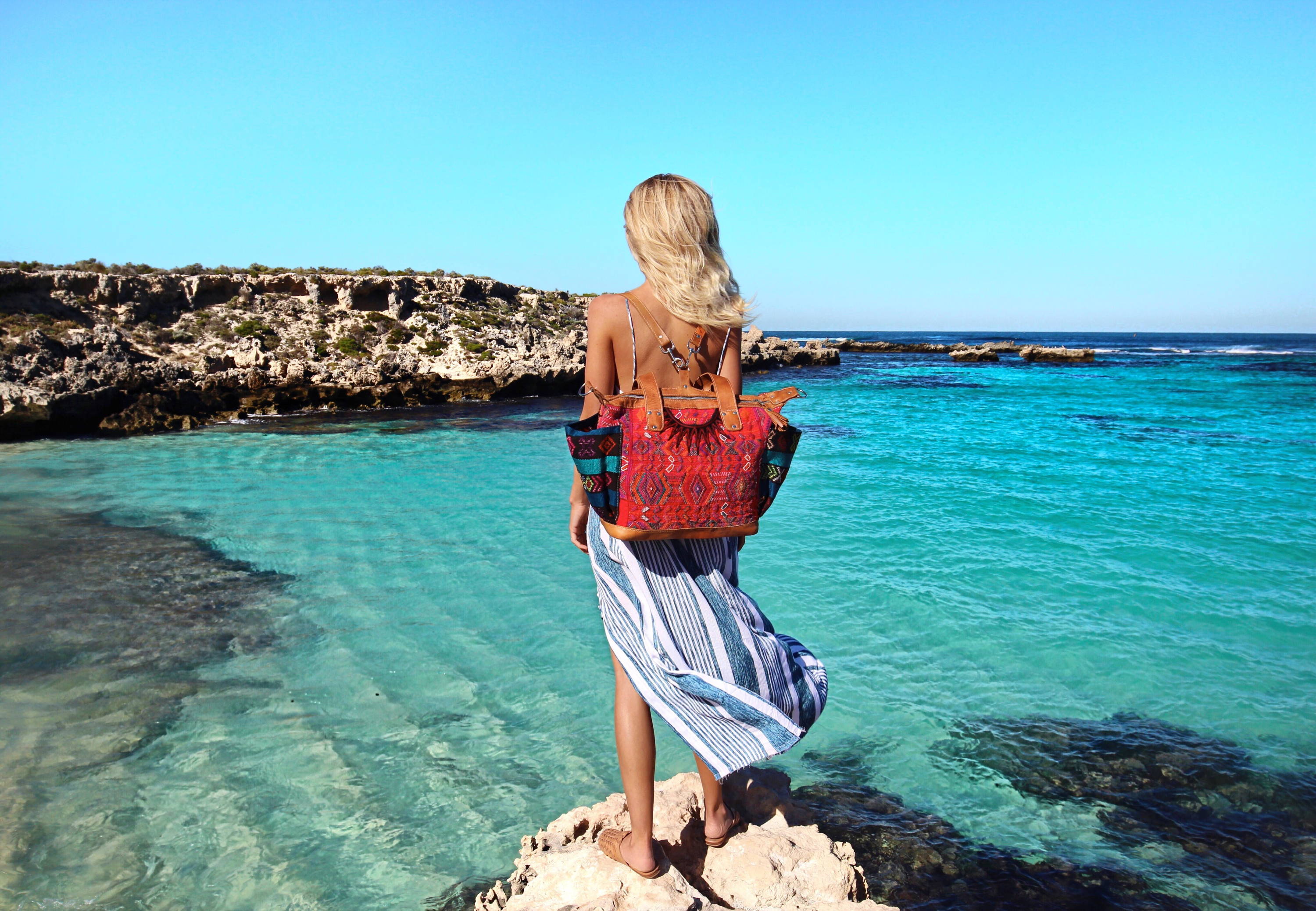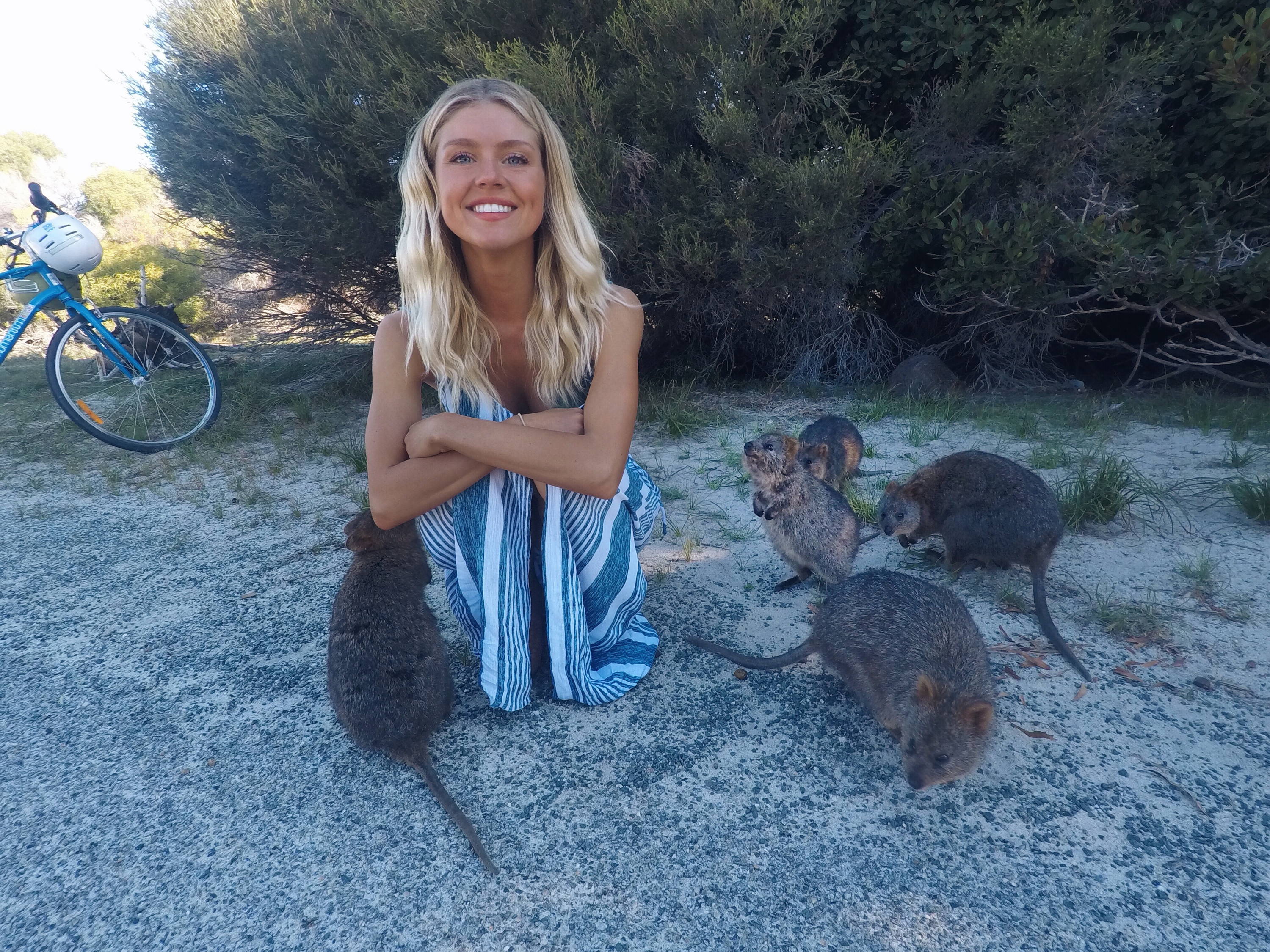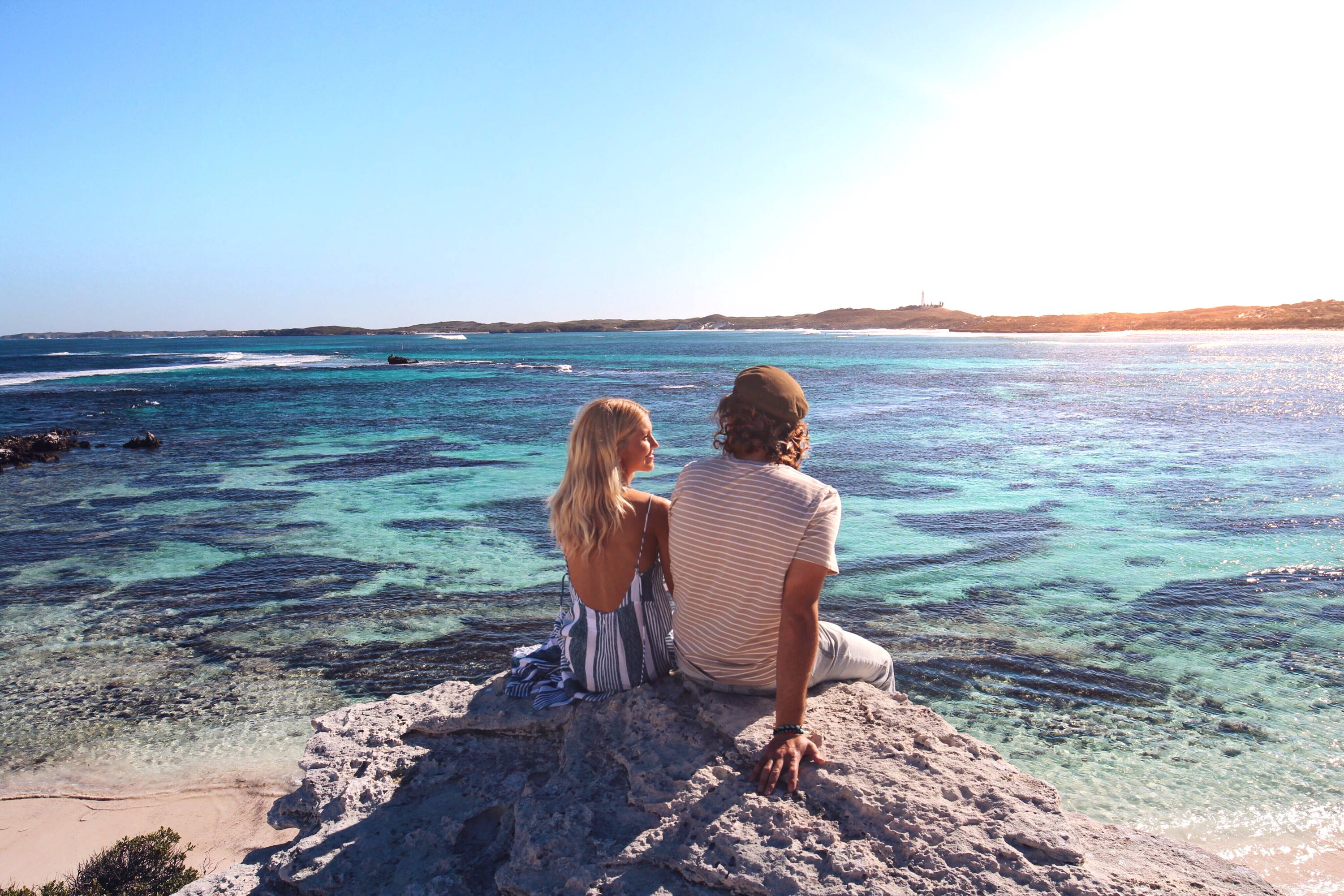 If you're travelling along this route, I hope this has been somewhat helpful. If you're not - I hope you enjoyed reading all the same! This isn't a guide, it's just where we stayed and our little highlights - please feel free to list YOUR favourite spots for other road-trippers - or if there's anything specific we can help with, or you just want to say hello, leave a comment below :)