For me, trips like this are imperative. My soul craves adventure, my mind craves quiet, and my heart craves deeper connections with the people around me, and with the world around me. Most of the time, life gets far too busy at home for this to be reality.  
I think Tasmania's east coast is one of my favourite places because it is a place that can satisfy all of these, in a way that not many places can. Life slows down on the Great Eastern Drive.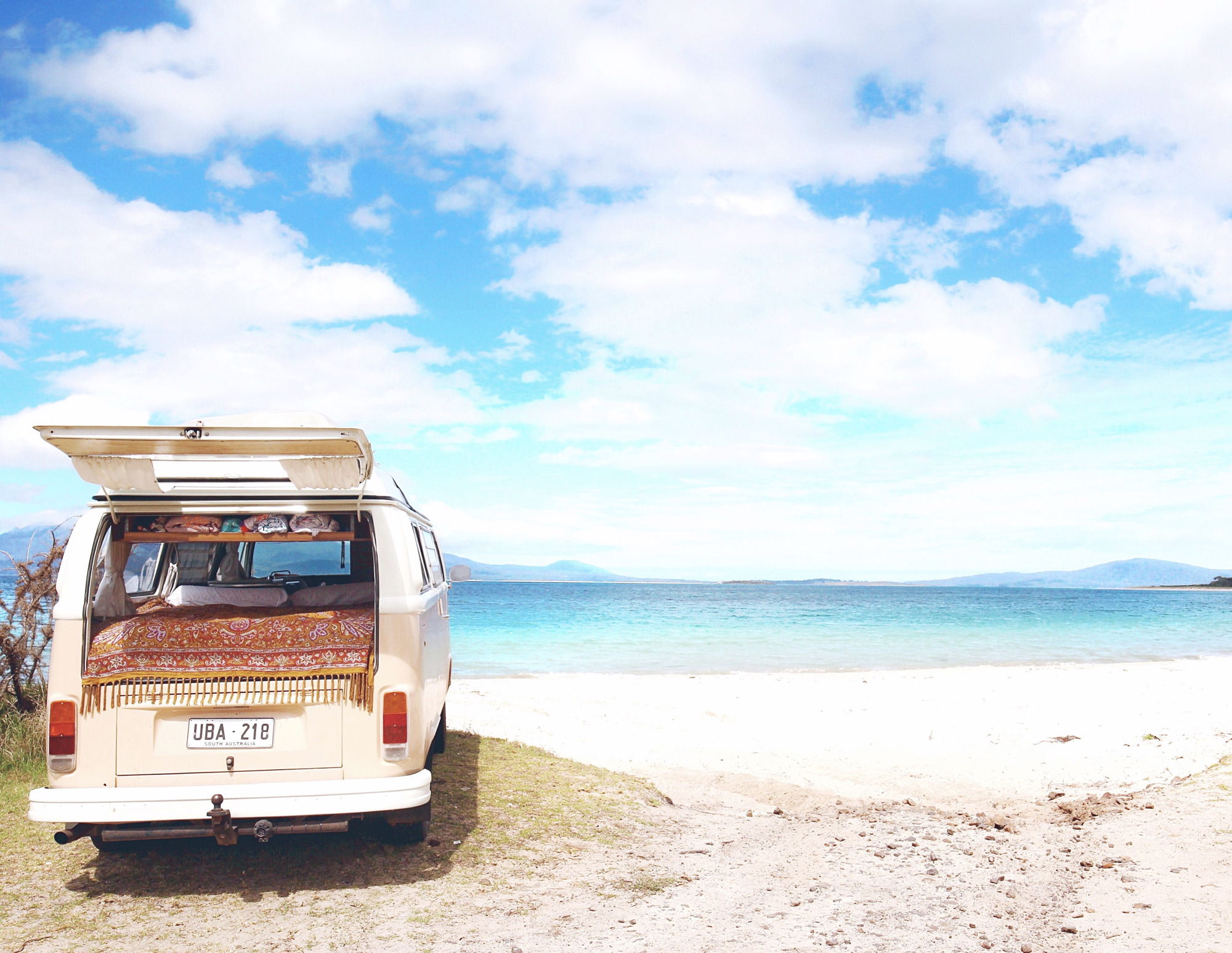 We finally made our way out of the long, long exit lines of Falls Festival. We were hot, sweaty and very eager for our first shower in days. We took a dirt road to avoid the exit traffic, and made our way towards Twamley Farm, where we'd be spending our first couple of nights. 
Twamley Farm is a 7000 acre sheep and cattle farm, owned and still run by the same family since the 1830s.
After the hullabaloo of Falls, this is the perfect place for a little quiet R&R. It offers two accommodation options - the stable or the farm pod - both picture pretty, surrounded by gardens and rolling hills. We stayed in the farm pod, with Tan and Ben in the pod bed, and me and Dom in Scout. We loved our stay here. We went on bush walks, and runs, around the property. We picked spuds from the veggie patch and roasted them in the pod's private garden fire, then all sat around under the stars chatting long into the night.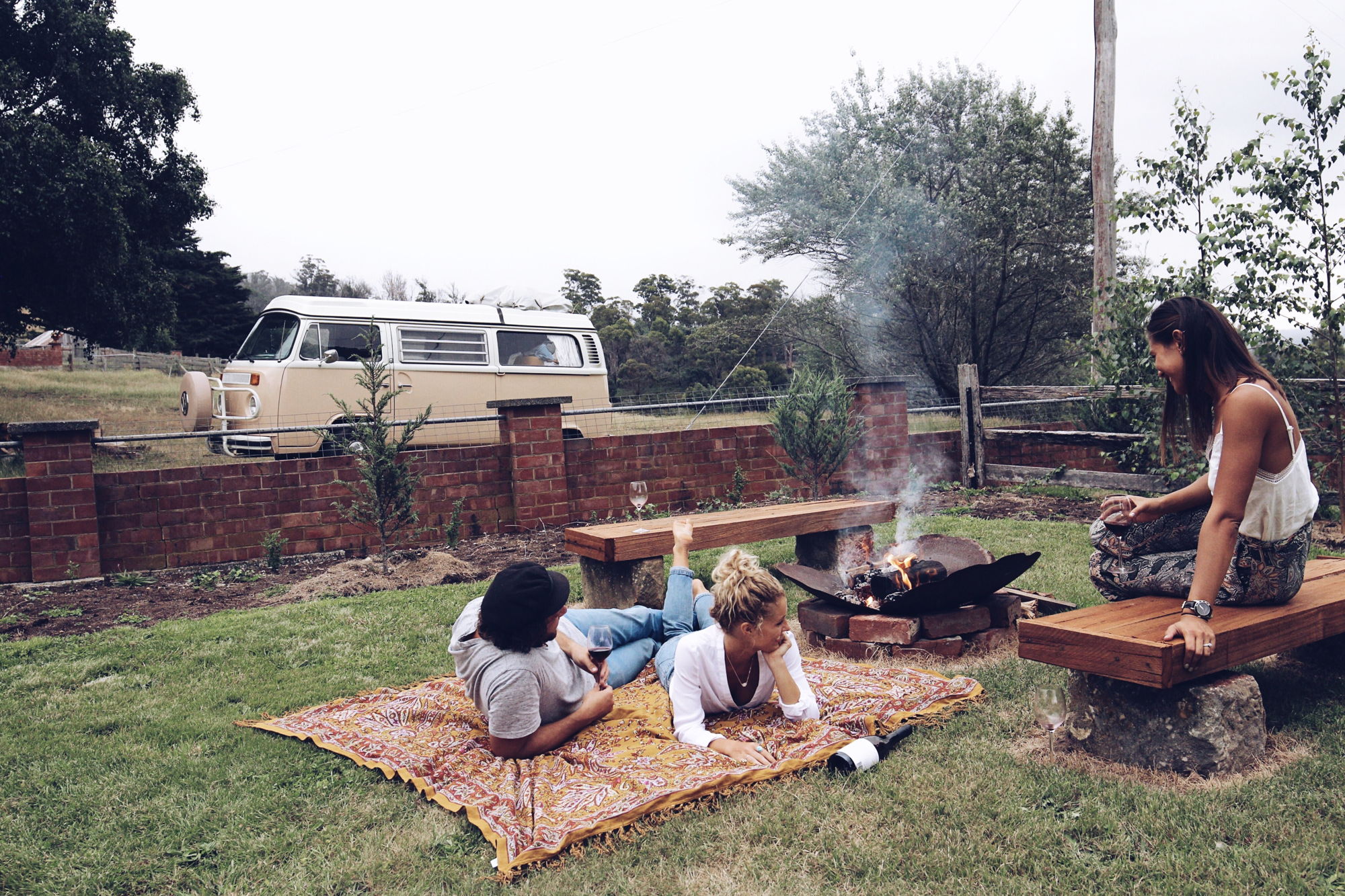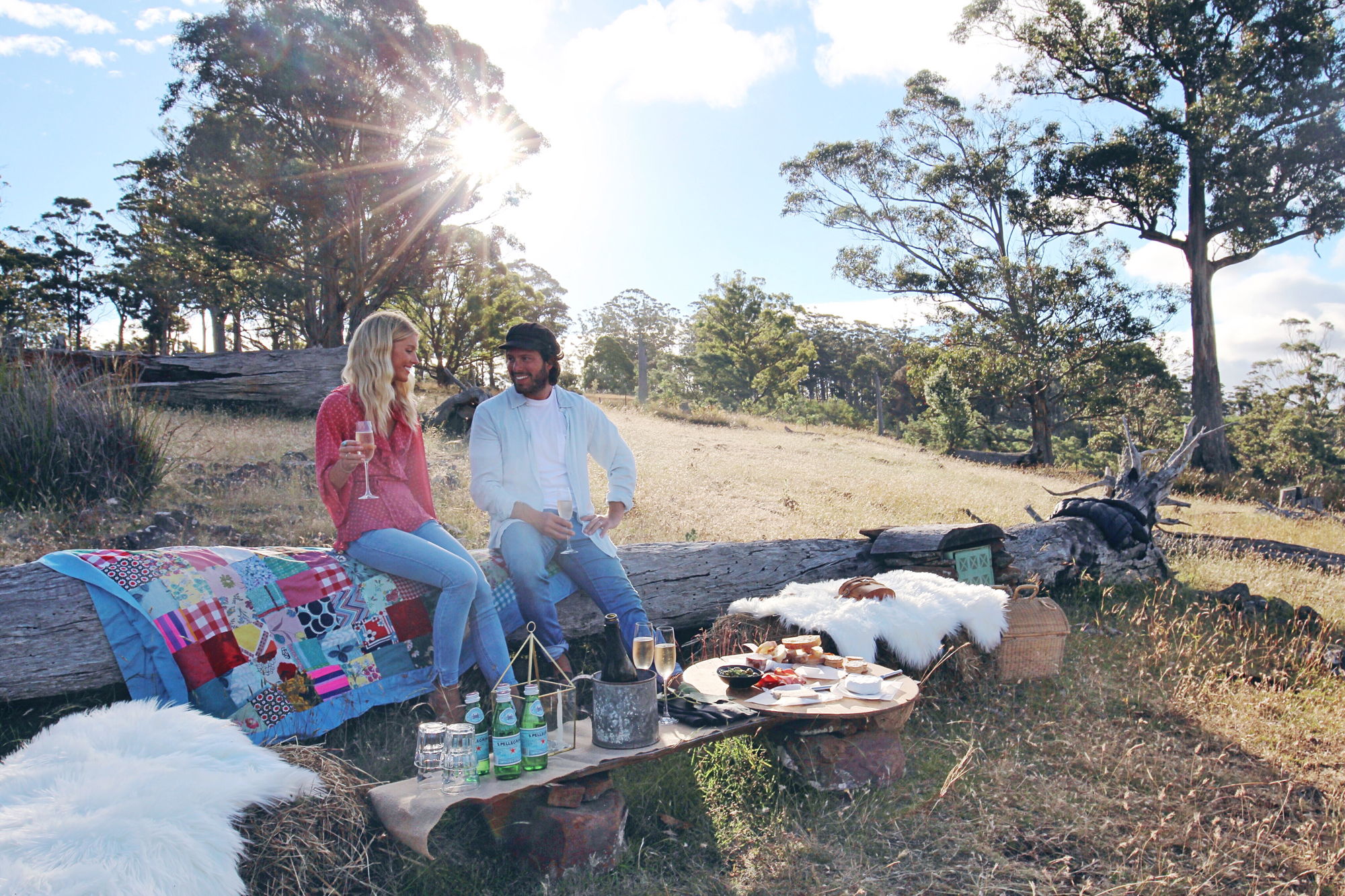 The owners will happily show you around the farm, and then send you on your way up one of the very steep hills. Dodge the sheep poop, and try not to conk out, because waiting for you at the top is a delightful champagne picnic. We sat with an incredible view across the valley, watched the clouds light up, toasted to this spectacular start to the year, and then finished with a spot of port (which is permanently left up there in an old meat safe for guests - another reward for making it up the hill).
Local produce is provied for your breakfast. The friendly, Aussie hospitality we experienced made this stay all the more wonderful.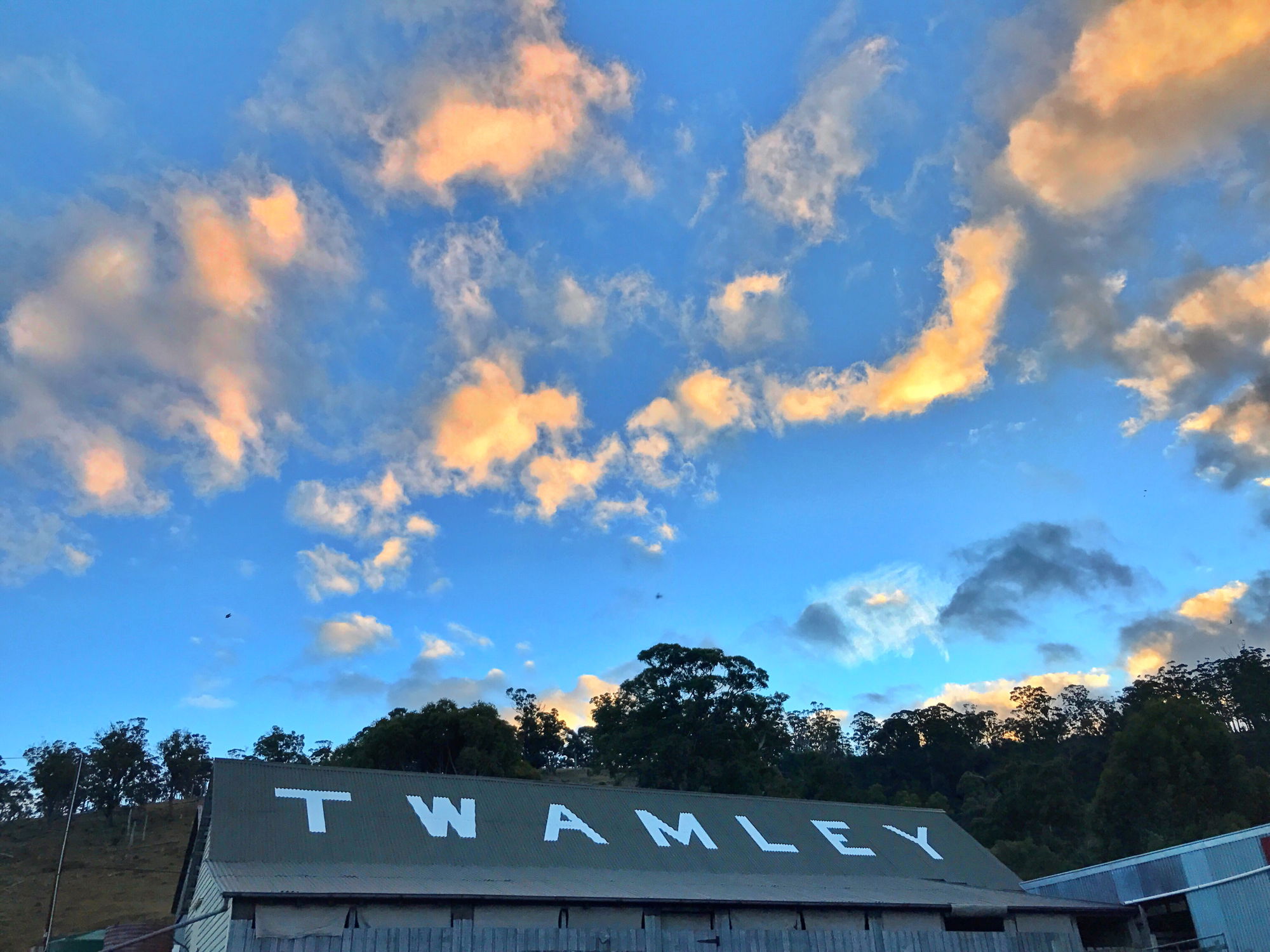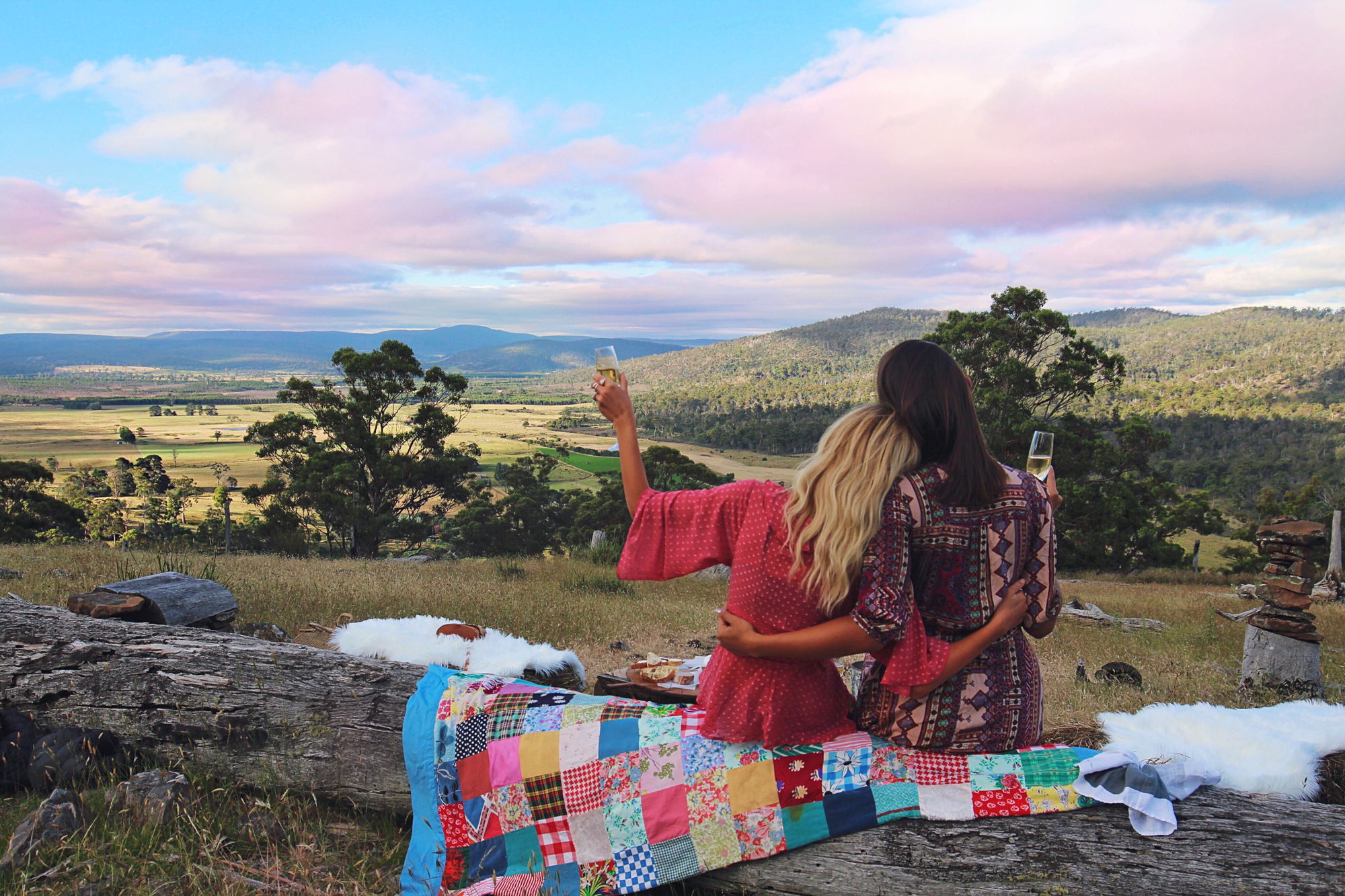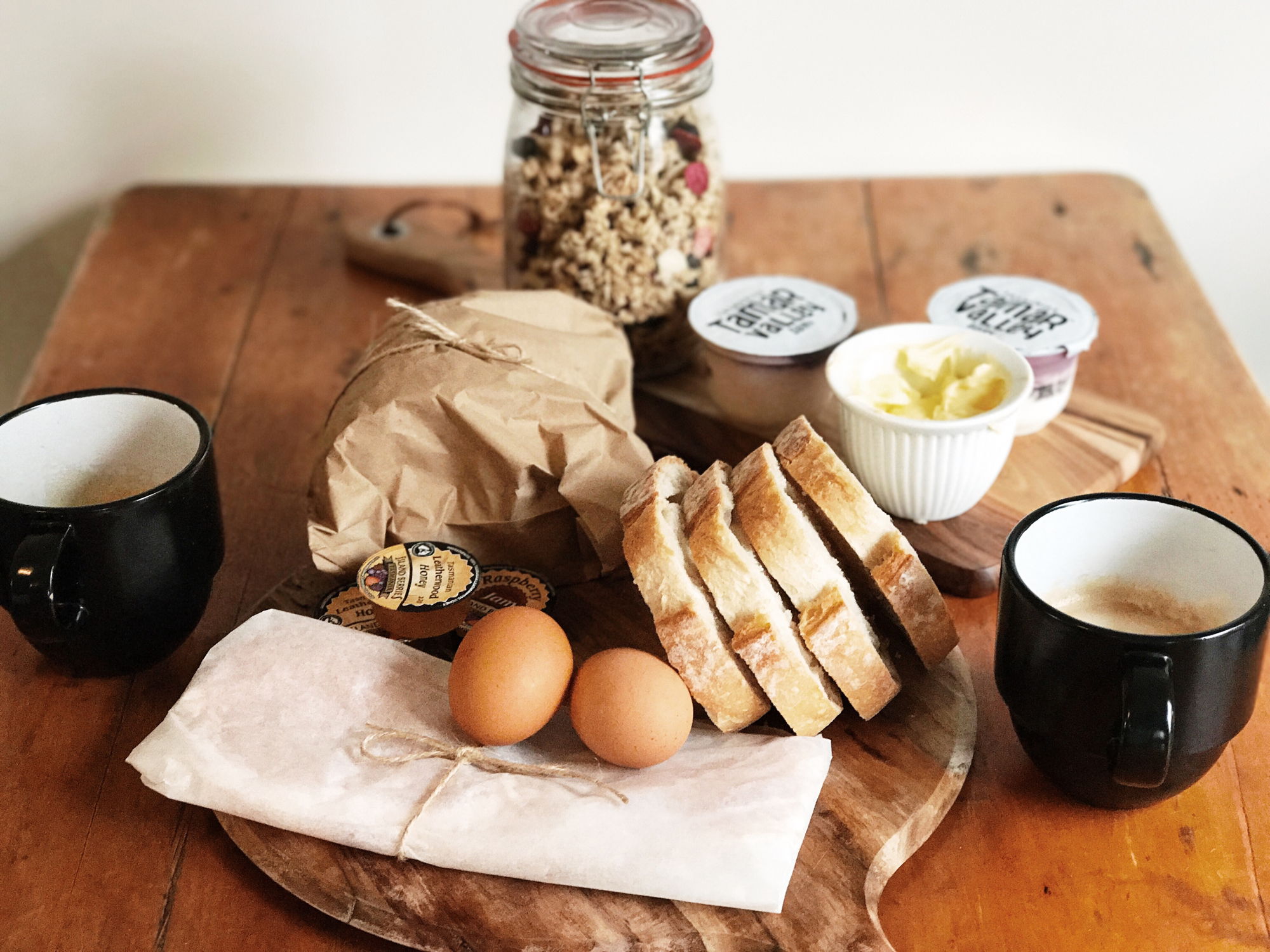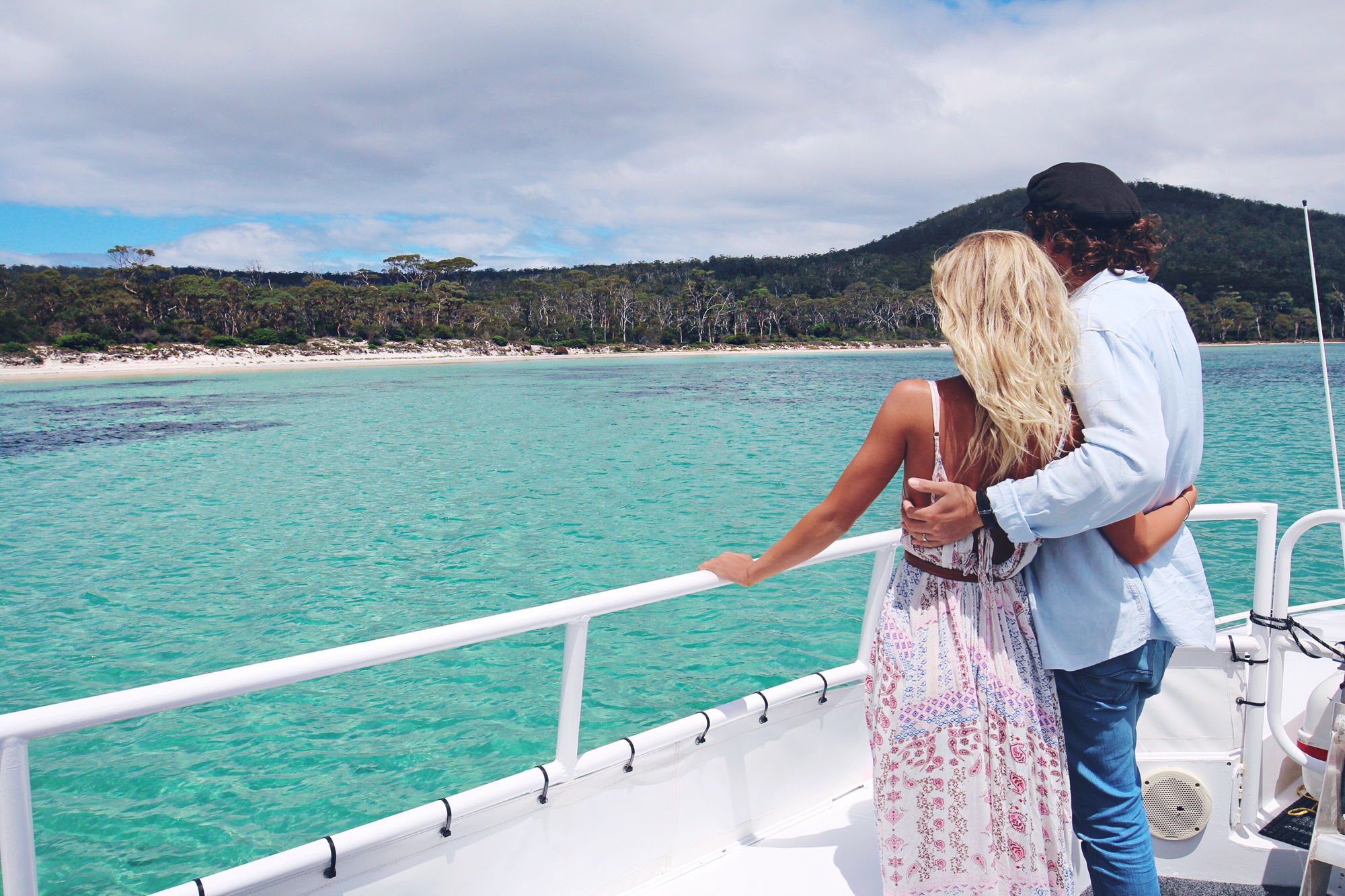 Dom and I spent a day exploring the beautiful Maria Island with East Coast Cruises. What a day!
When we boarded our captain, local legend, and owner of the vessel - Mike - sat everyone down and advised us the unusually wild winds were likely to cause a bit of a stir in the seas, and that if we were in it to win it and up for an adventure, to hold onto something and set sail, but if we didn't feel comfortable that we were welcome to get off. So, Dom and I hopped straight off.
Kidding! A few people shuffled back onto land, but we held tight. Mike promised the group that he would do everything he could to deliver a great day, and that if he didn't feel the day lived up to what people had paid to do it, he would refund everyone. We liked him instantly. He was down to earth, and passionate about his home and this beautiful part of the world, and he delivered a seriously incredible day. I'm not sure what it's normally like in the usually calm waters, but we loved our experience so much I wish I could do it all over.
Amazing landscapes, a fascinating history lesson or two, giant caves, ocean waterfalls, loads of wildlife, turquoise waters, and deserted beaches reminiscent of a long forgotten time are all some of the things you'll experience.
If you find yourself there, use this code for 15% off: ITSAGOODDAY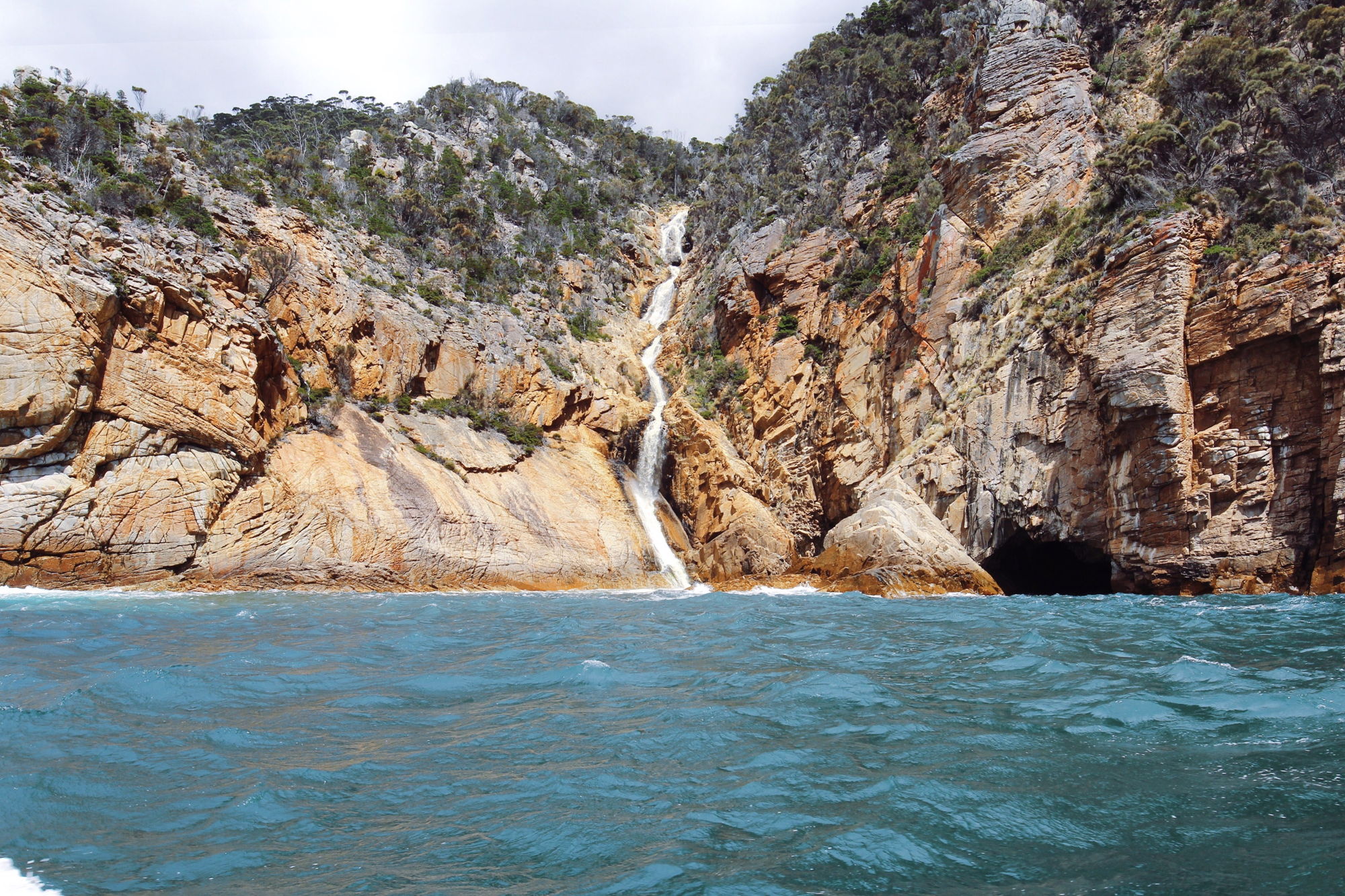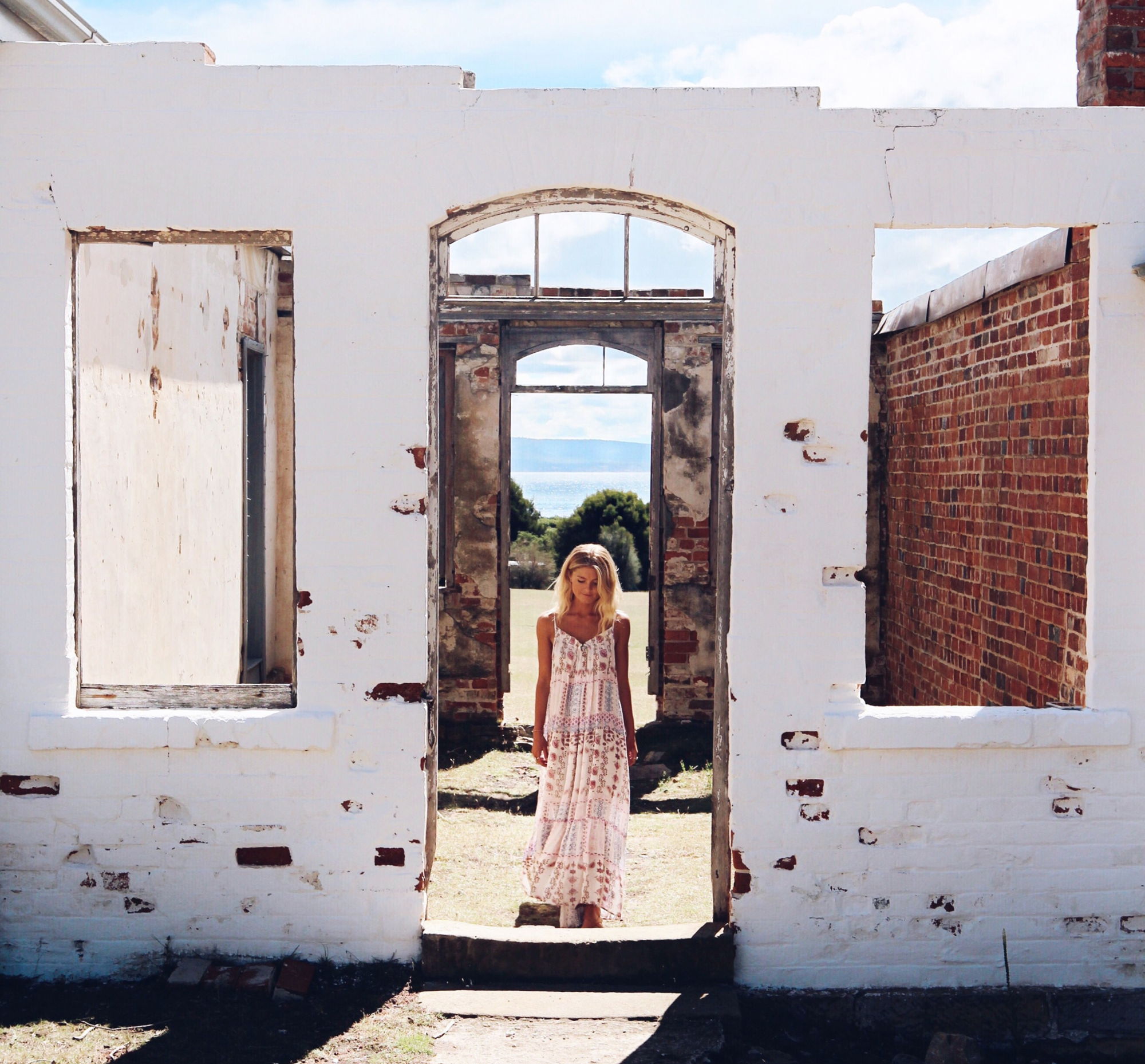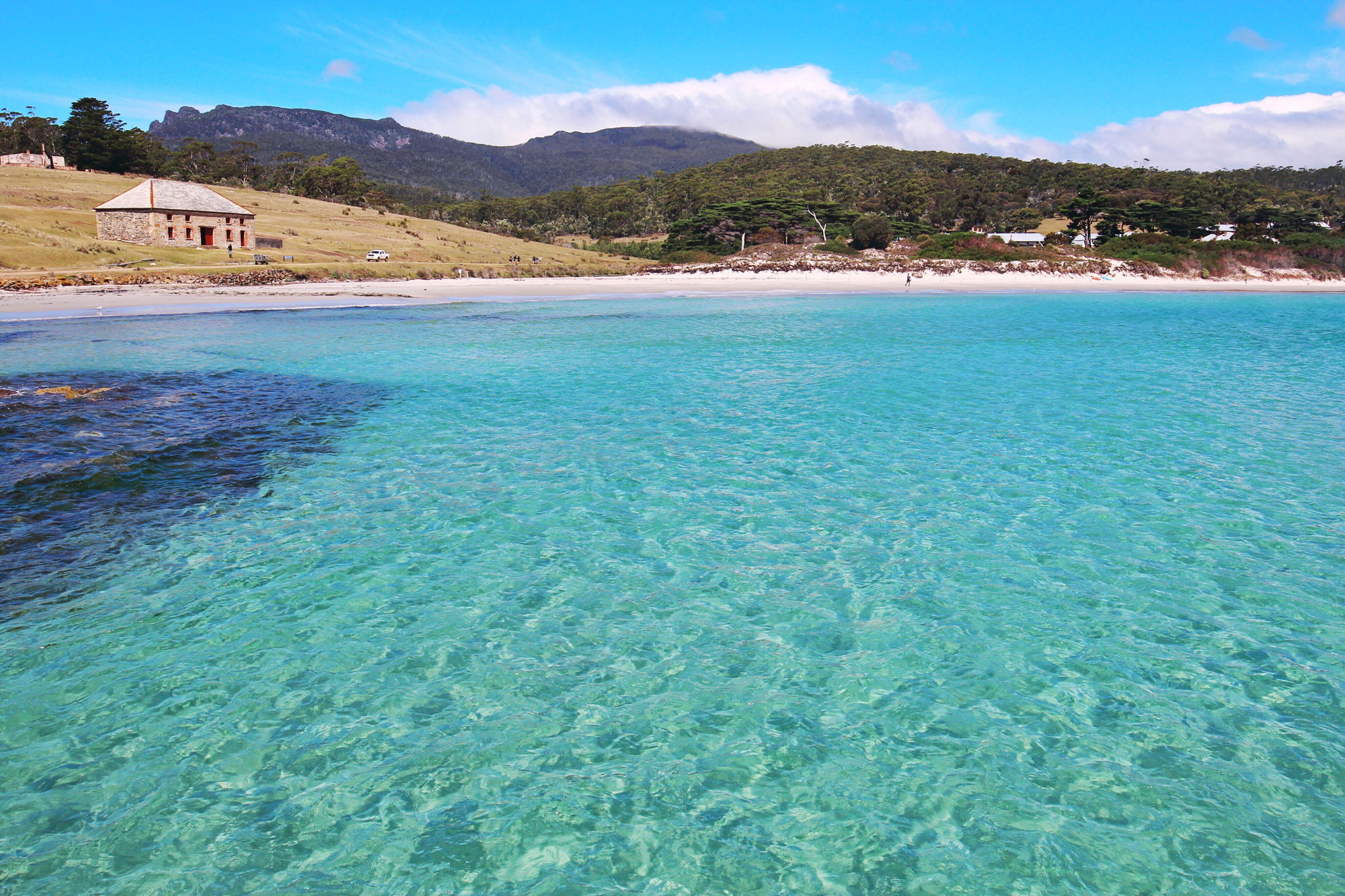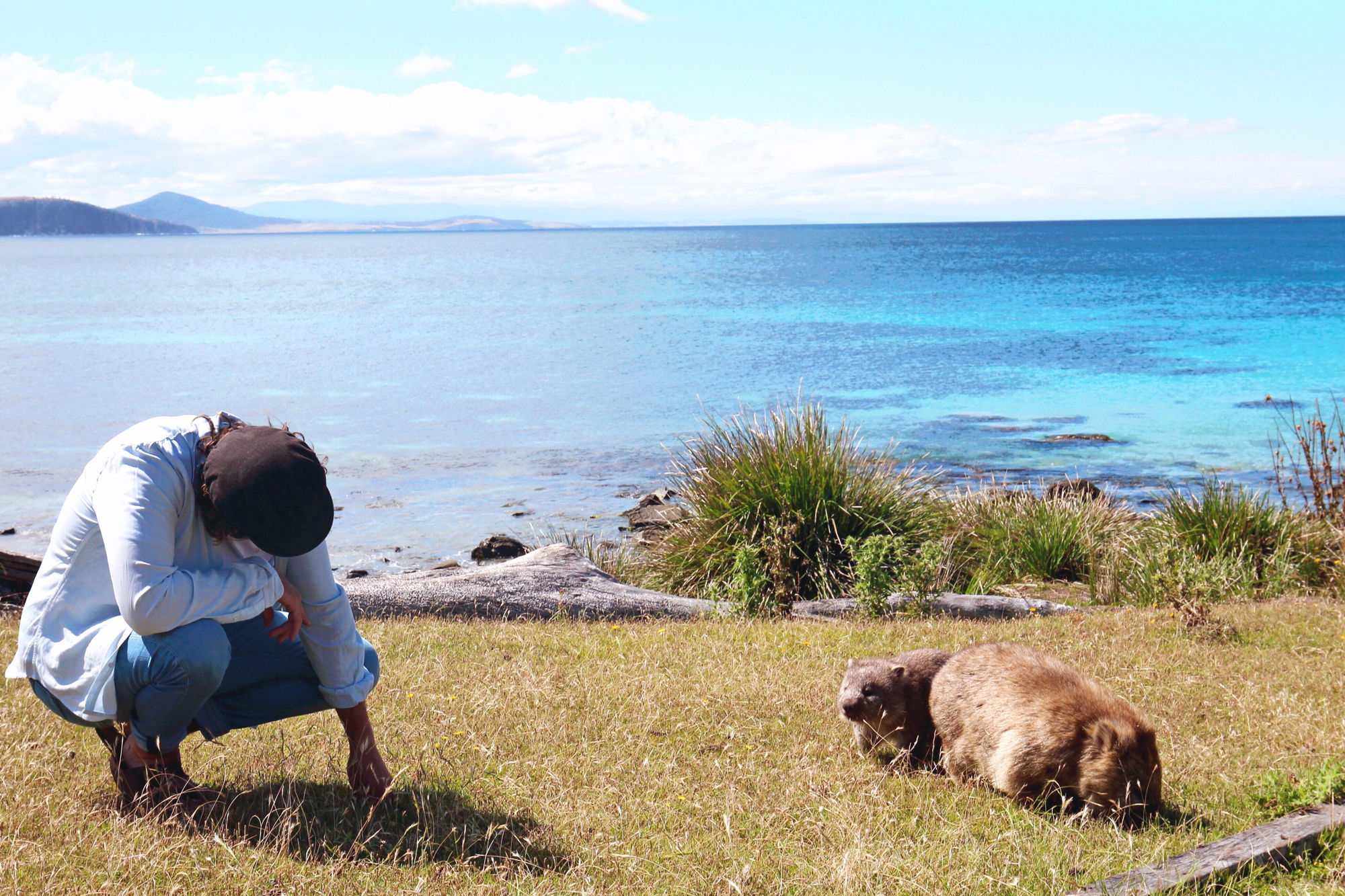 Orford
We find kayaking, or paddle boarding, or anything leisurely around water, very calming. We went for a last light and a first light kayak along the glassy river in Orford and both provide an opportunity for stillness, meditation, and peace. This can be hard to find in your day when travelling with a group, so the kayaking was a little highlight.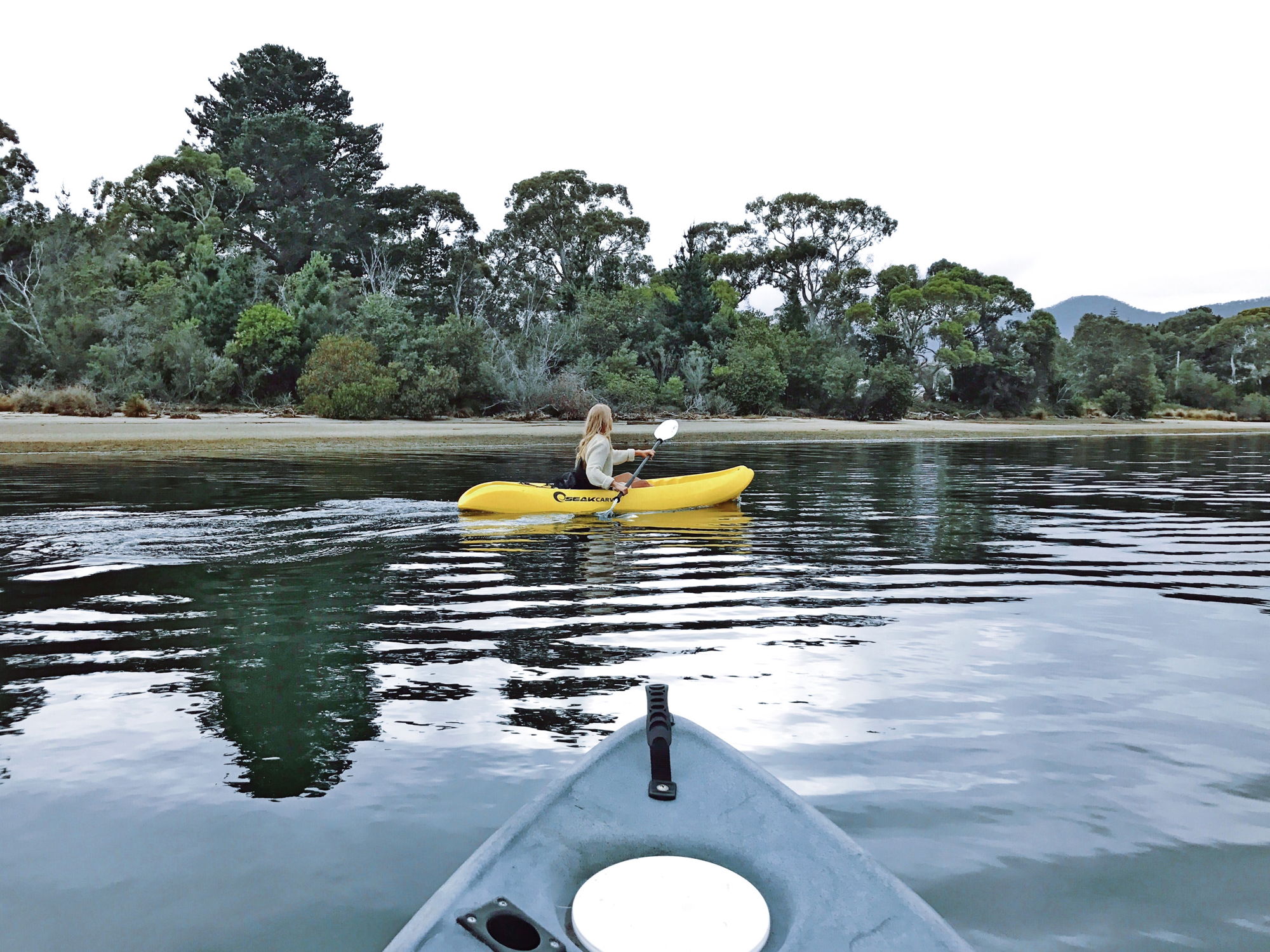 Where we stayed:
We had one night at a family shack, The Moorings, a renovated 1930s cottage set right on the river in the quaint town of Orford.
With rolling green hills and dense vegetation, you'd be forgiven if you didn't realise you were right by the sea. The river is a mouth that goes straight out to the ocean, and the forest continues in the sand right up to the salty water's edge. We did a little exploring and discovered even more breathtakingly beautiful beaches (and perfect camp spots) just up the road as well. The house would be perfect for a family, with two queen rooms, and a few bunks for the kids, plenty of toys and board games on hand, plus bikes and kayaks. We used all of the above and had a ball.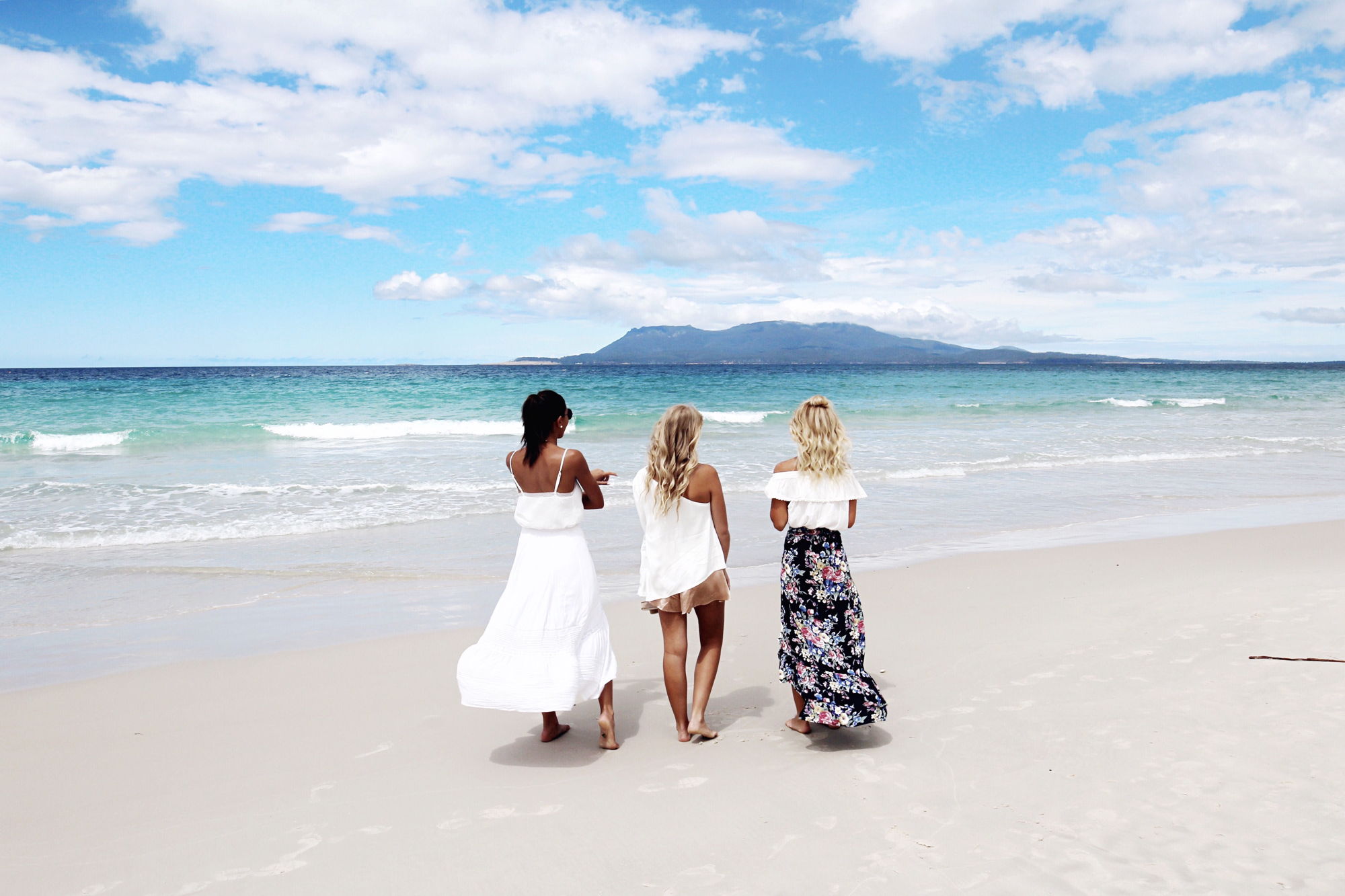 Swansea
The heart of Tassie's east coast. A great base for exploring - there is an abundace of lovely cellar doors along this stretch, so we were happy chappies.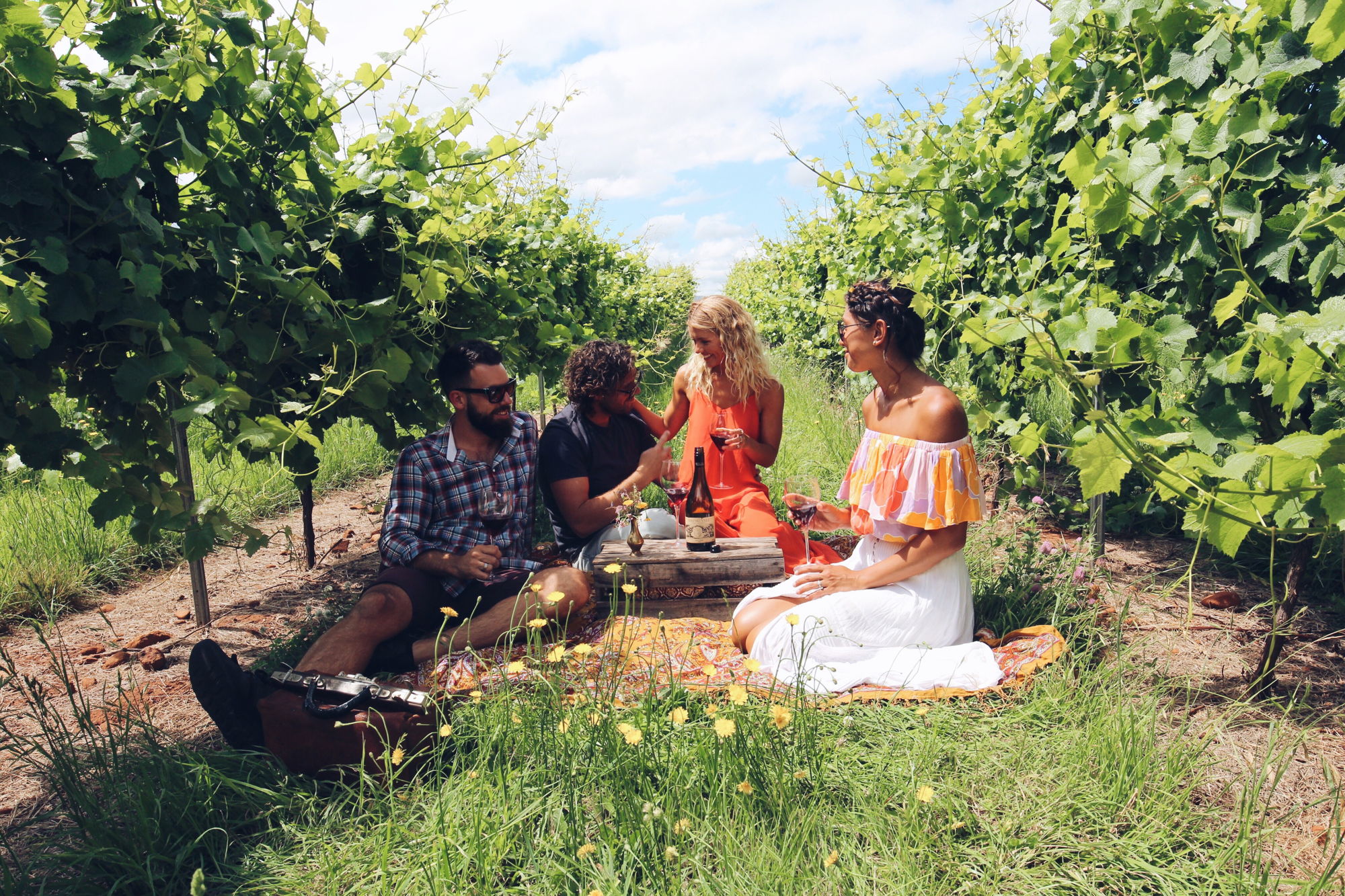 Must Do (Eat & Drink):
There are too many to name, but a standout this time round was Springvale Vineyard. After a thorough tasting, we were particularly impressed with their 2009 Cellar Release Pinot Noir, the 2015 Pinot Noir, and the 2015 Chardonnay. They have also just released a delightfully floral gin that I highly, highly recommend.
We then meandered over to their summer pop up restaurant, run by the friendliest folk, Don & Charlotte. Don gave us two options; 1. Order a la carte off the menu. 2. Just say, "Don, bring us stuff."
We went with option number 2, and did he ever feed us. Good golly, how good.
After lunch we needed a wee lie down to let the copious amount food we had just consumed settle, so we opted for a rug and a newly acquired bottle of wine or two by the vines. DeVINE.
Bikes:
You can hire bikes from Swansea Cyle Tours and explore the area on bike - and also burn off a little of all the cheese and wine you'll undoubtedly be filled with.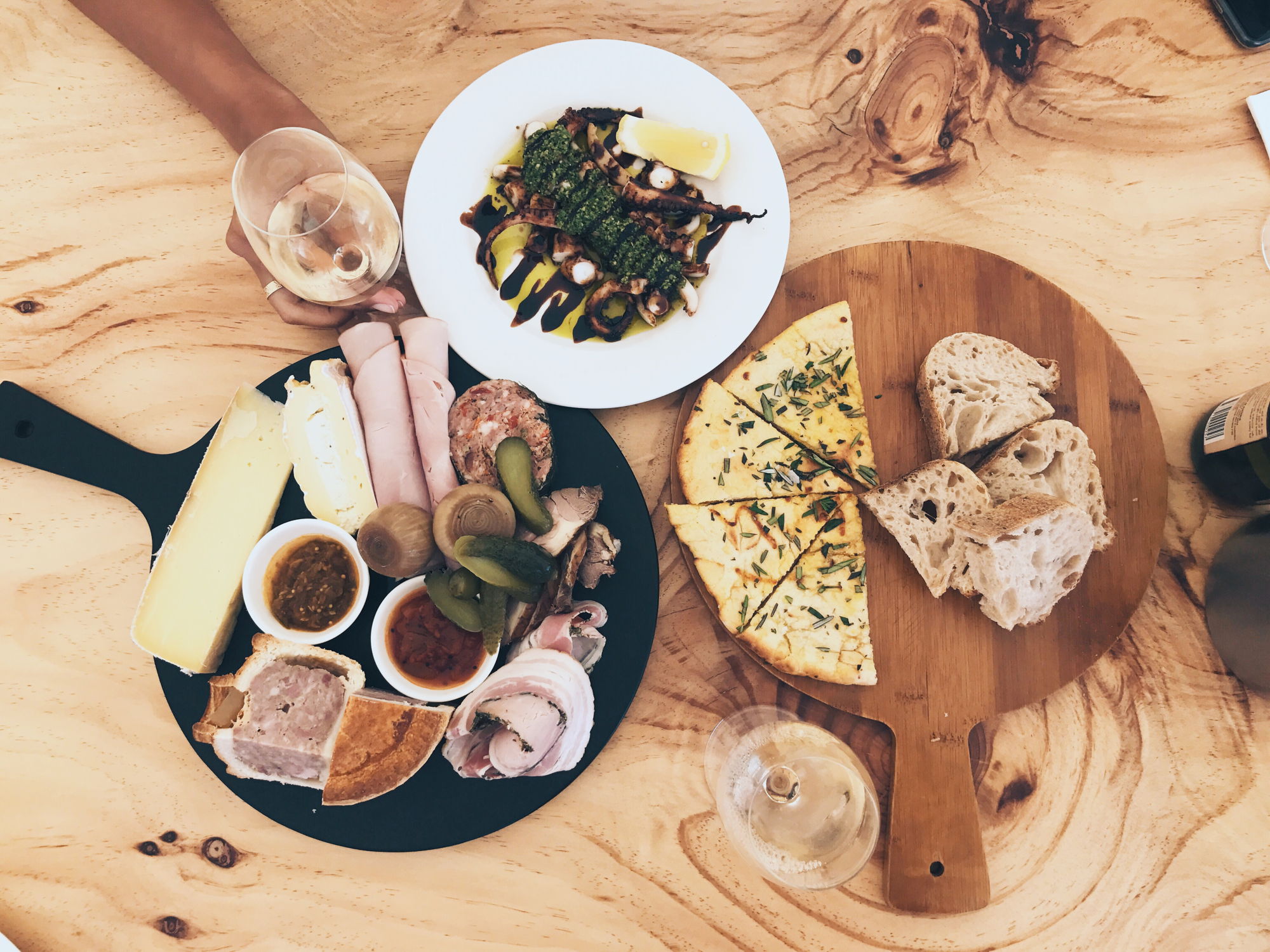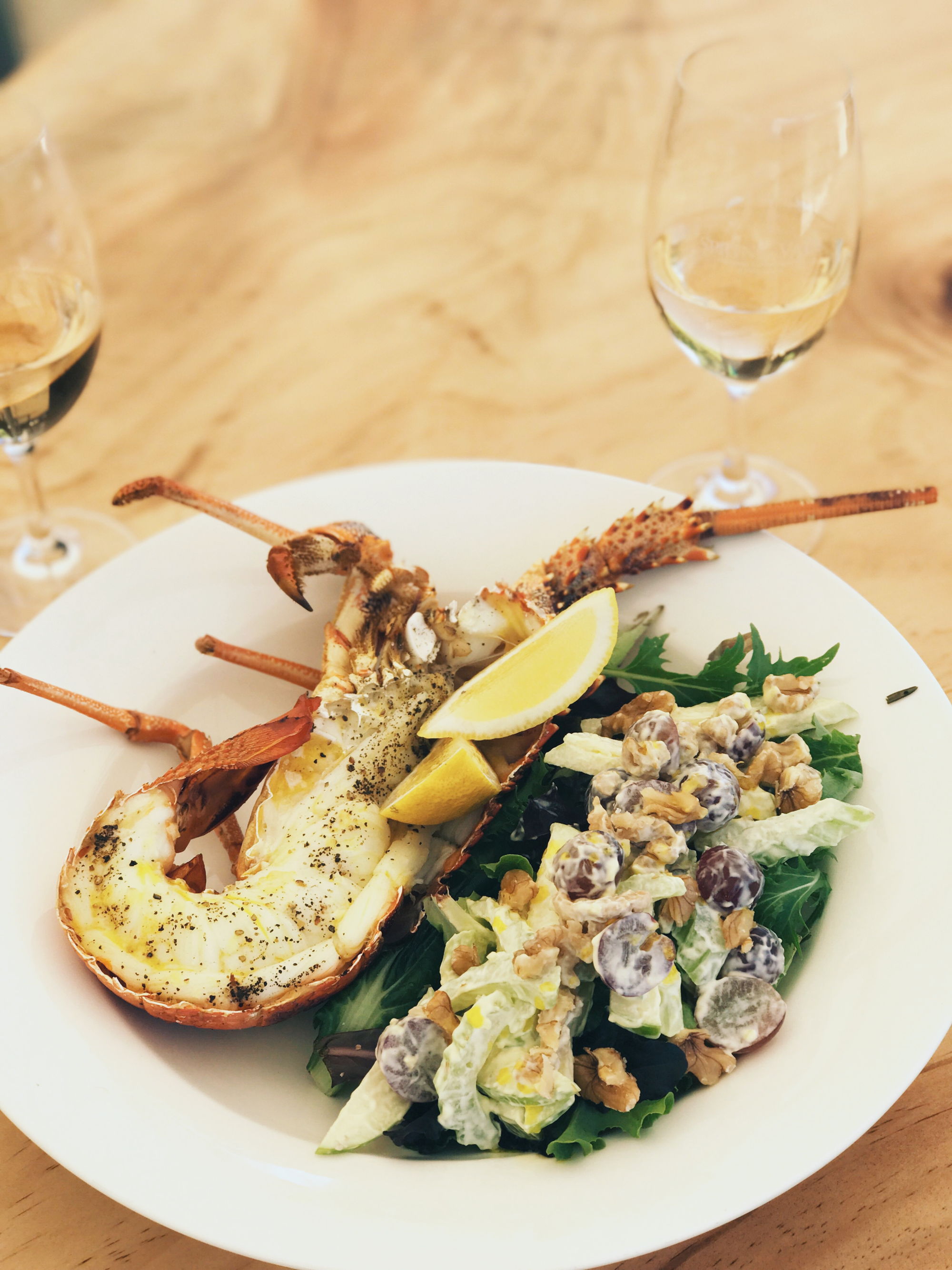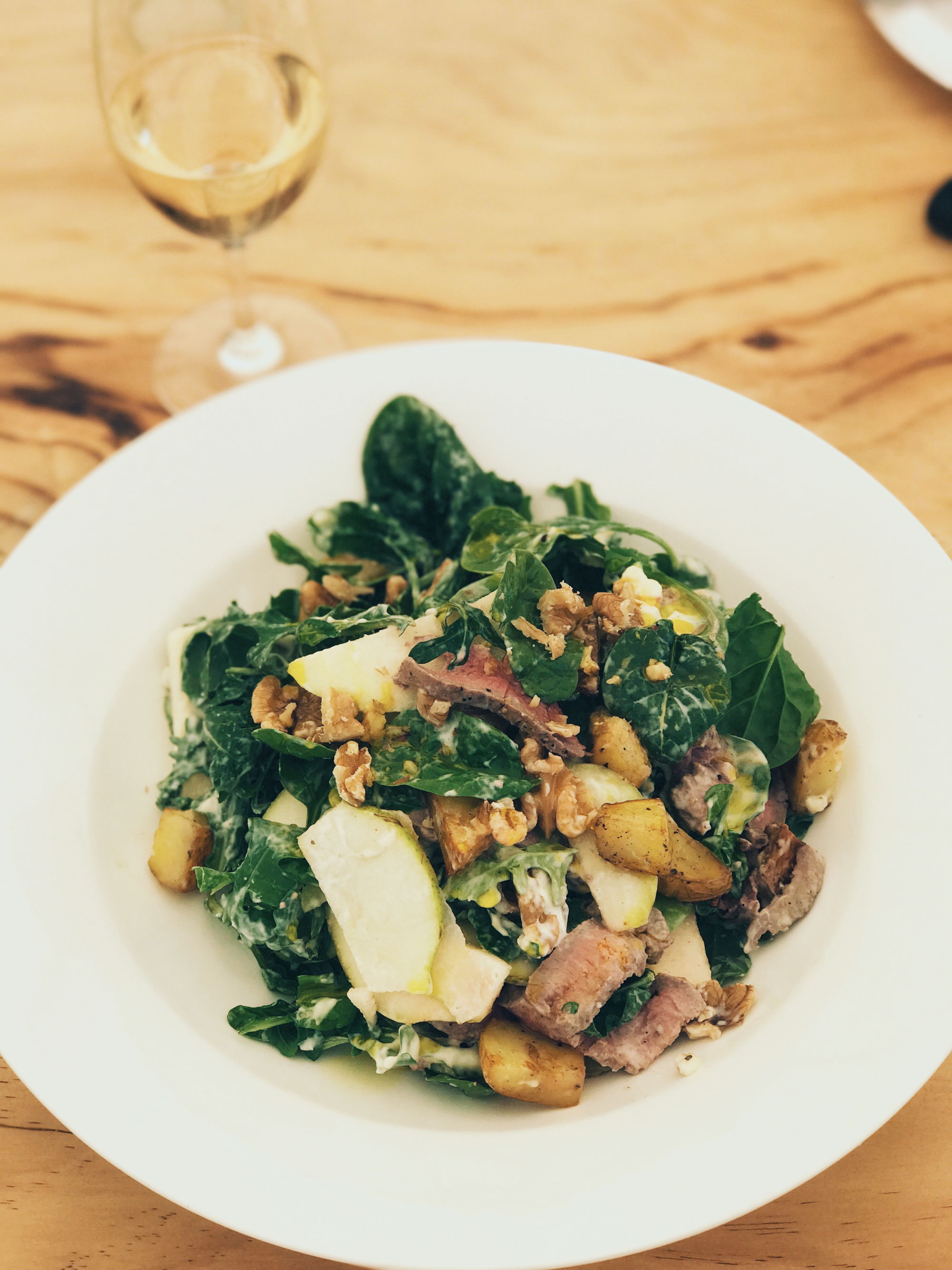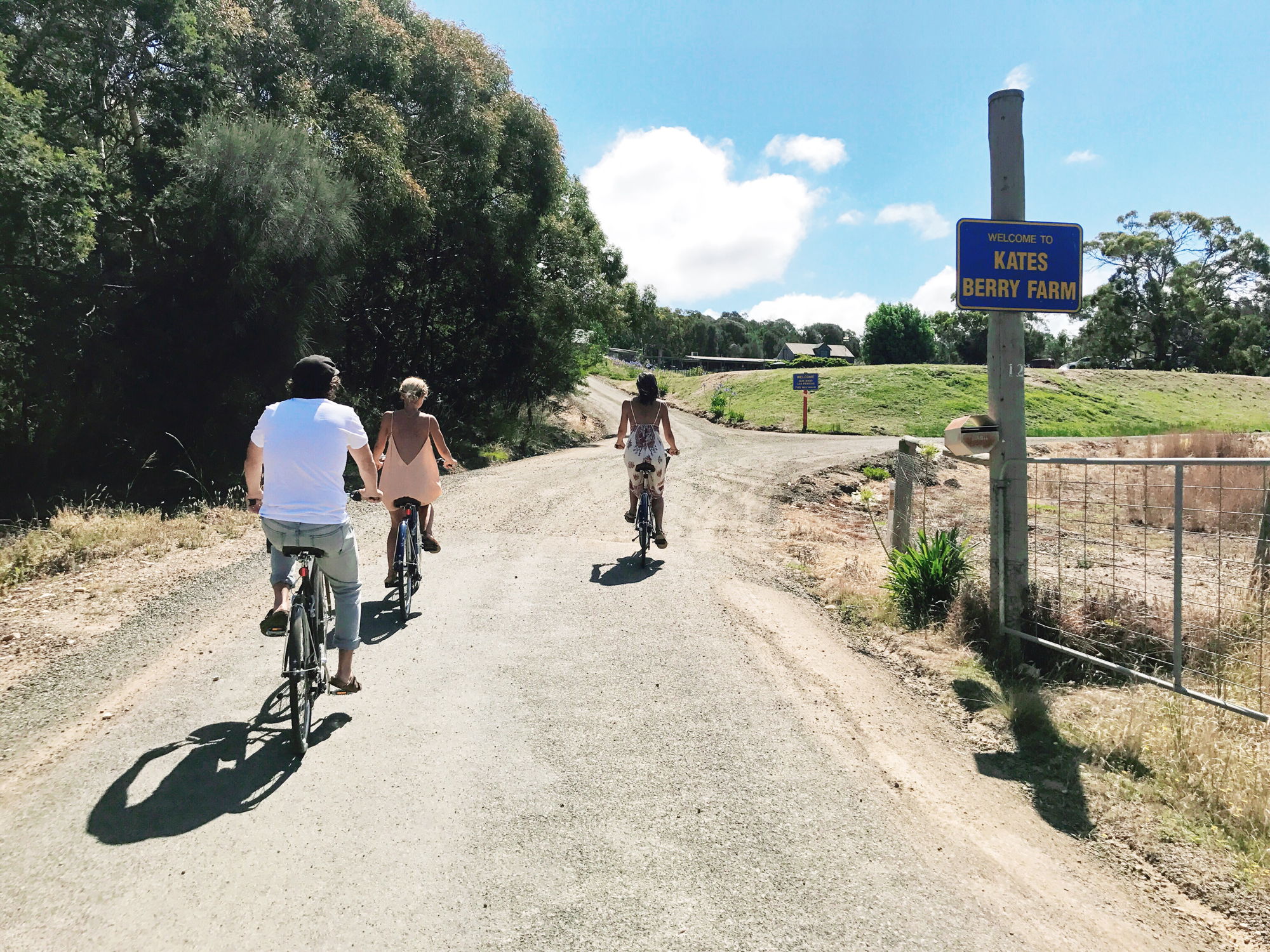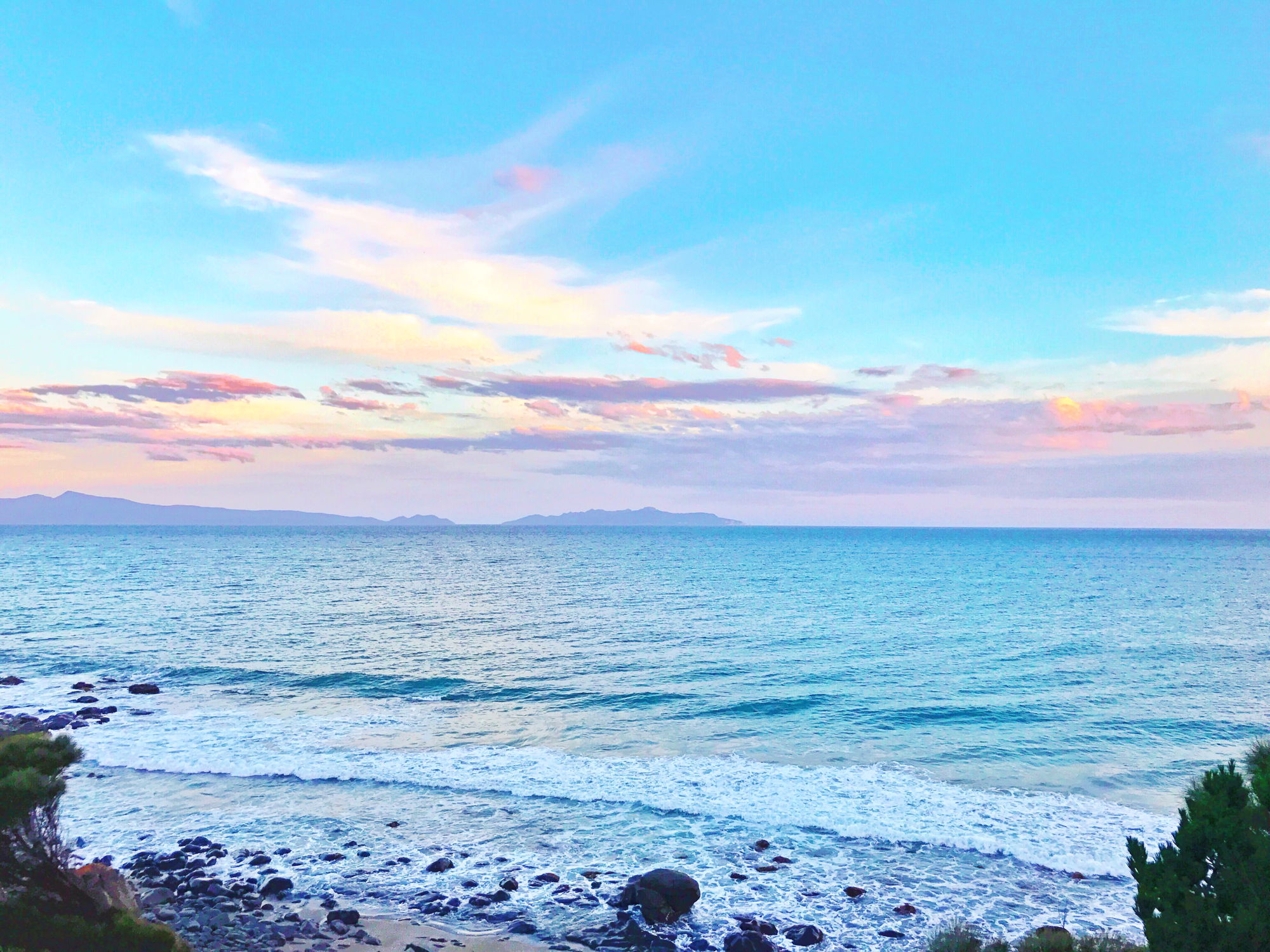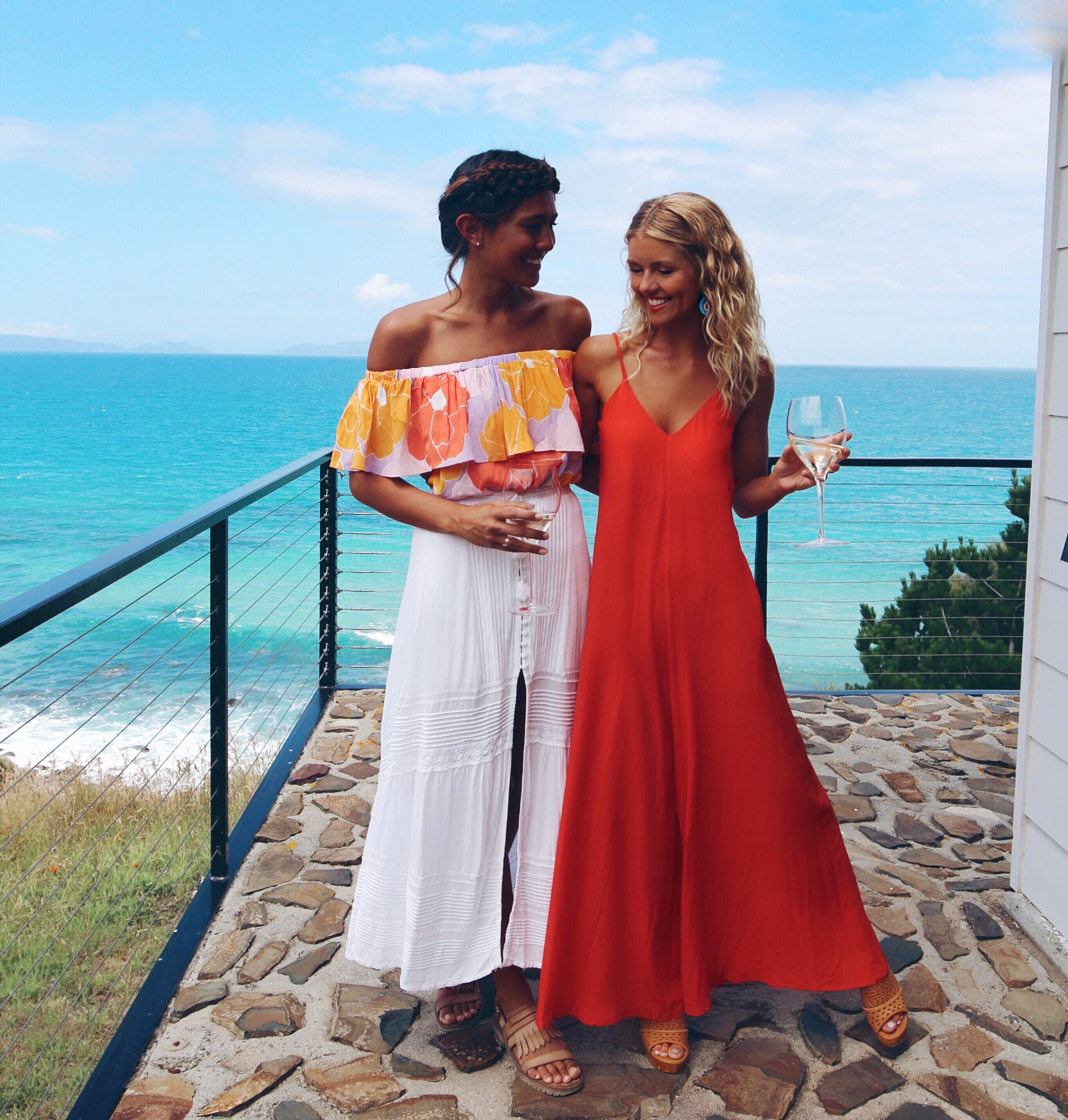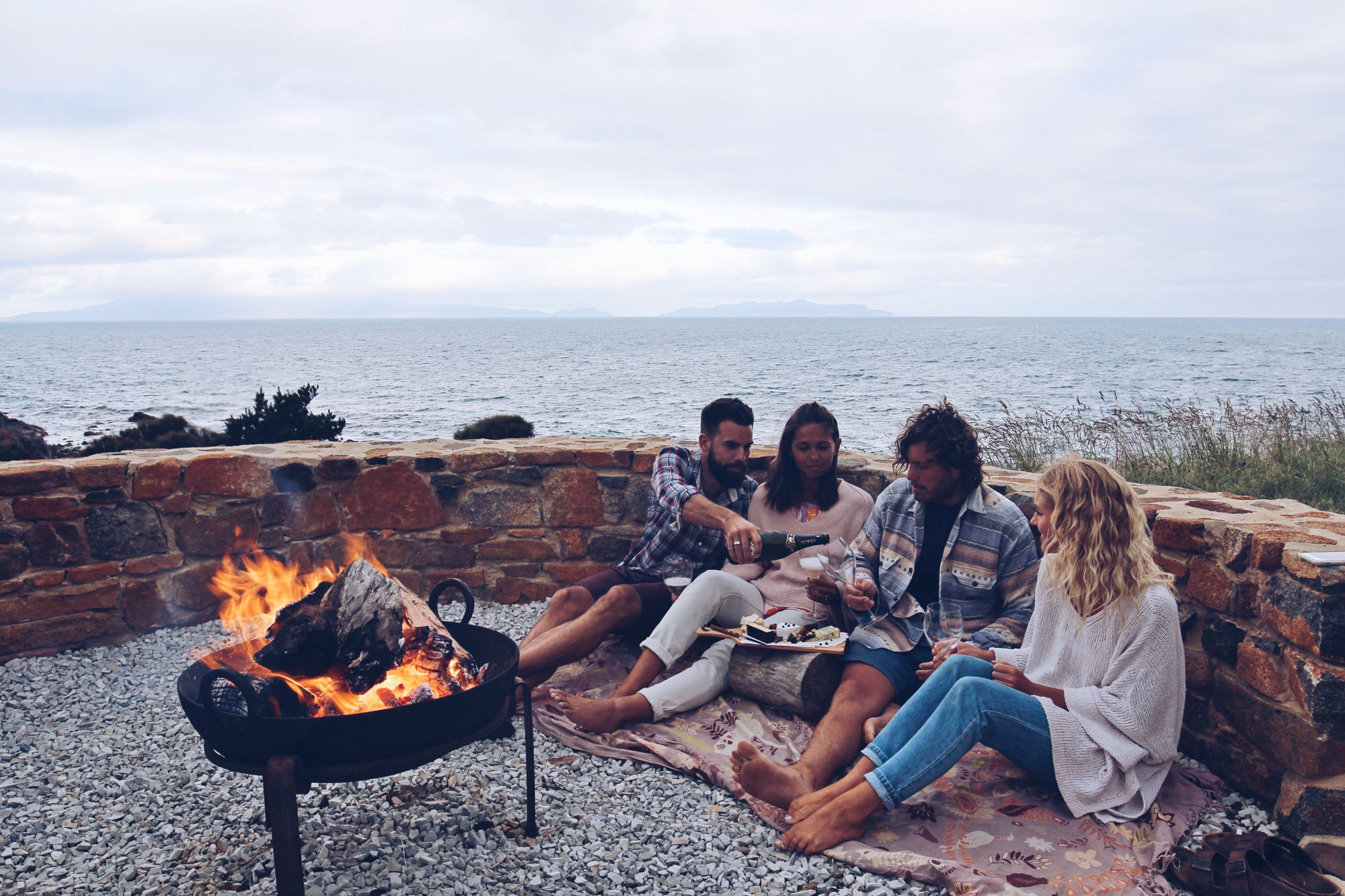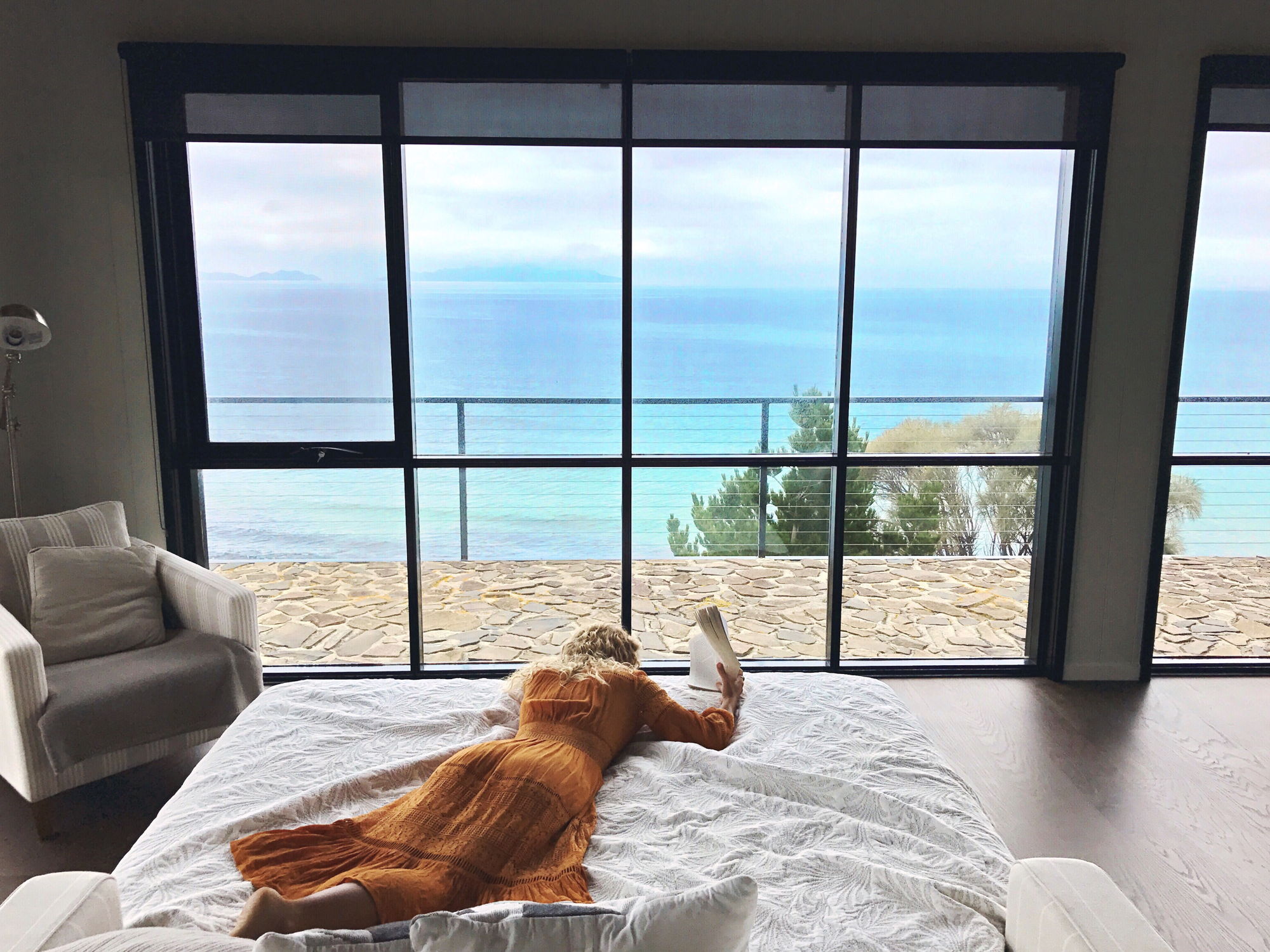 STAY:
If you're more for that luxury livin life, or you need to treat yourself, please put this place at the top of your list.
If you do make it here, you're in for a spectacular stay. Its perched on some cliffs about fifteen minutes out of Swansea.
I have one word for you - VIEWS. Everywhere. You can't escape them. The living area is encased with floor to ceiling glass, looking straight out over the dazzling big blue and across to Freycinet Peninsula, as are the bedrooms. Heck, even the shower has a view. (Sunset view above is from the balcony). 
The entire place has been beautifully and thoughtfully designed and styled, and they've also anticipated your every need. There a fire pit for evening wines outside, and a private beach you can wander down to for a little solitary swim or sun bathe. You might want to plan a day where you don't have to leave this daydream, so you can just laze out on the daybed with a book and soak up the scrumptious views.
Surprisingly, this stay won't break your bank, especially if you're with a group of friends. This is possibly because it's new and still unknown, so off you go before the secret's out!
They told us to let you all know, if you contect them directly - and let them know how you heard the word - they'll give you the best rate :)
I do, however, have a word of warning; you won't want to leave.  
Dolphin Sands
This nine mile stretch of coast is so quiet we didn't see another soul. We stayed in a very homely beach shack, Dolphin Sands Beachfront Retreat, that kind of feels like you're at your Nan's house, if your Nan happens to own some prime beachfront real estate. The house is nestled in the sand dunes and has it's own private path down to Nine Mile Beach. Dom and I were back in Scout, always good to be home, and Tan and Ben stayed in the house. The empty beach meant we could do whatever we wanted. So what did we do? Dom taught us Sumo.
Thanks for reading and watching - I hope this provides some insight or inspiration for your own East Coast Tasmania Roadtrip. It's a truely special place. The next blog post will cover Freycinet & Bay of Fires (two of my favourite spots in the world). Click here to subscribe. 
Wishing you love and light, 
Elise :)