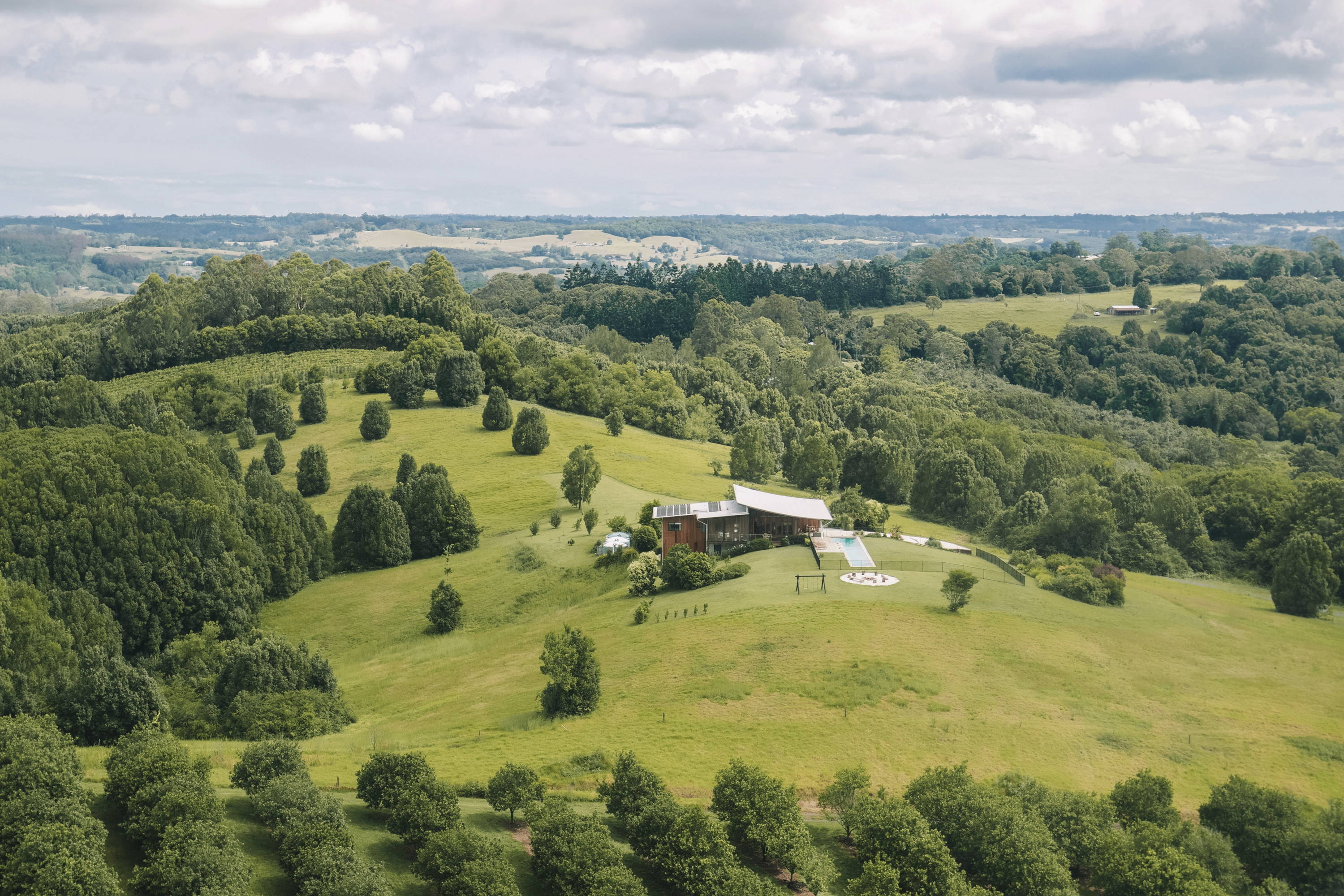 You know when you step into a place and you can just feel the love and thought that went into creating it? Temple Farmhouse is the 'dream holiday home' of its owners, and you can tell.
How fortunate are we that they've chosen to share it.
I can still remember browsing through Airbnb and seeing it pop up on my screen, and my heart did a little front flip.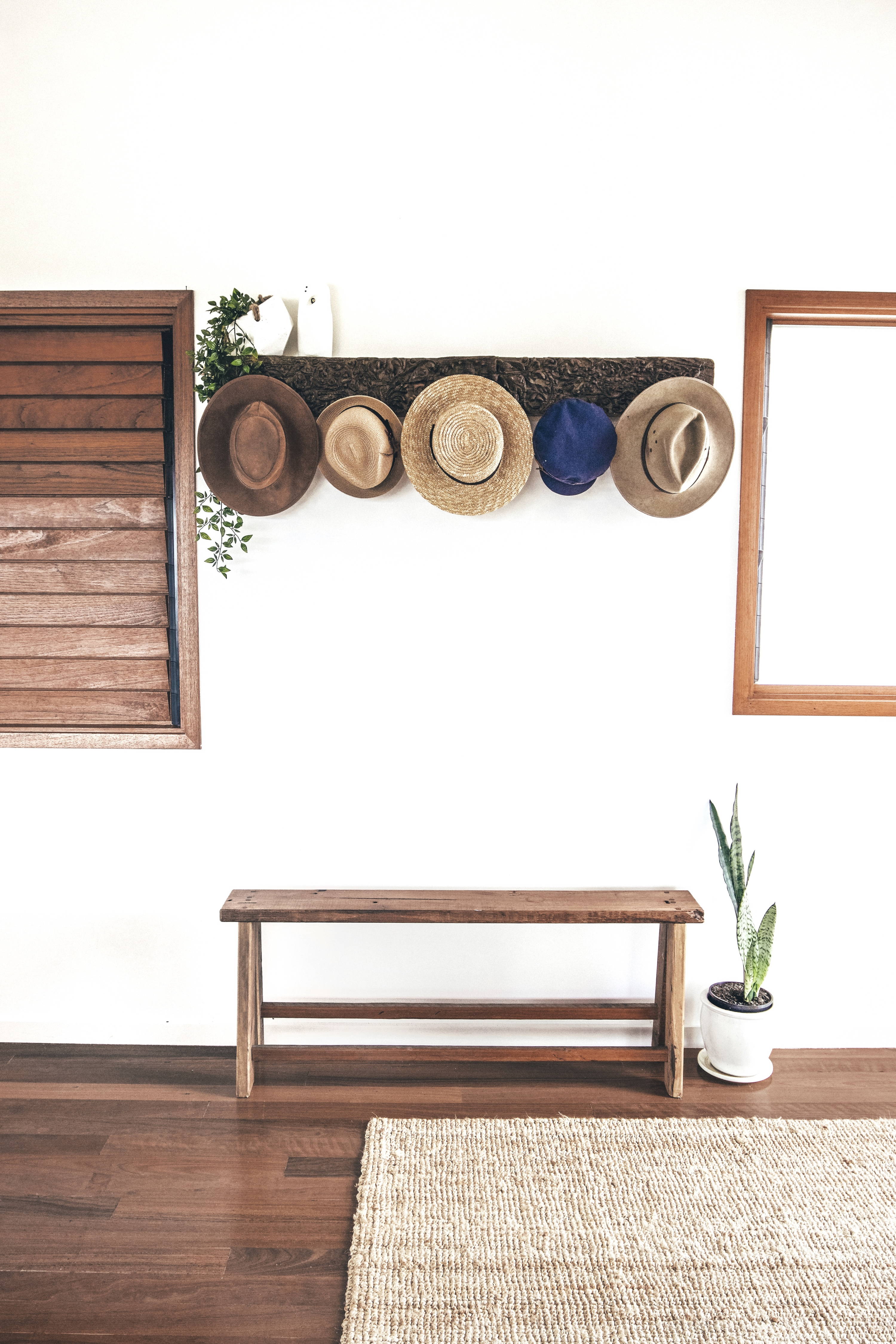 For the past four years, on each wedding anniversary, Dom has surprised me with a little getaway. This year was our fifth anniversary, and I convinced him to let me plan something simple. It wasn't easy, but eventually he conceded that it was an ok idea. We'd had a lot going on, and we were actually both craving a little 'down time' together, so I told him I had found the perfect campground down south, and that he could trust me to make it special (aka I'll put some fairy lights up, we'll light a fire, and crack a bottle of wine).
We'd been in Byron a little longer than intended, mainly because we love the people there so darn much, but it was time to hit the road. We needed to be in Sydney a few days after our anniversary, so he 'knew' we were definitely heading south.
However, his sister and our little niece were going to be visiting Byron two weeks after our departure. Dom was absolutely gutted about the timing, and he'd been really homesick for the first time since we hit the road. So I began planning and moving some things around, so that our anniversary getaway brought us back to Byron for their arrival.
To keep it all going, we'd casually chatted about the route we'd take south, and I'd even thrown in a few extra details for good measure like a great restaurant I'd booked an hour north of Sydney.
This was my first time - ever - surprising Dom. I knew he was going to LOVE it, but I also felt really mean at times, because he was just so cut that he wouldn't get to see his big sis.
I planned for us to head up to The Whitsundays (you can read about that part in the following blog post) but there were a few days in-between when Dom thought we were leaving Byron, and when we were actually leaving, which is how I came across Temple Farmhouse.
The morning of our 'departure' I told Dom we were meeting two friends, Lulu and Evan, for coffee to say goodbye. Dom thought that was great and followed my directions to the 'new coffee place in the hinterlands that Lulu really wanted to show us'.
It was all going well, he was commenting on how beautiful the area was and how funny it was that in three months in Byron we hadn't ever taken these roads before, and then I asked him to turn down a dirt no-through-road, and he refused.
"There's no way there's a cafe down this road. Give me the map, you must have it wrong."
"No I don't. They probably just haven't put their signs up yet because it's so new."
"There isn't another soul around. You've got the road wrong, maybe it's blocked this end and we were meant to come in the other way."
"Noooo…. Trust me. It's one of those farm places. They want it to feel authentic probably. Very Byron. Just bloody turn down the road please…."
This went on for a little while. He was laughing, he just thought I was an idiot.
At the very end of the road, there was a little wooden sign that read "Temple Farmhouse", and I think something twigged for Dom.
"Hang on, what's going on?" he said.
As we pulled in there was only one car out the front of the farmhouse. His first response, "Where's Lulu and Evan?".
I tried to convince him that it was their car, but apparently they drive a very distinct jeep which I hadn't noticed but he had, and he could not be fooled.
The property is impressive as soon as you approach it, but when you open the huge front door and step inside... it's like all your dream homes made a baby and this is the result.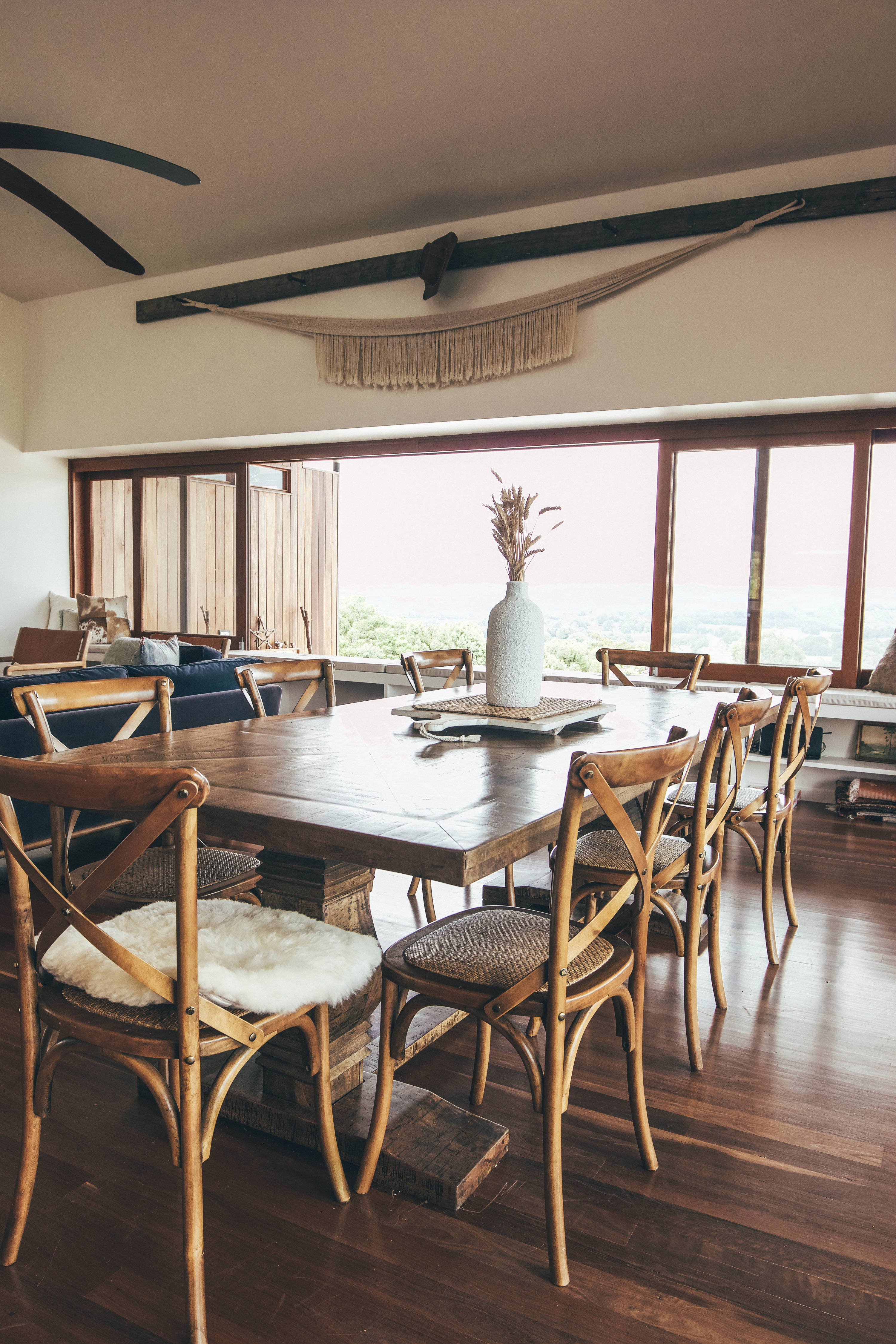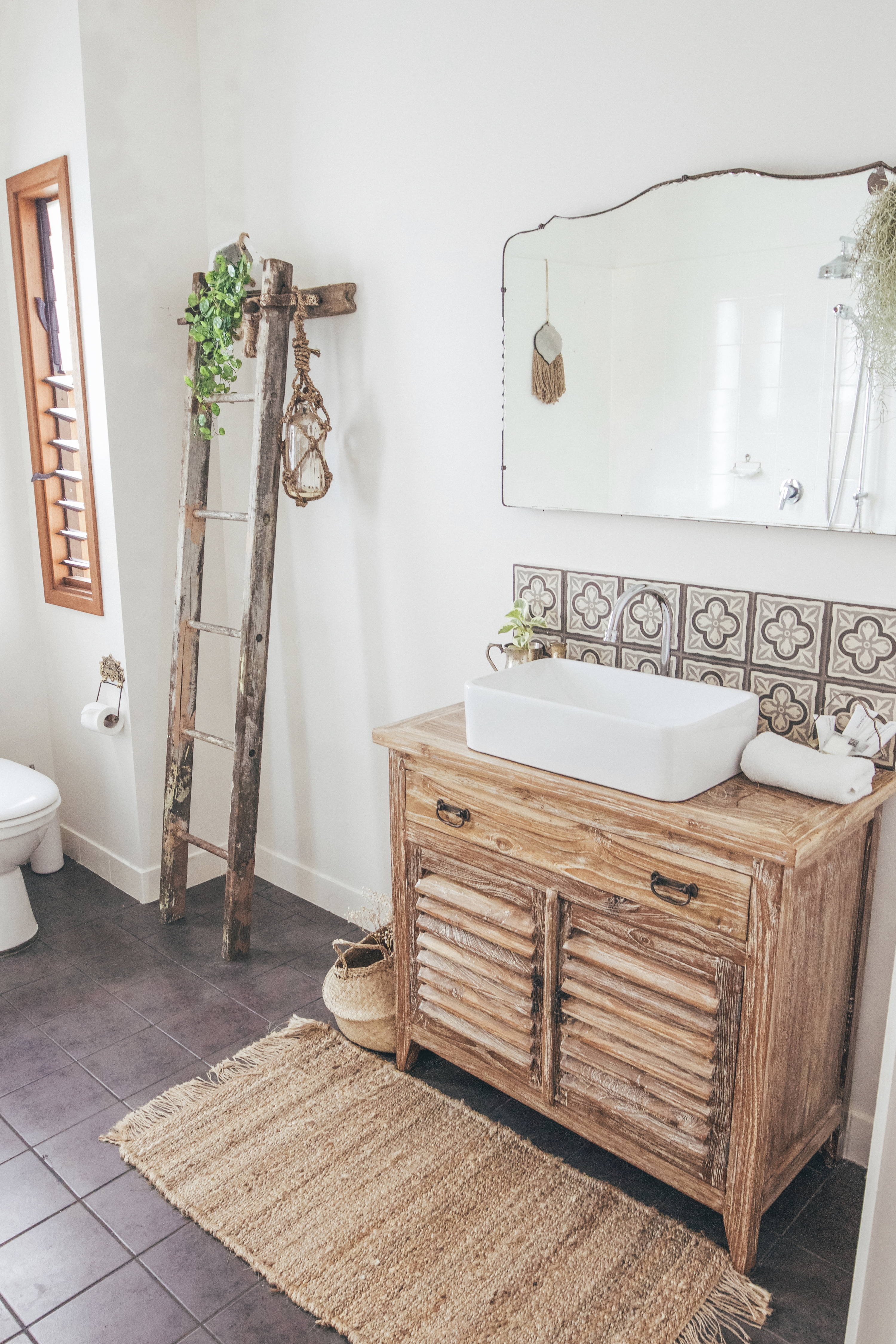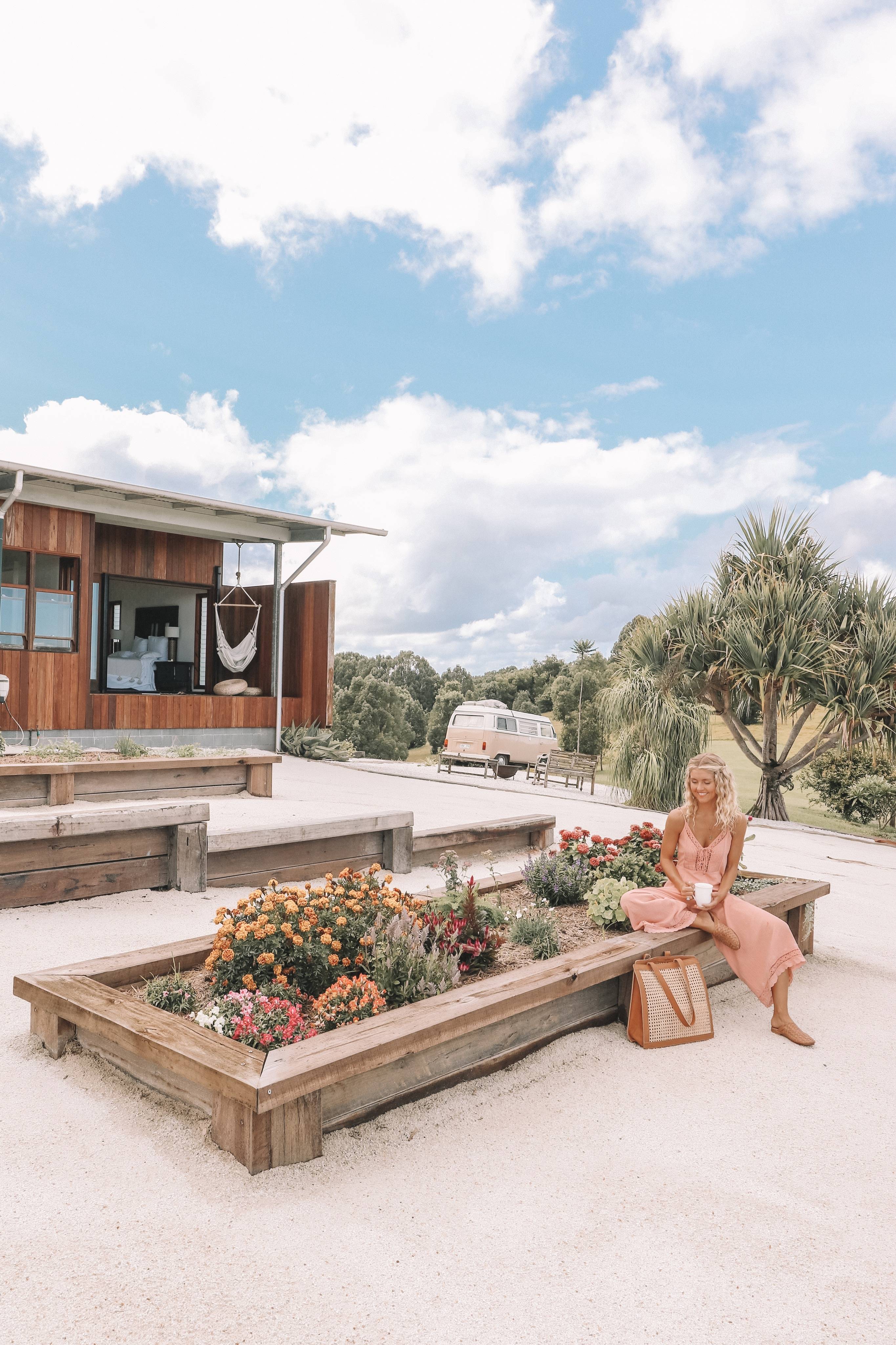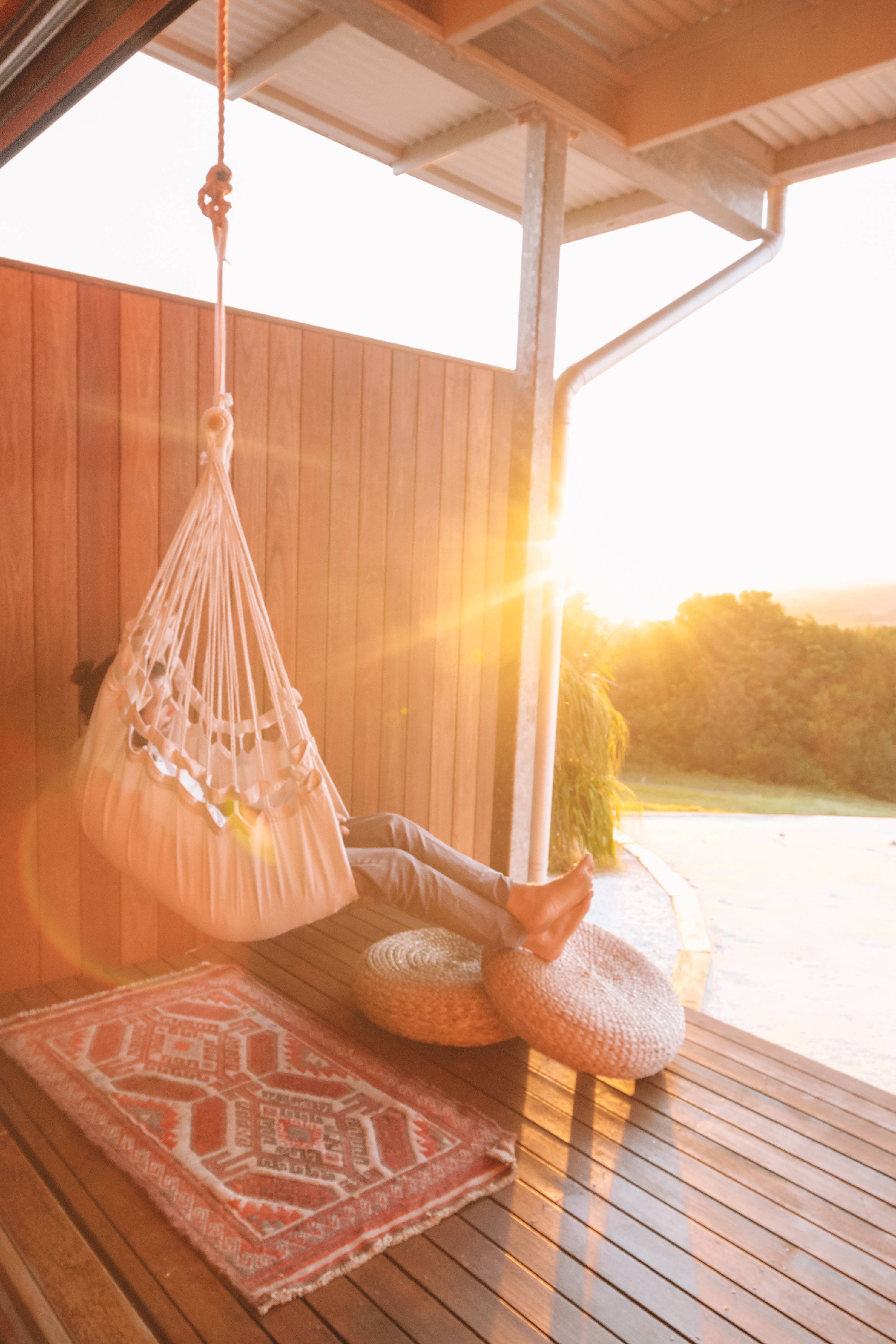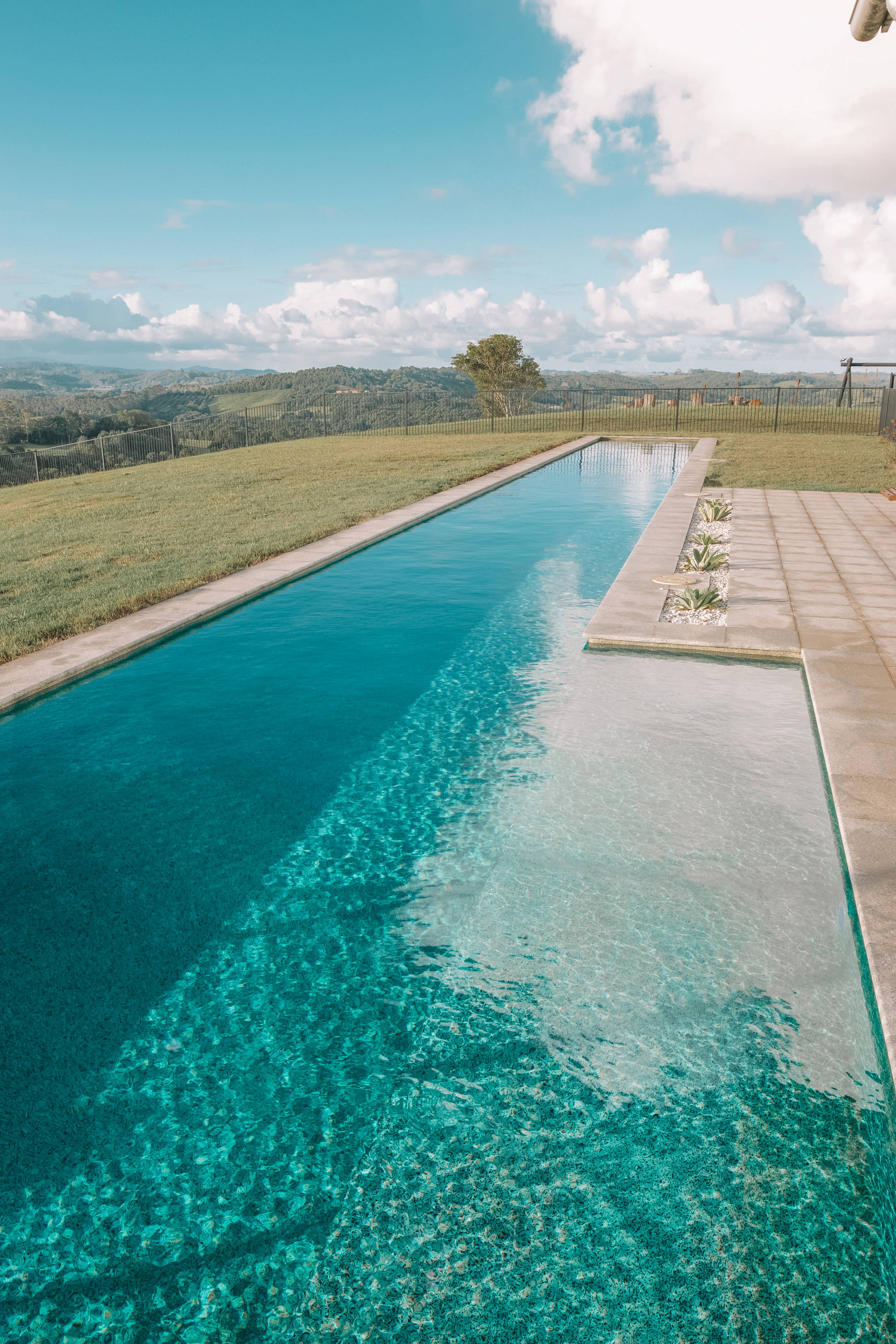 His reaction as we walked in, and I told him we were staying for the next three nights, I will never in all my days forget.
He was very confused. Very. So I told him that we would be going camping elsewhere, the Sydney plans were cancelled, and that we'd be back in Byron to see his sister.
There were tears guys. He was beyond happy.
For the meantime we got to enjoy some time out of the van in this glorious space. He was most excited about the size of the beautiful kitchen, which overlooks the living space. And when I told him that our nearest and dearest Byron friends were coming for dinner, that night, he was over the bloomin moon. Planned his big cook up and went straight to the market.
In case you don't already know, this man looks to cook for people.
I was most excited about the beautiful bathtub, which gets heavenly sunlight in the morning and from where you can soak with a glass of wine and watch the sun go down in the evening. Baths are my thing. And baths are not a thing you can access while living in a van, so this, for me, was bliss.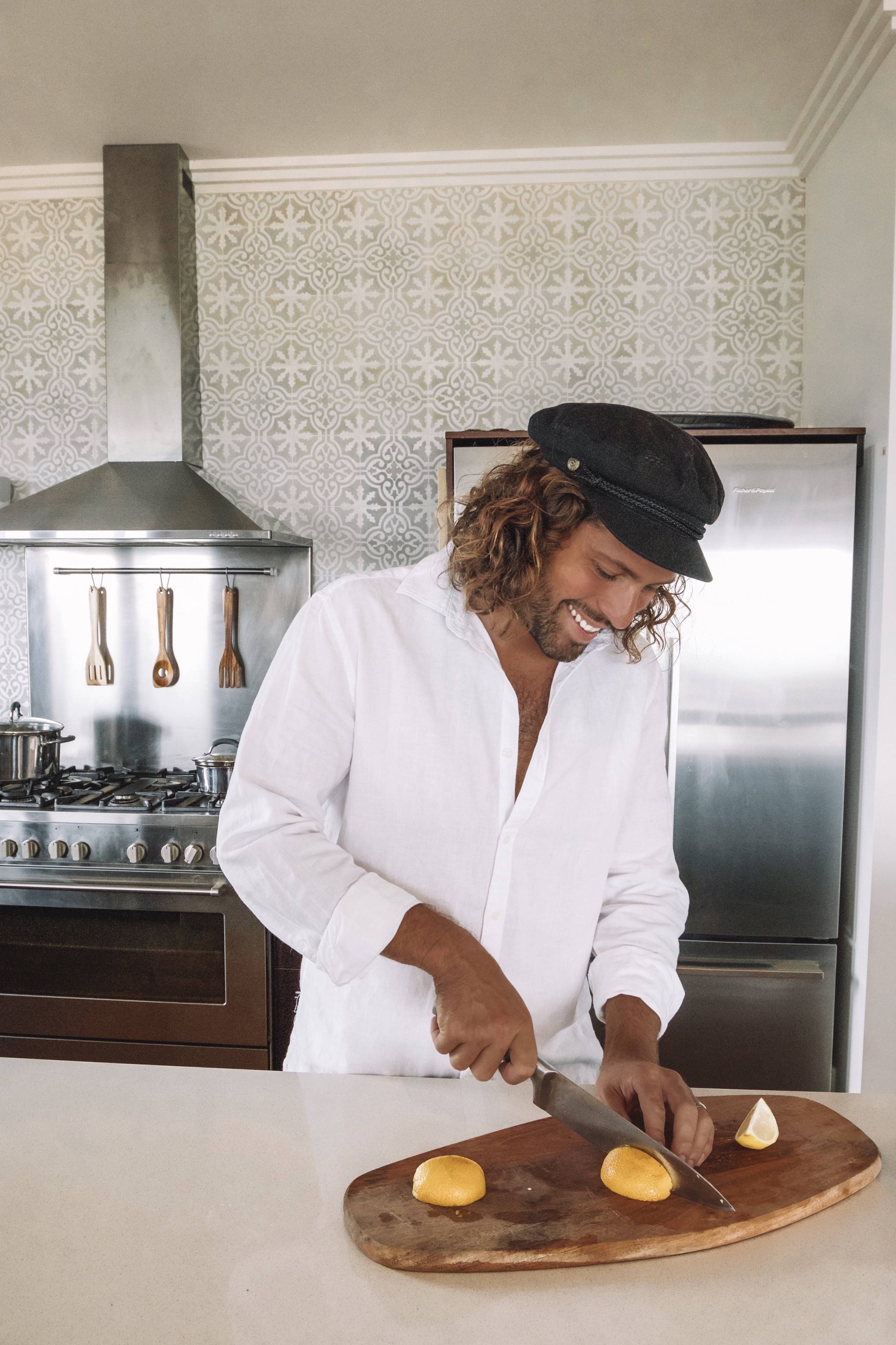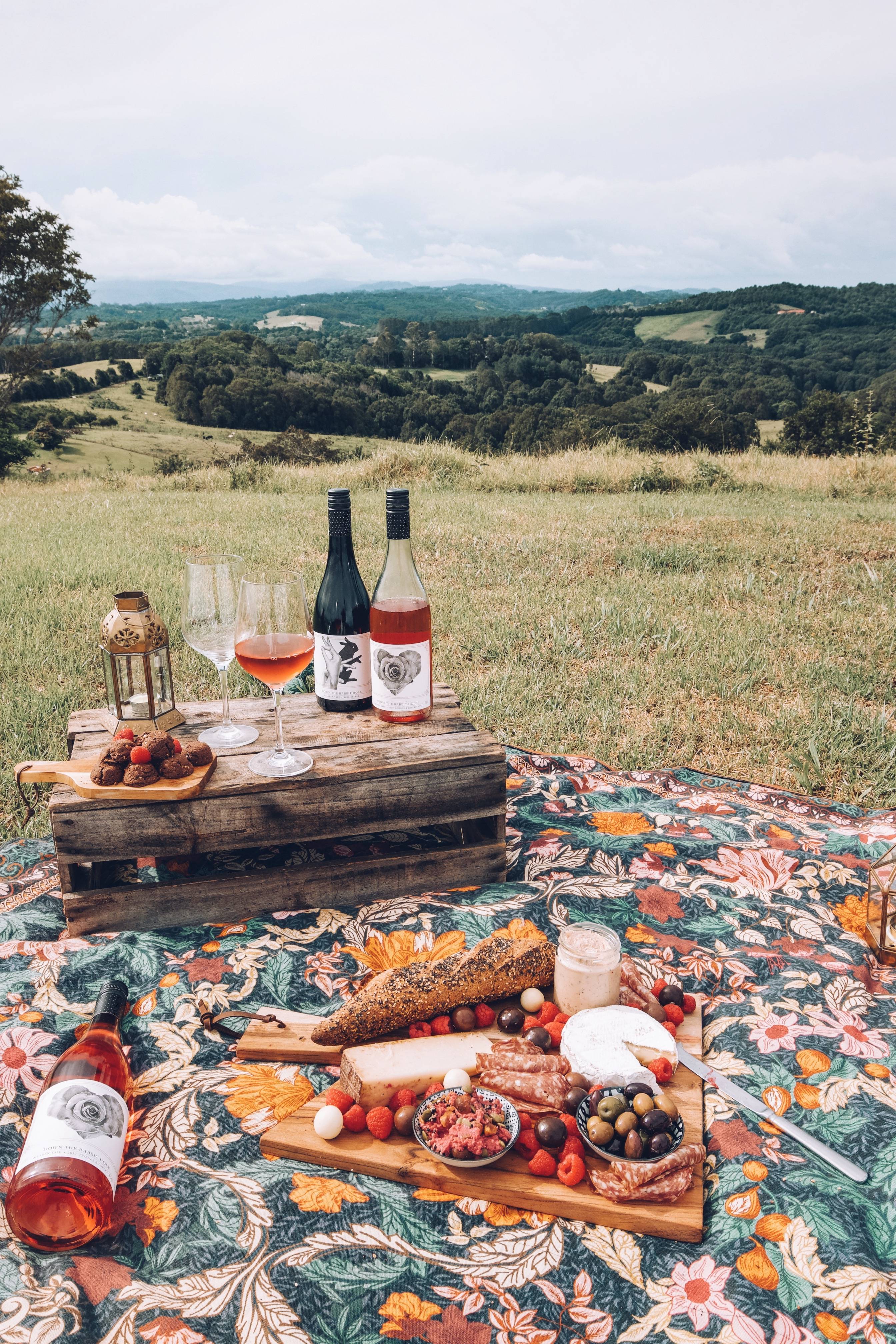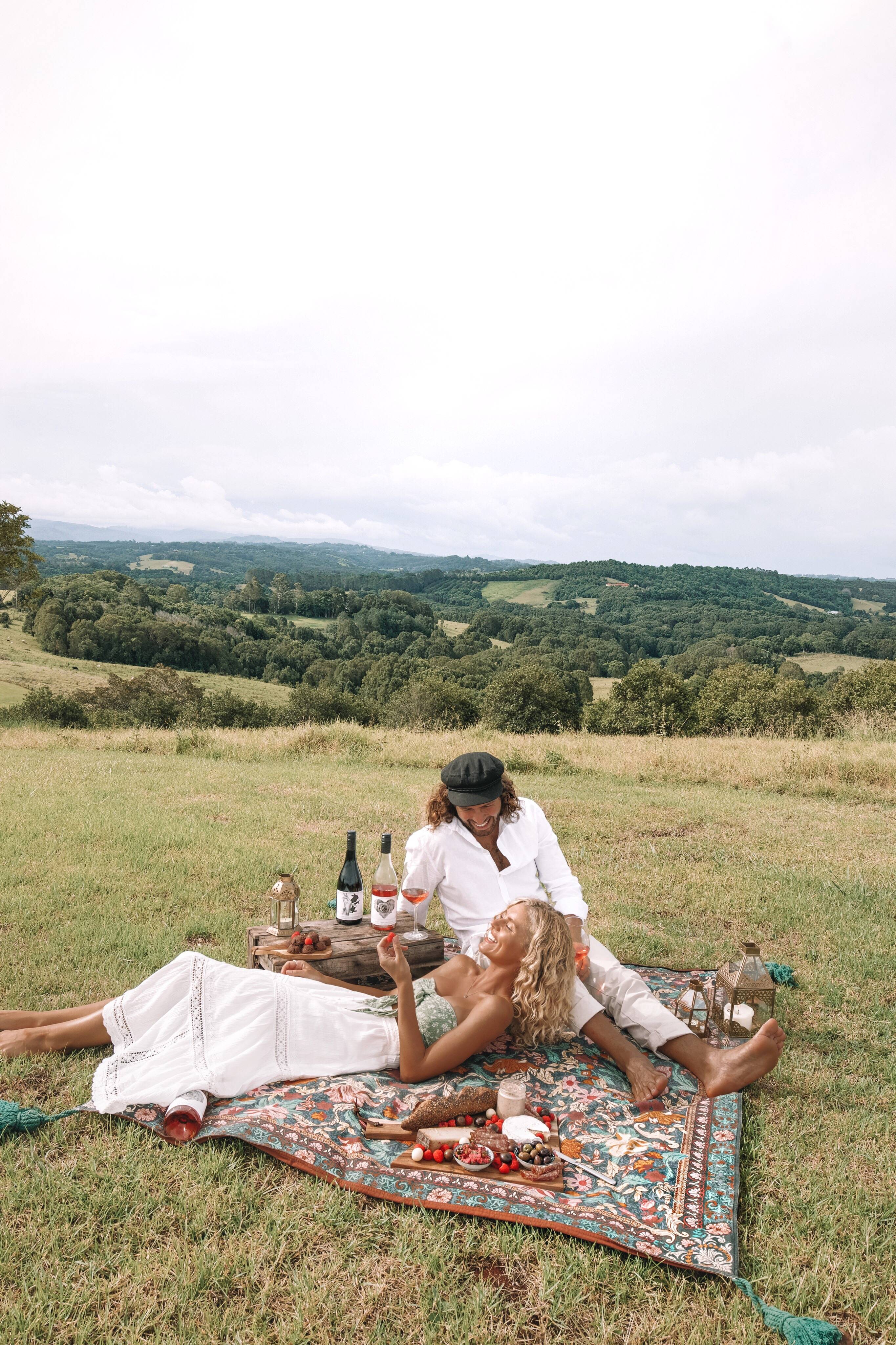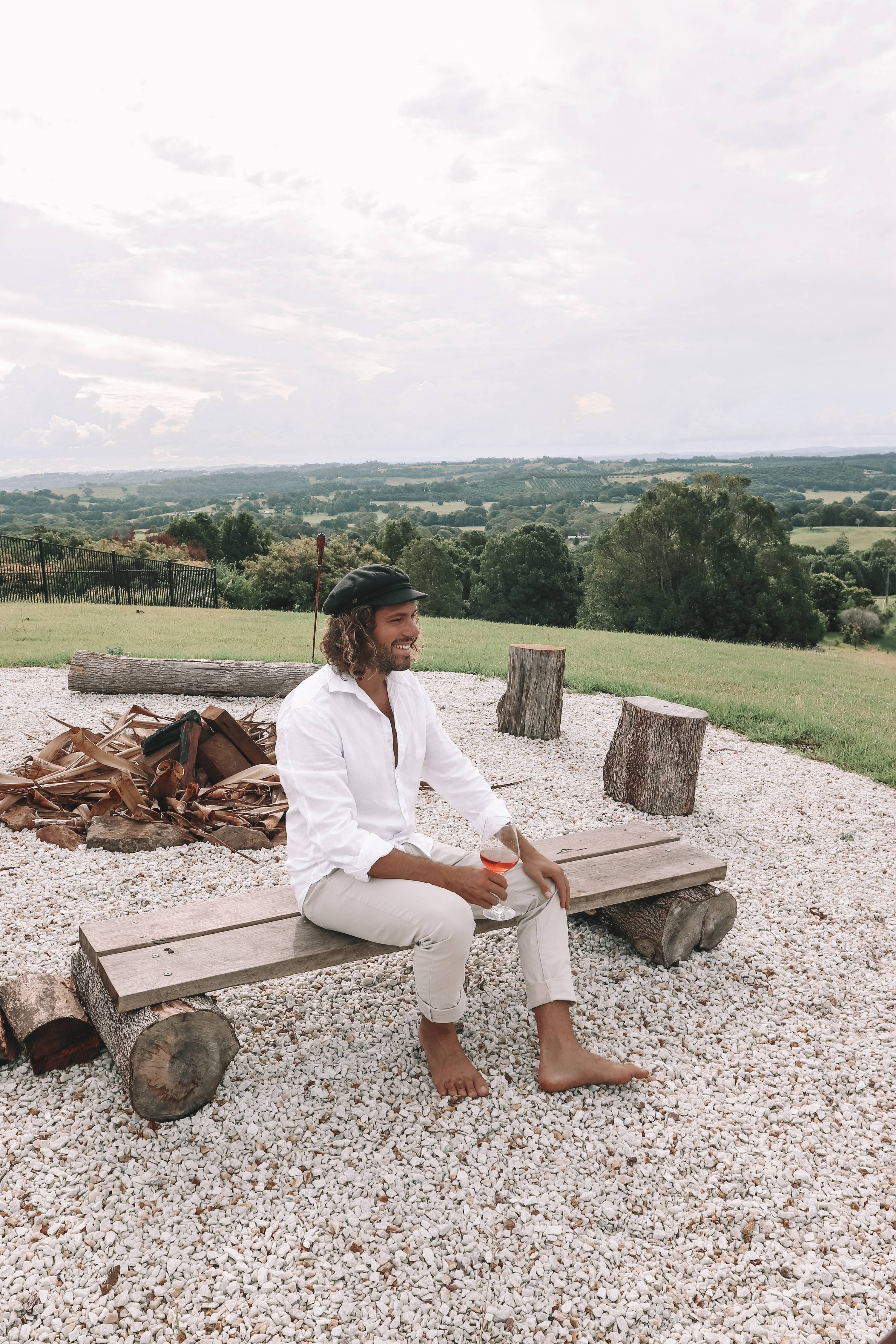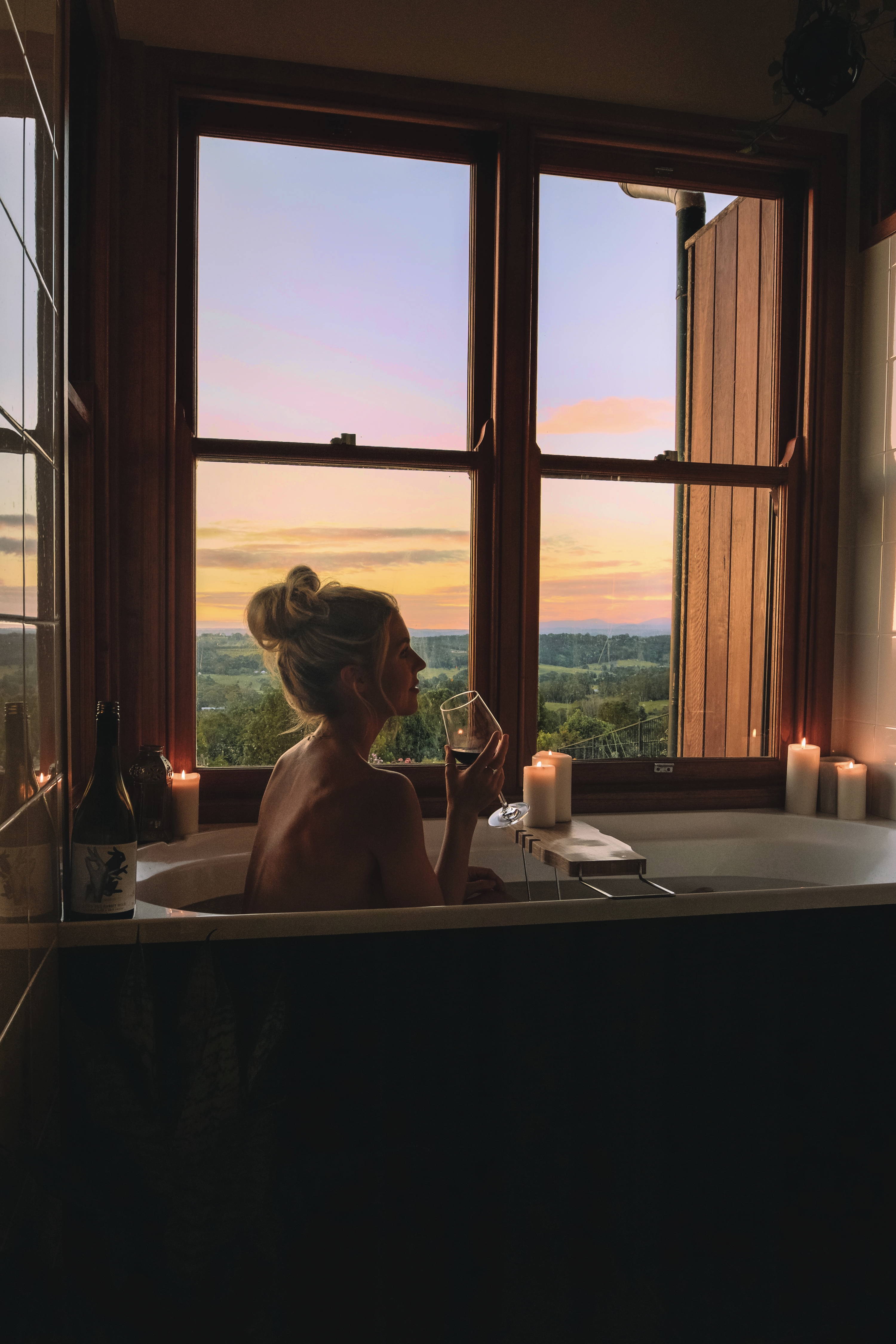 If you are ever in need of a secluded sanctuary, whether with your lover, your friends, or your family, this is your place. There are four large bedrooms, five beds, and three bathrooms. The open ranch farmhouse styling is impeccable. Not a detail missed, with a distinctly warm, welcoming and homely feel. The exterior is just as impressive as the interior. There's a herb garden you can use for cooking, a gorgeous lap pool that reflects the day whatever the weather, and a big fire pit to sit with a bottle of wine (see Dom… there were some elements of truth to my plan).
Your not too far from anything, but you feel a world away from everything, surrounded by the wild yet peaceful rolling hills of Nashua. It is set up well for families with kids, with a mini kids kitchen outside, a huge back lawn, and a handmade swing set, as well as daily visits from the local roos, all of which are just as enjoyable for adults.
Like a babushka doll of surprises, I had another one for Dom. Alita, the Temple Farmhouse owner, organised for a helicopter to do a surprise landing in the backyard on day two, which then took us for a scenic flight over Byron Bay. His reaction was hilarious!
"WHAT is happening?!!!"
He honestly thought the thing was crash landing in the backyard.
After spending a few months exploring Byron, it was pretty unreal to see it all from above. Definitely a day we'll never forget. And even more special to be dropped back in the backyard, next to the pool (very impressive landing).
I believe it was the first time they had done this - but if you're going, Alita can organise this for you with Rotorwing Helicopters.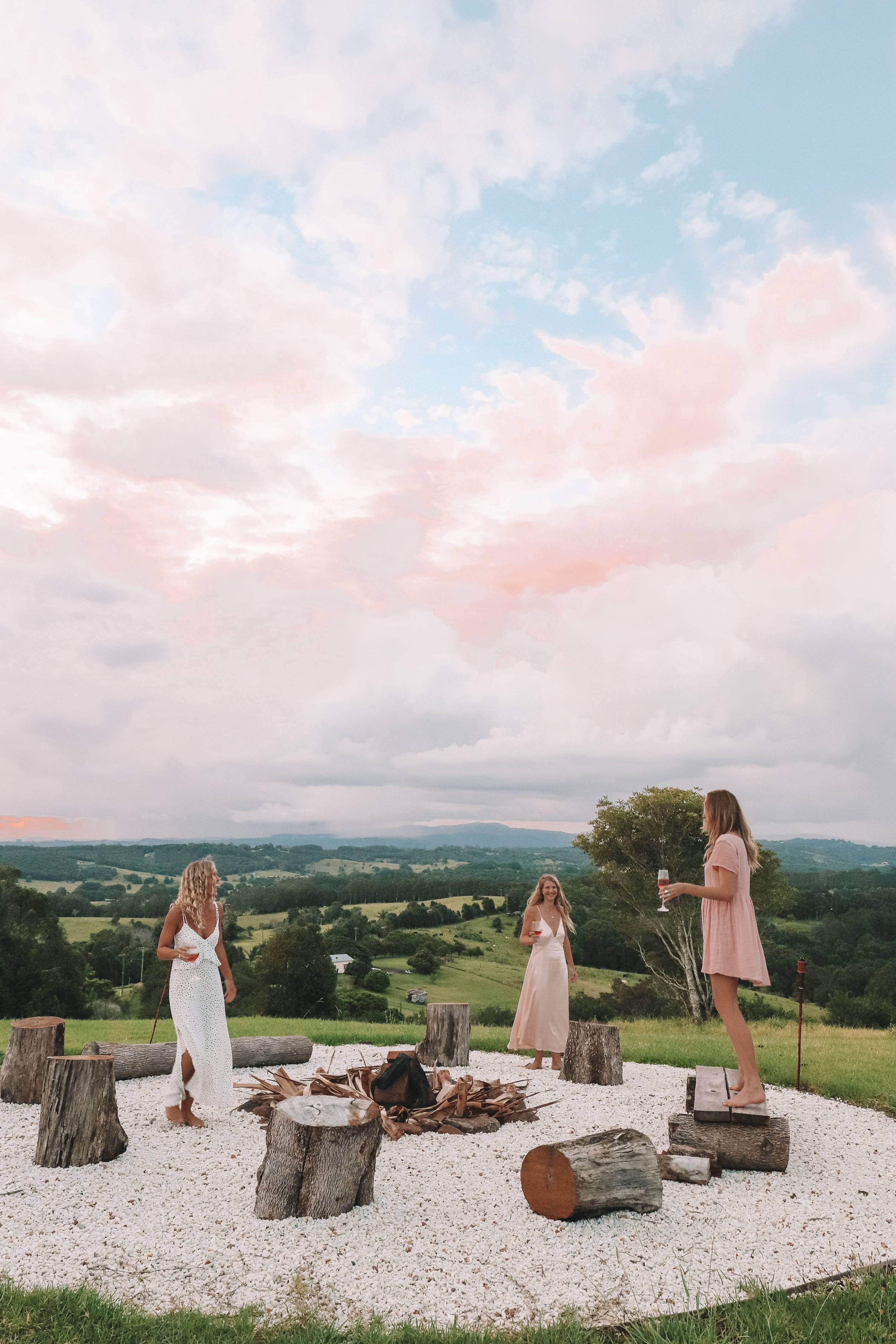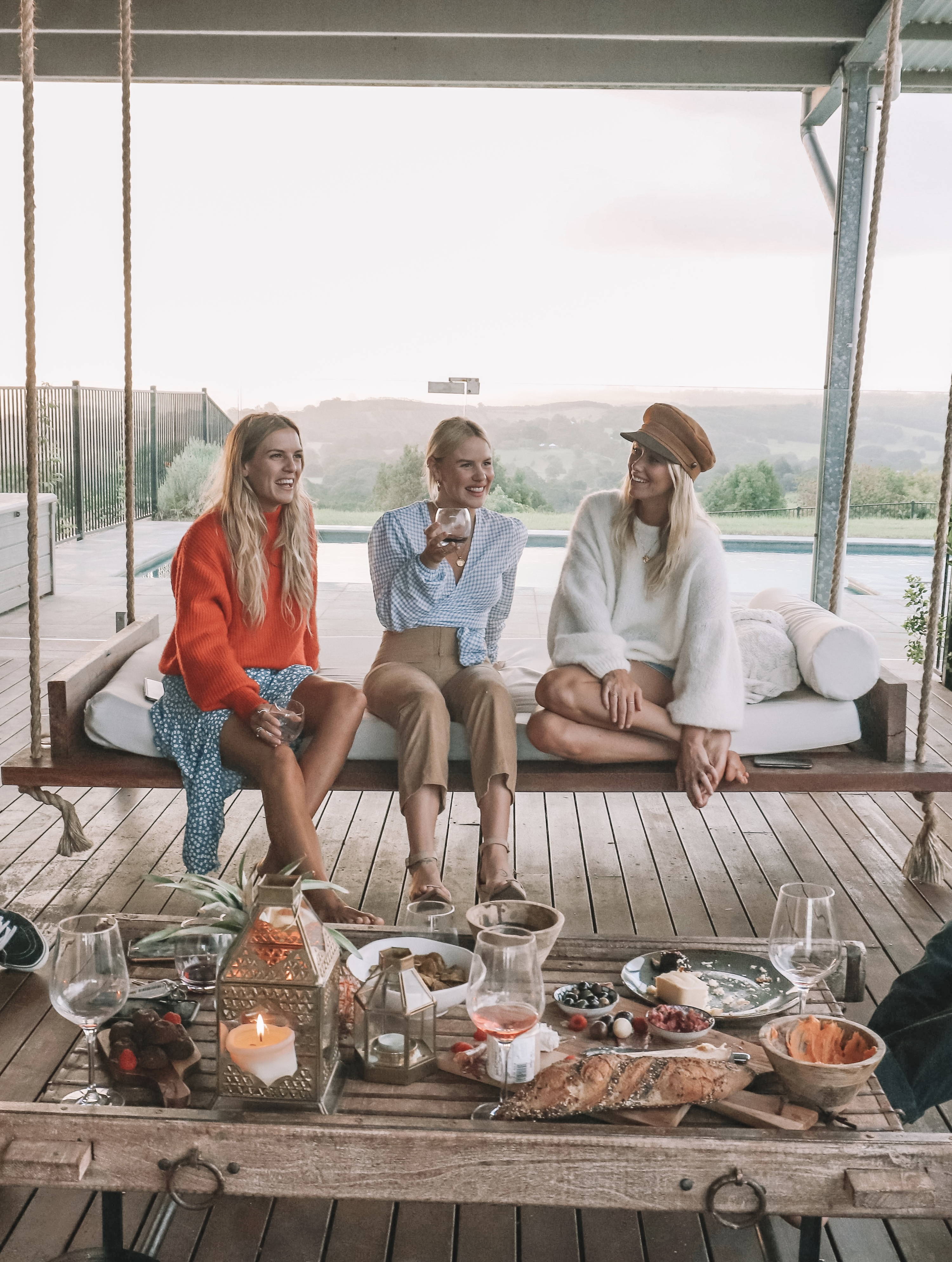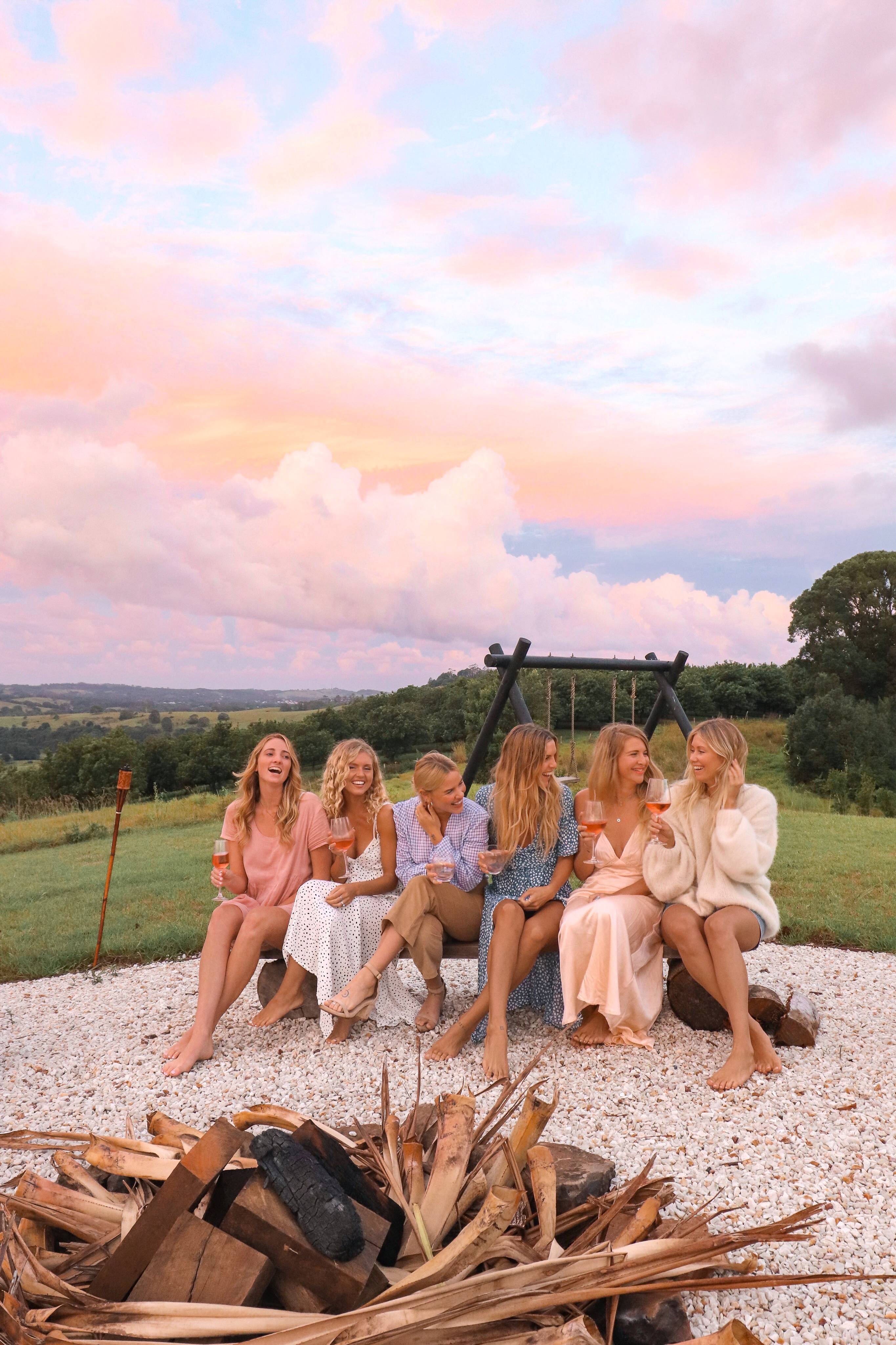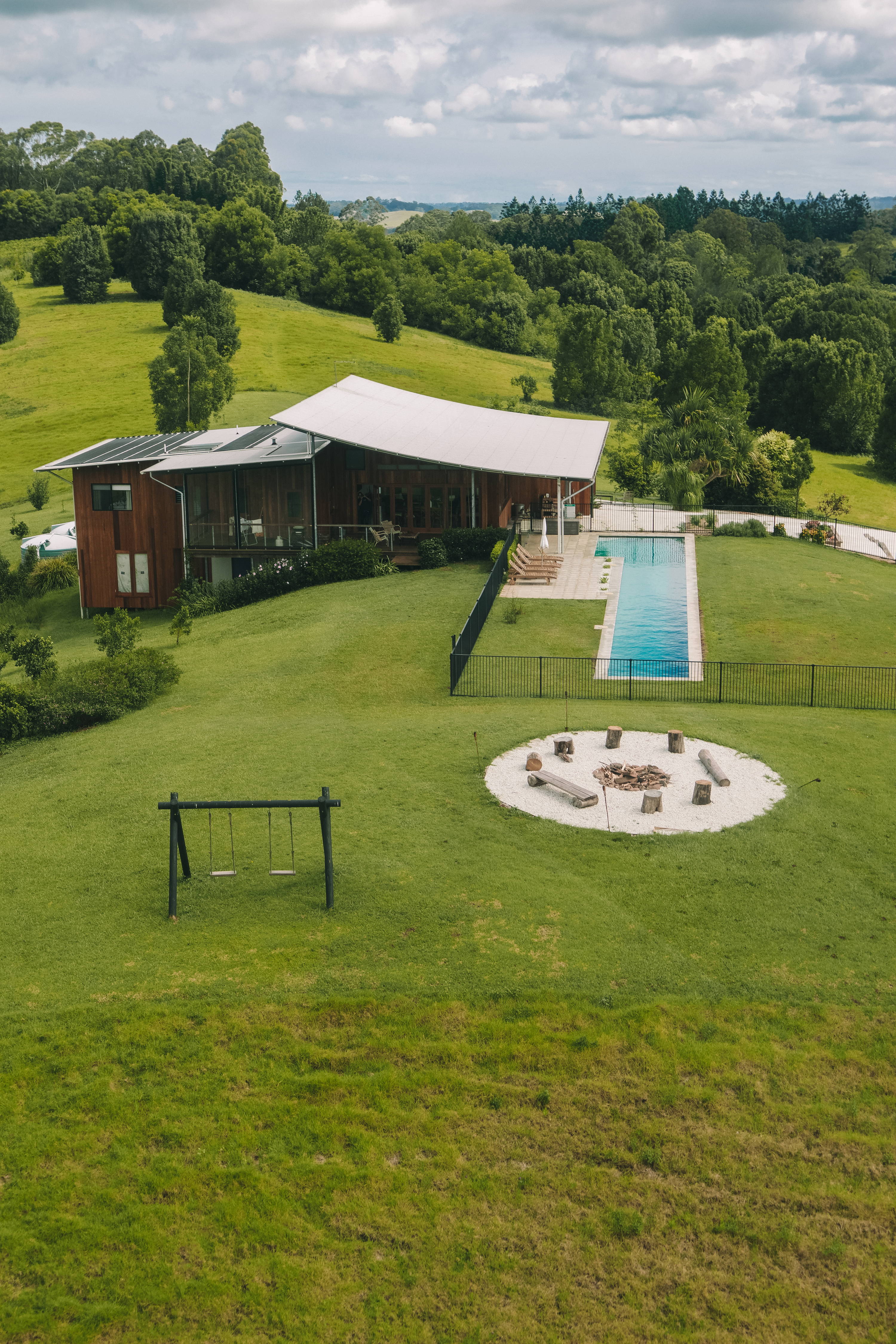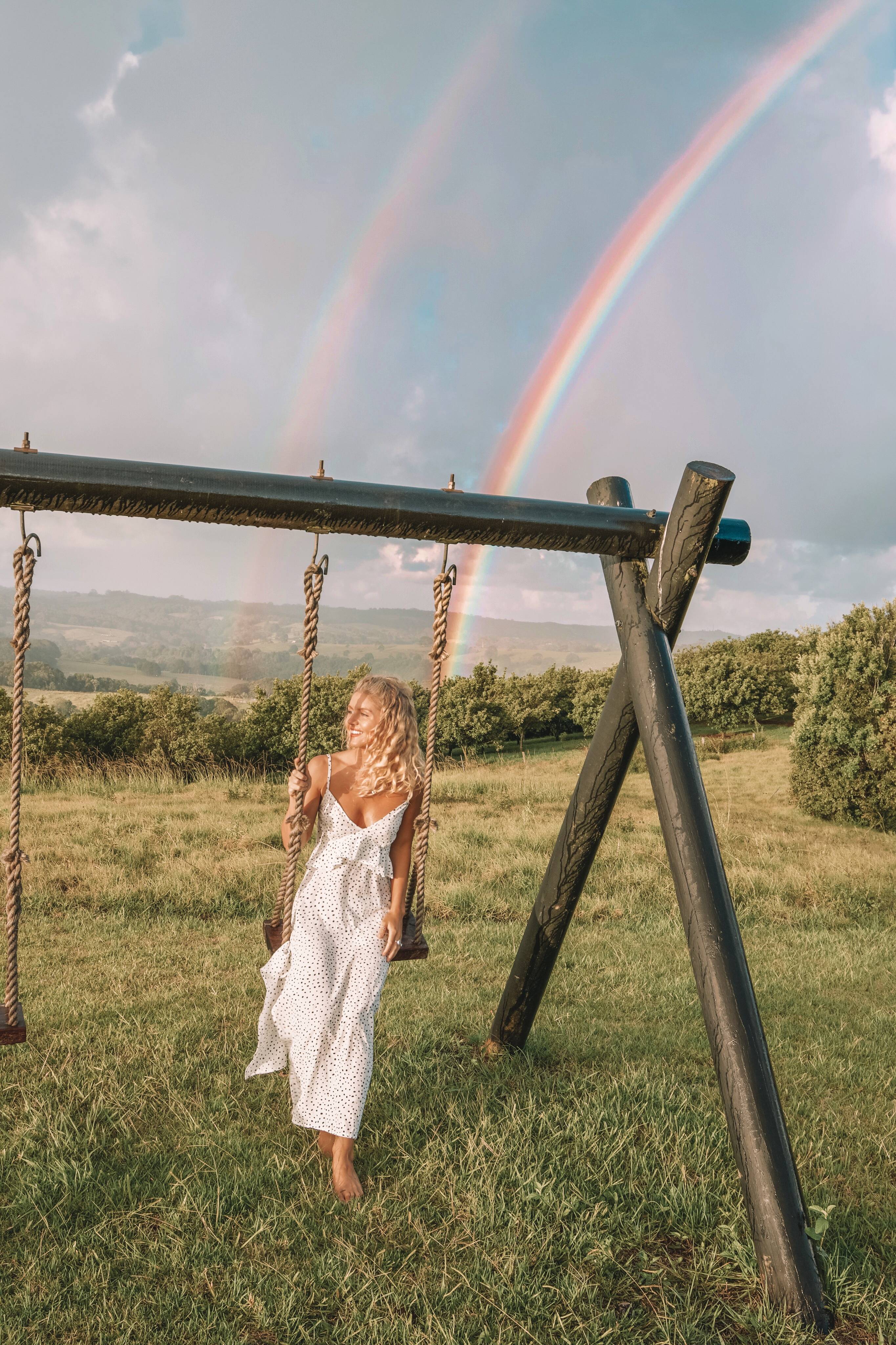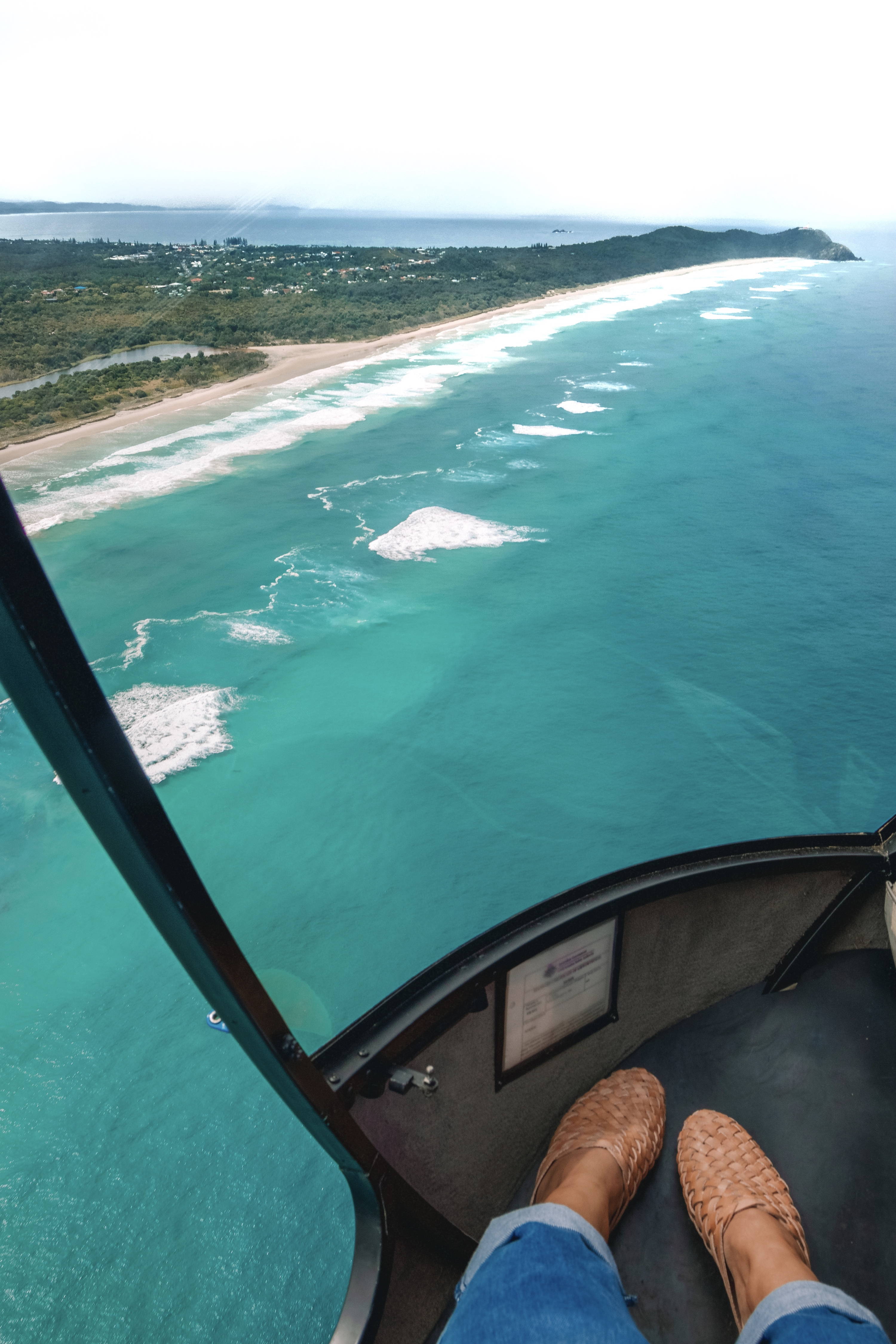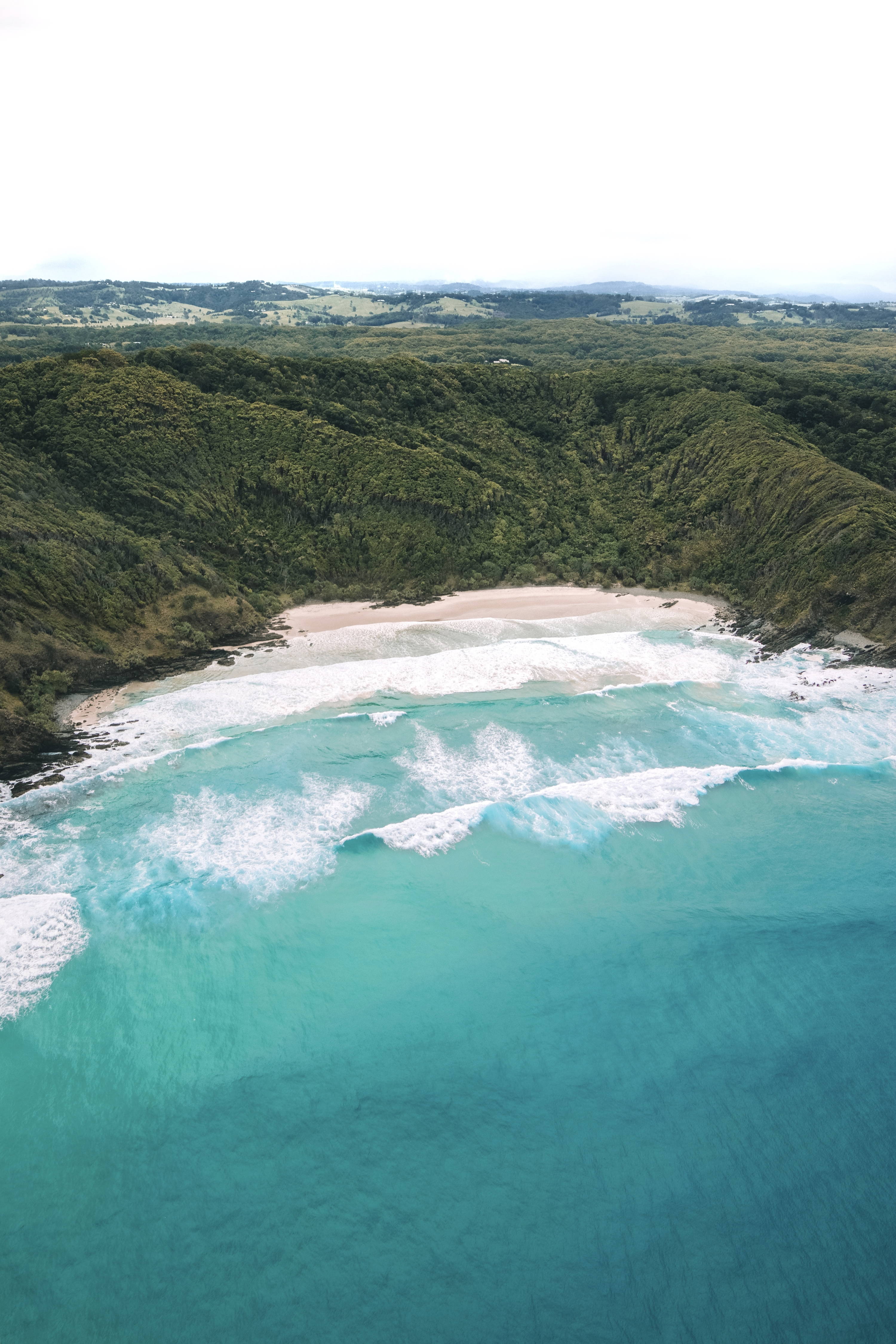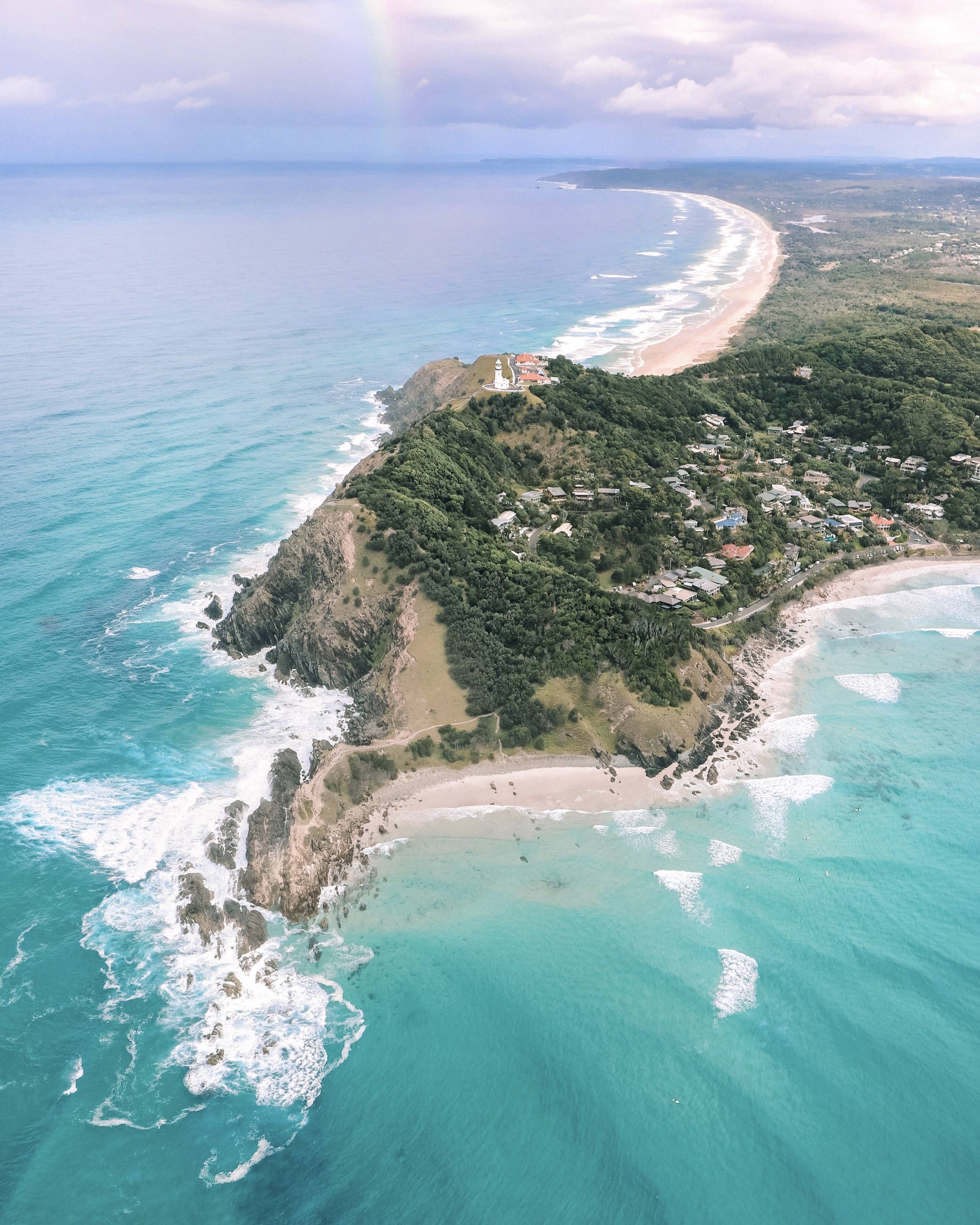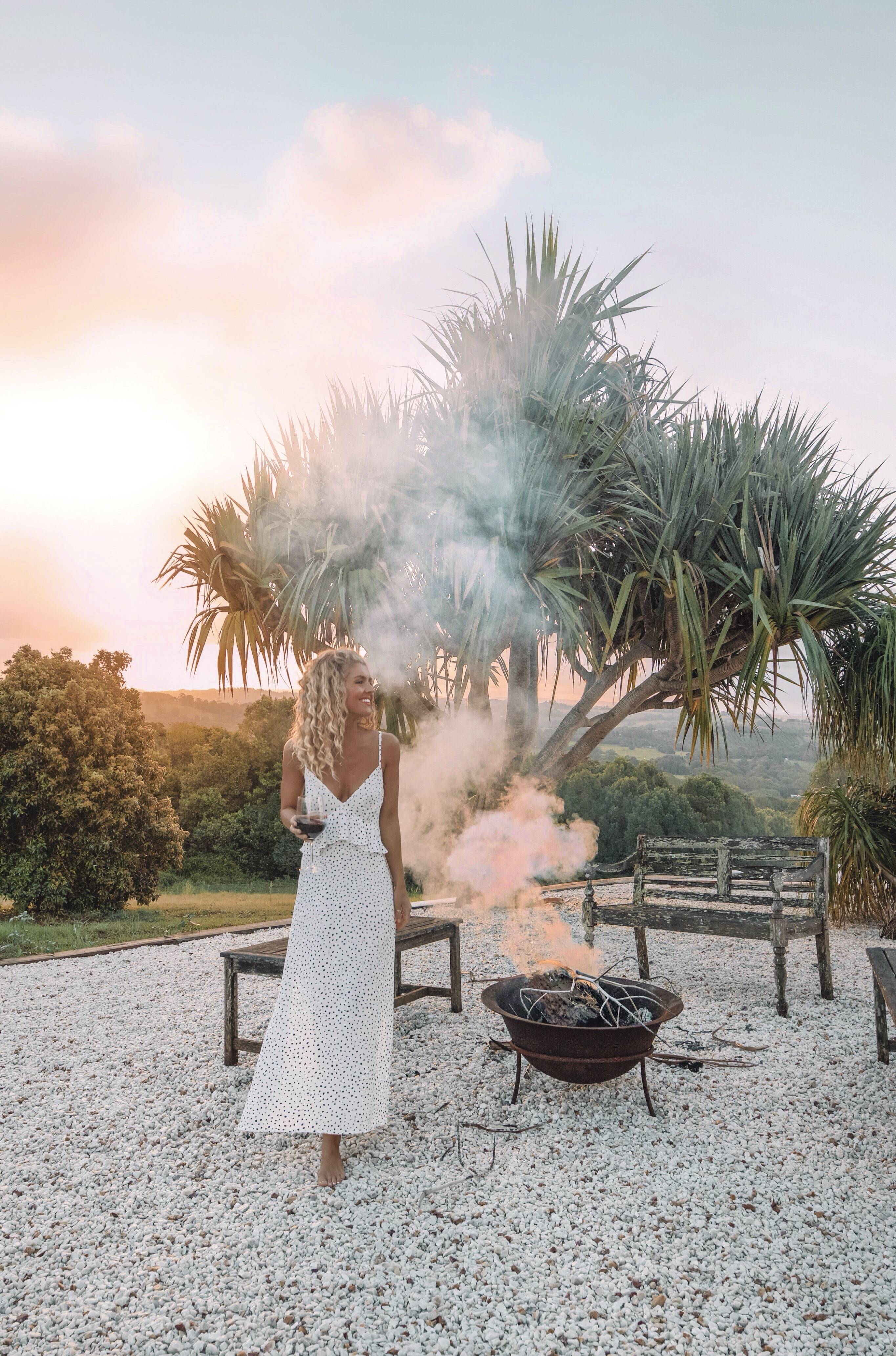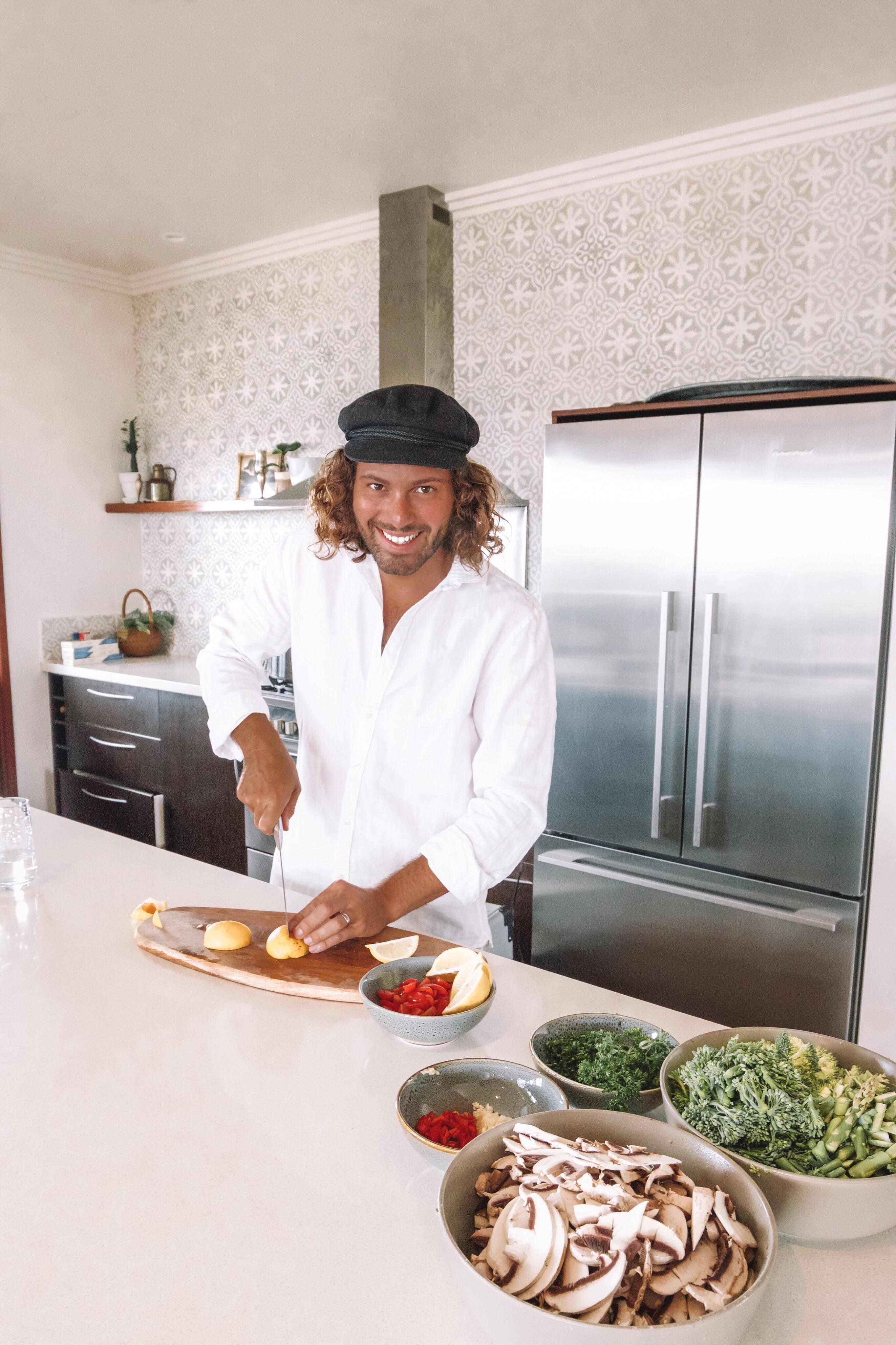 It was hard to leave, especially for Dom who had no idea where we were headed next. But, our anniversary getaway was not over yet… hop along to the next blog post if you want to read about the next part of my surprise.