Late September last year, Dom and I arrived home, after two years living on the road. During the first year we spent many long roads dreaming and talking about what we one day wanted to create and why. The why came first - a new project we plan to roll out under Down The Rabbit Hole geared towards giving, and then the dream really expanded.
But as the dream expanded, and became quite solidified in our minds - we realised we were going to need a bigger space than we'd originally thought.
We had no idea how it would happen, but we kept the conversations rolling. We talked about the place and the space so often I could walk around the entire property in my mind. And we always talked about it with an absolute certainty that it would come to life.
In the second year, we started keeping an eye out, searching property websites for the block we'd been dreaming of. We searched and searched but nothing felt right. We had no idea how we were going to make it happen, but somehow we knew it HAD to happen.
And then, in March last year, we had a big van brake down, which meant Scout was out of action for a few weeks. So, we decided to fly back to South Australia and stay with family. It was on that trip that we found ourselves sitting at a dear friend's house, describing this vision, and they said they had a property they were just about to sell that we should look at. As in, their tenant was moving out the next day. So we drove down and as soon as we stepped onto the land we both welled up with tears. It's hard to explain this to people... but it was everything we had been describing to each other. We stood at the back of the property, and started pointing out all the places we'd been imagining and what we were going to create in this spot and that spot. Now it was all a bit overgrown and hadn't seen a lot of love in a few years, basically it was an old almond farm with rundown sheds - but we could see it all. Also, rather wonderfully, it backs onto the vineyard where all our grapes grow, with our production site right behind us. We'd never seen the property before, but if you asked me to draw on a piece of paper what we'd been dreaming of, it was this block of land.
Because of the tenant we couldn't go in or near the house, but we knew it was there and I remember saying to Dom... "I don't mind if we keep living in Scout for a year and just get our cellar door built first. There's a bathroom we can use - great. We're fine!"
So, in late September when we got the keys and drove down the driveway of this block of land where we hoped to bring our dreams to life for the first time, we also saw the house for the first time. In the months leading up to our return our friend did call us a few times and voiced his concerns that we hadn't actually seen the house... what if we didn't like it? And we honestly told him it really didn't matter... it was the land we loved and we'd just work with the house.
We've never renovated anything before. In fact, we didn't own any tools other than a screwdriver and a hammer until a year into our time on the road. But we started working on the house the very next day. We called our good friend Leigh, who is a carpenter, and told him we'd need his help for a little while. We gave ourselves 3 weeks to work on the house, before moving the focus to the cellar door.
Three weeks became three months... but in that time we worked on a whole lot more than just the house (all of which we'll share with you very soon!). We've never worked so hard in our lives. We worked all day, every day.
At first we decided to just give the exterior a facelift and worry about the interior later... and then we decided that if we just painted the walls and put some new floor down... it'd be a nice liveable space... I didn't really like the house (at all) but I thought we'd be alright living in it for a few years... and then we thought, we'll just change the bench top over... and then the kitchen wall fell down... and then we did a little more, and a little more, and then.. I started to get these ideas... and although Dom was exhausted, he kept working and working and working. We both did.
It was starting to look like our dream home, and it was starting to feel really different... and I could see us being really very happy here. We both could.
Well, it snowballed pretty fast. Probably because we had no idea what we were doing, and not much of a budget so we were doing as much as we could ourselves (Dom's become a carpenter, a plumber, an electrician, a landscaper, and a diesel mechanic in the last few months). But we're pretty over the moon with the result. I LOVE this house now. And I love that we've created this together. We've done something I never imagined we'd be capable of.
So... here's some before and afters, a few tips and tricks, and styling notes. There's also a small list of great tradies we've used in the South of Adelaide if anyone in the area needs someone! If there's anything you'd love to know that I've missed please reach out or comment below!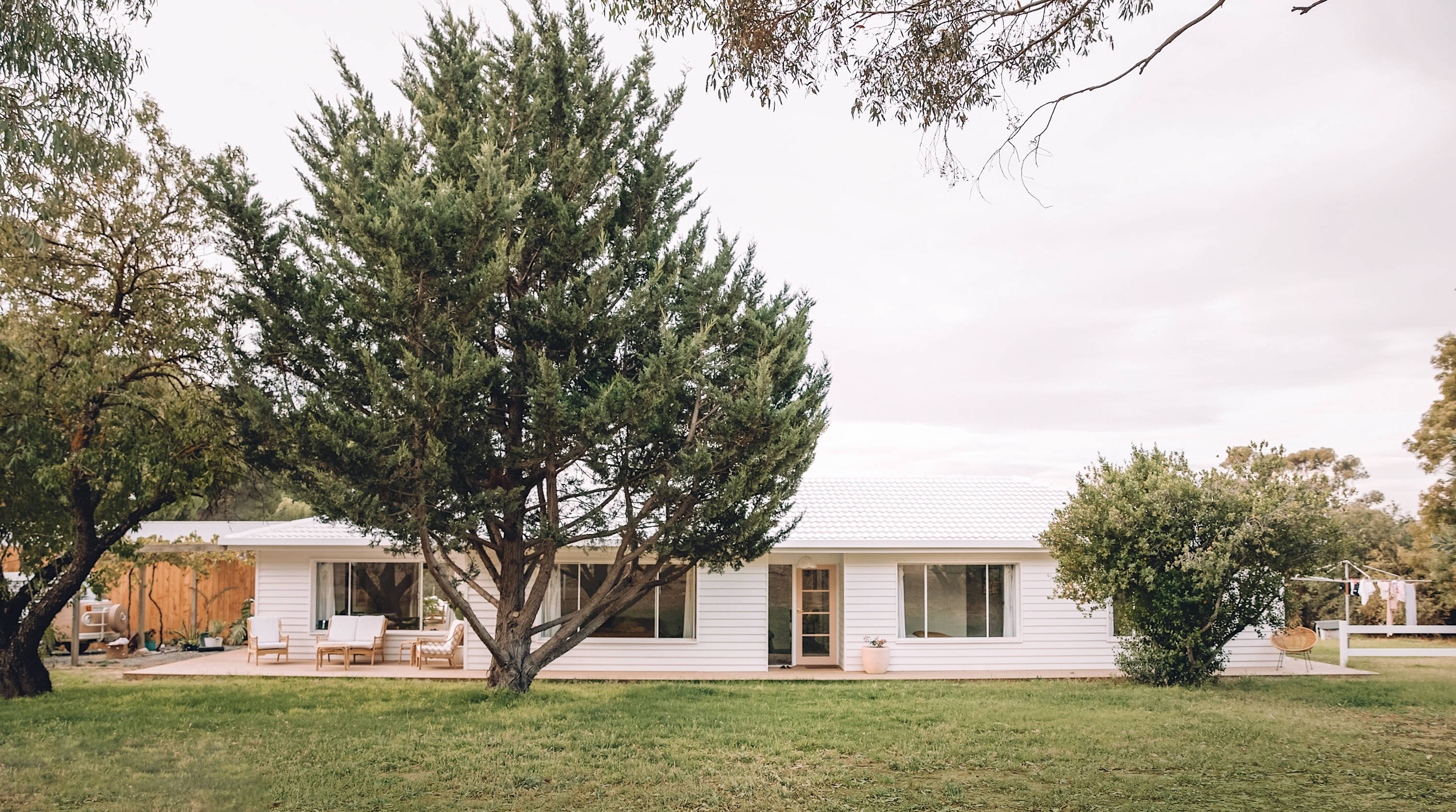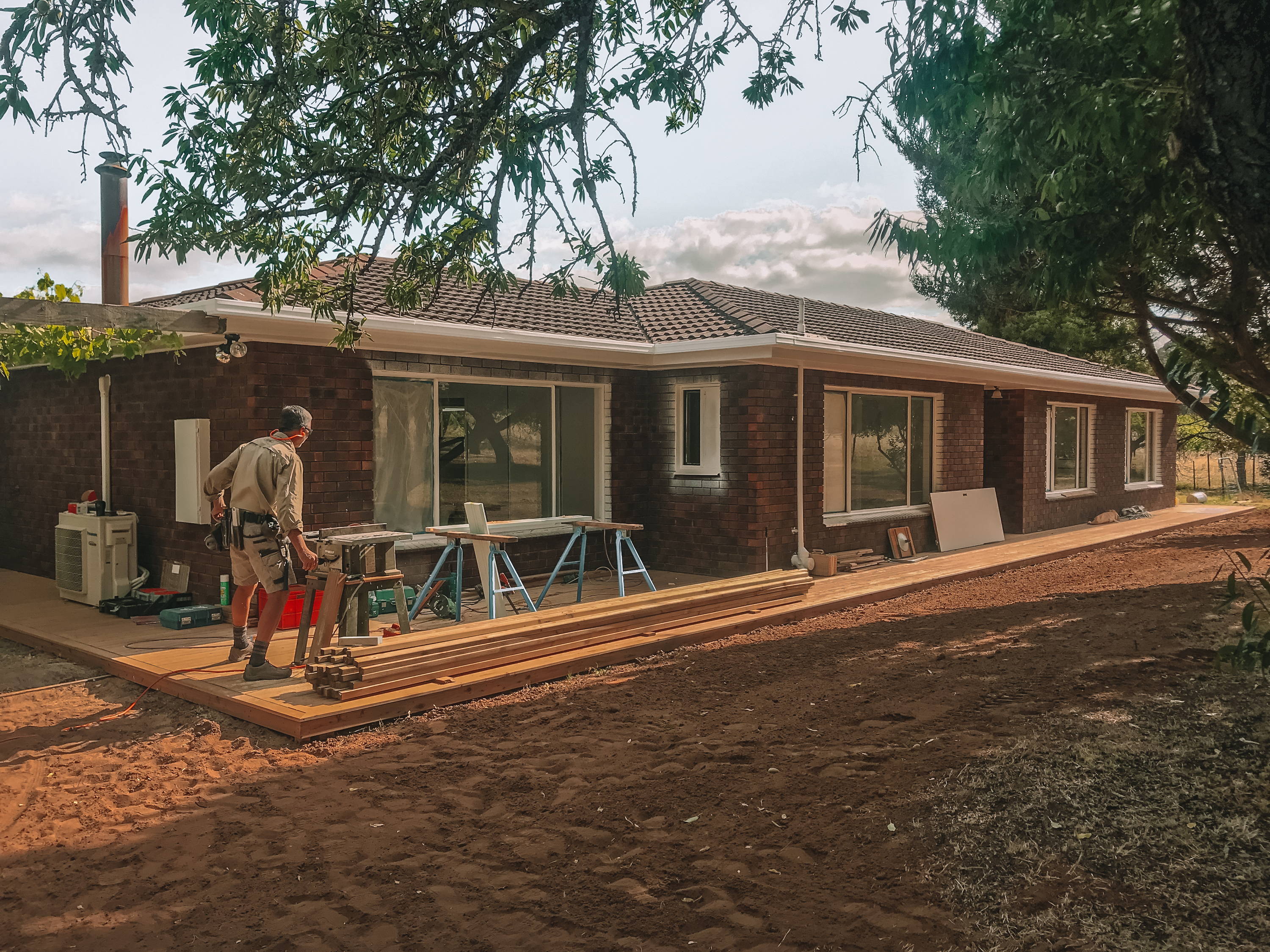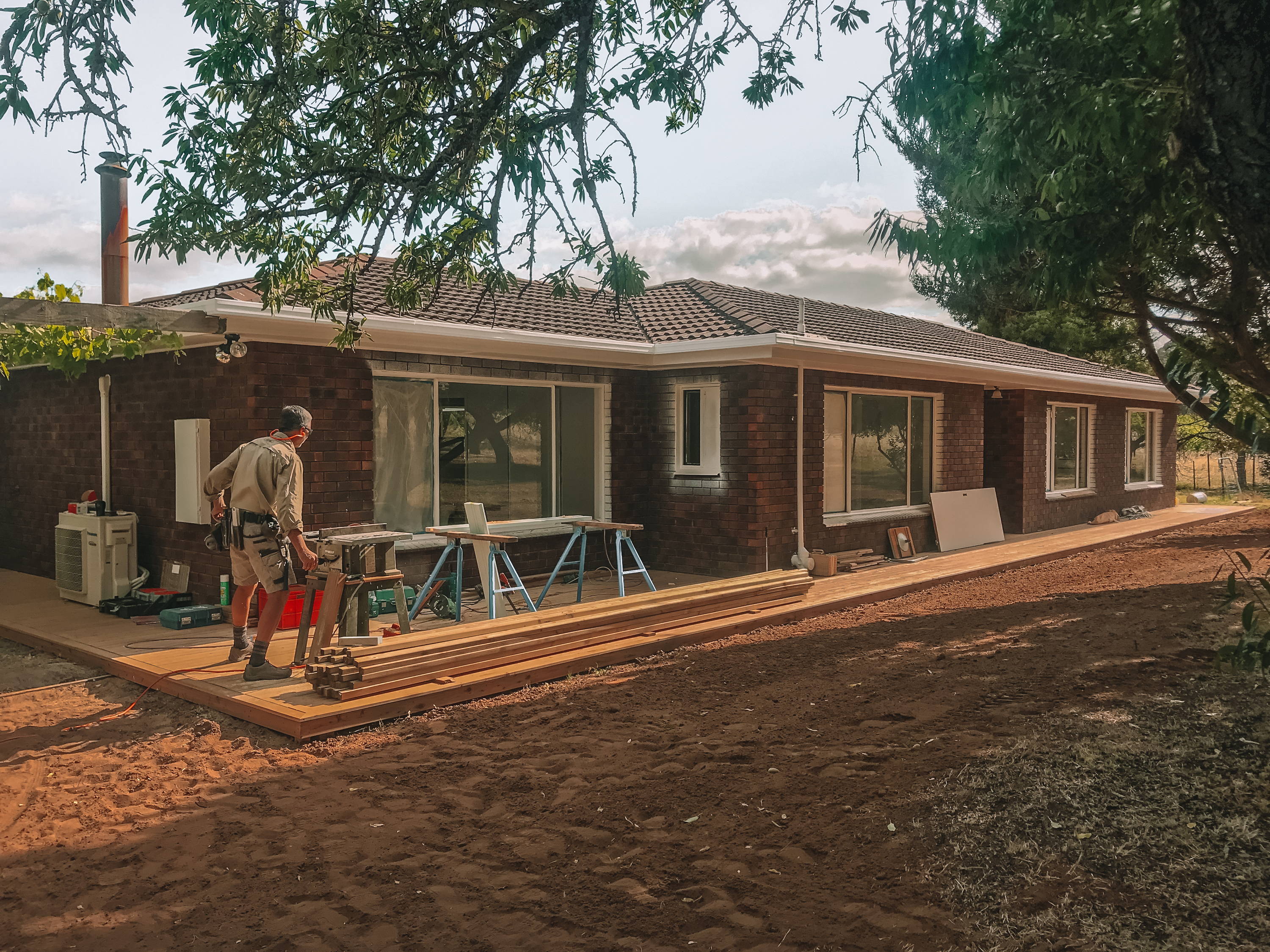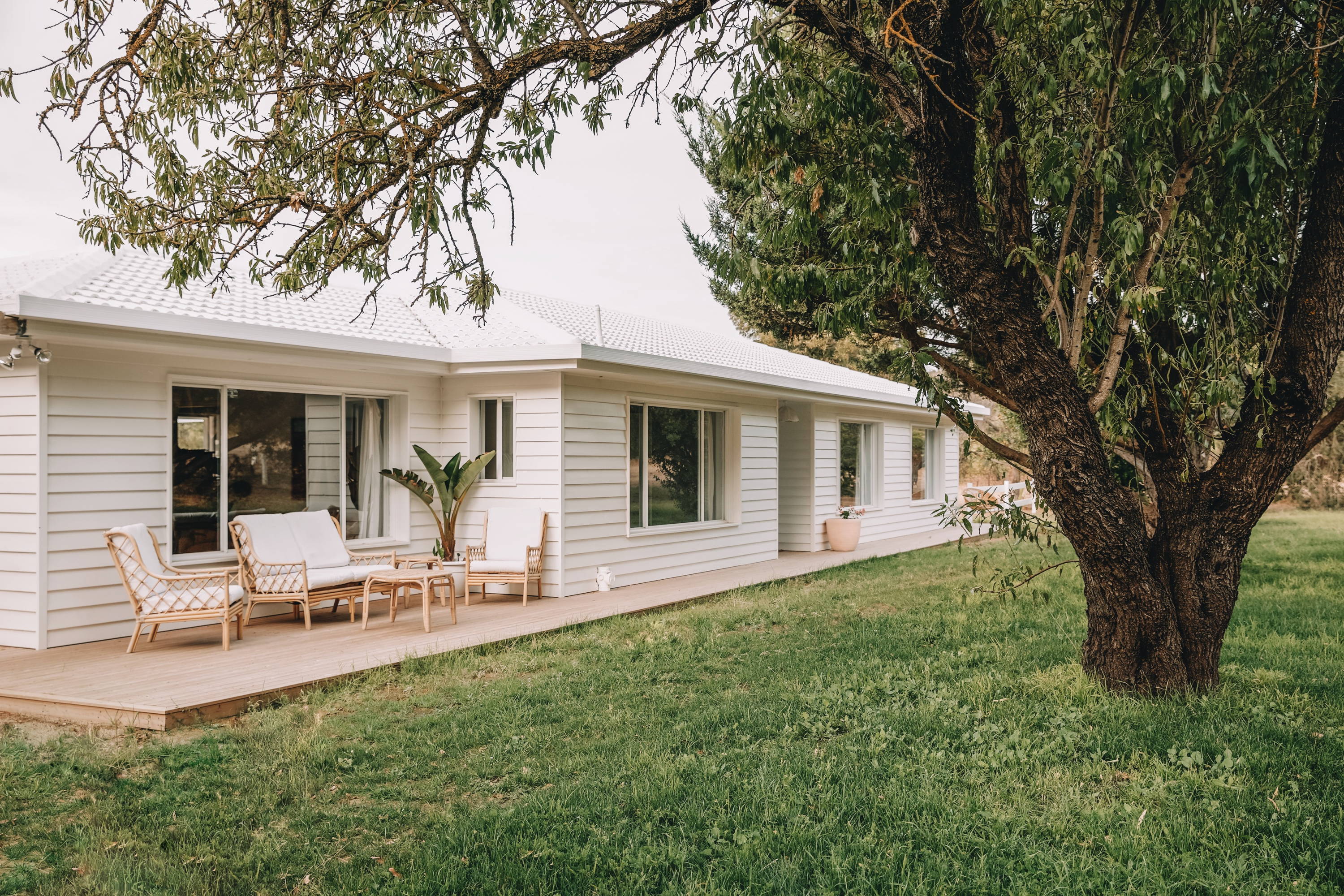 THE DECK:
The first thing we started working on was the deck, we began building a wrap around deck, covering the old cement foot path that followed the house around.We built a frame and went straight over the cement, extended it out a little wider and adding on a few areas. We thought this was a much simpler task then it turned out to be, but it absolutely made the house a home - especially the big back deck. We used sustainably sourced cypress pine, and we have been greying off before we'll seal it with something that allows it to continue to grey off while still protecting it. I believe there's a product at Bunnings that allows this to happen, but once it goes on the silvering slows down immediately, so we've been advised to age it as much as we want to beforehand.
THE CLADDING:
We went straight over the old brick with the timber cladding - and what a huge change! We've always loved weatherboard homes, they feel homey, and coastal, and old and fresh all at once. Leigh built a frame over the brick, which the cladding went on. We also had to make new window bays (knocking the old tiles out) which was pretty time consuming, but well worth it. We really wanted to use wood, and we were originally looking at using Western Red Cedar, and then all the fiber cement options were suggested - for their affordability and durability. Although tempting, I was still set on the warm and organic feel of real timer, possibly because I grew up in a timber home, and after much ringing around Dom sourced some really well priced pine cladding from Victoria. It's what all the old weather board homes were made with, perfect for painting, and the width and size was just what we were after.
We also just clad the tin car garage next to the house in European cypress pine, which we'll be leaving natural, also greying off for a few months before sealing it.
THE WINDOWS:
Ok, if we had won the lottery that I entered just after we started this project, we'd have paid someone to come in and change the windows over. But I didn't and we couldn't even convince a painter to come and paint them for us. So we decided to tackle it, or rather I did. The Bunnings tutorial makes spray painting window frames look really easy and kind of fun.
I'm not going to lie... it wasn't. It was the worst job. It took us weeks and weeks and weeks. I'm fairly sure I cried while working on them for the 14th day in a row. You need to rigorously clean them (the dirtiest place in any old house - which I'm kind of glad we did clean so well now), getting them completely dust free - and then tape and cover all the glass, both sides, and then prime them - letting each side dry before priming the other side and all the cracks and gaps. And then a few coats of white paint (hours or days between each coat on each side). We had no windows on the house for weeks. Our biggest mistake was thinking we could smash out more than we could. Preparing all the windows, but only having time to do a fifth of them, and then having to re-prepare them again a week later (this happened a few times).
Really happy with the result. It was the most cost effective way to do it, but not time effective. Would I do it again? Probably because we had no other option... but it was shitty guys.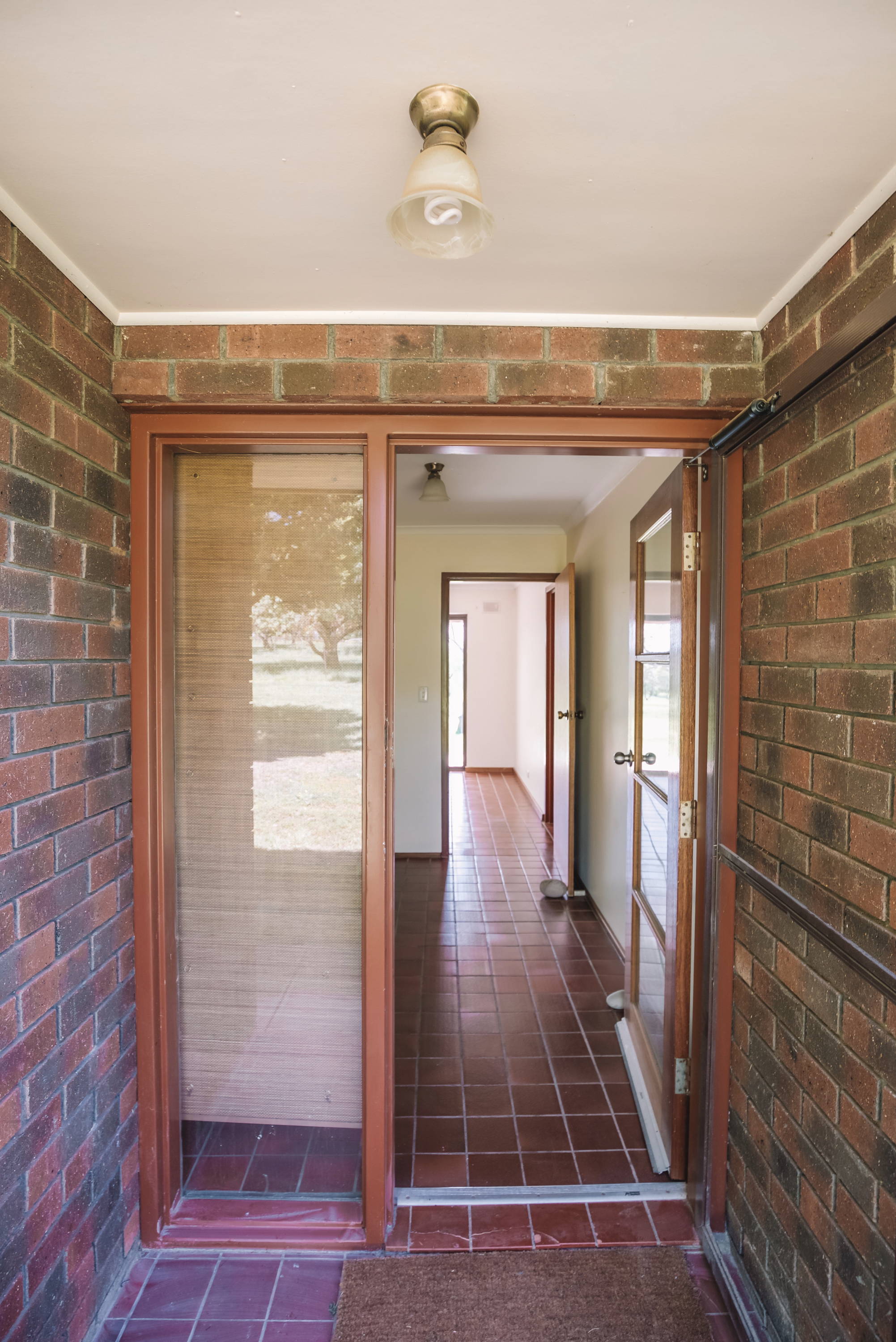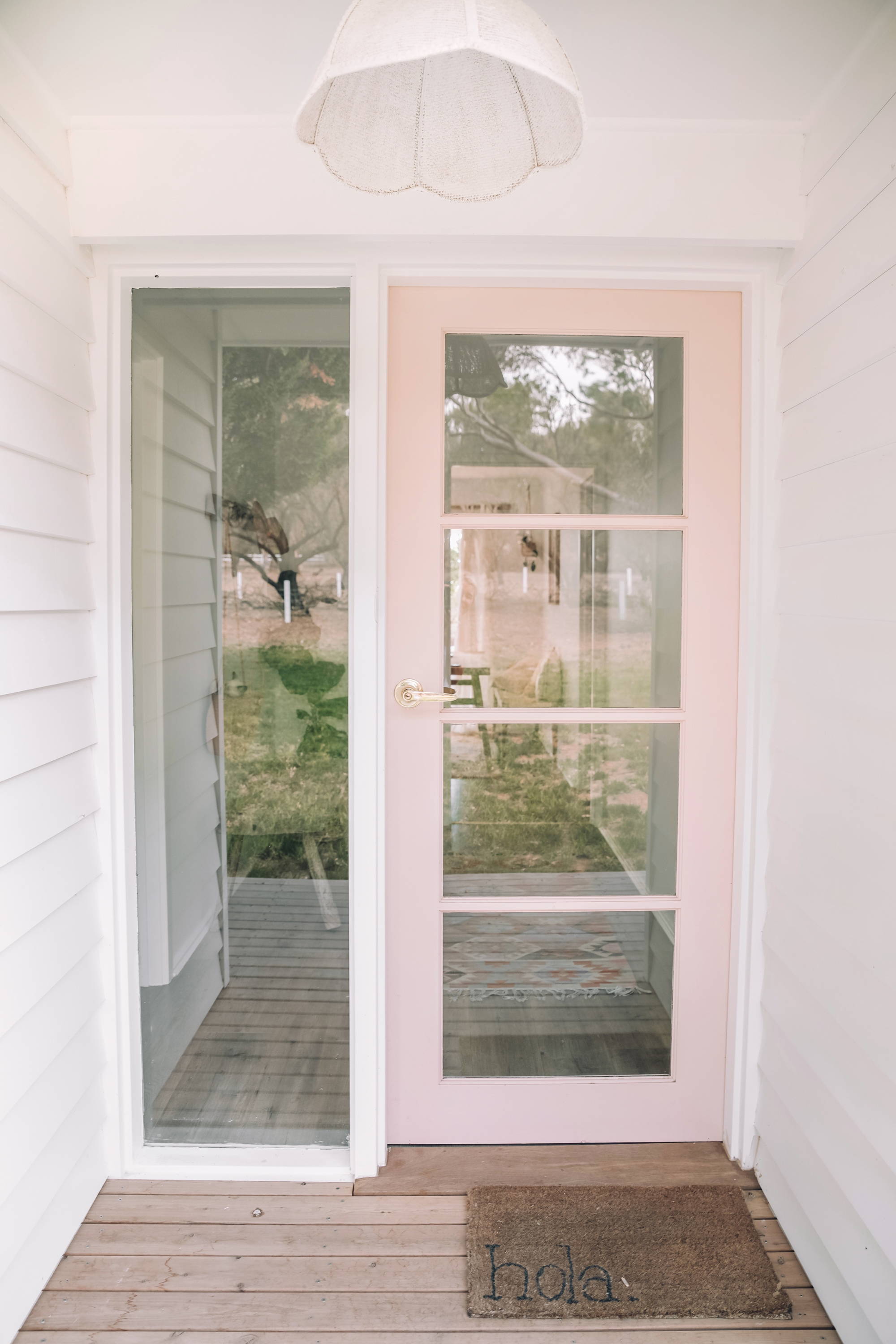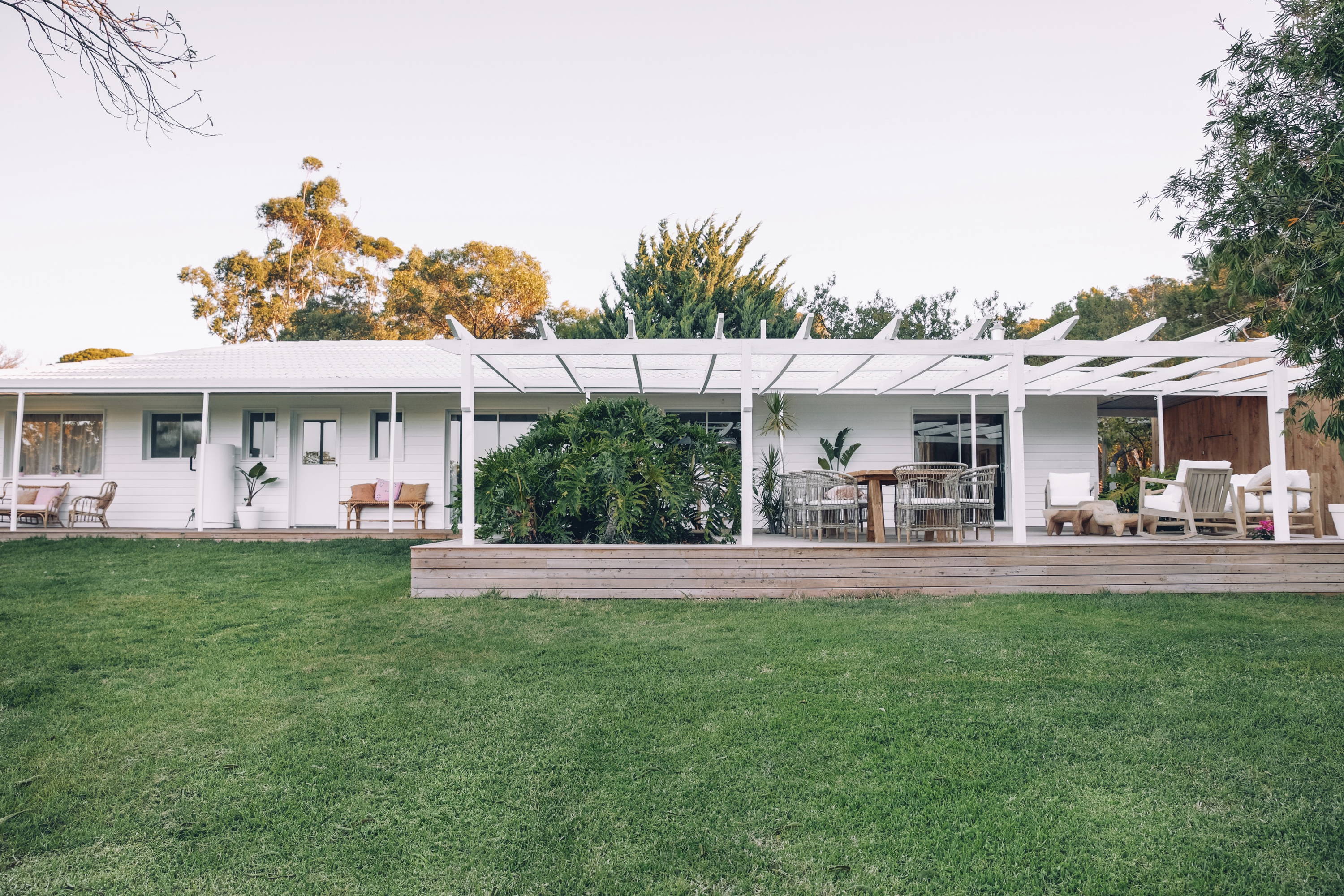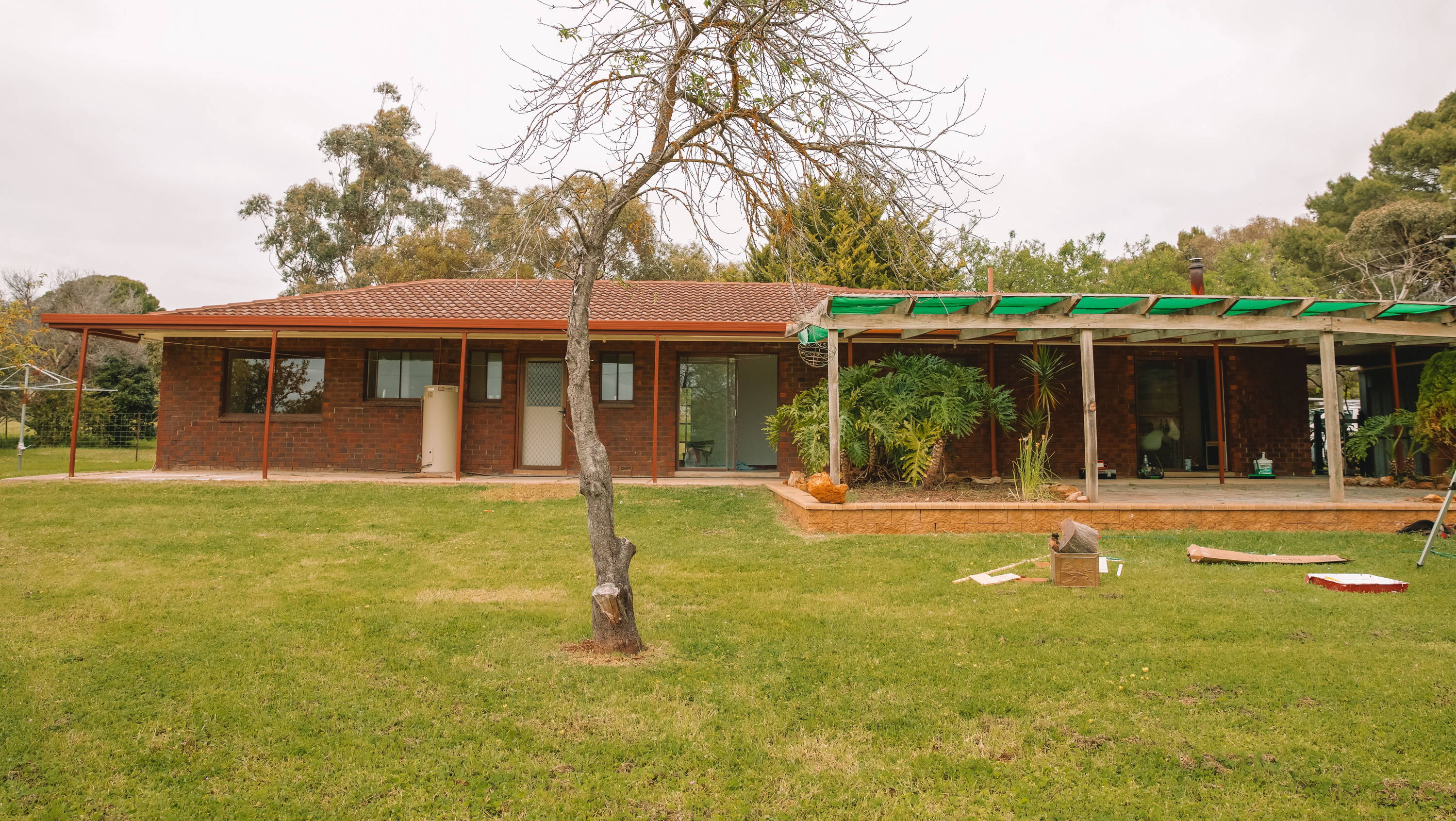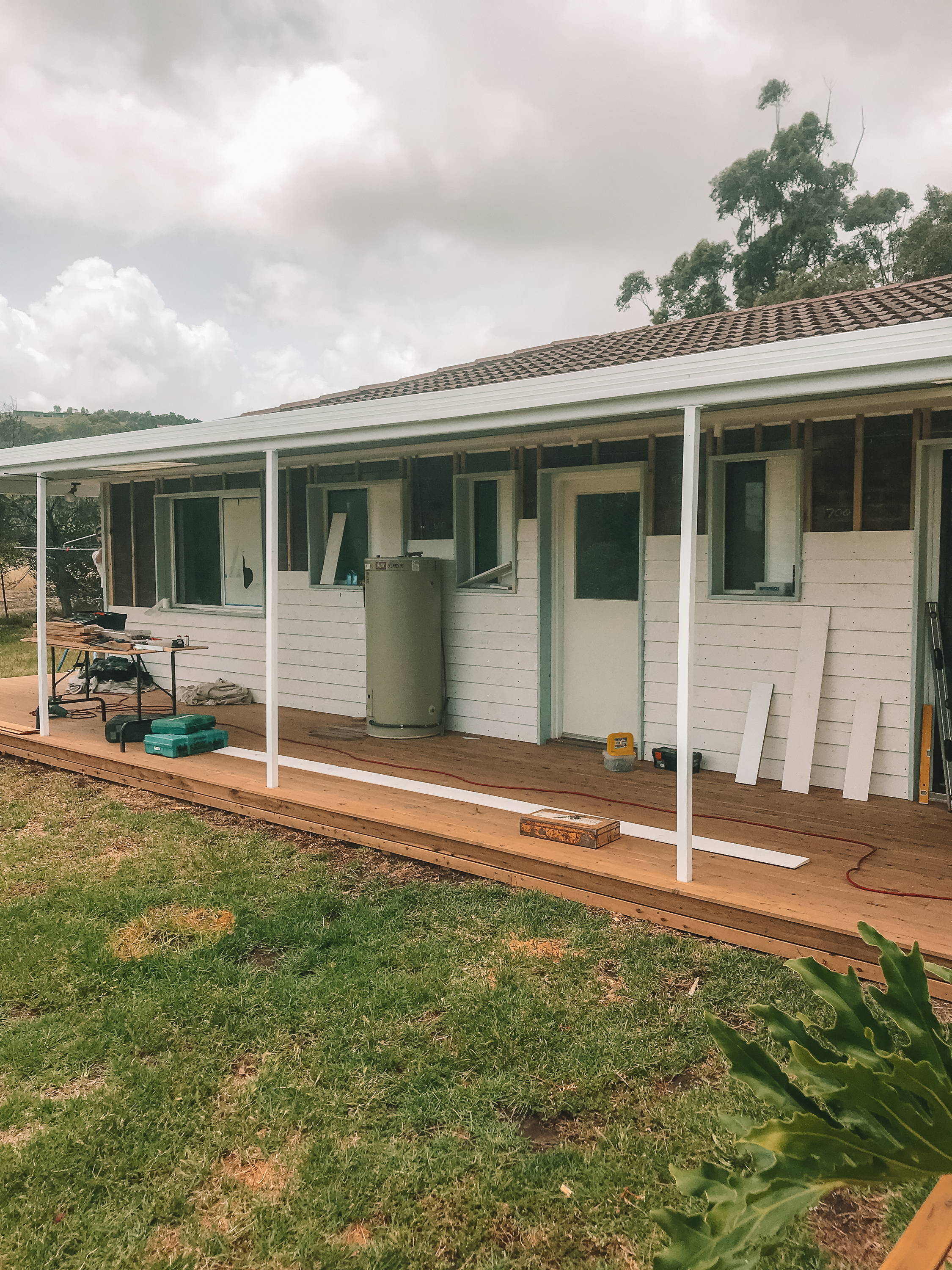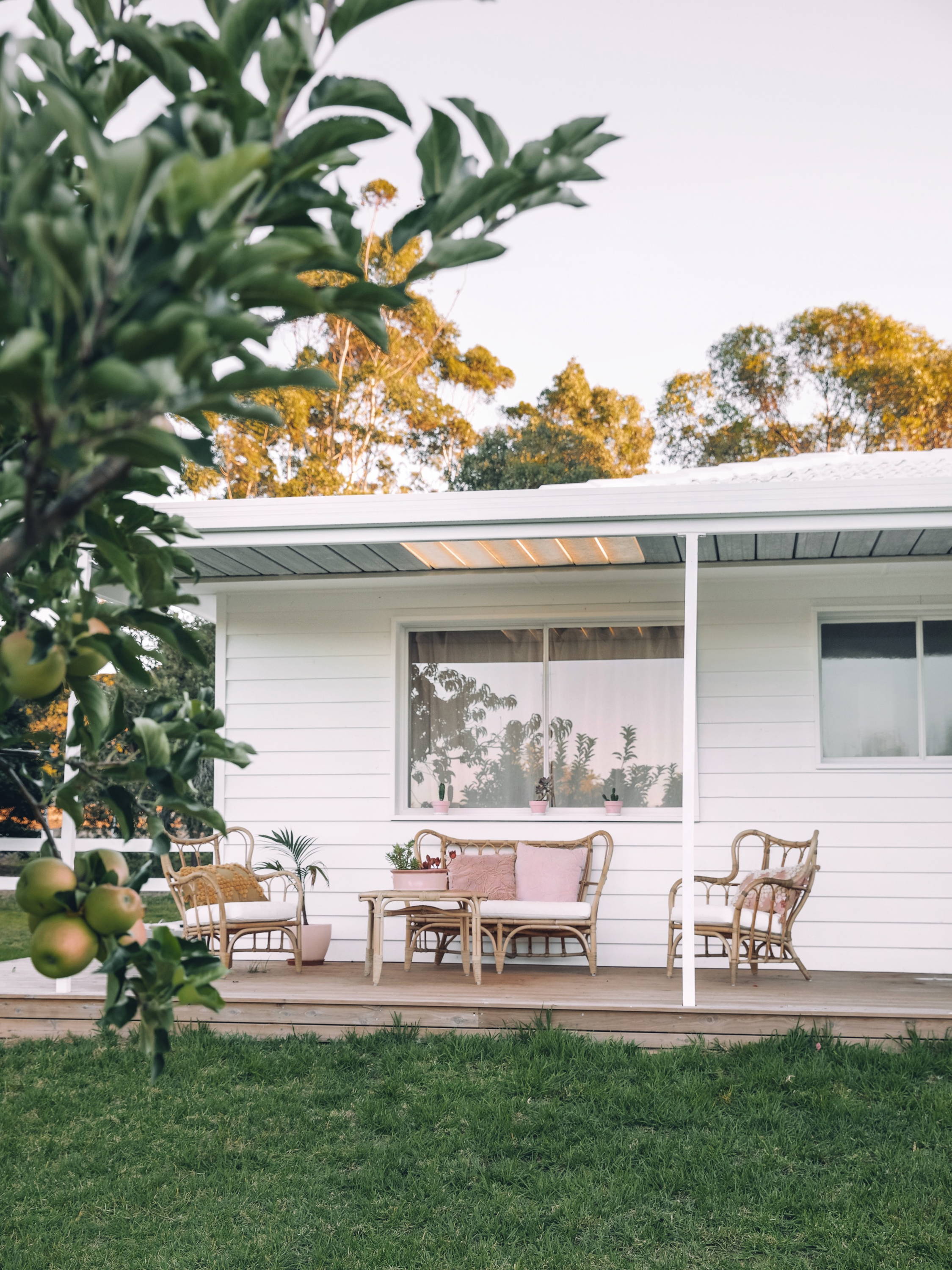 THE ROOF:
Initially we had a grand plan of changing the roof over to tin, which we thought would work beautifully with the white cladding, but we realised this was a little out of our budget and then a lovely lady on Instagram sent me a message suggesting we just paint it to save money - something we hadn't even considered! Everyone we spoke to was pretty unsure about painting it white, but everyone loved the result! It cost less than a quarter of our original plan. We had a professional painter come and do the job (it needed a pressure clean, broken tiles fixed, primed and spray painted) and he was amazing. He's a local guy who has just recently gone out on his own and kept the price far more reasonable than what we were quoted by some roofing companies (I've popped his details at the end).
THE SHADE OF WHITE:
Isn't picking a white the most confusing thing?! We picked a shade called Cotton Ball for inside and decided to stick with it for all areas, including the exterior and the roof.
FRONT DOOR COLOUR: 
I was met with a little opposition from Dom and Leigh when I said I wanted to paint the front door blush pink, but I love it! And I think they do too now haha. After 3 goes I found the perfect shade - Hand Maiden's Blush.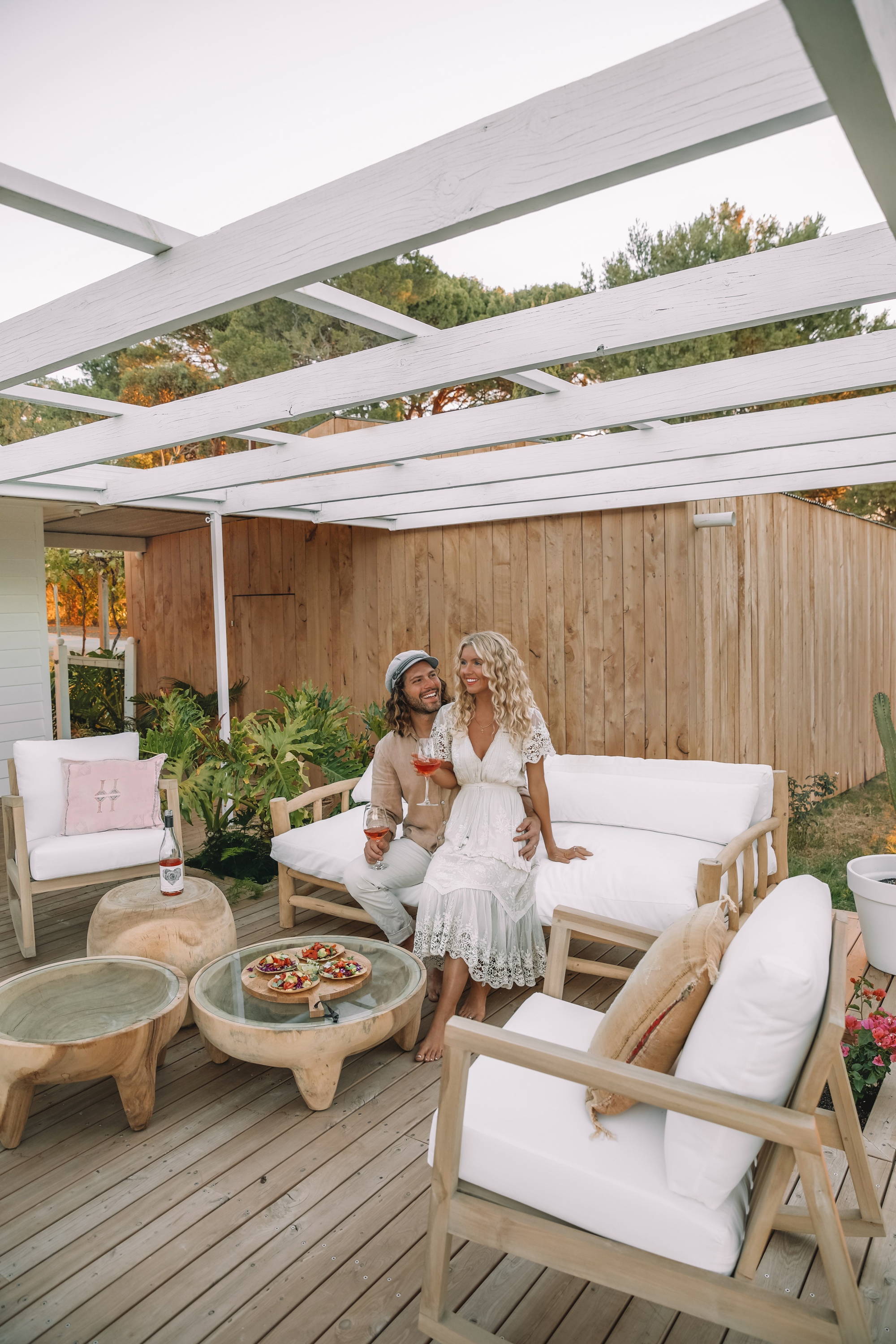 OUTDOOR SPACE STYLING:
The back deck is my favourite zone of the house. It has such an inviting, calming feel about it, and I just love mornings sitting out on a rocking chair with my cuppa, listening to all the birds.
We created boxes in the deck for the plants to grow, and I planted peachy pink Bougainvillea which I hope to train up to frame the pergola. It will add a great splash of colour to the whole zone.
Our outdoor furniture on the big part of the back deck is from Australian brand Uniqwa Furniture. We first fell in love with the big daybed (originally thinking for our cellar door - but hey, I like it better here for us - and it's so comfy!) and had it on our mood board - and then after hours scrolling their website I was in love with the whole collection. Although we are South and they are based in Queensland, the women who we dealt with were amazing. The outdoor table is big enough for my big family, and is made from weathered, rustic teak - so much character!
The pieces we've used:
Bahama Rocking Chairs
Inkolo Coffee Table
Inkolo Side Table
Ubuntu Side Table
Canyon Dining Table
Songwhe Dining Chairs
Kubu Terracotta Pot in White
We do still need to put a cover over the currently exposed pergola - we are just assessing what our best option will be (practical, weatherproof, and something that looks great - I'll keep you posted!).
At our kitchen window bench (which I insisted on putting in so I could sit and have a wine while Dom does his thing in the kitchen) we've got two Fenton & Fenton rattan bar stools, and further down the deck a rattan bench also by Fenton & Fenton.
On the front deck we have a vintage rattan setting that I found on Gumtree and my Nan and I made new covers for the cushions (previously a very dated floral).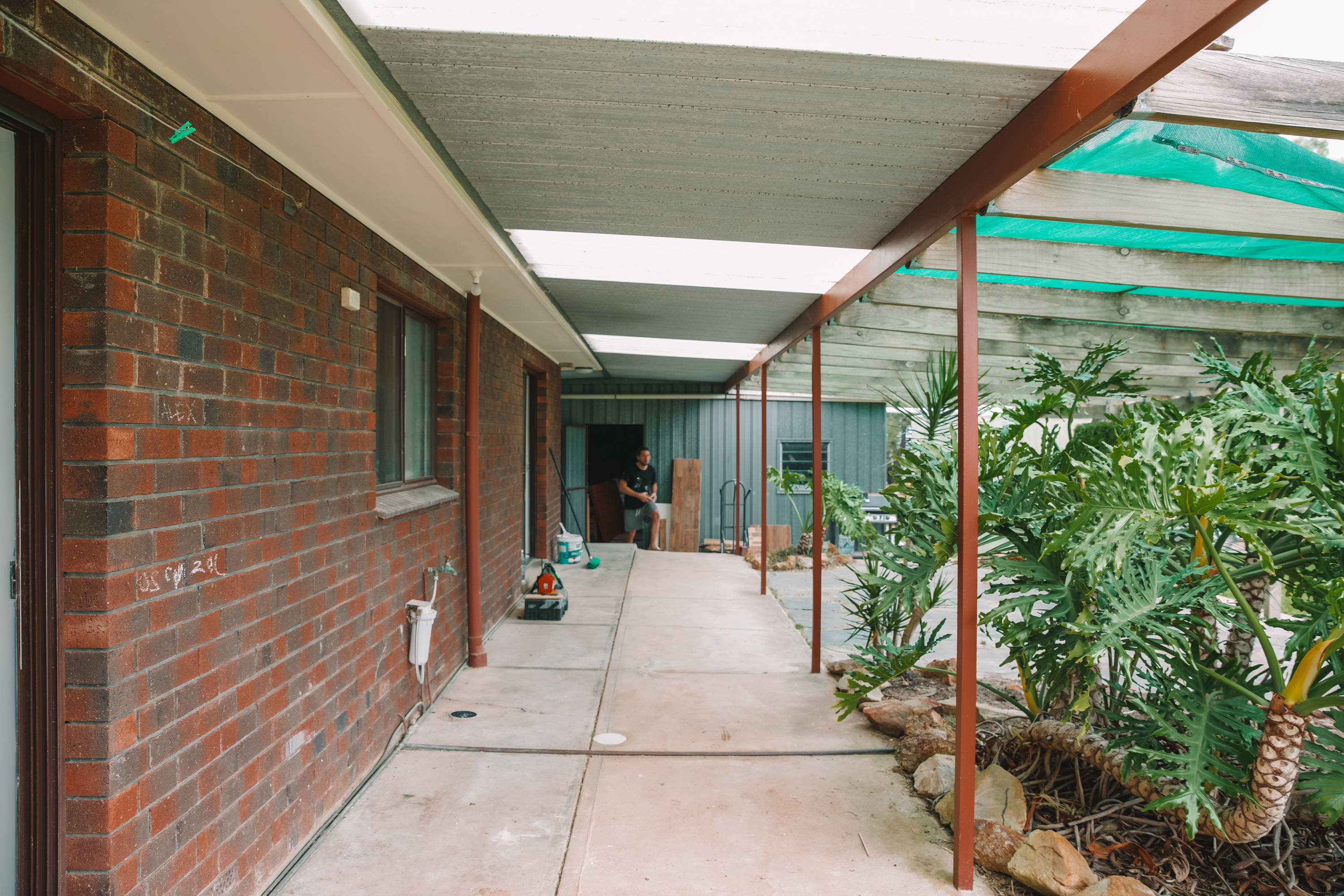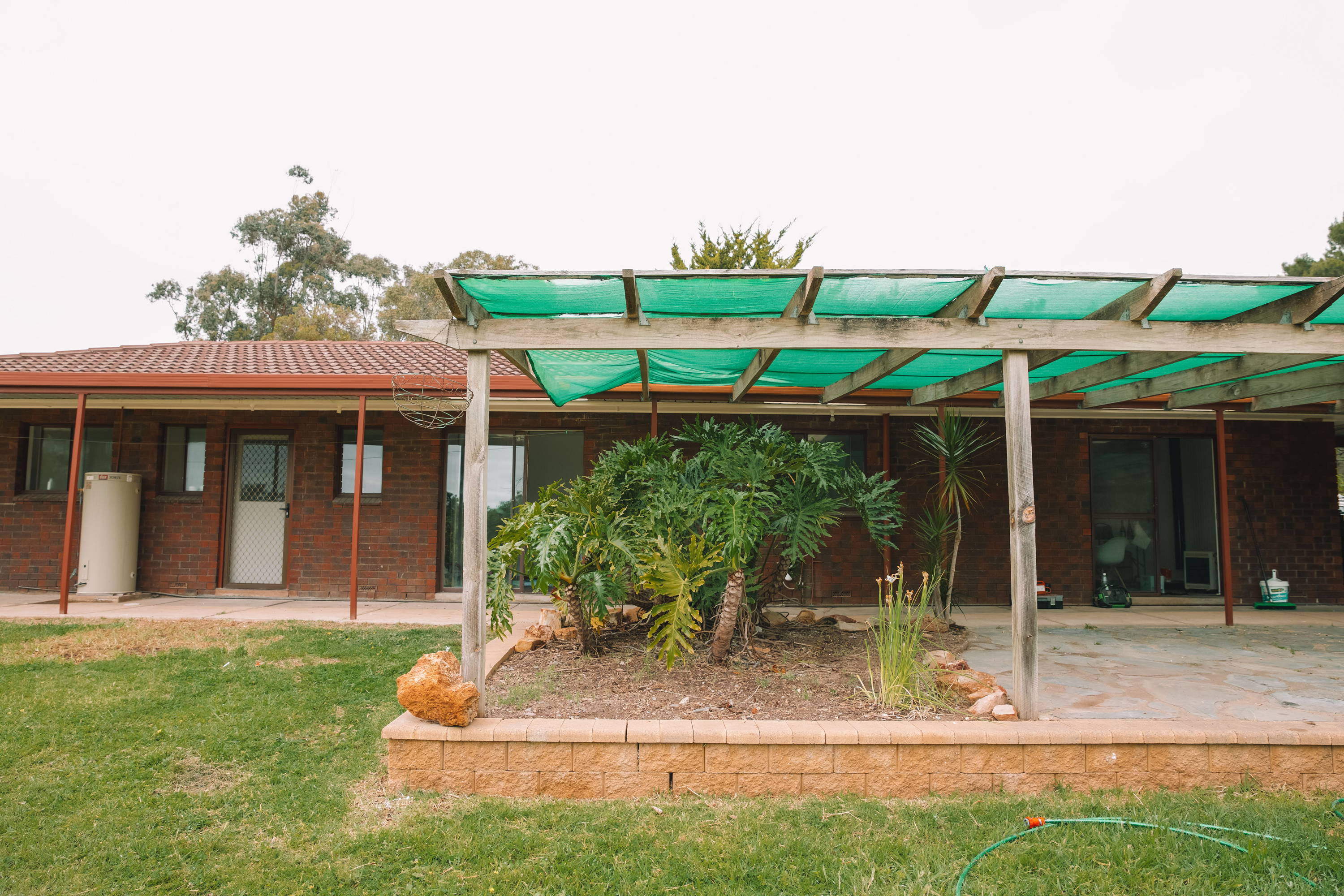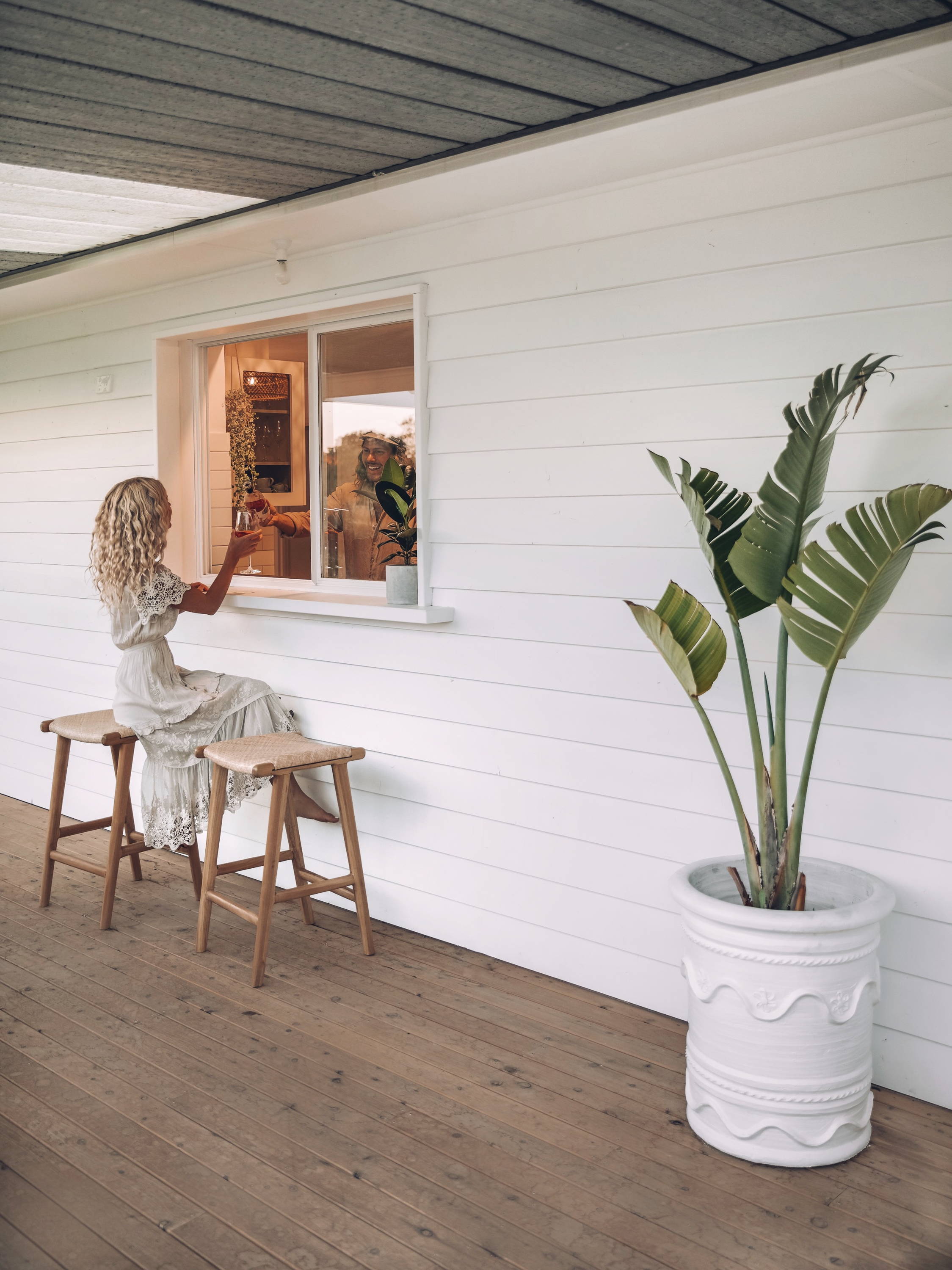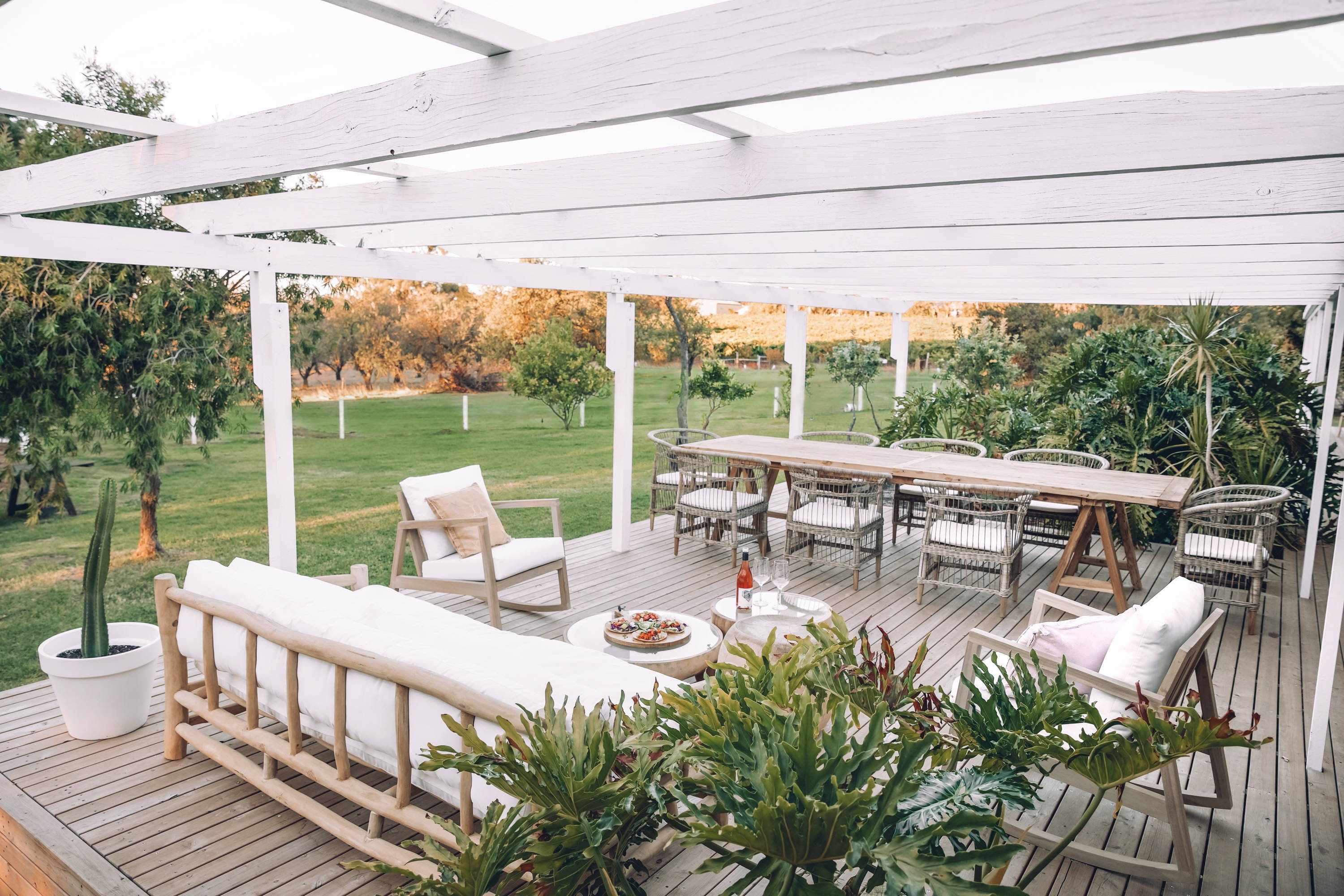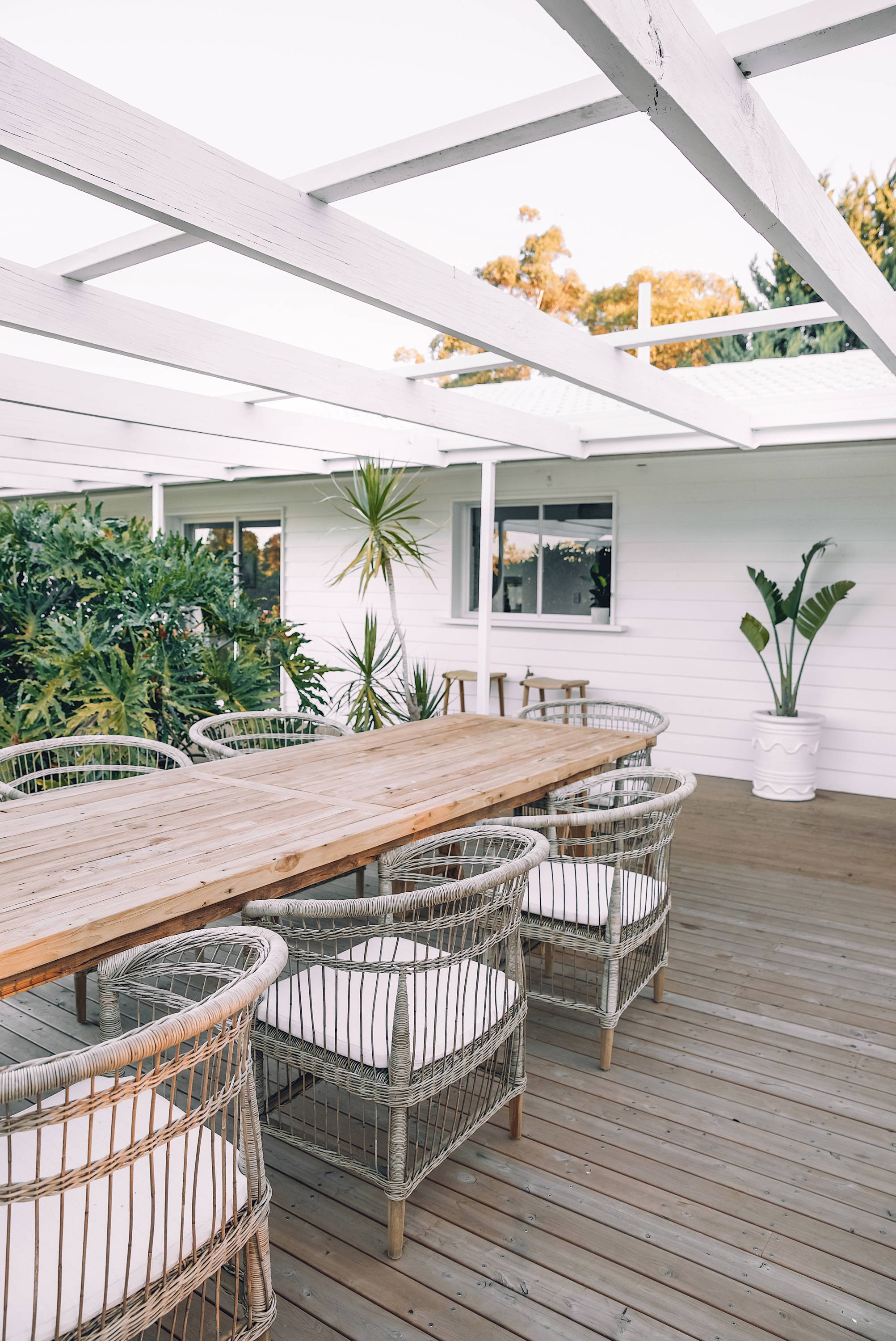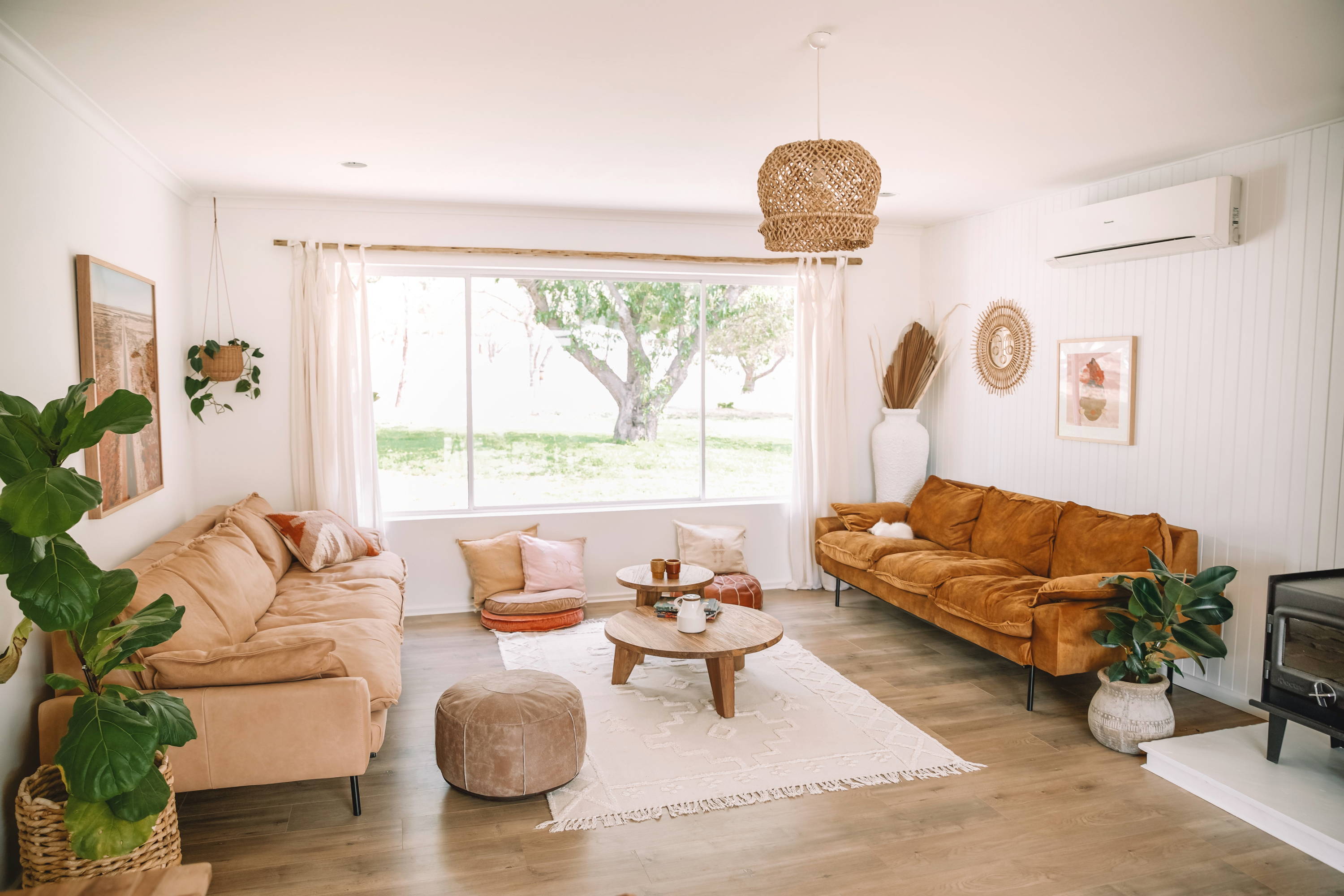 ALL ZONES:
THE FLOOR:
We pulled up all the old carpet and then went over the red tiles, slate, and cement with floating, clip together floor boards. The colour we went with is called Bleached Oak.
THE WALLS & CEILING:
The walls needed a lot of love. A lot of patching, sanding and patching again. We took them from a soft yellow to Cotton Ball white. We also went over all the red doorways, which needed about 5 coats to cover. We went over the old red brick feature wall with interior timber cladding (using matchboard - it comes in individual slats), and also added a timber wall into the main bedroom.
There's no such thing as "a lick of paint" when you're renovating. The painting went on forever. We were still doing touch ups only a few weeks ago.
CURTAIN RODS:
I sourced the wood for these from Uniqwa - They are Eucalyptus latte poles from Africa. I sanded them back and cut them to size. I LOVE these.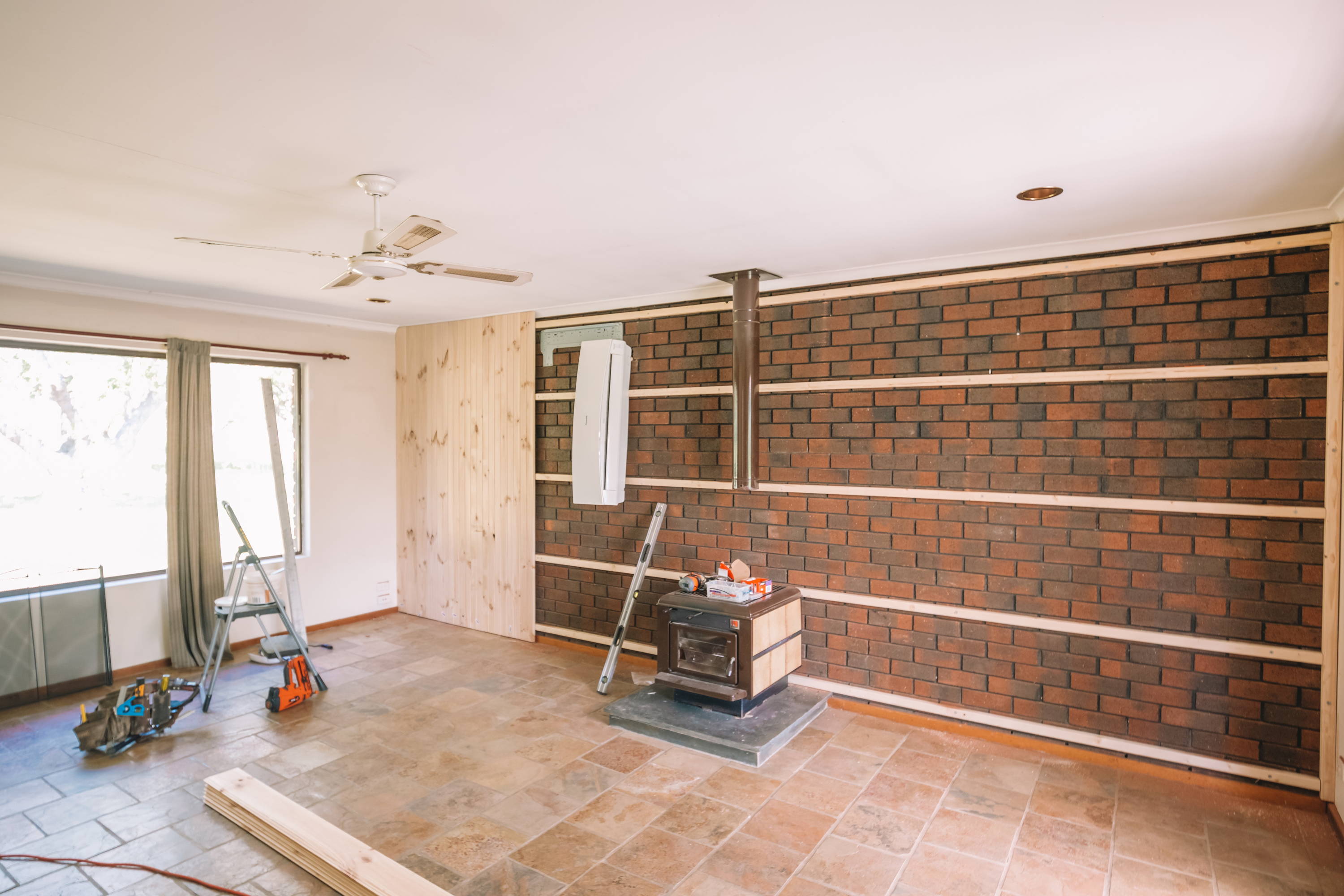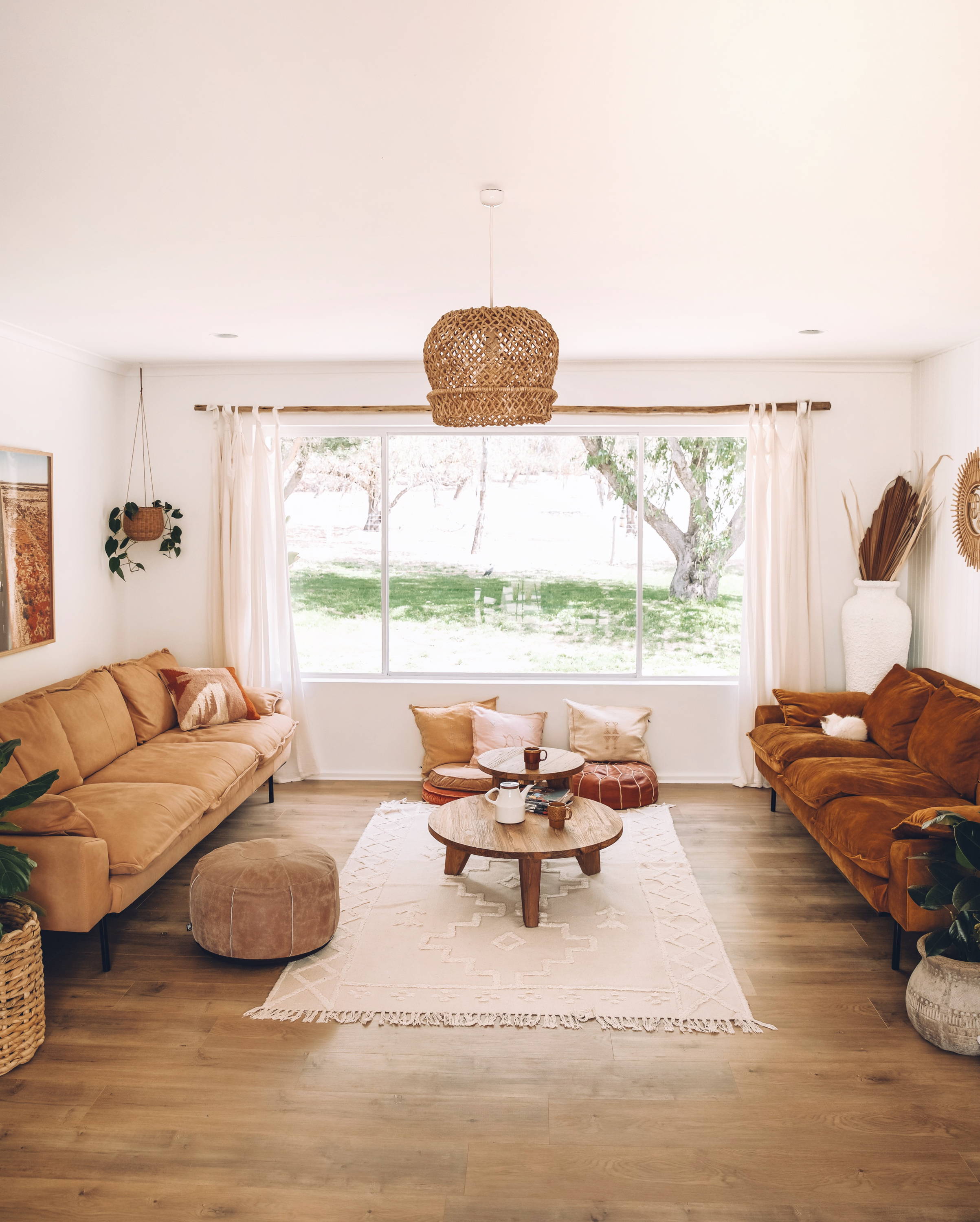 THE LIVING ROOM
This room is a favourite too. We wanted to create a cosy space for sitting around with friends or family with a cuppa or a bottle of wine... or somewhere to curl up with a book.
After living on the road with no TV, and not missing it at all, we've decided to go TV free in the home. We're busy - and whatever downtime we have we'd rather connect, read, or sit outside... and for the nights we need it, or a special movie night, we have a laptop or even our little (amazing) smart projector that have Netflix and Apple movies for movie nights. But that stops us from mindlessly switching something on.
So far, it's been a hit with having people over. It's so much nice to have a space that encourages engaging, rather than all facing a wall.
THE SOFAS: 
Both of these sofas are HK LIVING, from House of Orange here in Australia. We have the retro velvet 3 seater in Ochre (although I seriously struggled to choose between the mustard, the blush, and the ochre - but I love this vintage earthy shade) and it is about the comfiest thing in the world. And then we have the tan leather 4 seater, which is so soft, and stunning.
THE FLOOR POUFES:
The plain tan leather and the velvet floor cushions stacked are from HK Living - via House of Orange again. And the Moroccan pouf is from Morocco (we have a heap from our old events).
THE COFFEE TABLES:
These teak coffee tables are also from HK Living (and I was just looking at their website for this blog and saw they have conveniently made a page with the pieces I've used, so click here - and open in a new tab ;)
THE RUG:
I only splurged on one rug (in the dining room) - and while I had a big wish list of amazing rugs - I had to cut back here, but found the perfect 'budget' rug for this space through Urban Outfitters. And I actually really love it now. I have a rug mat under it to stop it from moving.
Dom and I religiously watch out for their big sales because they've been amazing for all sorts of bits and bobs (the little rattan plant hanger in the corner is also from Urban Outfitters).
THE FLOOR PLANT POT:
Is from local South Australian homewares store Canopy Home Fashion. I've been shopping there for years and years - so many good finds and run by the most lovely woman.  
THE BIG (big) WHITE POT:
Is from Uniqwa. They have amazing vases and pots too.
THE MIRROR:
Is from Jungalow - a site I've long loved because of their amazing Instagram and Pinterest pages. And if you want to shop anything on their website use code ELISECOOK for 15% off until June 1st.
THE BIG PRINT OF US ON THE ROAD:
I had a bunch of my favourite photos from the road printed through Format Framing in Melbourne. You can upload your photo, choose your frame size and style, and they ship it to your door. They are the best in the biz and the quality is wonderful.
If you really love THIS image - you can click here to order it printed and framed and delivered to your door. There are a few size options, we have the 90 x 90.  
CUSHION ON LEATHER COUCH:
DRIED PALMS AND GRASS:
I got all my dried blooms, palms and grass from Nikau in Byron Bay - as I honestly can't find anyone who does it as well.
ENTERTAINMENT UNIT WITH RATTAN DOORS:
This piece is a bit of a dream piece for me. And I could not believe it when it rocked up one evening just after we started the renovating. For a long time it was the only piece of furniture we had, but everyone who came around and saw it commented - it is so beautiful. It's from Willow Home Traders - who have a gorgeous collection.
RAINBOW PAINTING:
Is by Tess Guinery, who's words I travelled with and who's artworks have always inspired.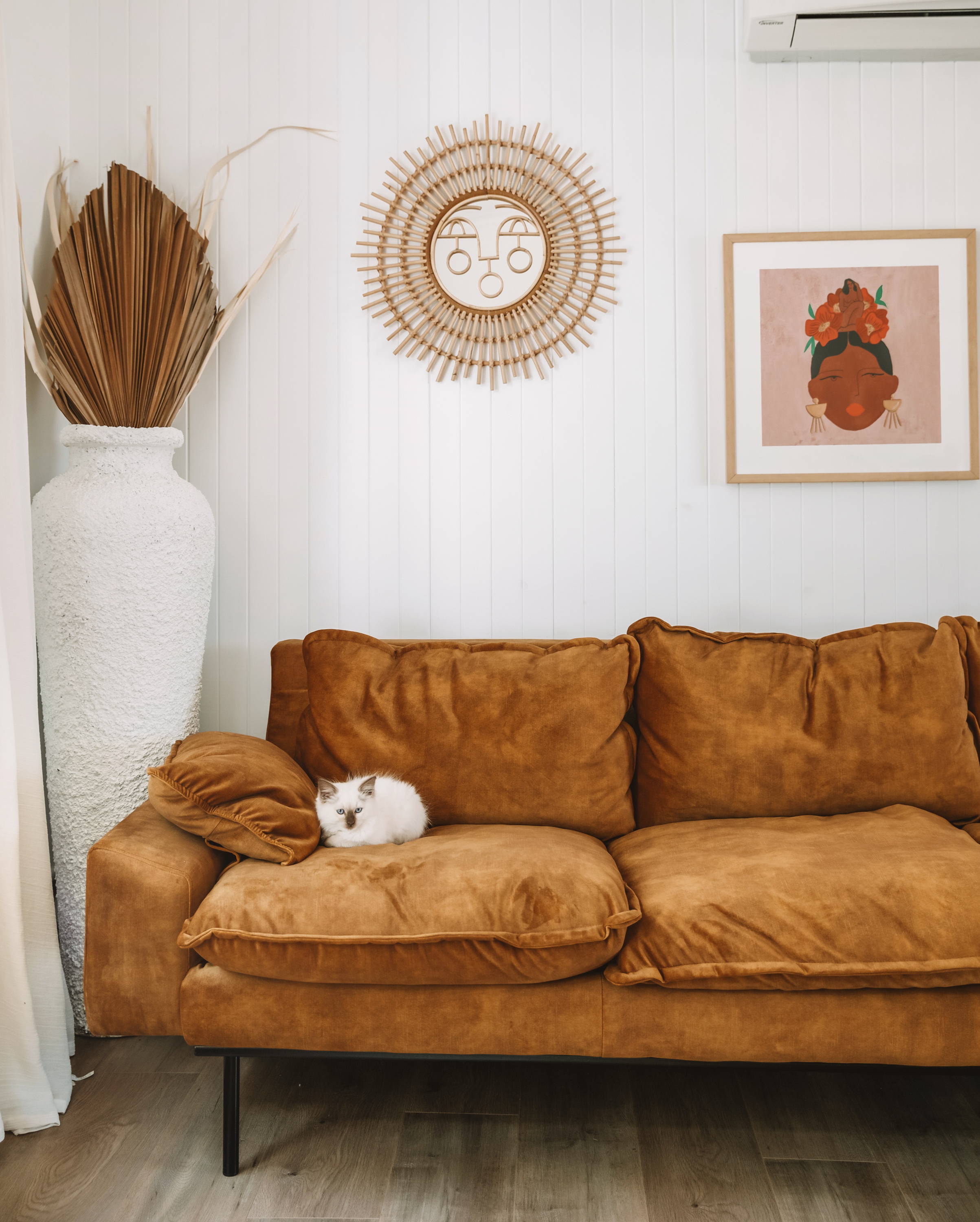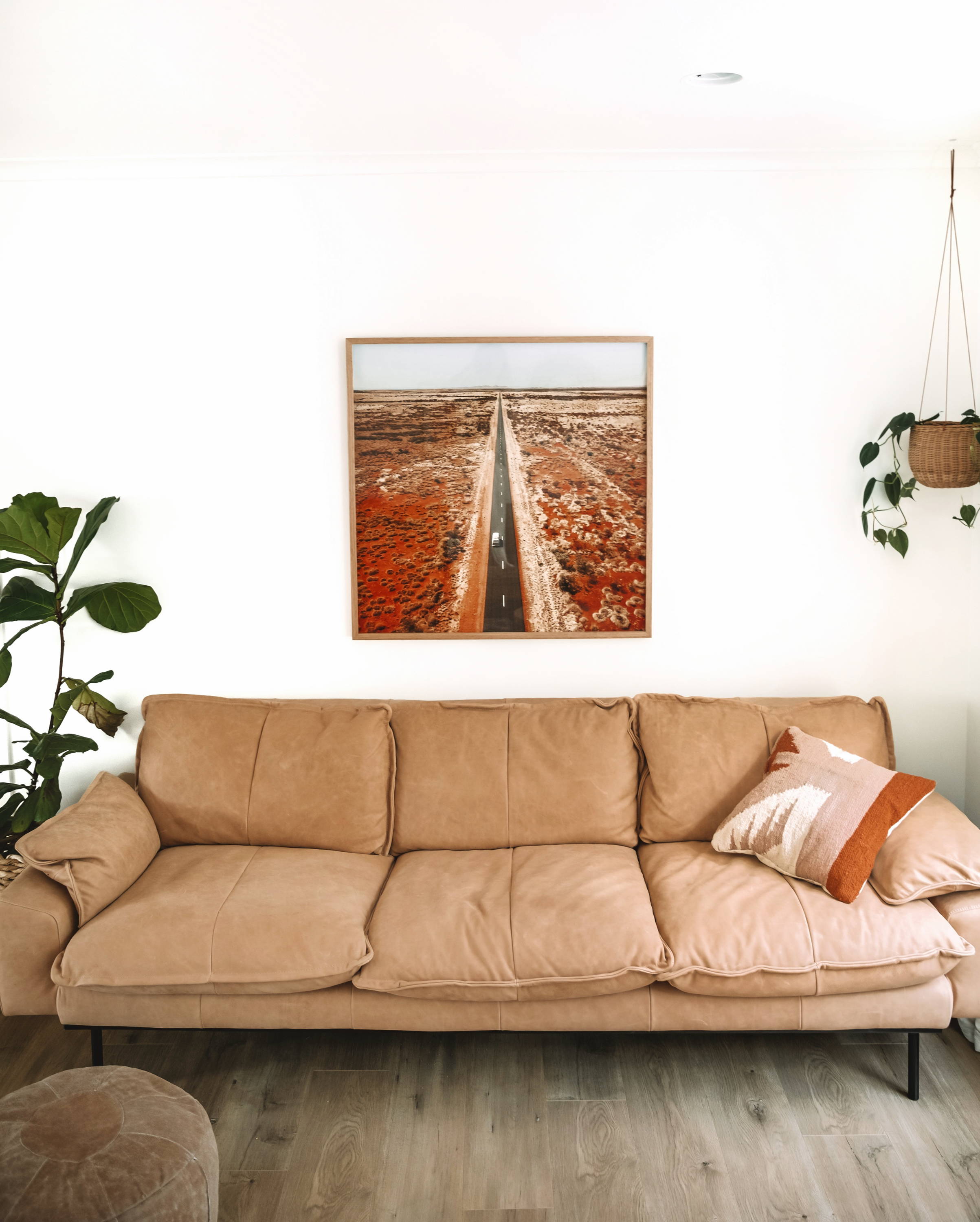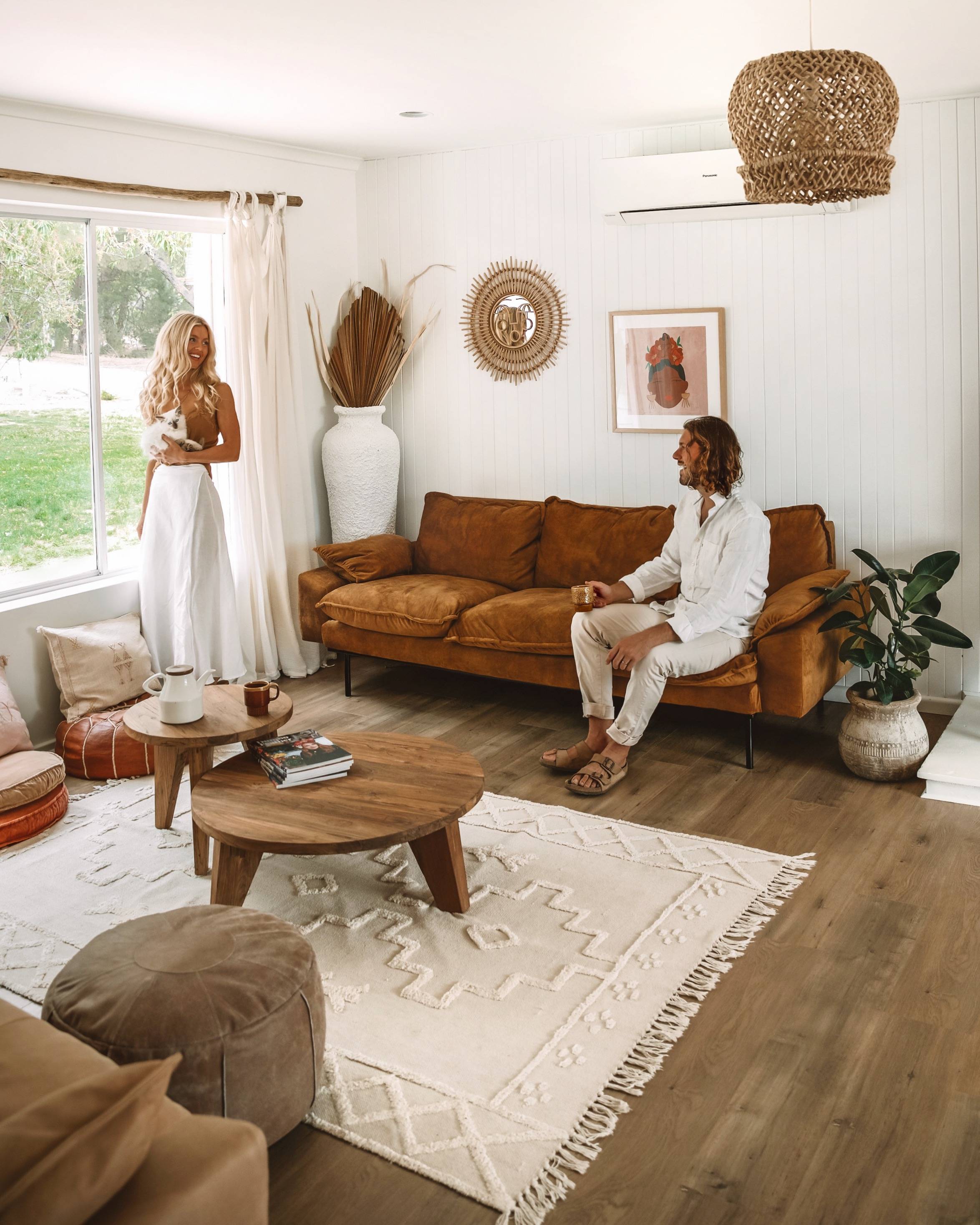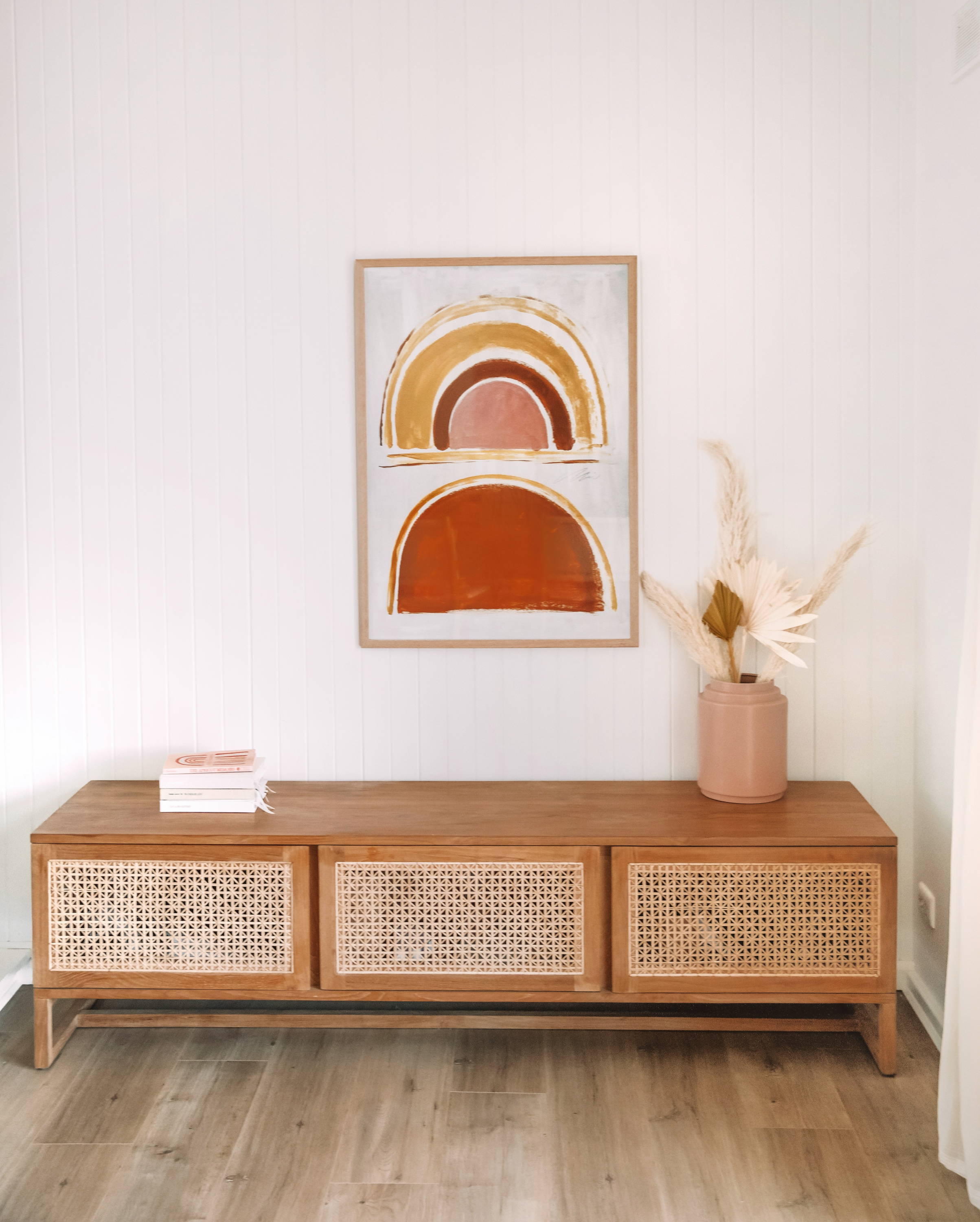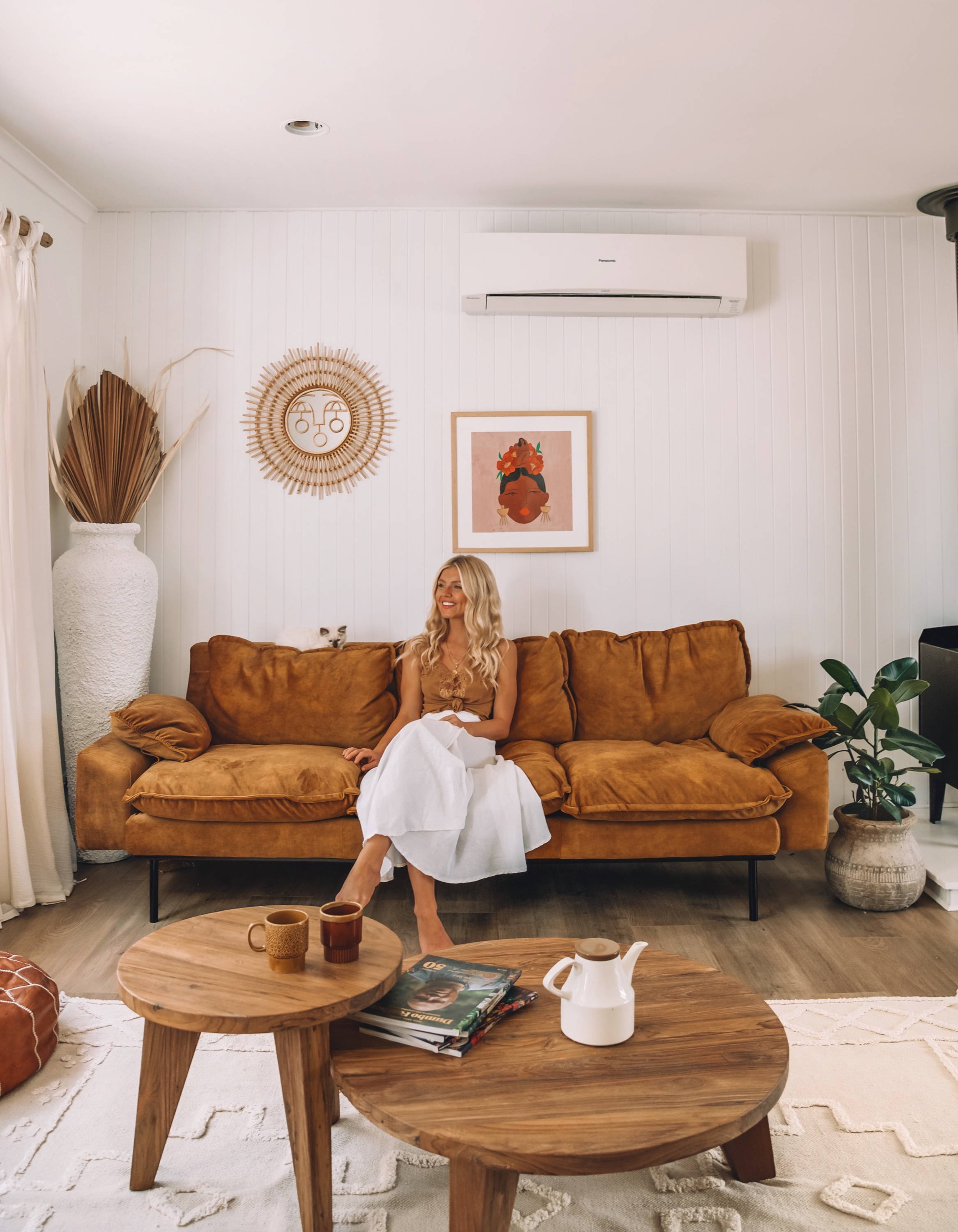 HOME OFFICE / SHARED DESK
THE DESK:
This is a HK Living teak desk.
THE CHAIRS: 
Are from Fenton & Fenton - they match our dining chairs so we can move them into that room if we have extra guests! ;)
GLASS DRAWS:
Are HK LIVING
THE RATTAN WINE RACK:
Found at a salvage yard - sorry! Cool though hey? :)
FEATHER PEN:
Axel & Ash - to go with my Pause journal (which we feature in!).
MY DIARY (HAPPY IS THE ONLY PLAN)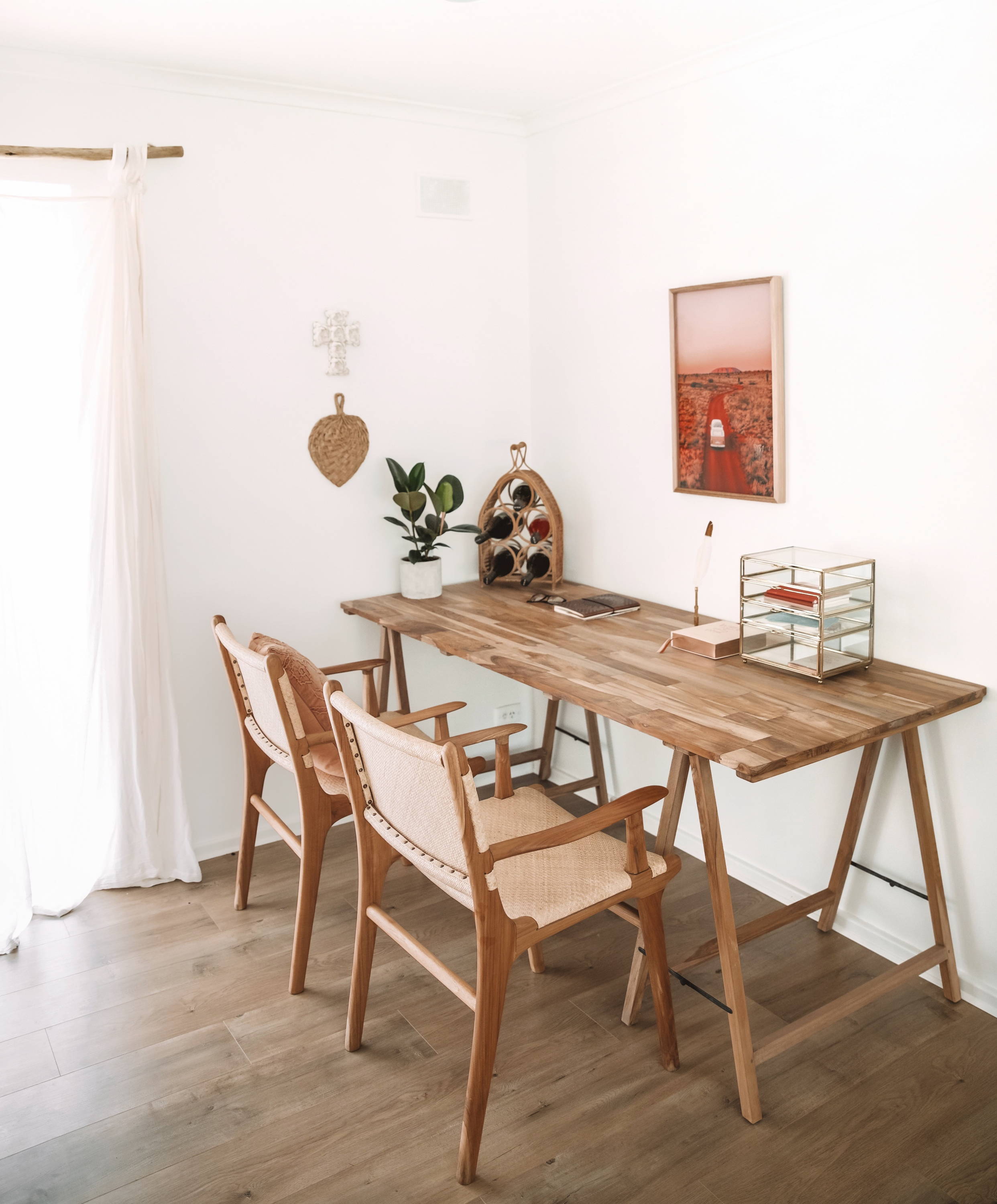 ENTRYWAY
We got rid of the door in the entry hallway to keep the space open. Brightened the whole room up - plus that blush front door for a splash of colour :)
The bench is an old gumtree find (originally from Bali the owner told me), the rug is an old one I'm glad I kept at a friend's while we were away, and the vintage Indian wall hook is from a website called Indigo Love.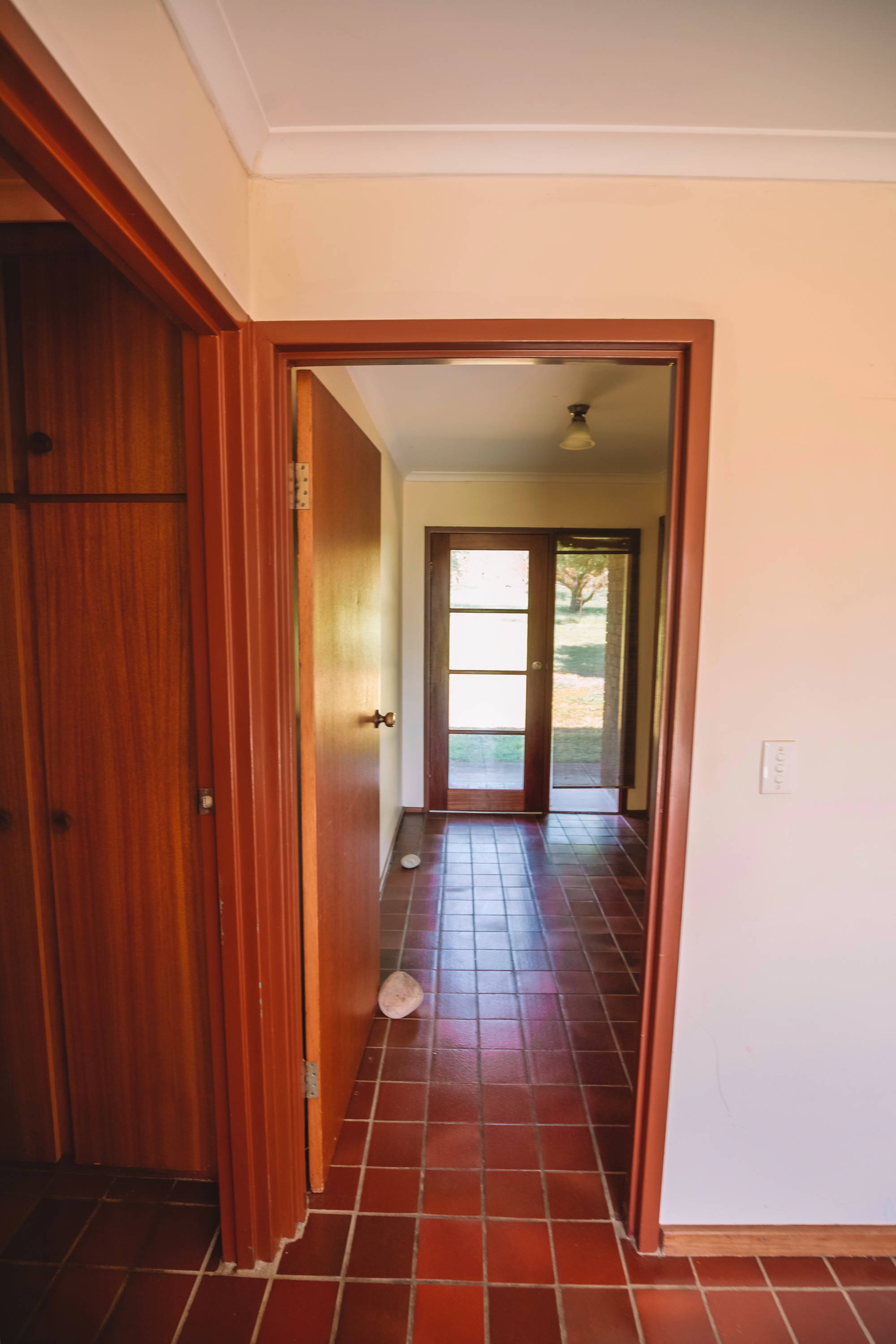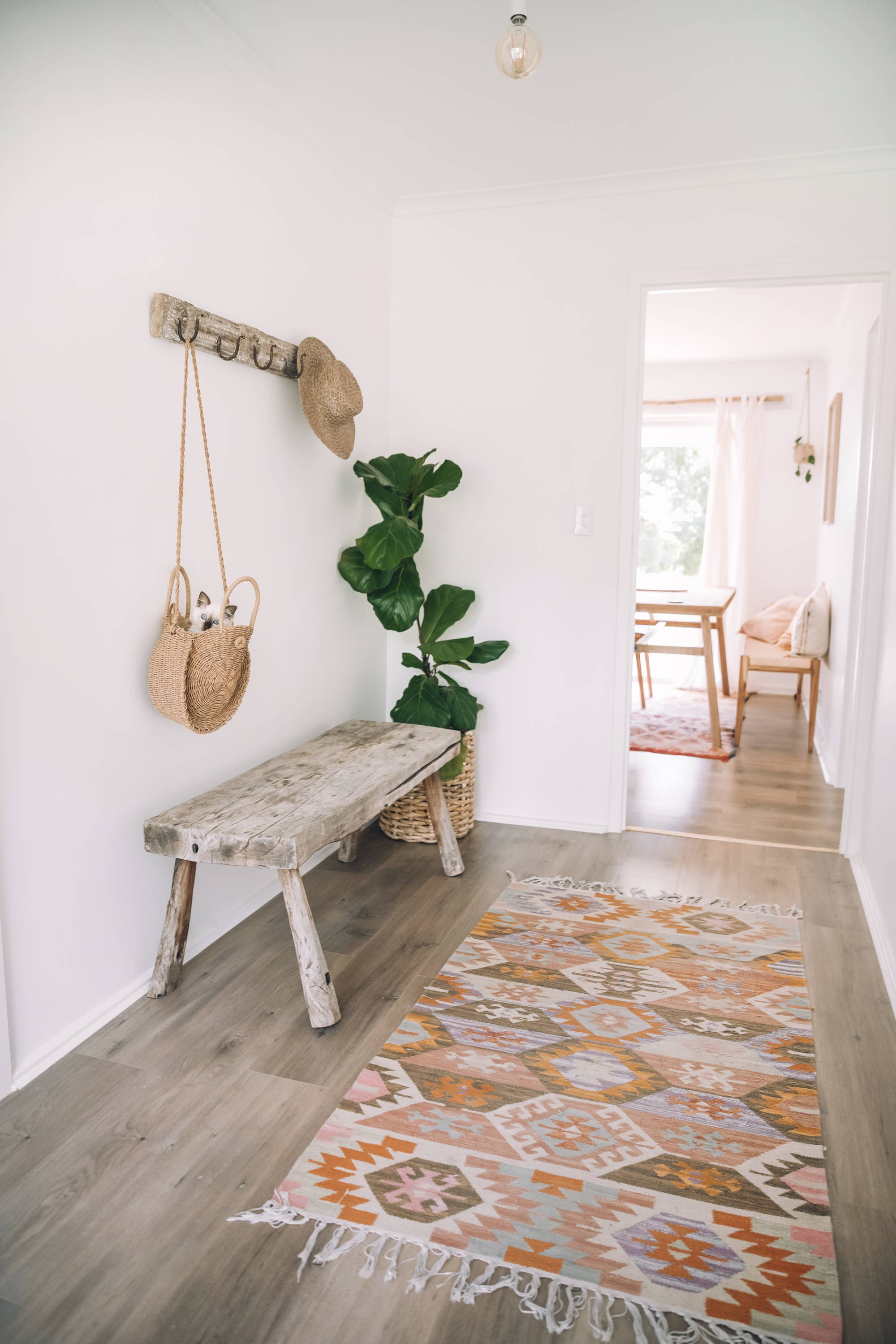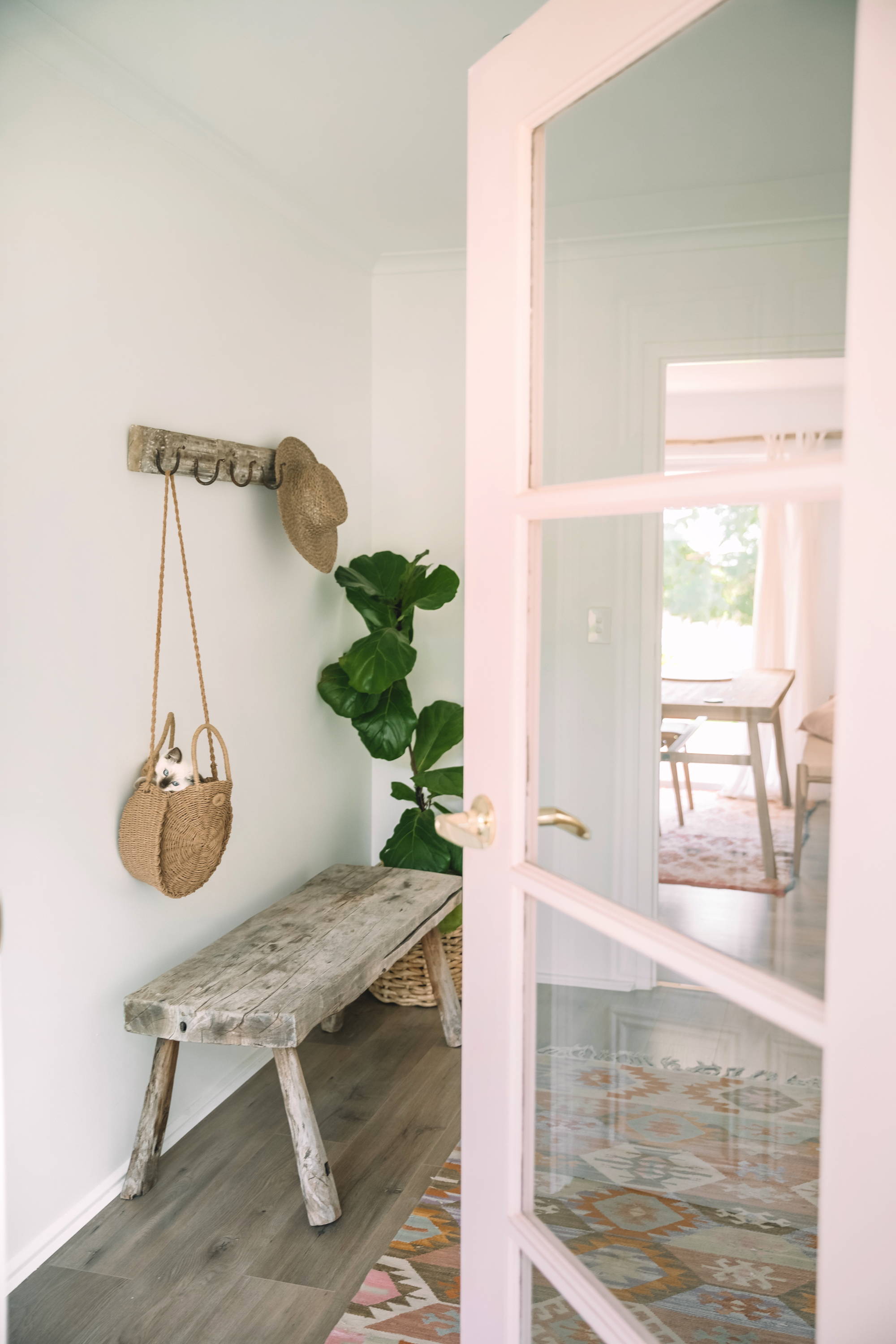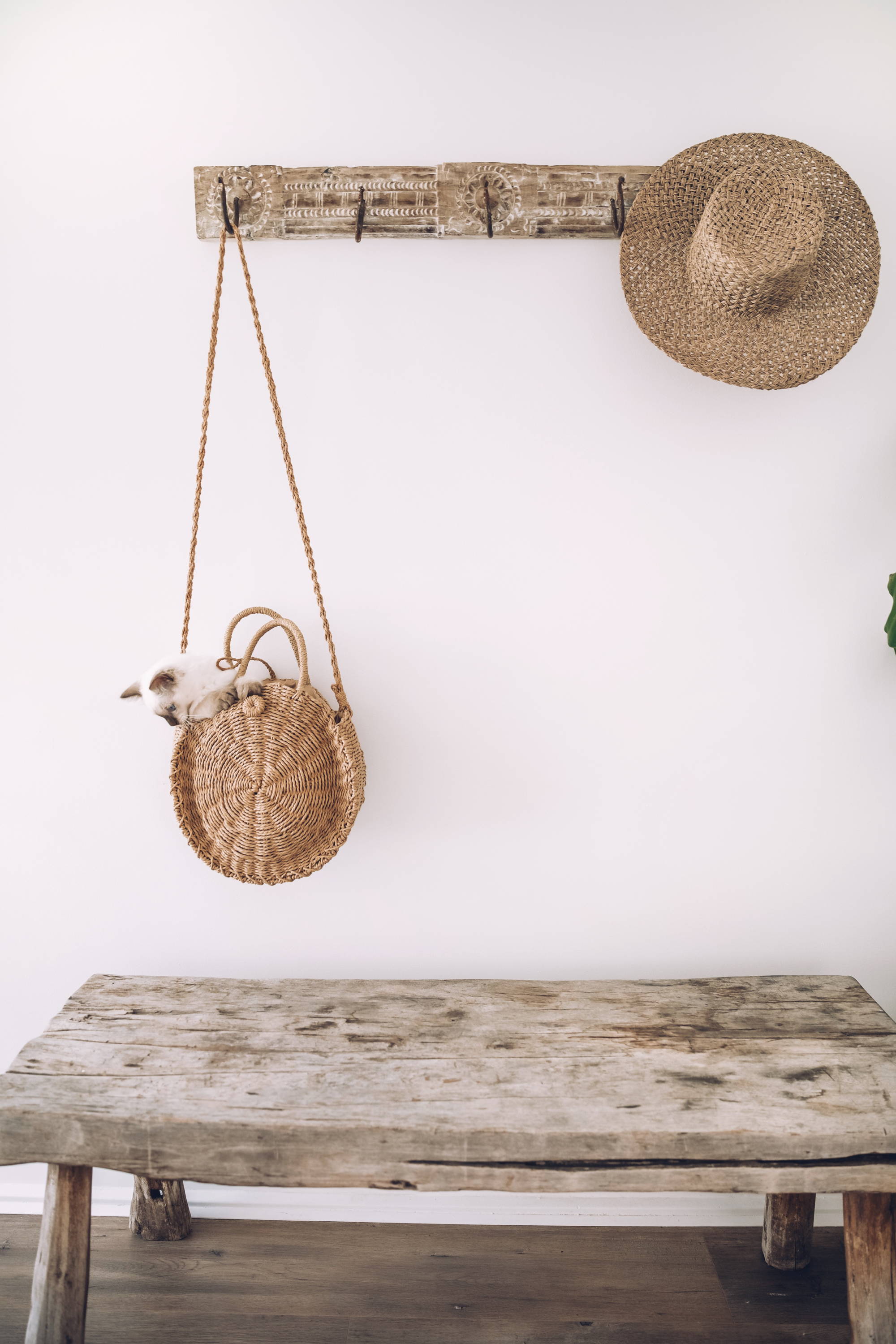 MAIN BEDROOM
In our bedroom we put in the wooden wall and slim shelf instead of getting a bedhead, pulled out the old built in wardrobe, had to level out the floor as there was a slight ramp into the room (odd!).
Patching up the wall where the built in wardrobe used to be was very tedious, but we got there!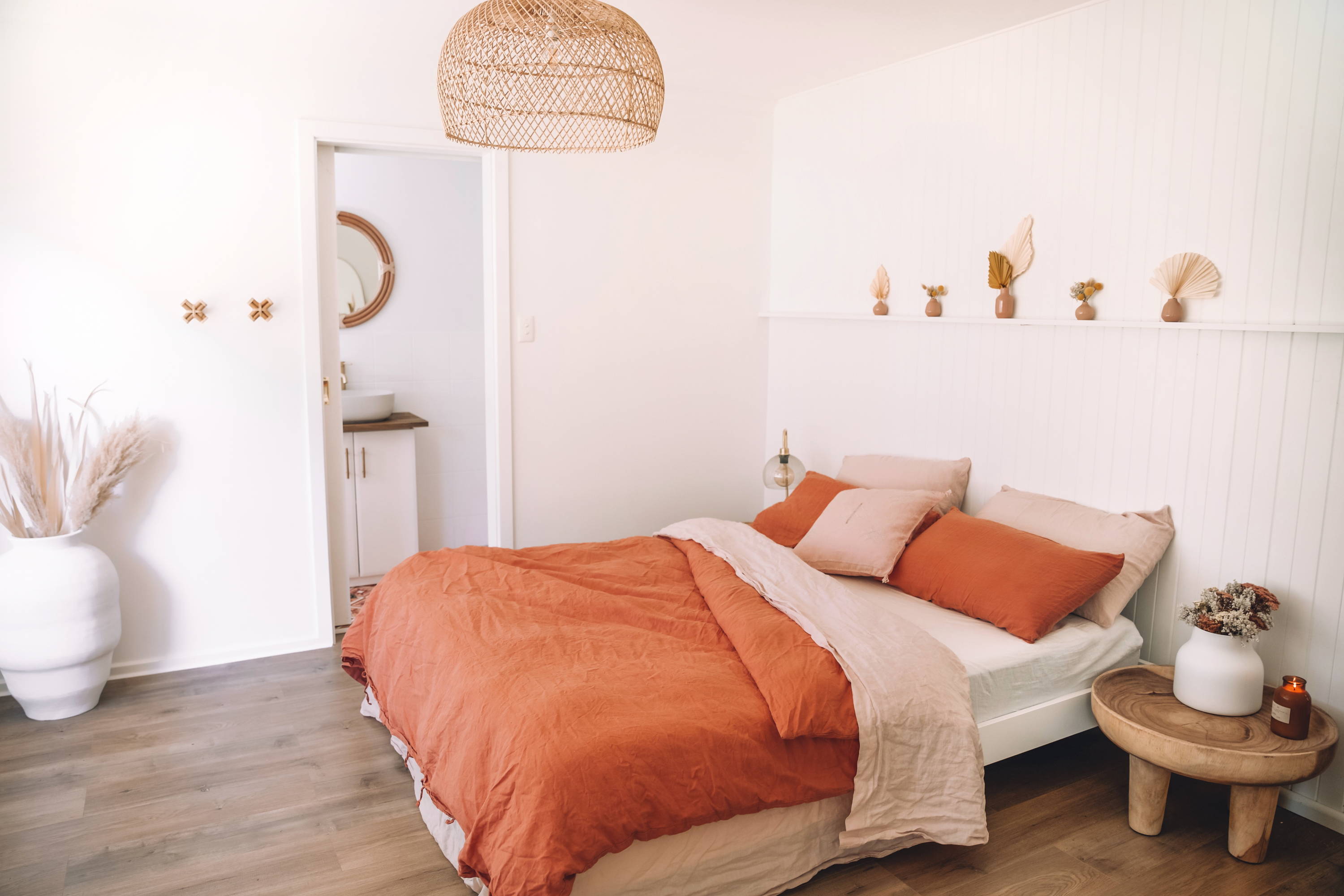 STYLING NOTES:
ANTIQUE INDIAN MIRROR:
This is from Alabaster Traders. Karmin (who runs it with her husband) sourced incredible pieces from India and imports / restores them. This would have to be one of my favourite pieces in the house, it is so special.
BED LINEN:
This is a desert rose, blush, and white combo with bedding from I Love Linen. We travelled with this in our van, I loved the colours travelling through the Outback, and those same colours have inspired the palette in this room.
BED:
The Mattress is Koala, which is so comfortable - I highly rate it. PLUS they're a great sustainable option, and they've partnered with the WWF and other Koala charities to provide a donation with every mattress sold to help protect and preserve Koalas. If you're on the hunt for a super comfy mattress, you can use the code ELISECOOKKOALA for a great discount :)
BIG WHITE VASE AND BEDSIDE TABLES:
Once again, the incredible Uniqwa Furniture
DRIED BLOOMS, GRASS AND PALMS:
Nikau! :)
DRESSING TABLE:
This is from Zanui - I hunted and hunted for a dressing table that fit and was the right timber. This was actually meant to be a hallway console but it works perfectly - and the size is perfect!
DRESSING TABLE ARCH MIRROR AND RUSTIC TEAK STOOL:
These are both from HK LIVING - House of Orange
CANDLE:
BY local brand Etikette Handmade, who name their scents after their favourite South Australian locations. This one is called Fleurieu and its amazing!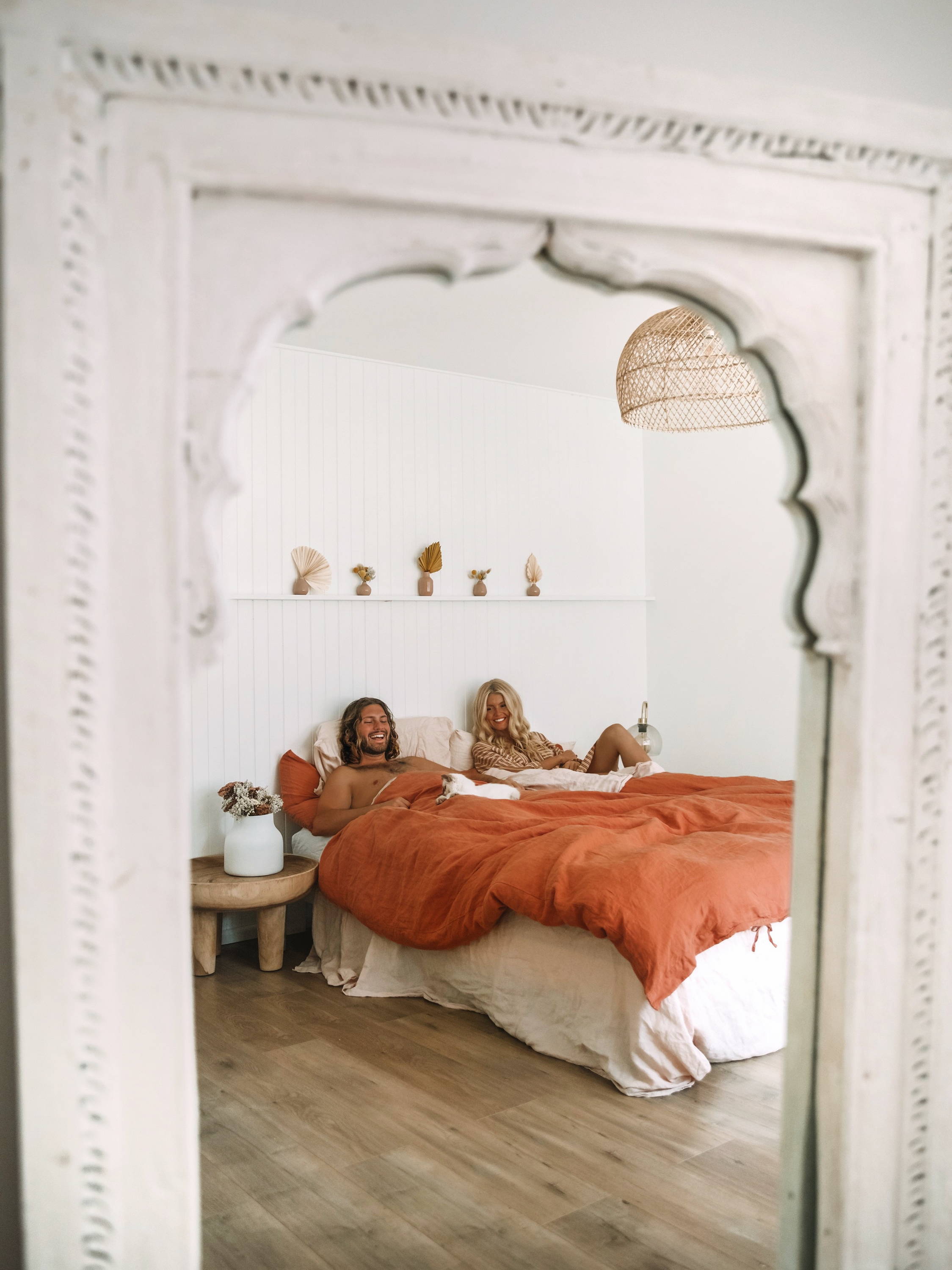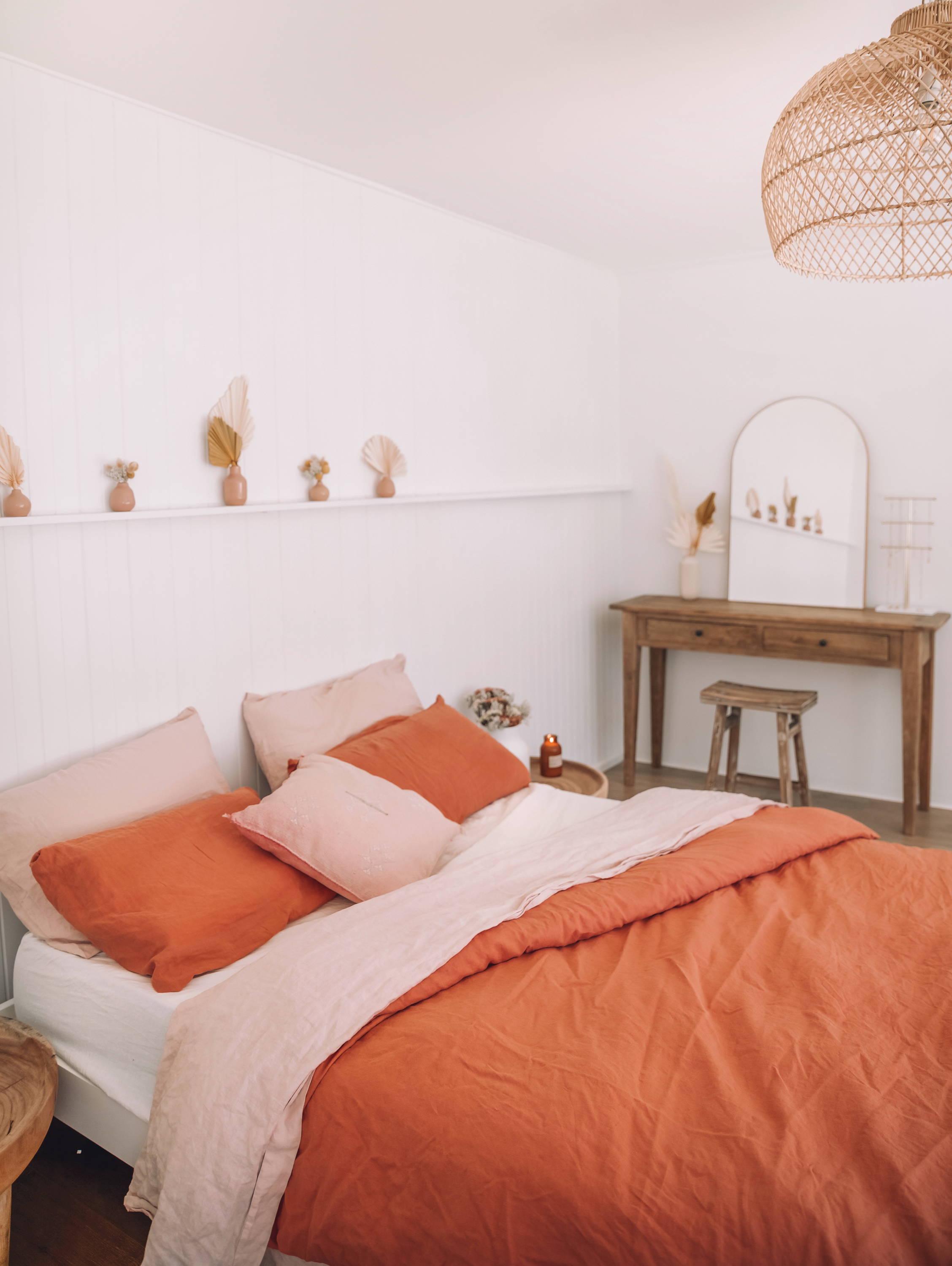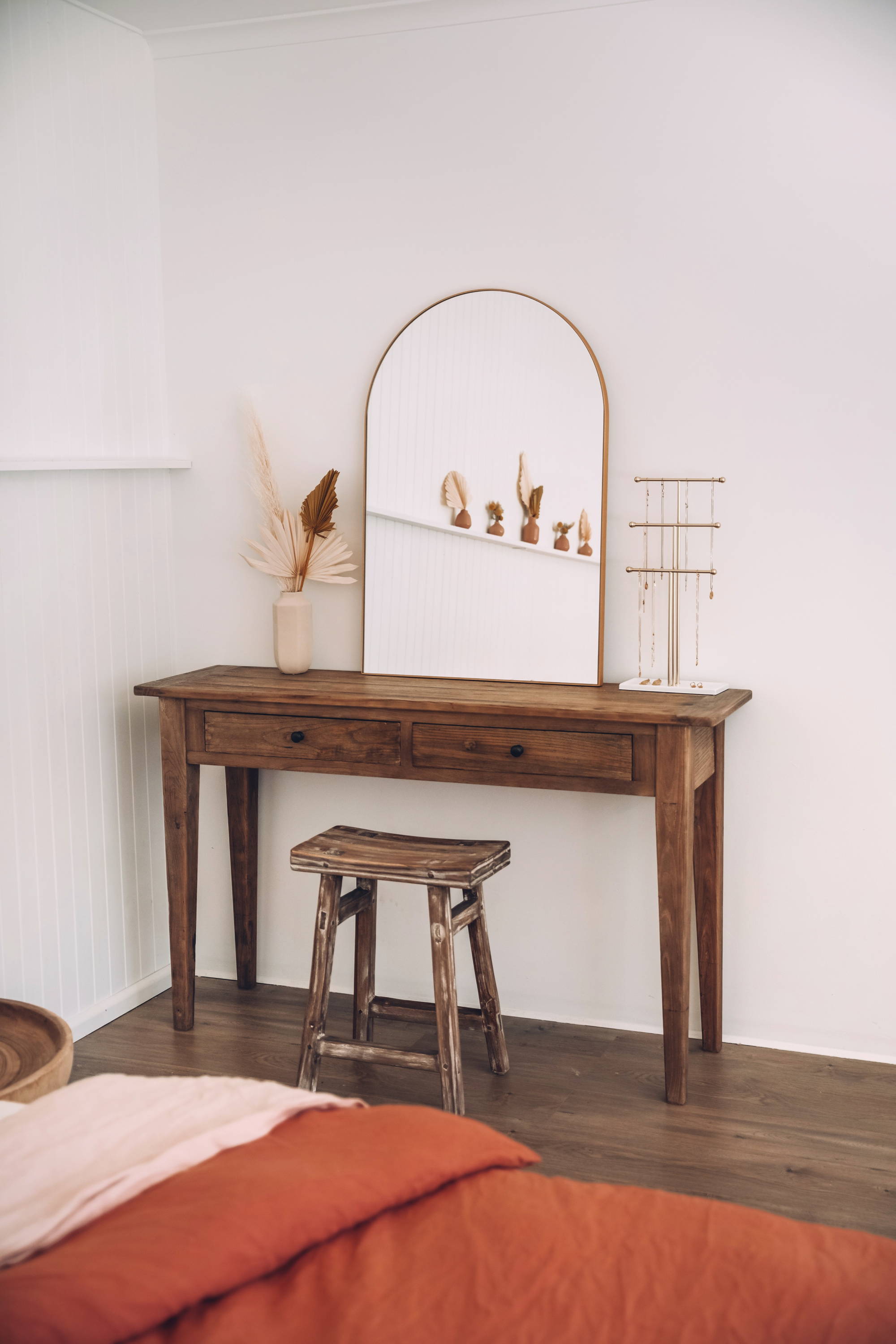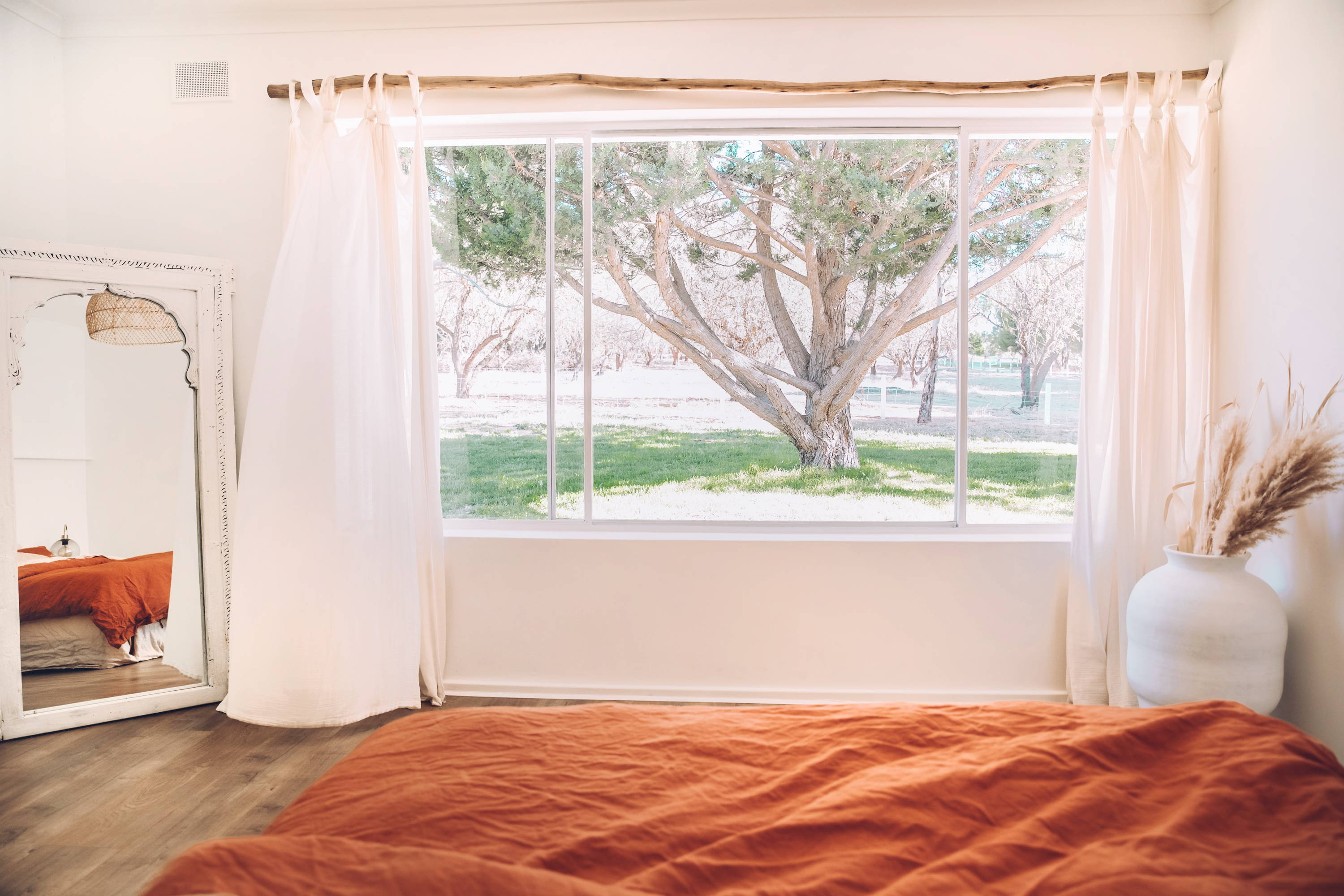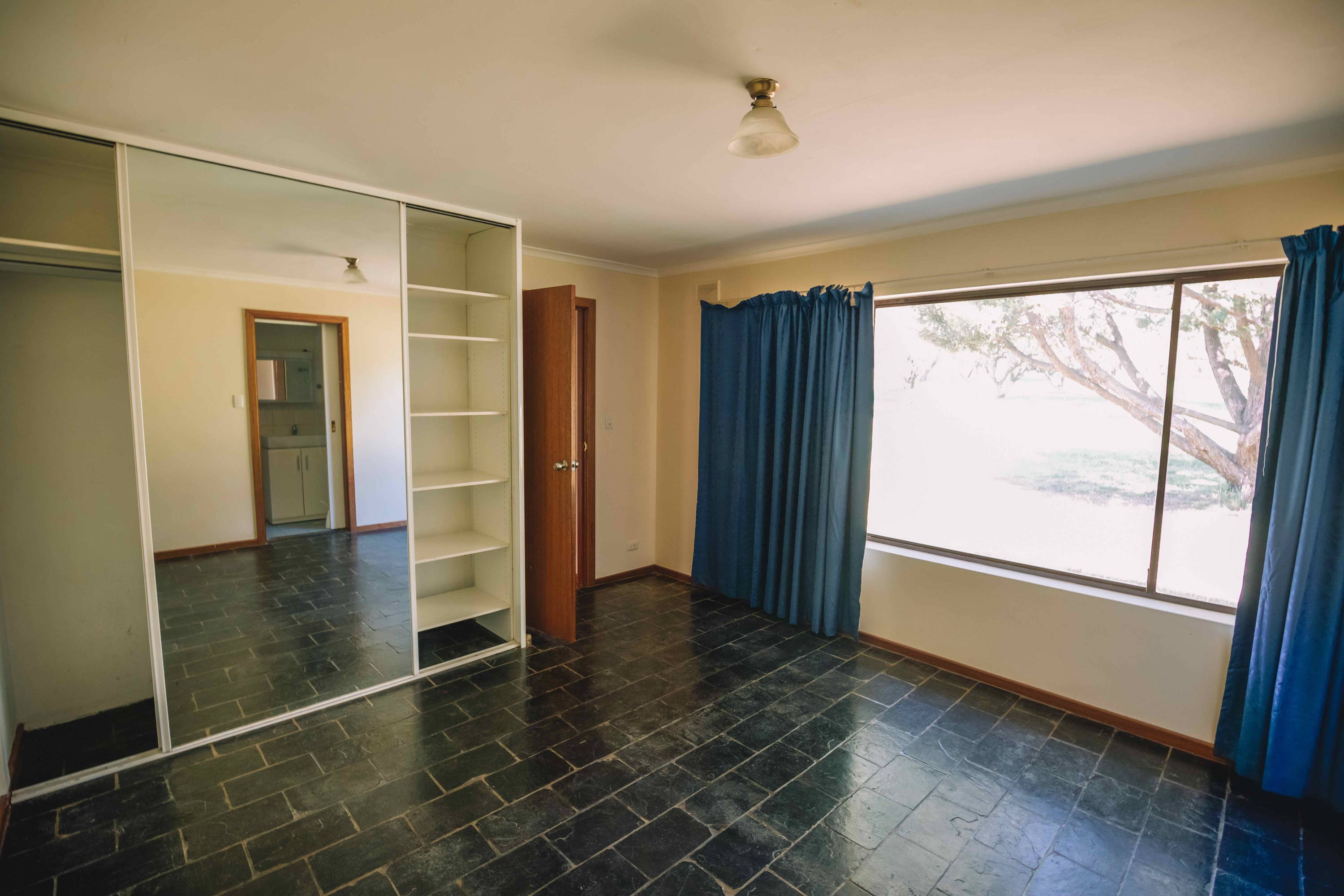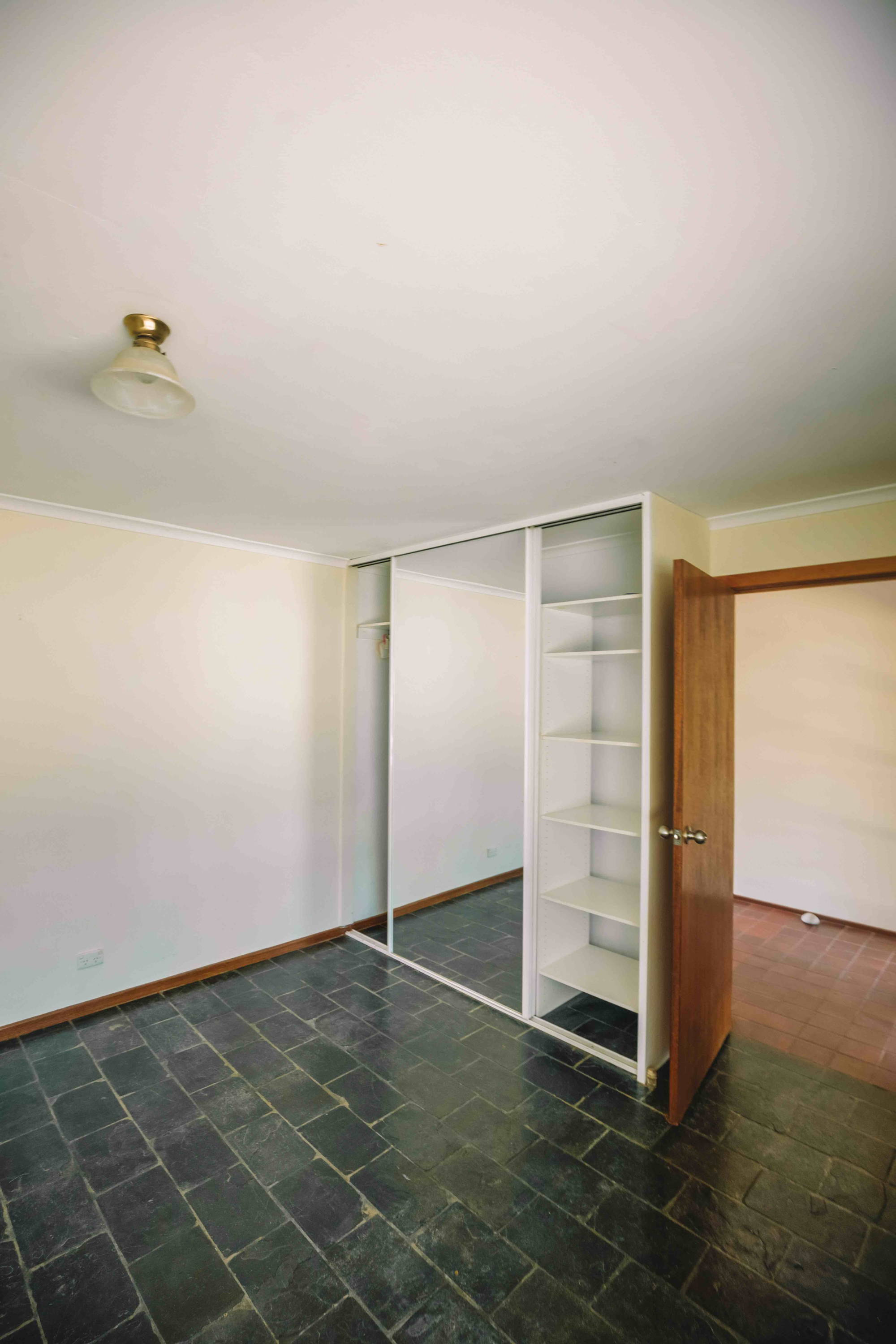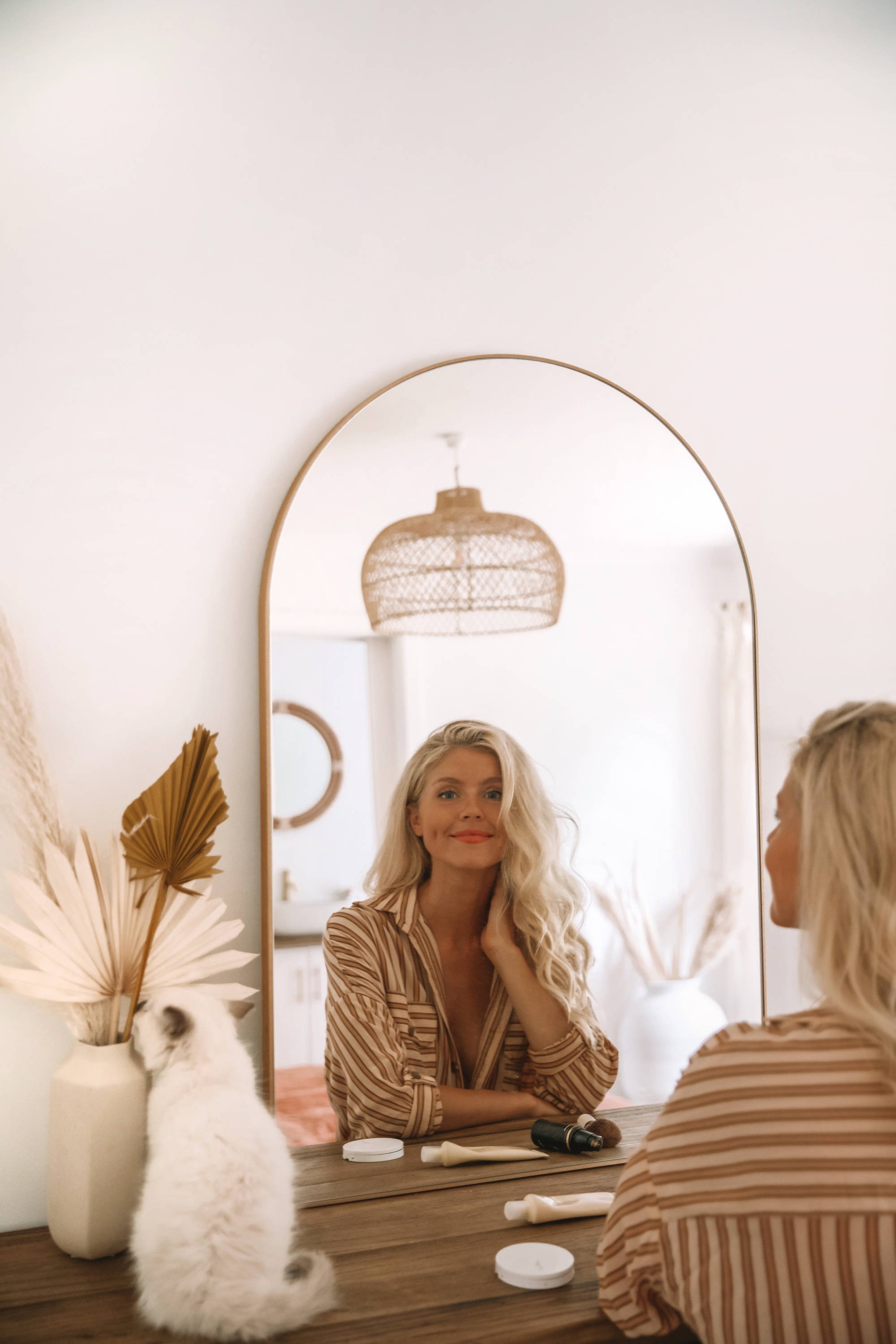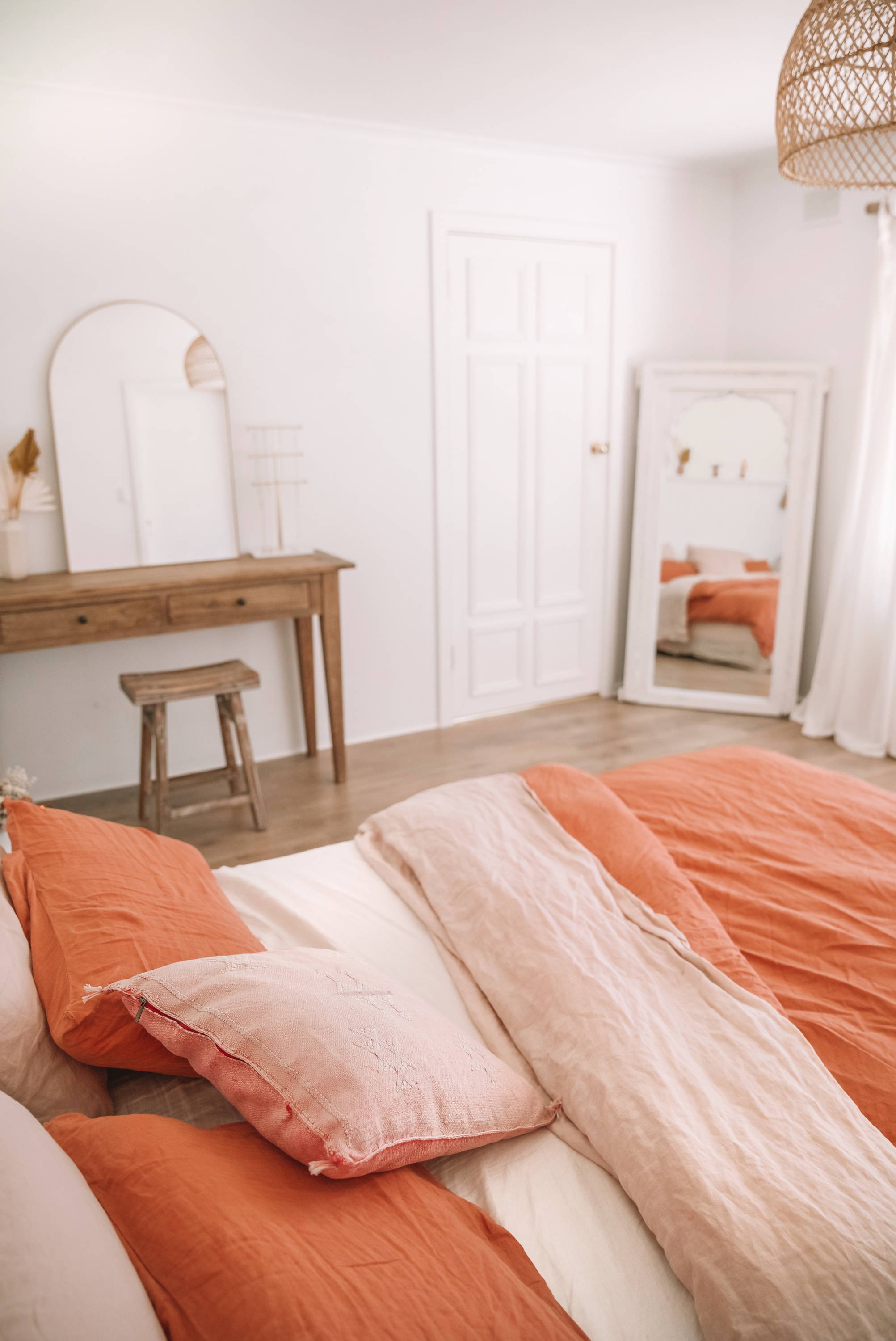 MAIN BEDROOM ENSUITE
With the little ensuite we pulled out the old vanity mirror and light, and then revamped the old vanity unit by changing the handles over, using an off-cut of the timber bench we used in the kitchen, and mounting a new basin and tap (thanks plumber Dom!). We got the Jones & Jones Concrete basin from Highgrove Bathrooms, as well as their Brass tapwear, and gorgeous big brass shower head and taps. I painted the wall tiles white (and here's a tip from the man at Bunnings - if you want gloss use the tile paint and if you want matt use the laminate paint, both will work! I used the laminate paint).
With the floor tiles, we sourced these handmade encaustic tiles from Jatana Interiors.  
And the new mirror I found at Family Love Tree.
And big bath towels (in blush and white) from The Beach People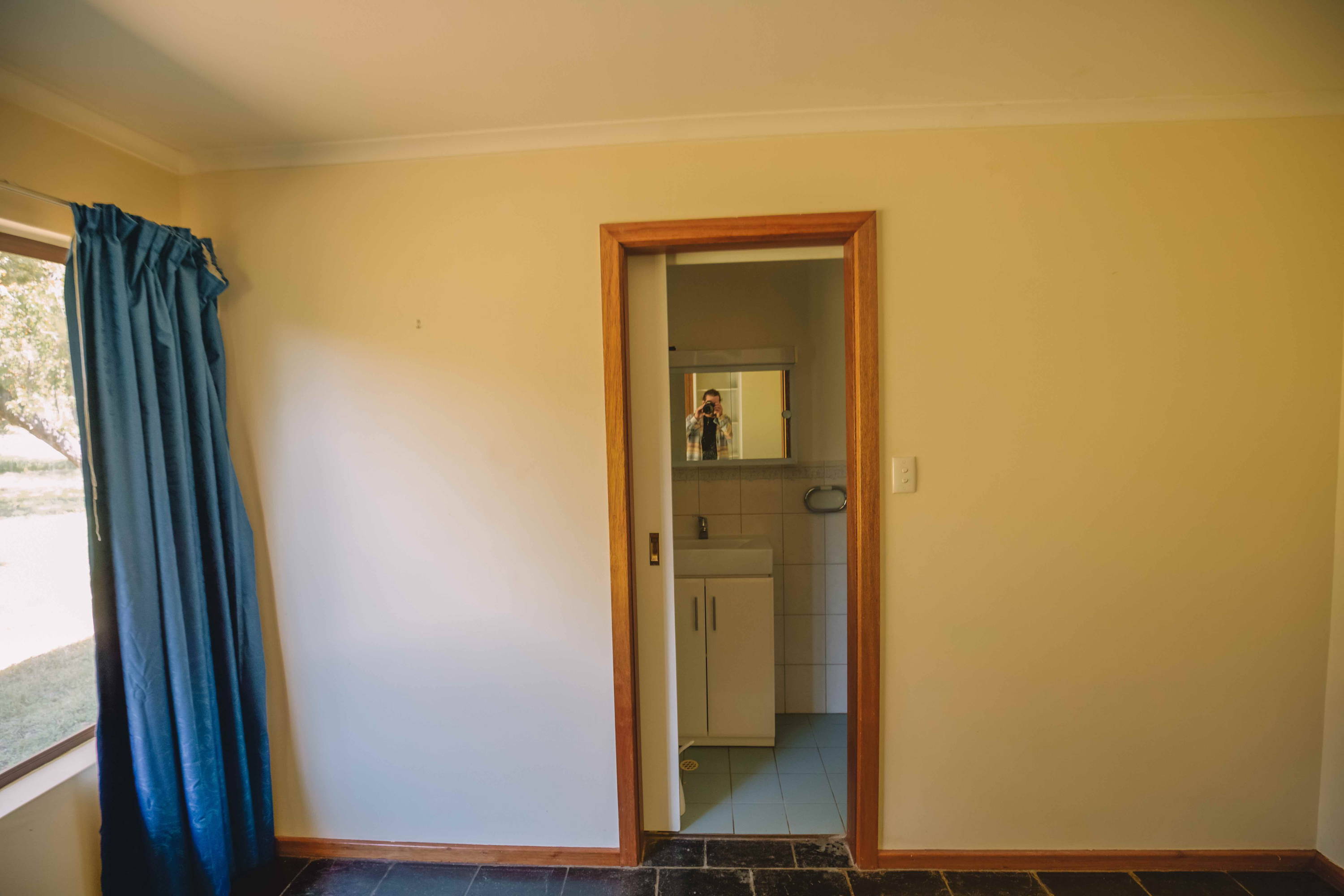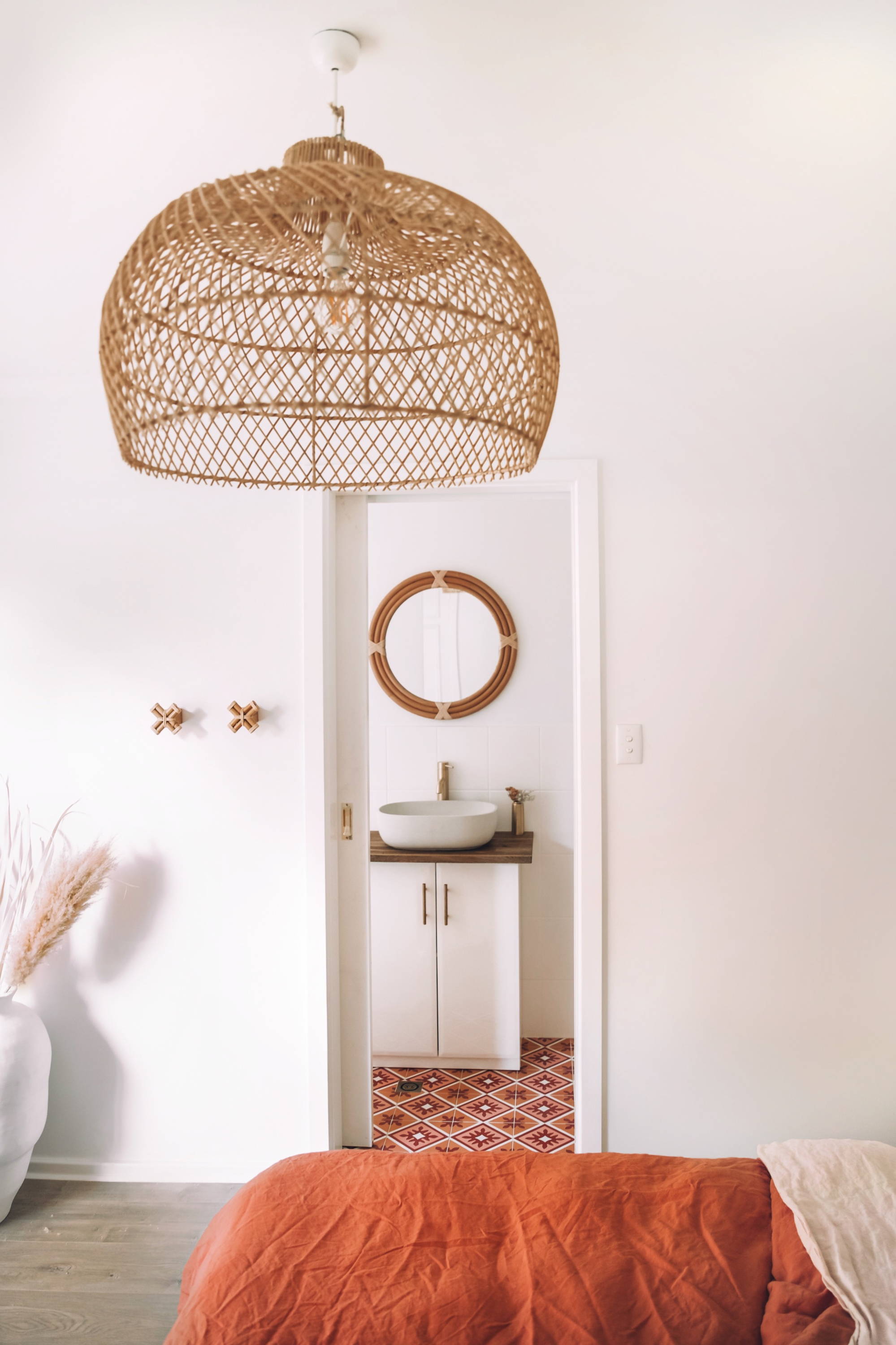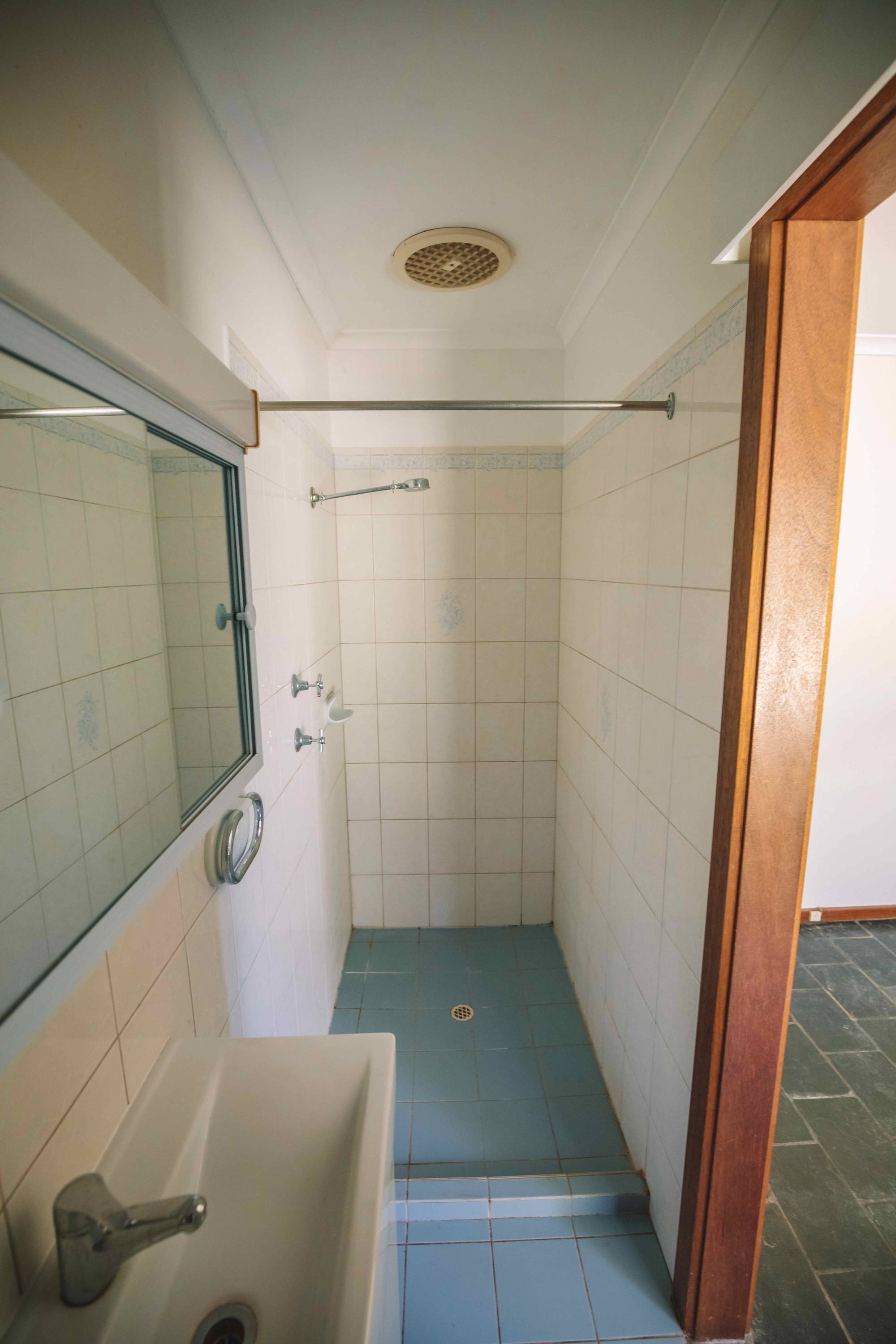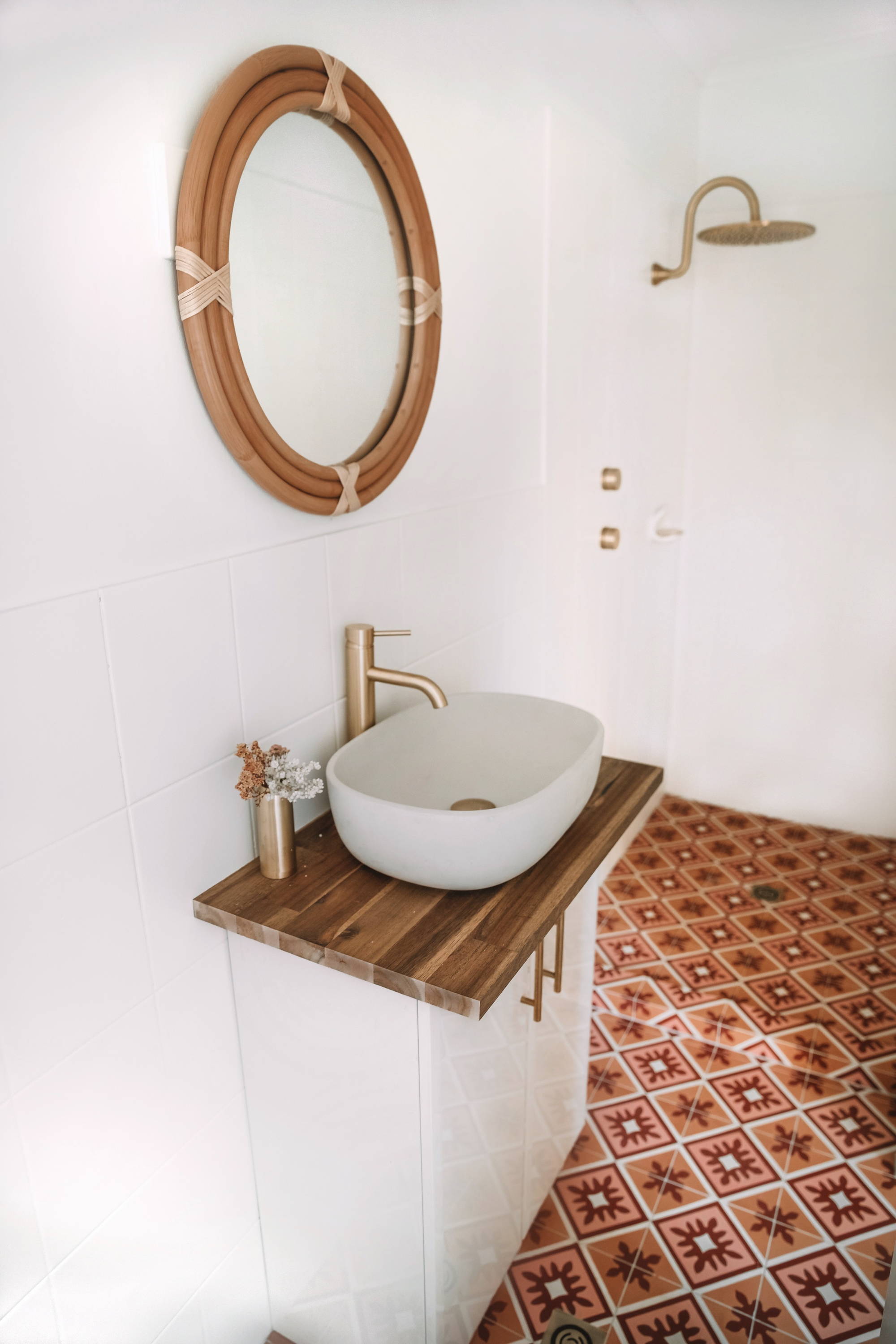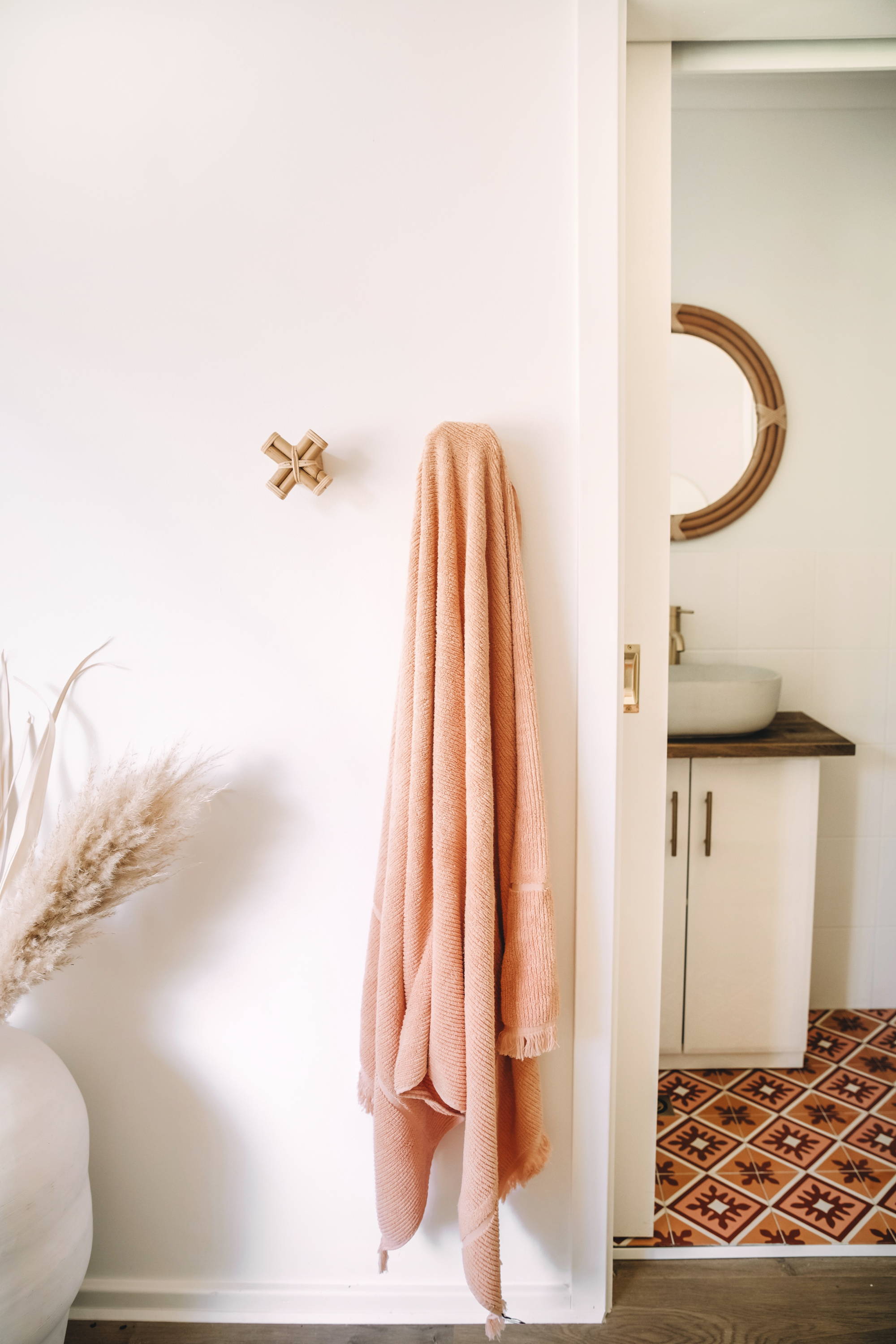 THE DINING ROOM
STYLING NOTES:
BAR CART:
Byron Bay Hanging Chairs - This will be (and already is) a very well used piece. Dom's favourite corner for sure. The top comes off so you take a tray somewhere.... like bringing coffee in bed! ;)
ROUND WALL MIRROR:  
Zanui - it's called the Coralie Mirror.
PRINTS:
Desenio - These guys have some beautiful prints for the home - The highland cow print and the pampas grass print is from them. You can use ELISECOOK for 25% off.
PLATE & BOWL CABINET
HK Living - House Of Orange. Its called the small doctors cabinet.
ALL CERAMIC PLATES & BOWLS:
HK Living - House of Orange. The dinner plates, breakfast plates, desert plates, small bowls and mugs in the doctors cabinet are all from HK Living. I love that they have a 70s retro feel :)
DINING TABLE:
Zanui - It's called the Sampani Dining Table. I wanted a table that would feel like an old farmhouse table straight away.
CHAIRS & BENCH
Fenton & Fenton Suma Rattan & Teak Chairs and Bench.
RUG
I got the rug on Etsy through a vintage rug seller (based in Morocco) called HappyTapis
VASES
HK Living - House of Orange.
BLOOMS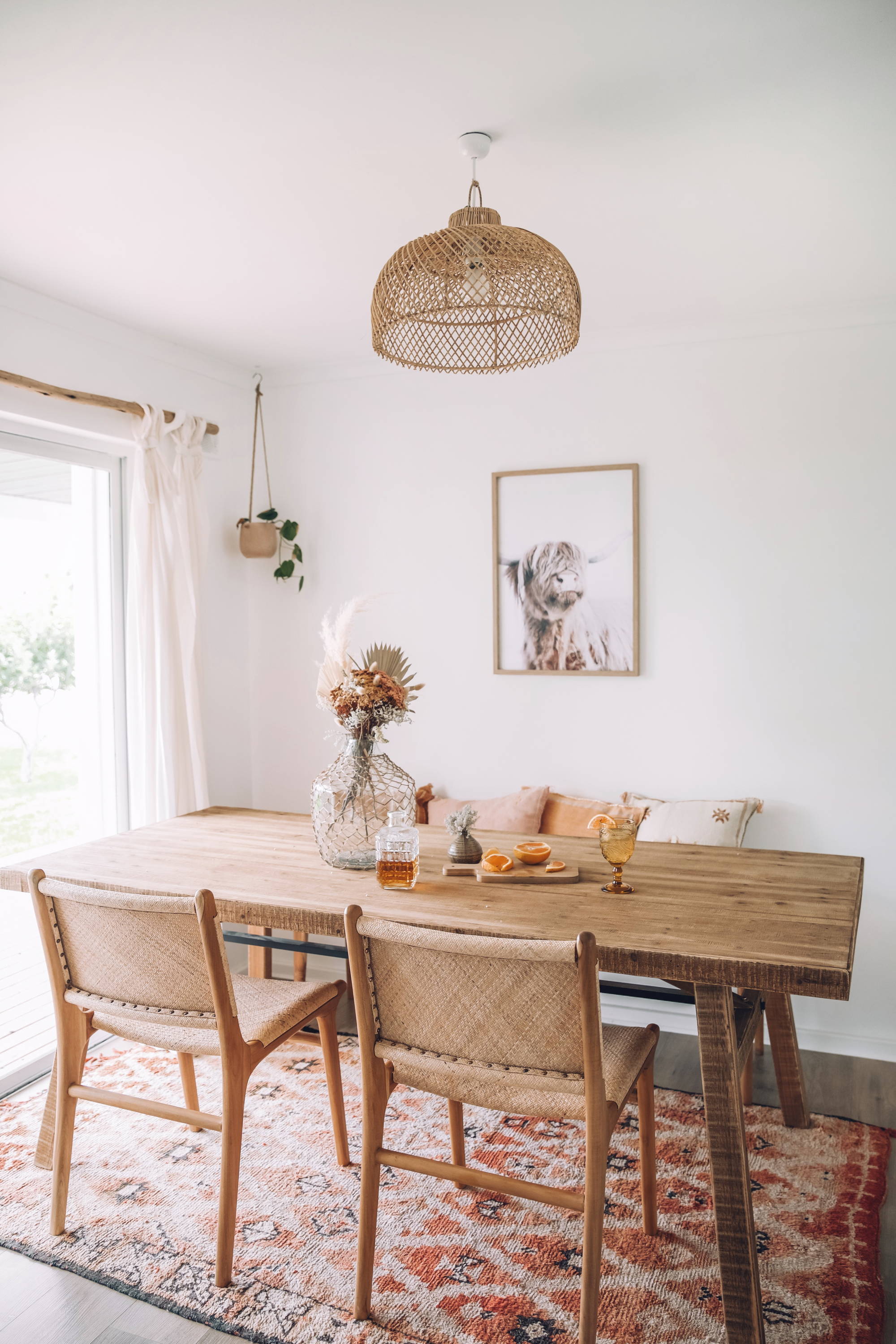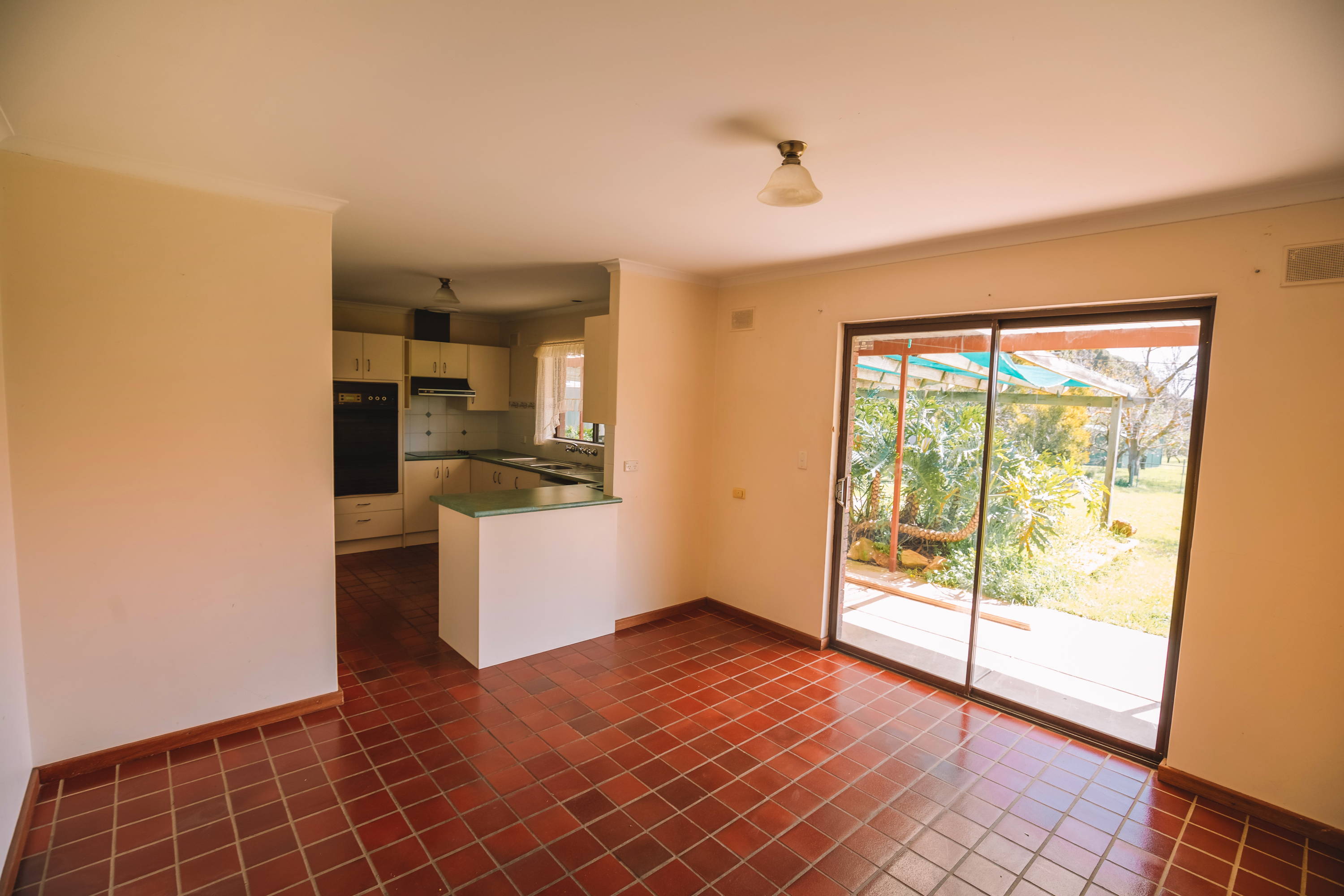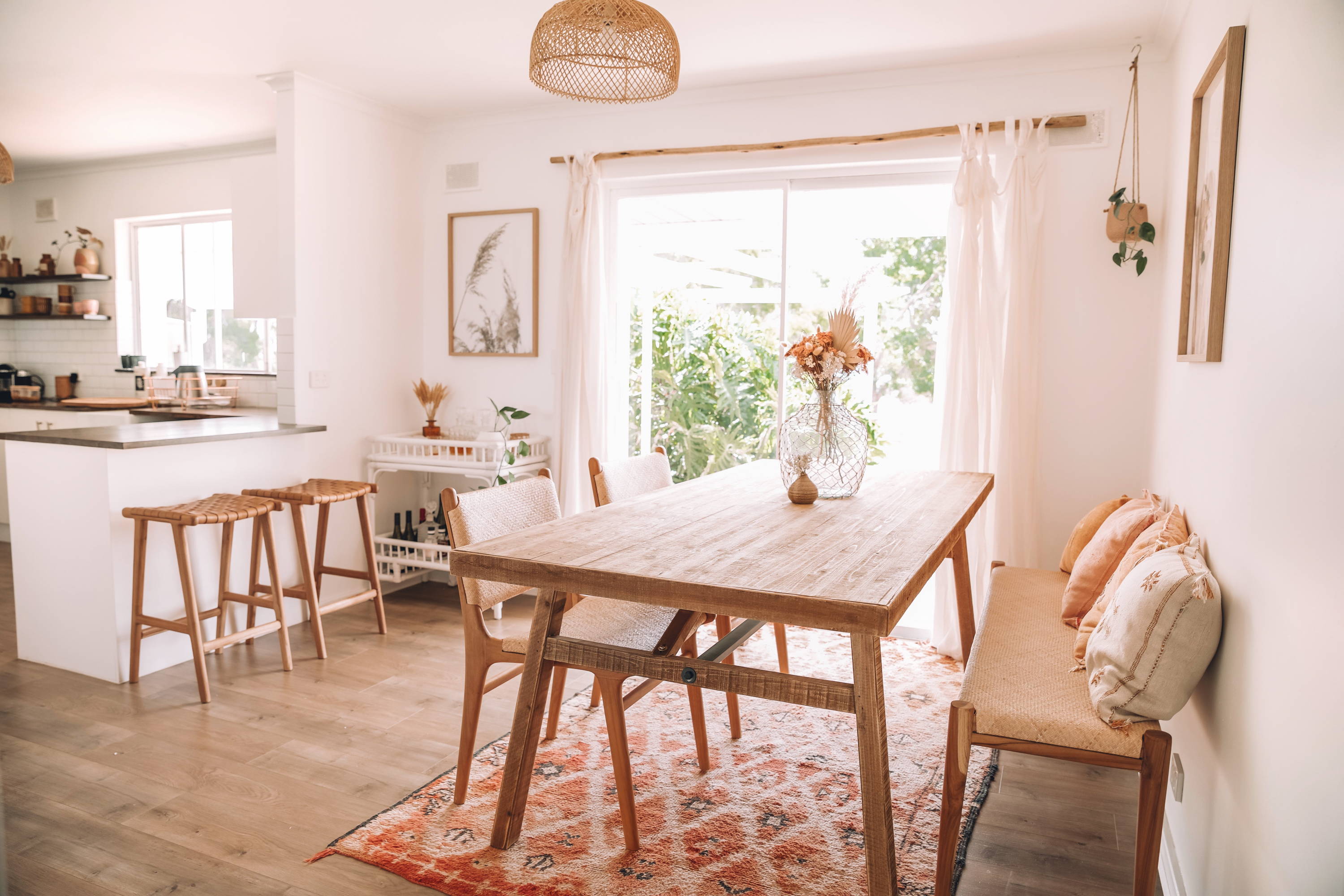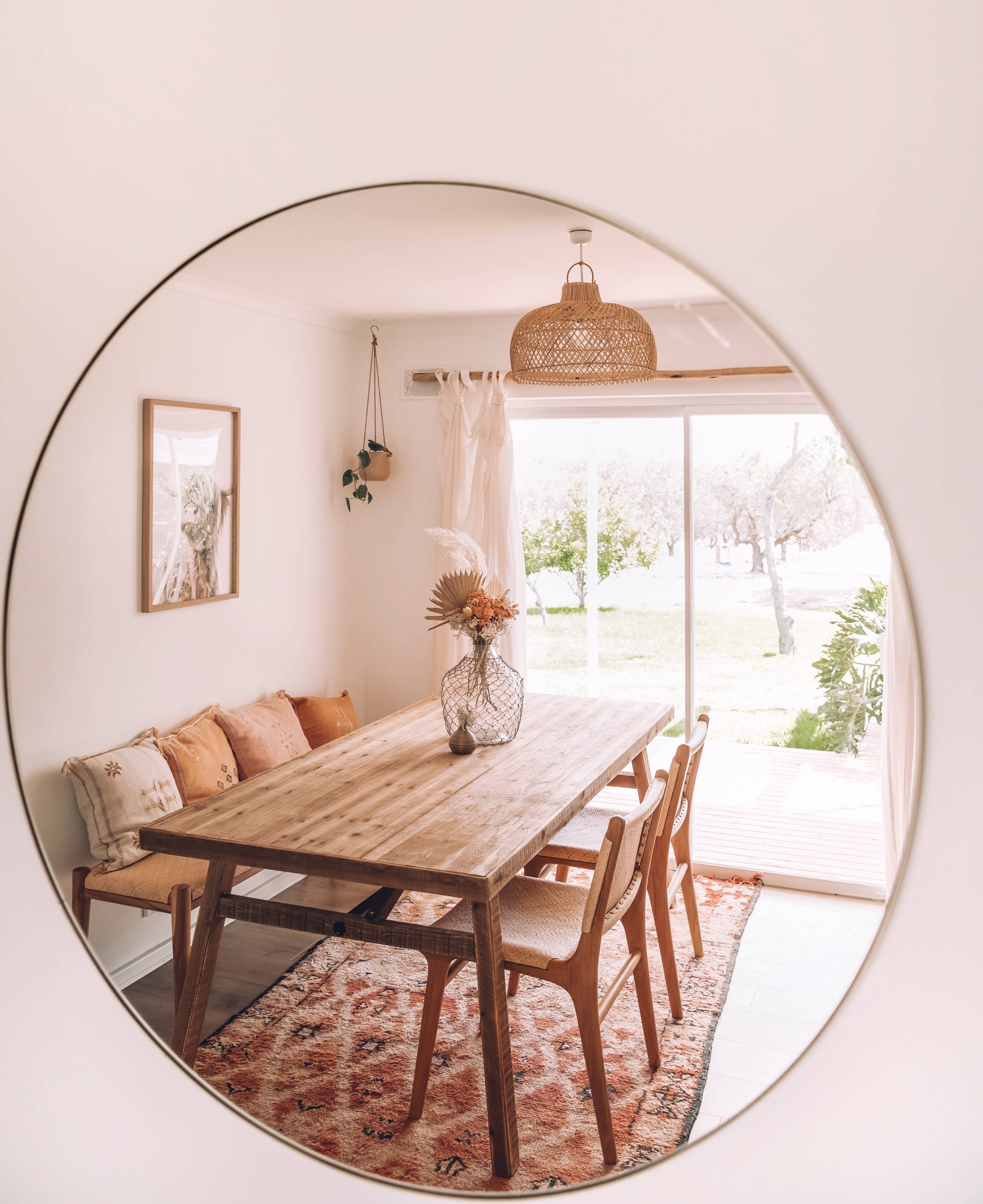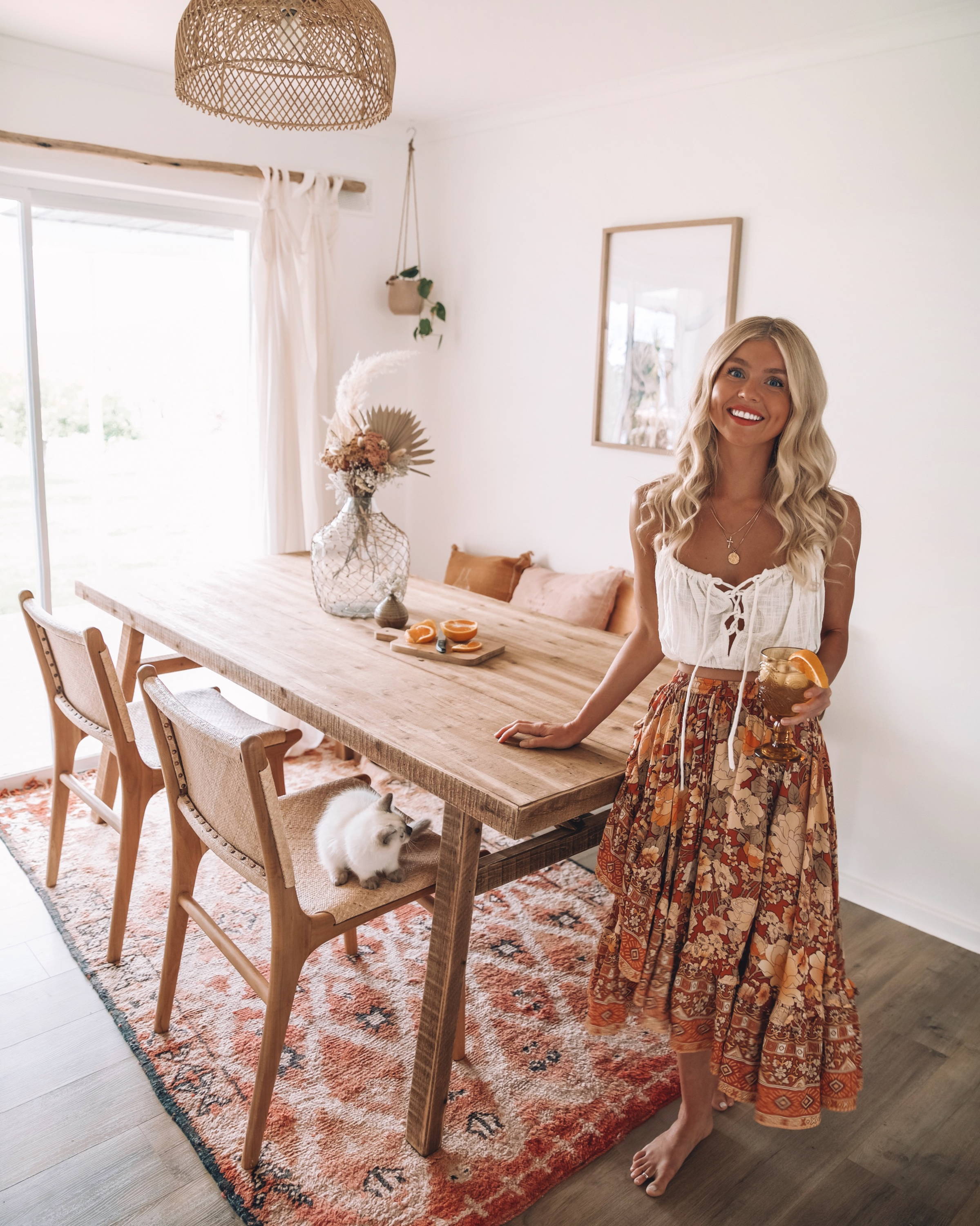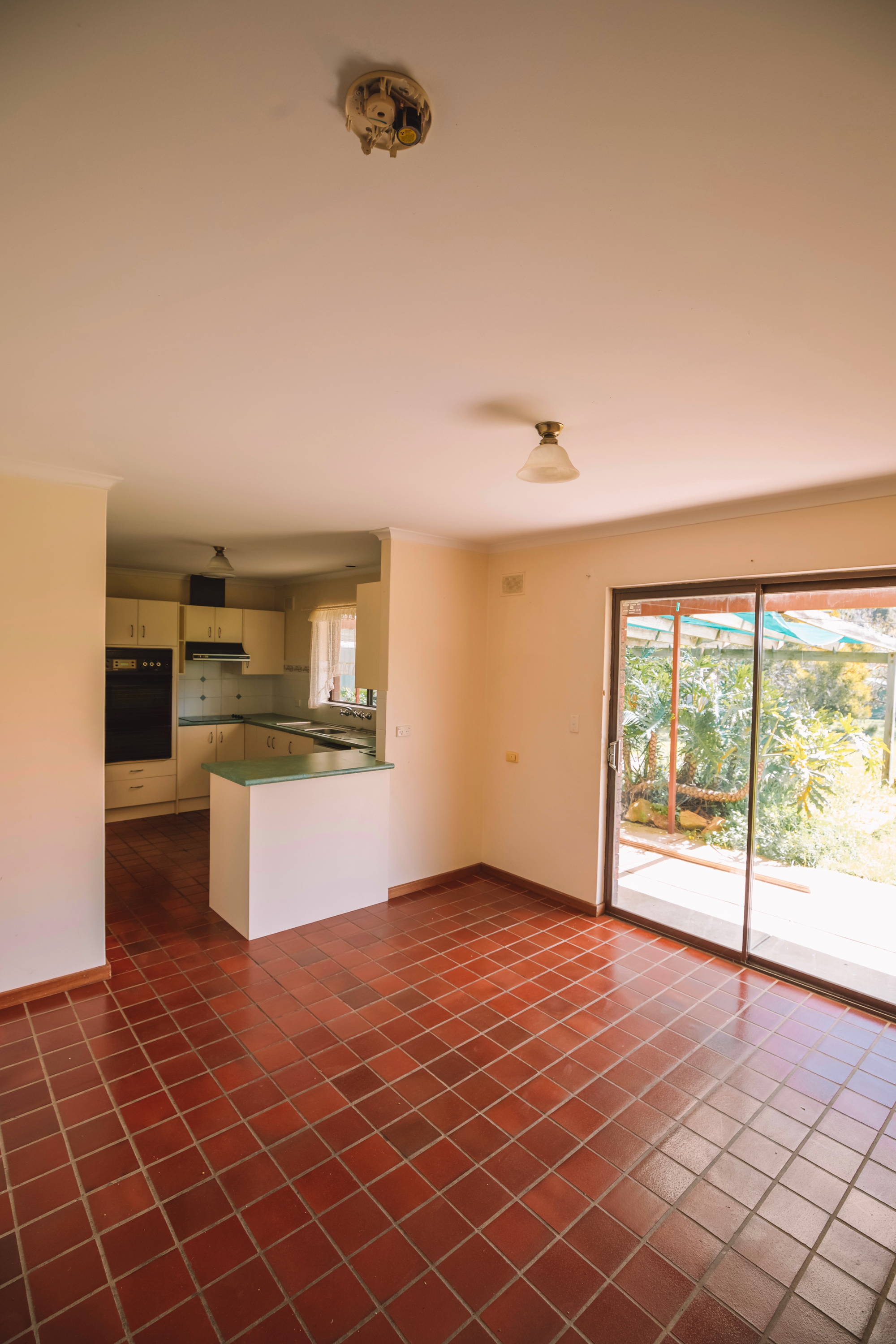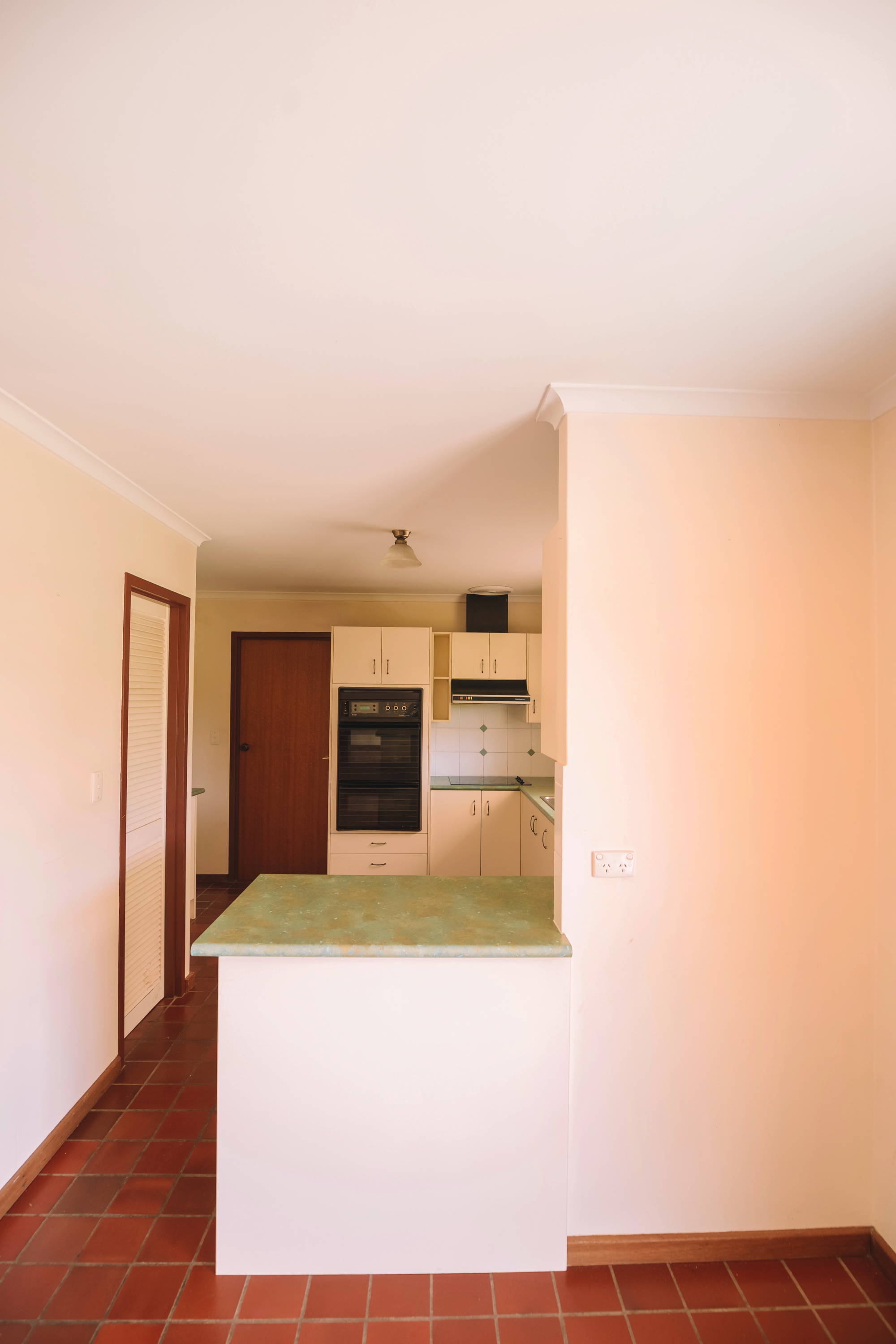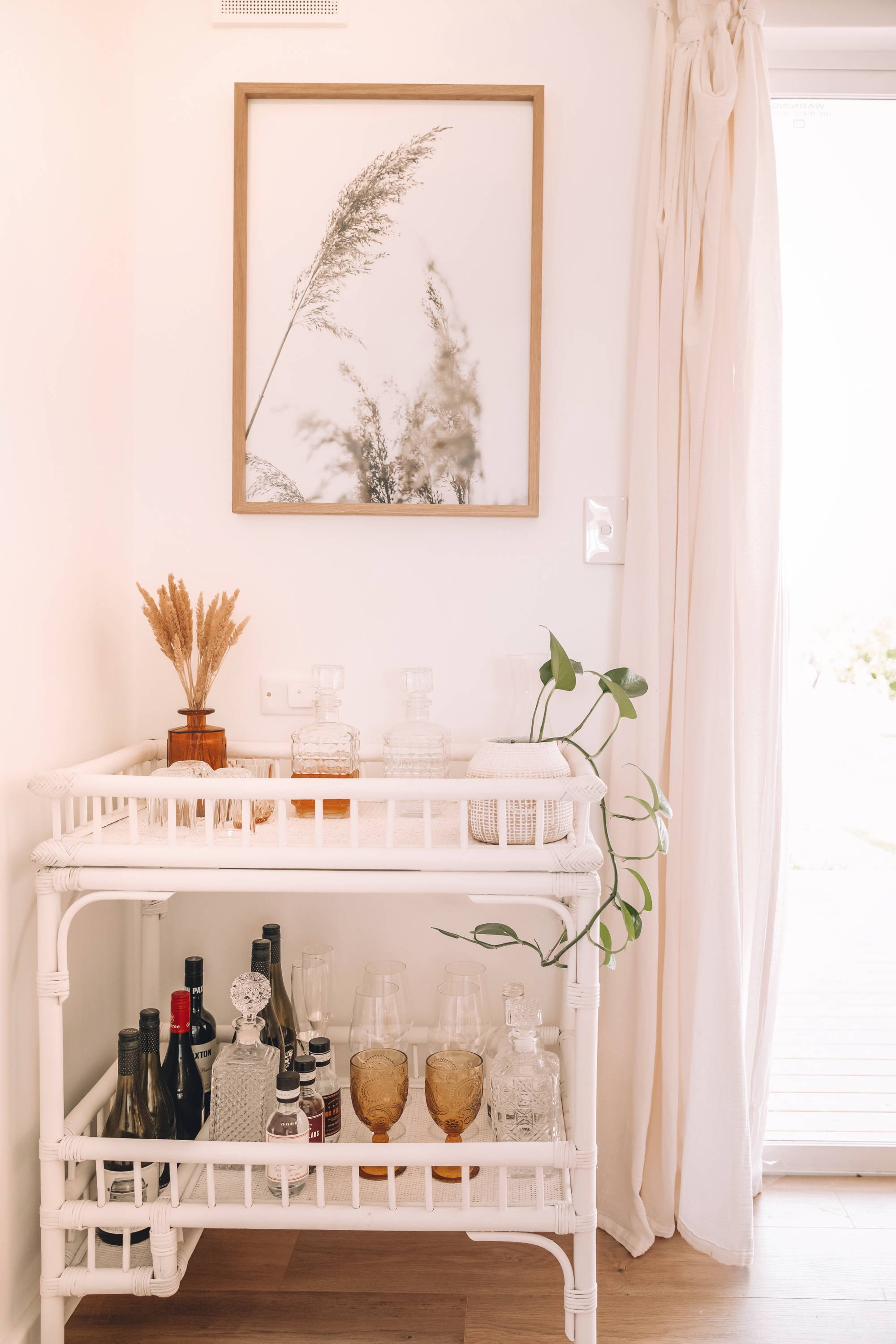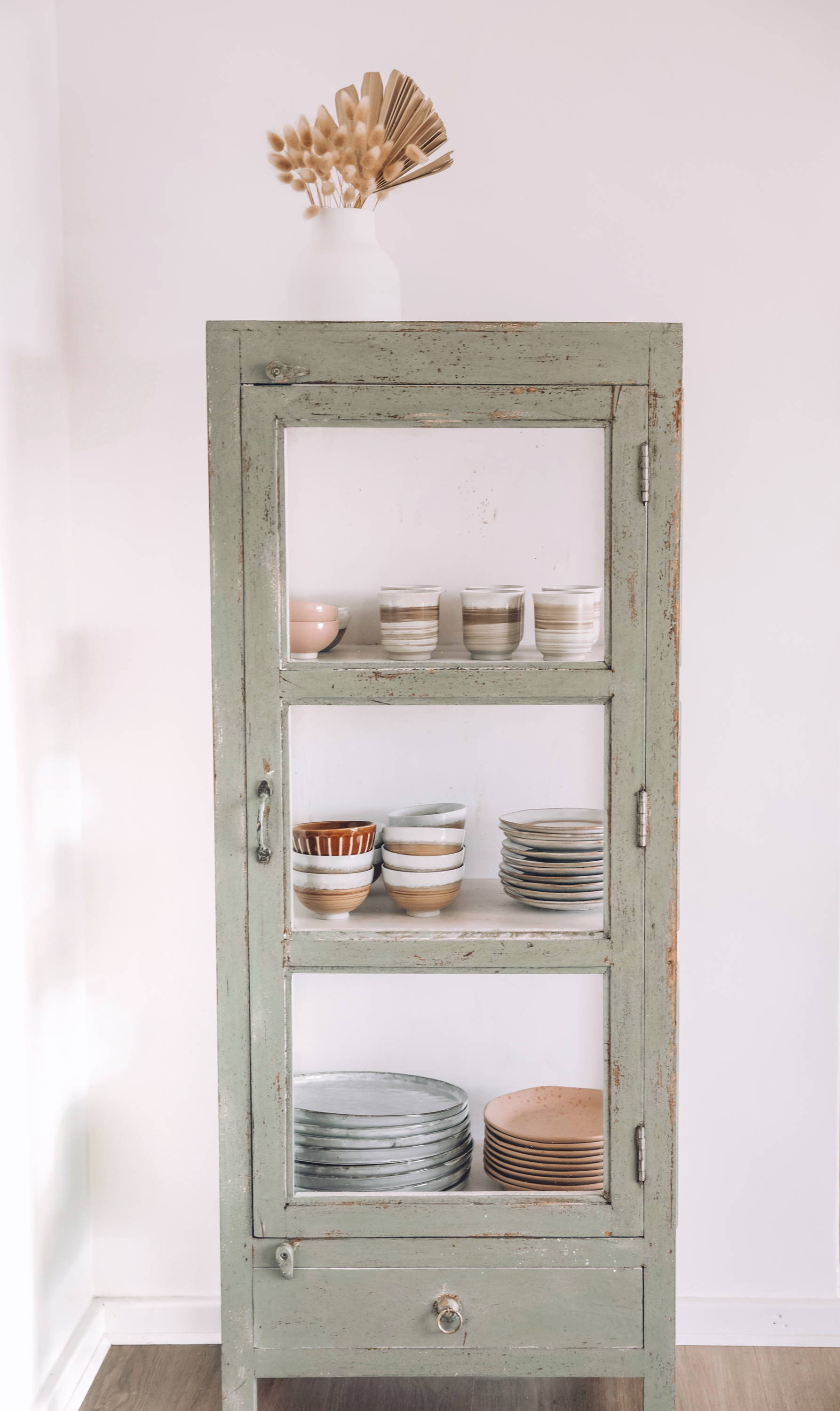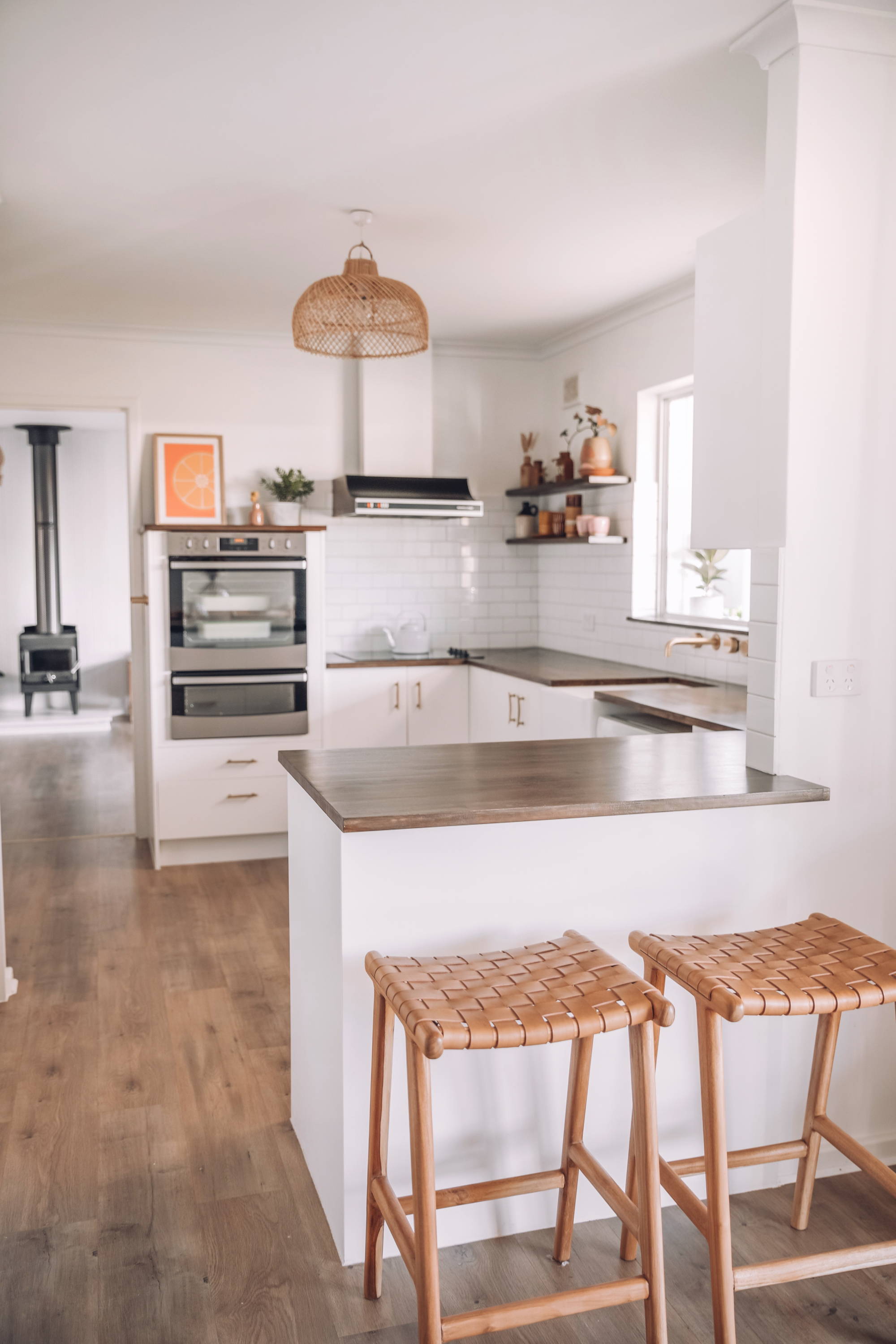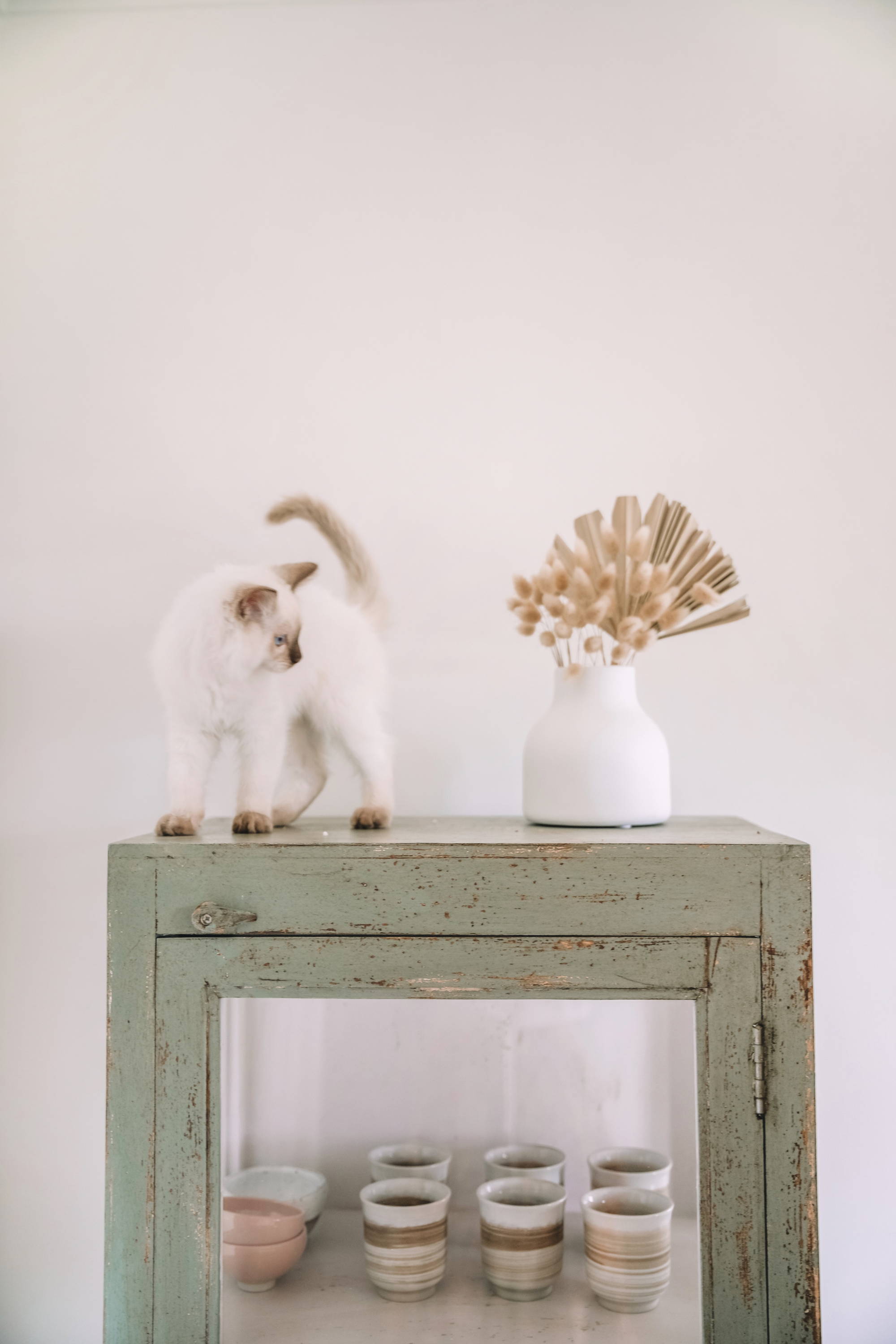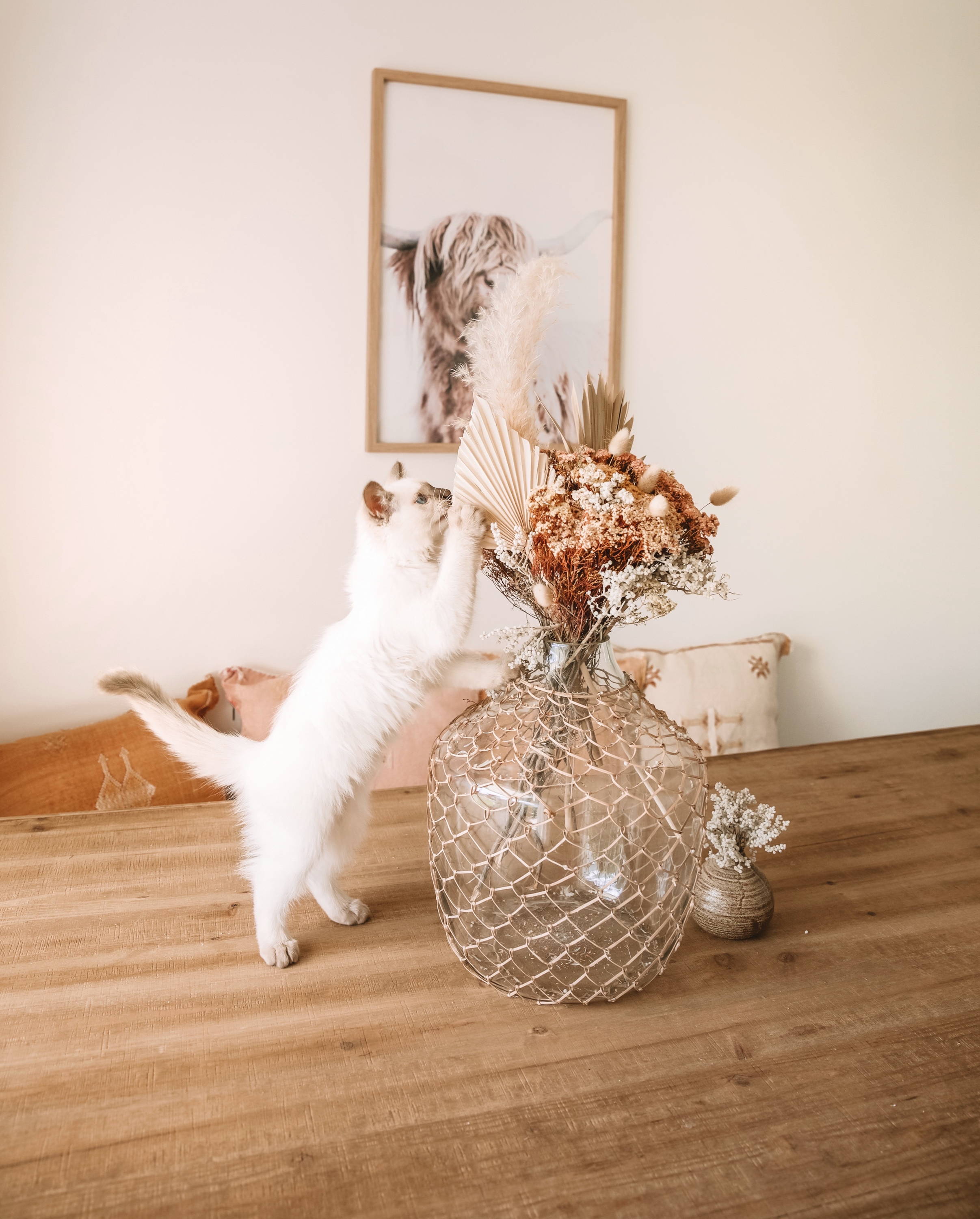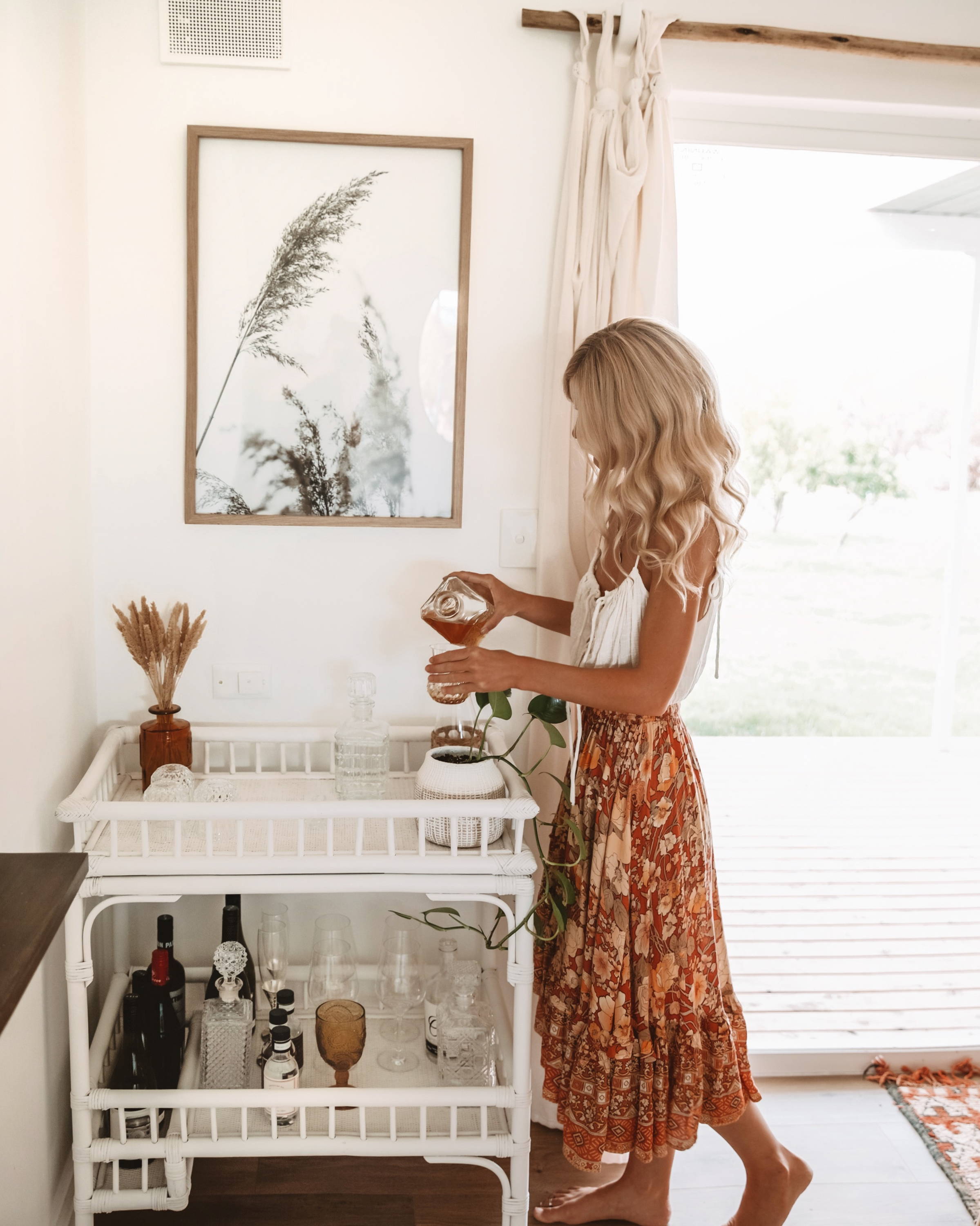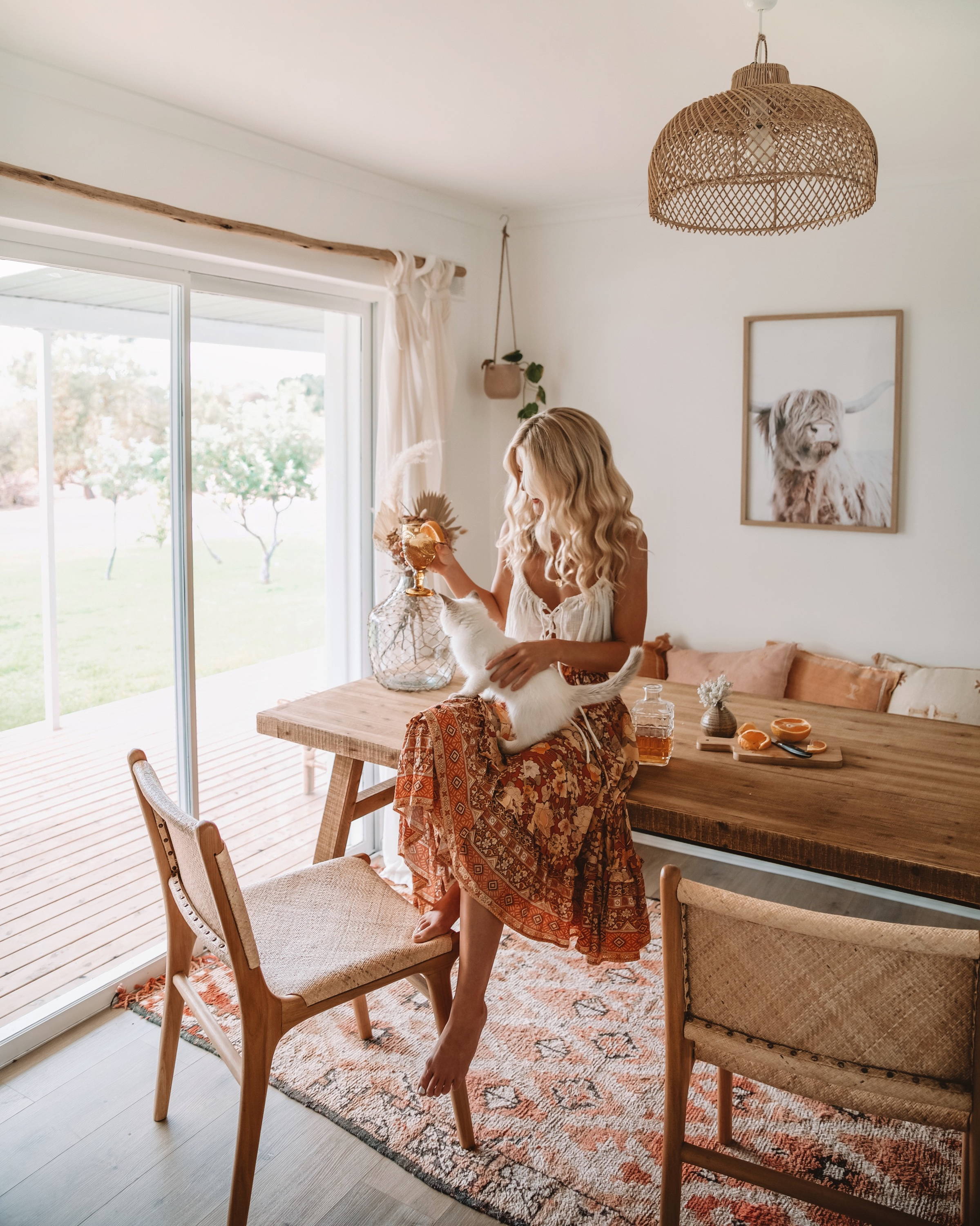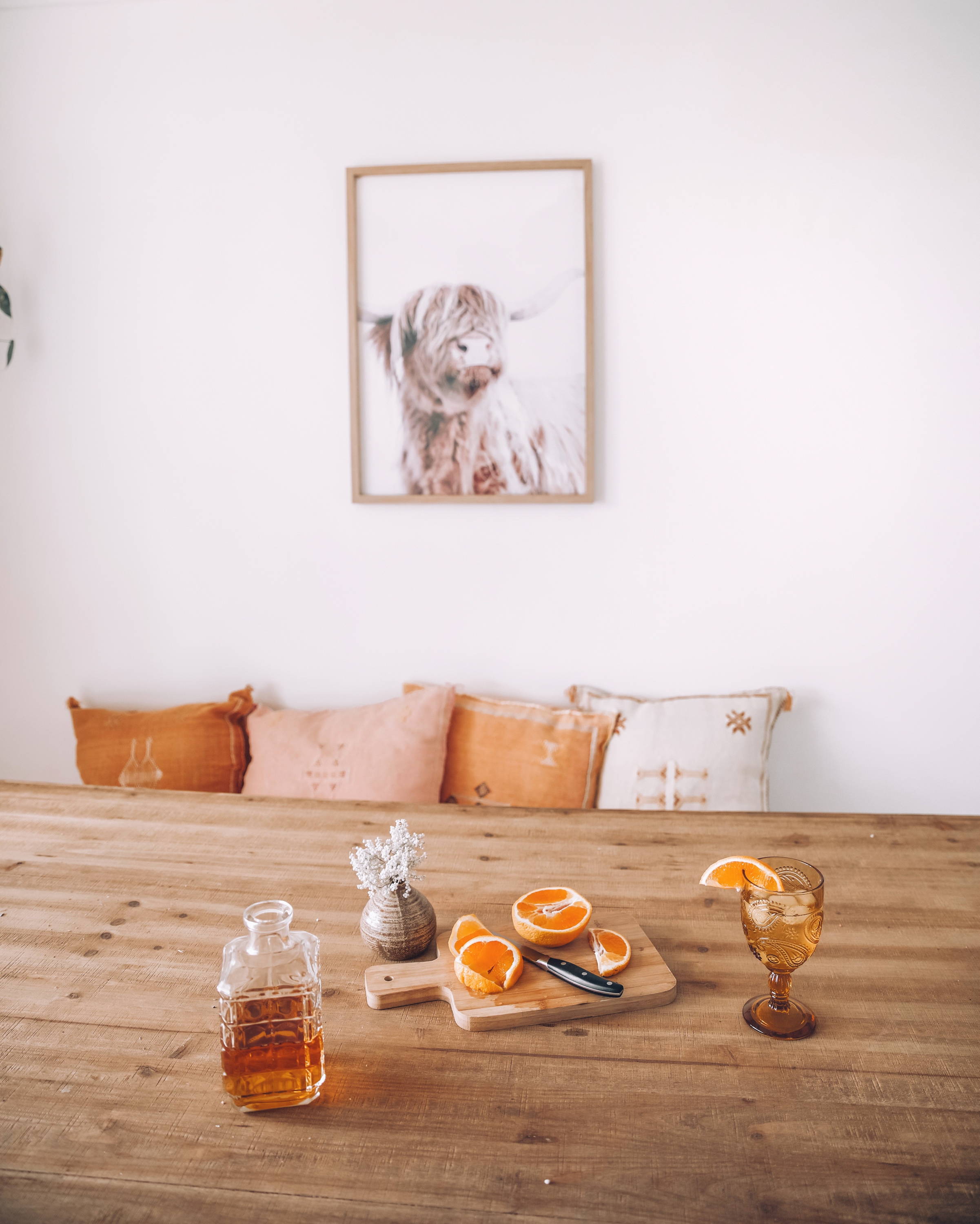 KITCHEN
Where it all began...
Honestly, if we didn't think, "we'll JUST change the bench top over..." this all may never have snowballed into what it is.
We wound up pulling the overhead cabinets down, repairing the walls, putting a new oven in, changing the bench top over, and the sink and taps, painting the cupboards with laminate paint (which worked great and is such a good way to give a kitchen a facelift on a budget!), new doorknobs, adding in two shelves, and... changing the tiles over (which is when the wall fell down and we had to call in help to redo the wall again). This space definitely snowballed quickly but we know a lot of meals will be cooked in this space... a lot of time will be spent here, and we love it.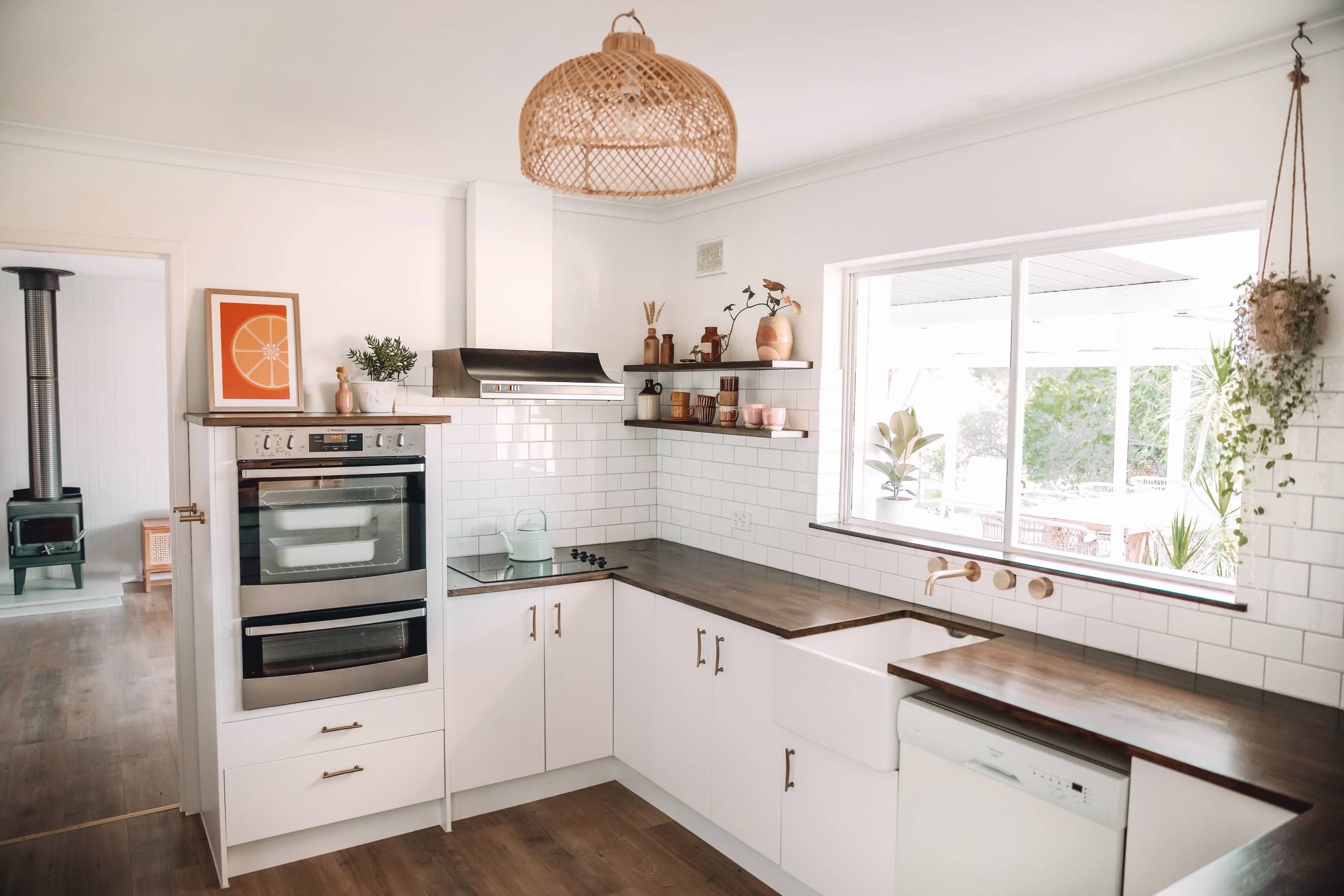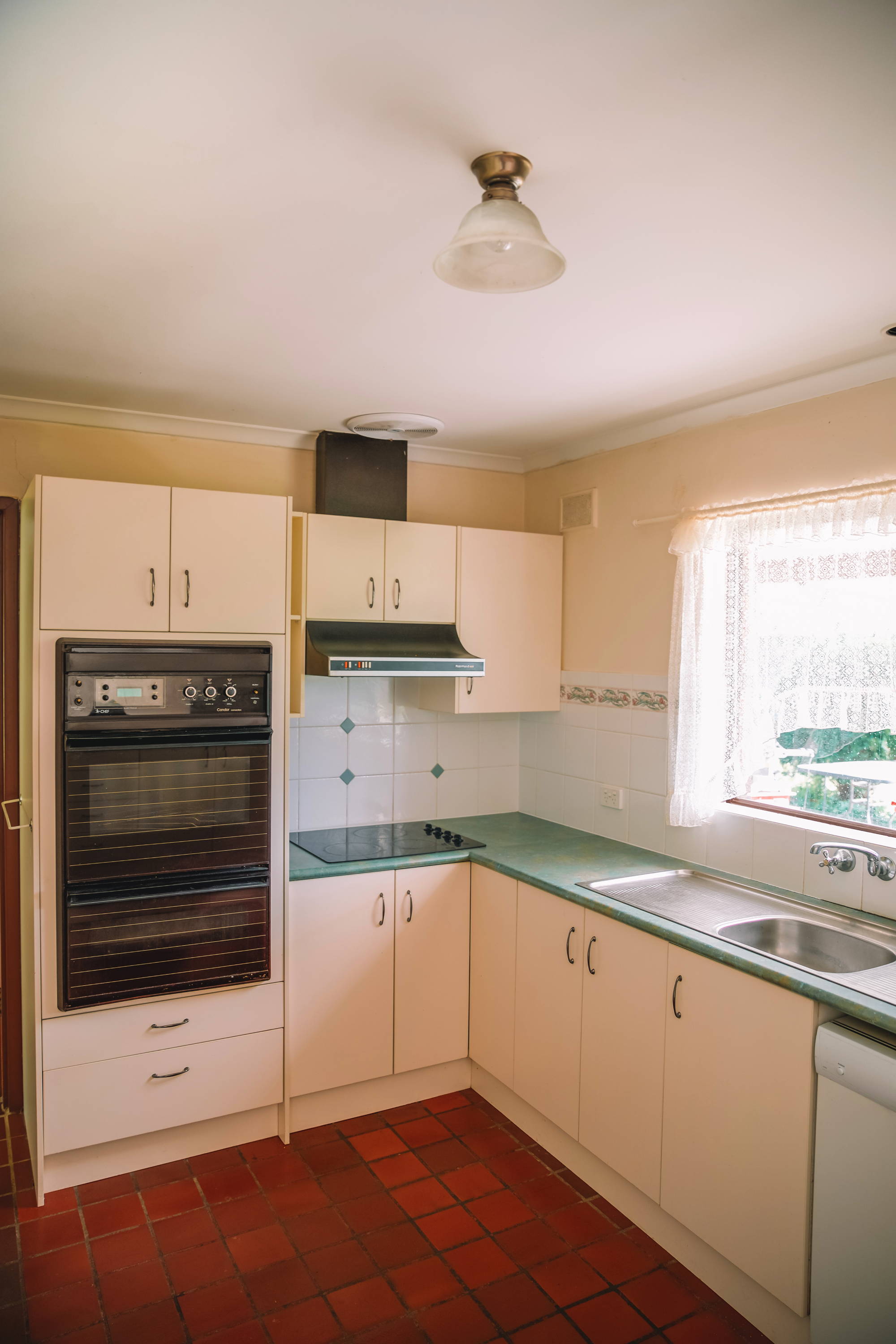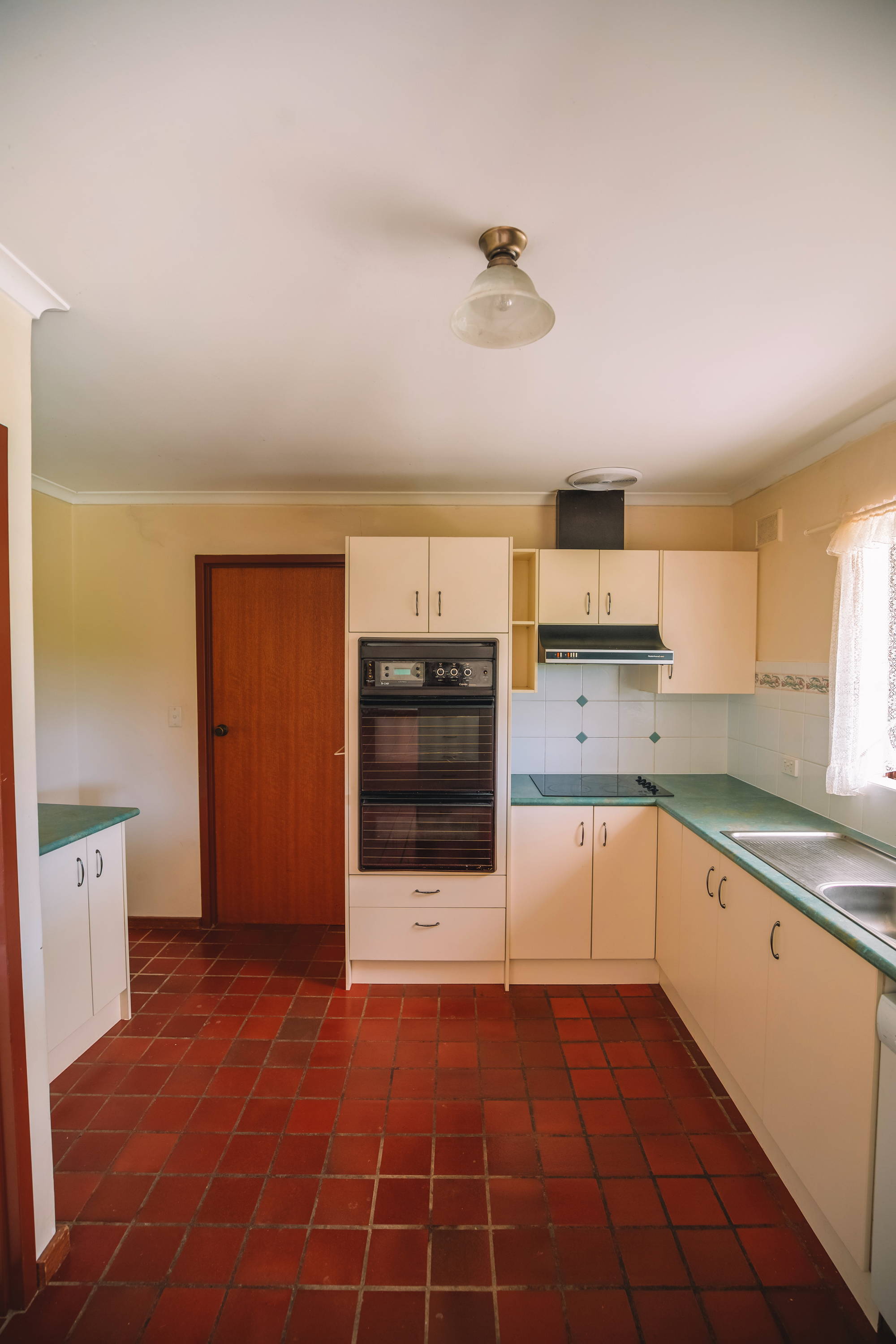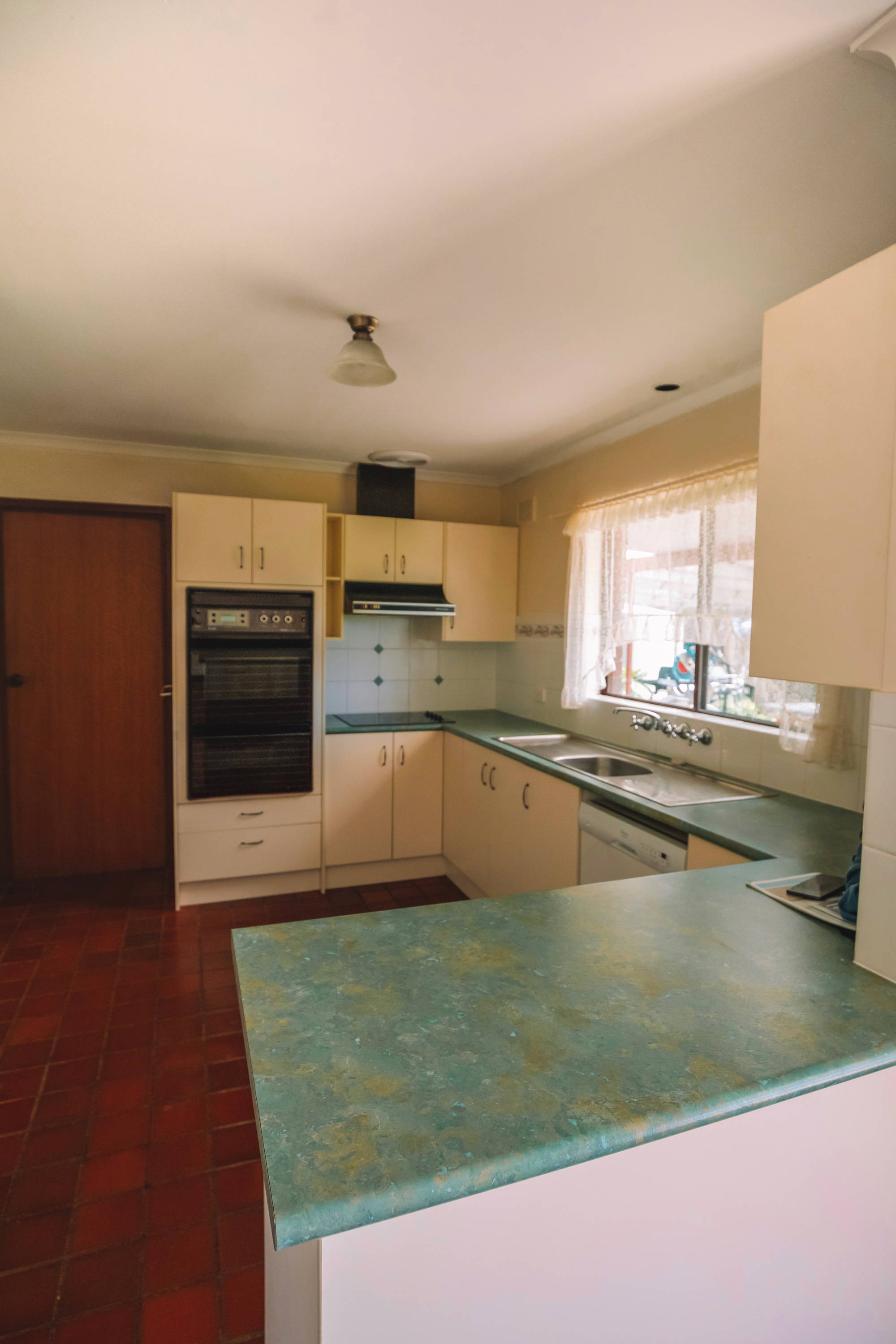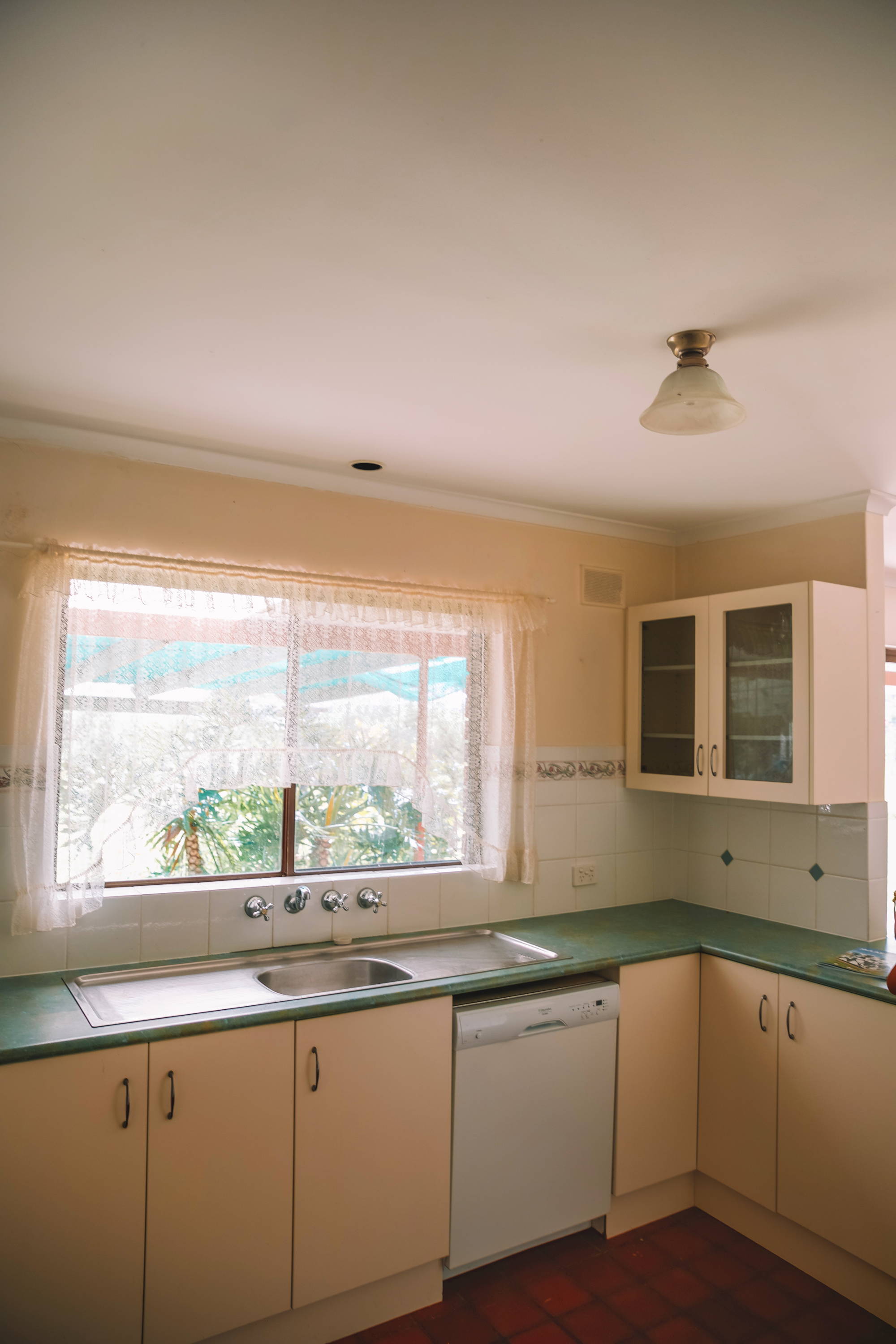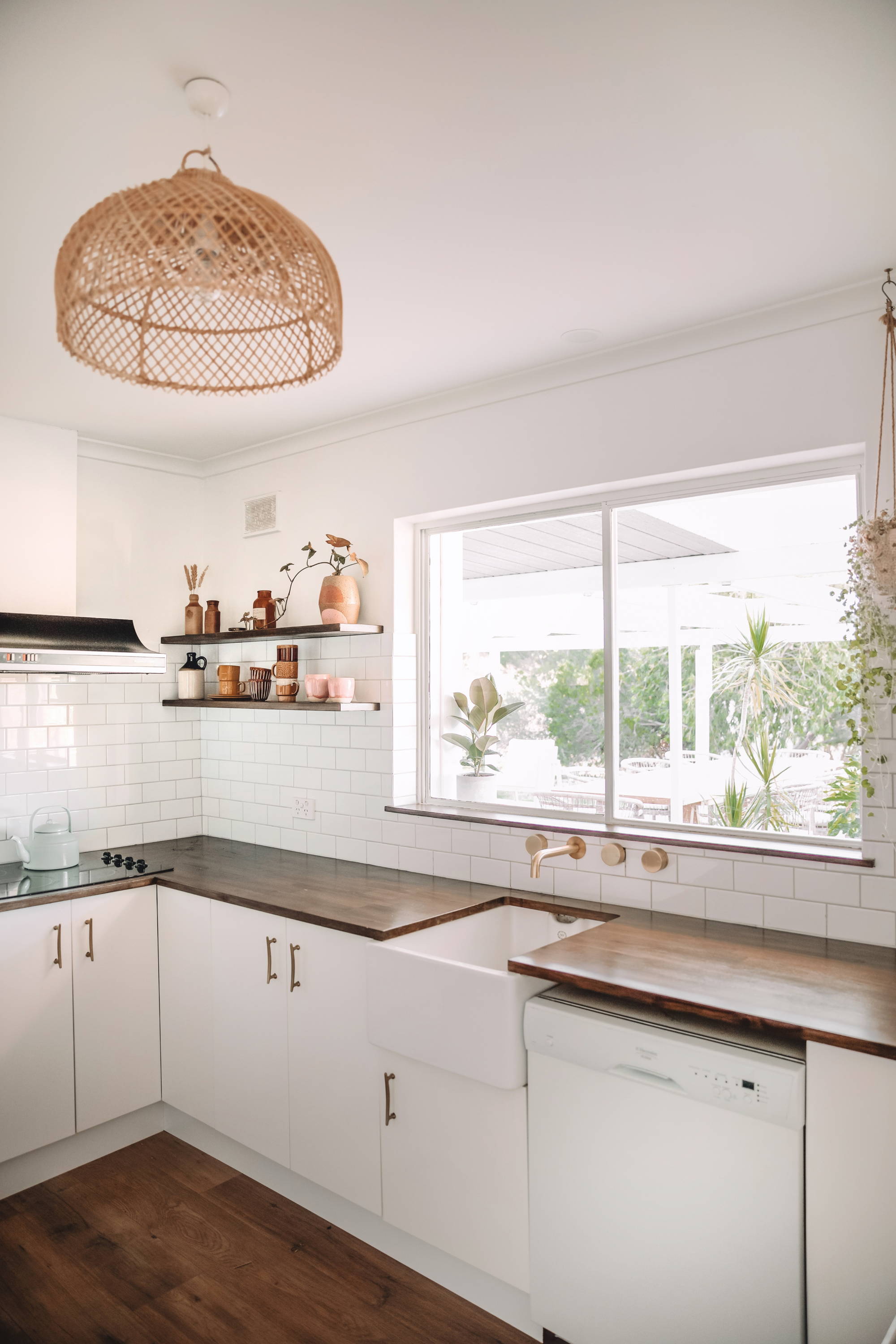 FITOUT NOTES:
BRASS TAP AND TAP HANDLES:
These are from Highgrove Bathrooms and are the same as what we have in the ensuite. In my opinion, they make the space :)
THE BENCH & SHELVES & WINDOW SEAL:
We used the Acacia bench slabs from Bunnings, sanded it back and stained it a nice dark shade (I think it was called Indian Tea).
SINK:
This is a Fireclay Farmhouse sink. I fought for this! We had quite a narrow space to work with because of the dishwasher, so we flipped it longways to make it fit.
TILES:
These are Subway tiles (I think Dom got them from Beaumont Tiles) and we've used a light grey grout.
CUPBOARD PAINT:
I just went and grabbed a tub of laminate paint, and laminate primer from Bunnings. You need to take the doors off, lightly sand the cupboards on both sides, and the frames in the kitchen, and then prime all faces, and then go over with two coats of the paint. I've waited a day in between coats to let it set nice and hard. The result is actually pretty amazing! I then painted the exhaust flue with it too. We kept the old exhaust because I loved how retro it is - and it still works great, we just gave it a good long clean.
CUPBOARD HANDLES:

I got these from Anthropologie - they are fantastic for home hardware (handles, knobs and bits and bobs).
PINK POT AND PLANT
Dom got me this for my birthday, and he knows me well, because he got it from Nikau! :)
RATTAN STAND:
An op shop find!
HOME MANTRA:
This is by Emma Kate Co - I love her words!
JARS IN PANTRY
These are just from Kmart :) And theres my smoothie staples... Nutra Organics and BEAR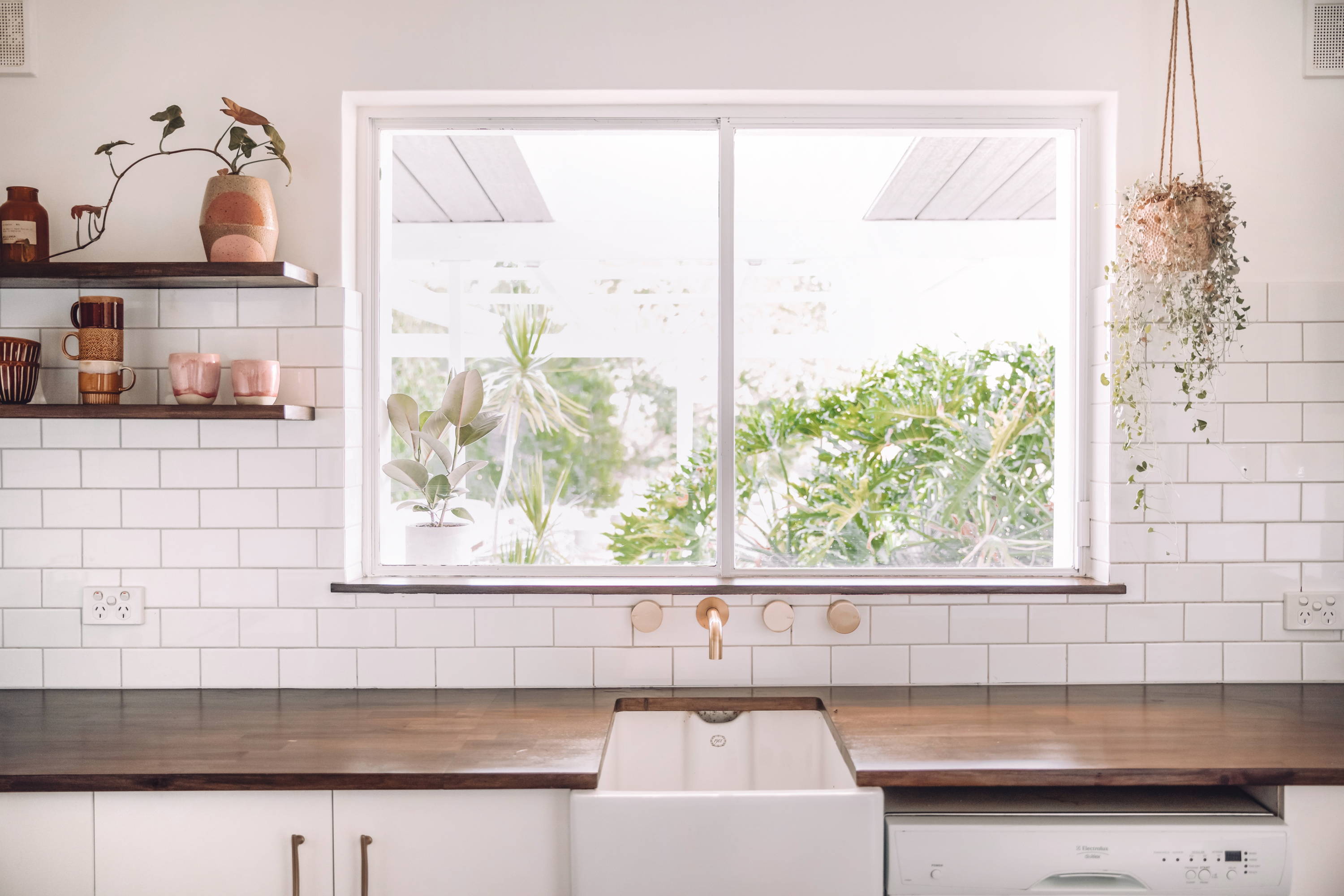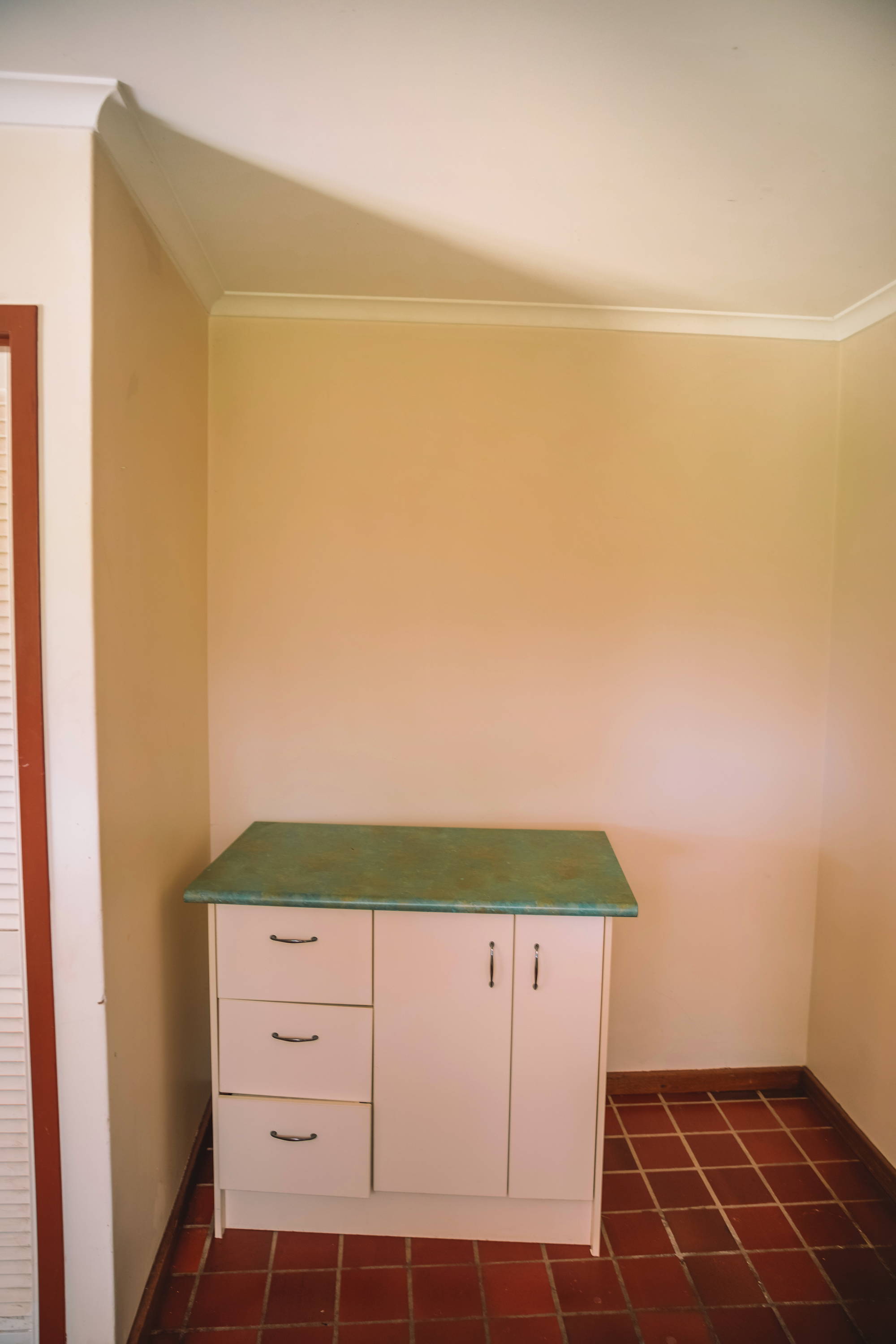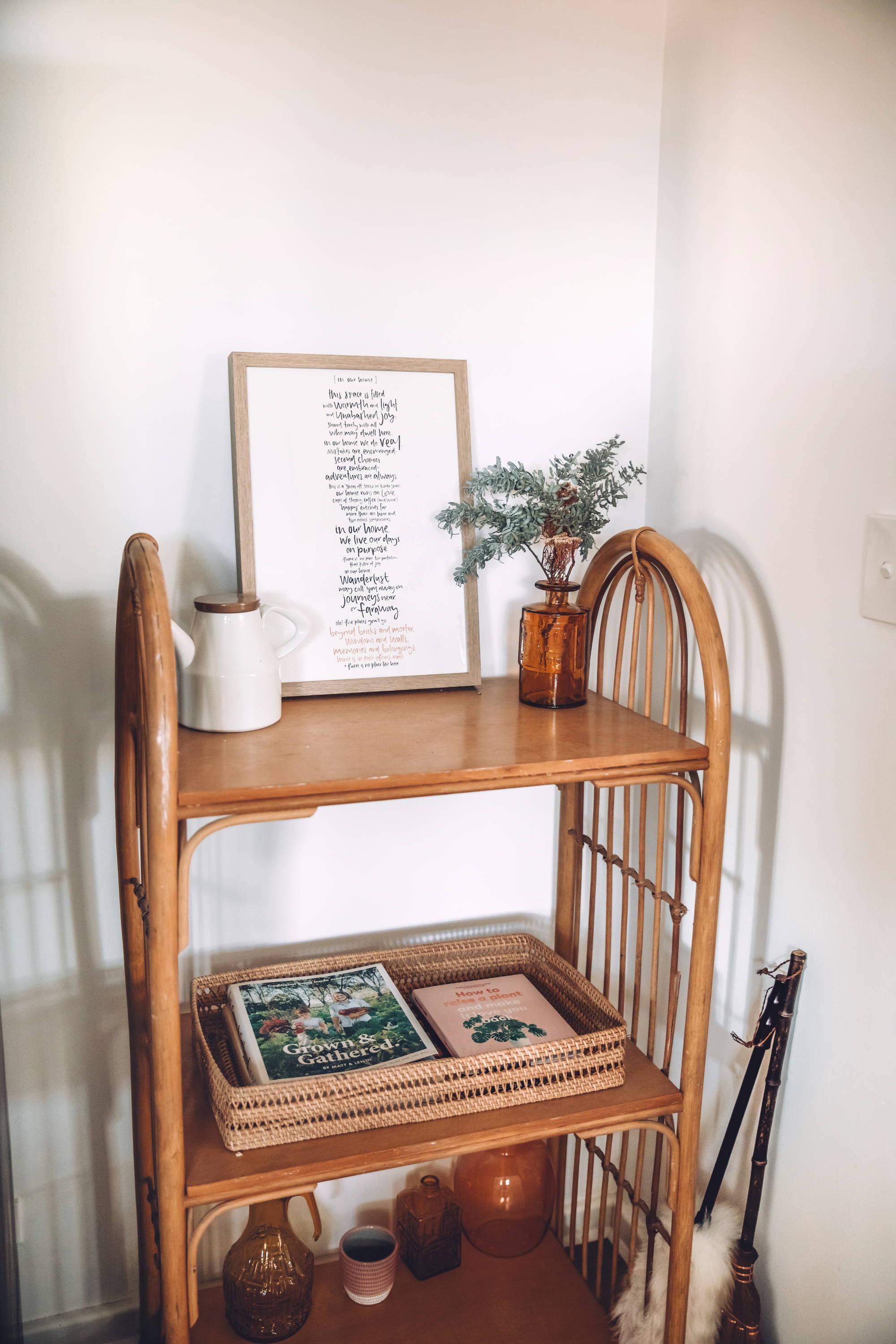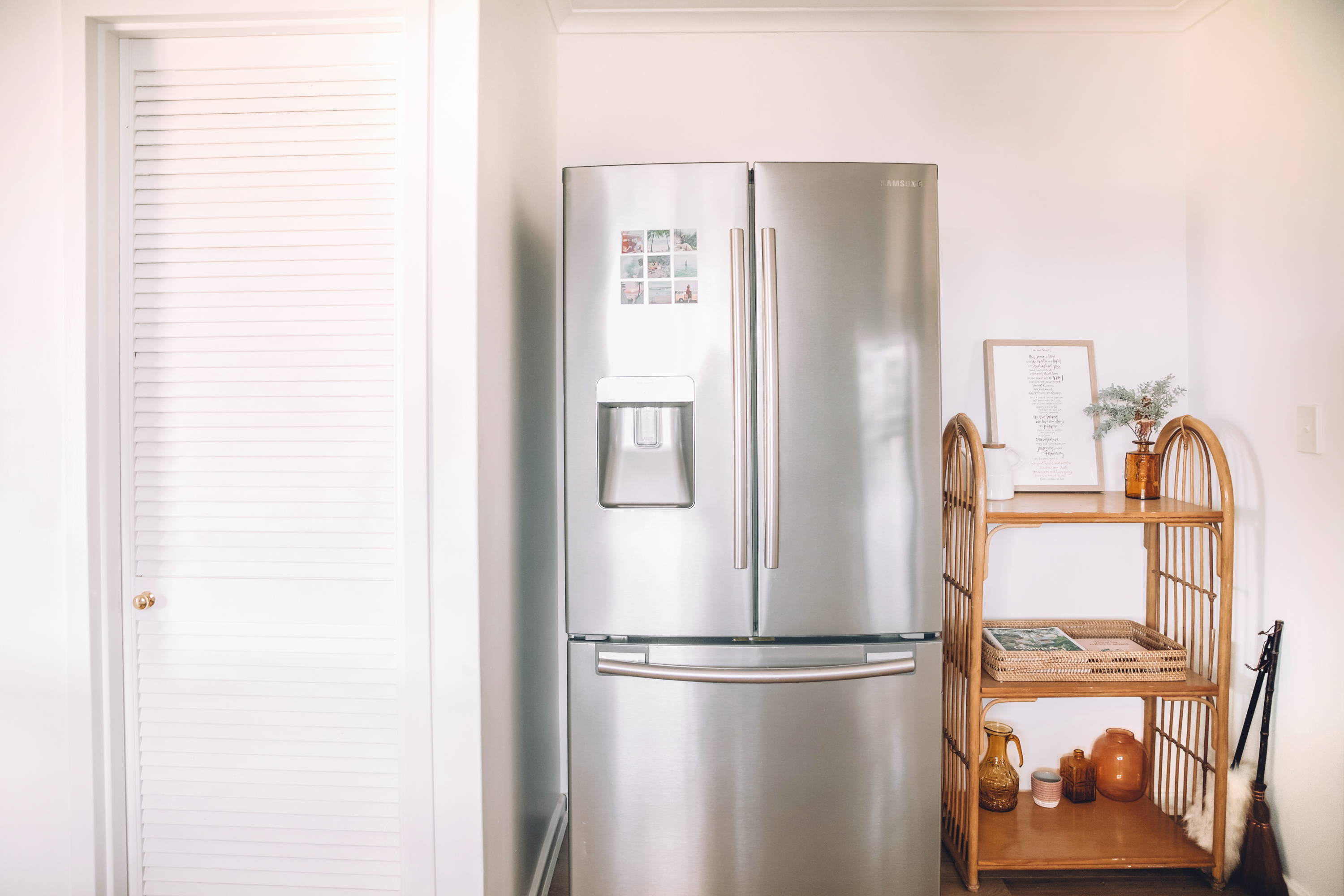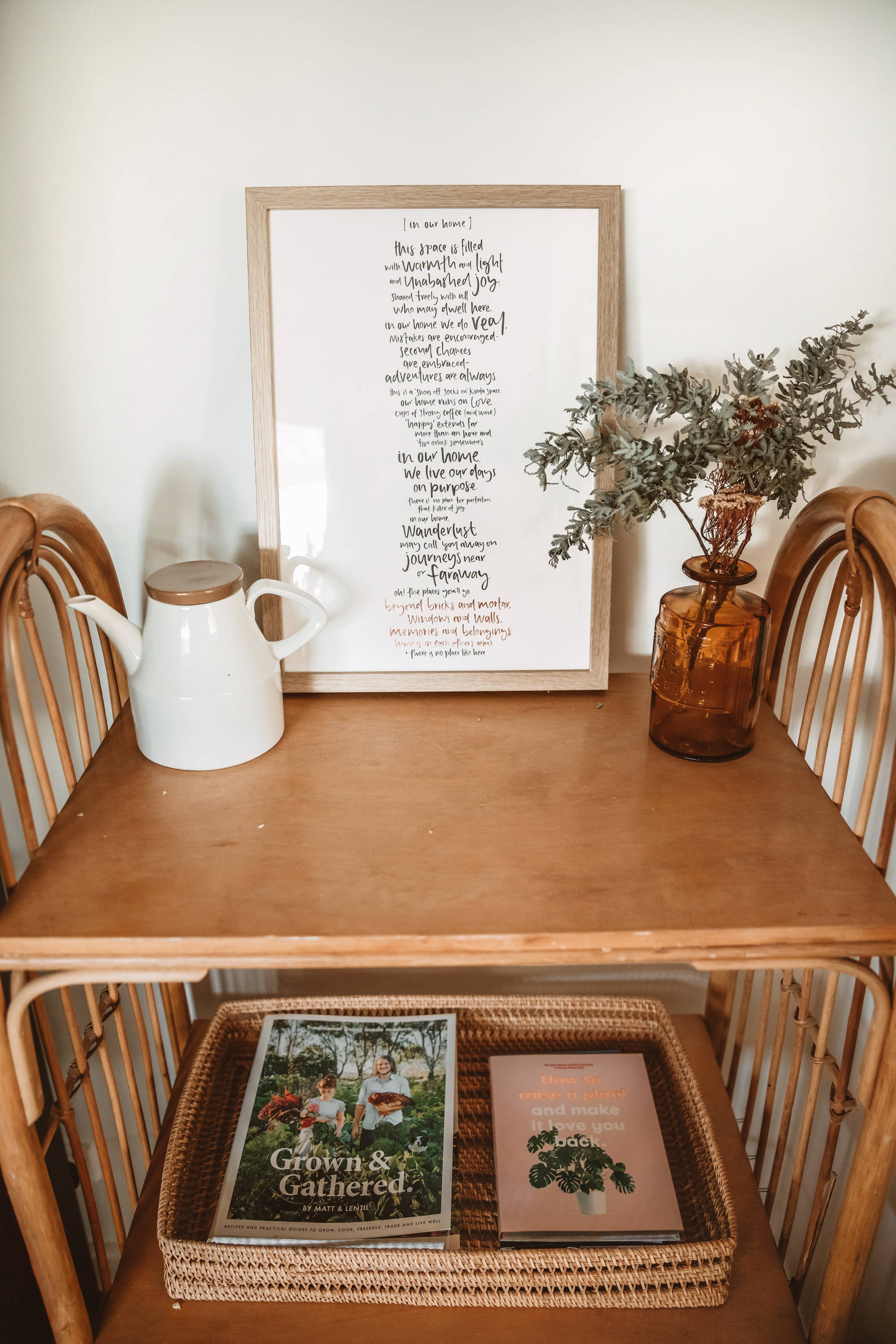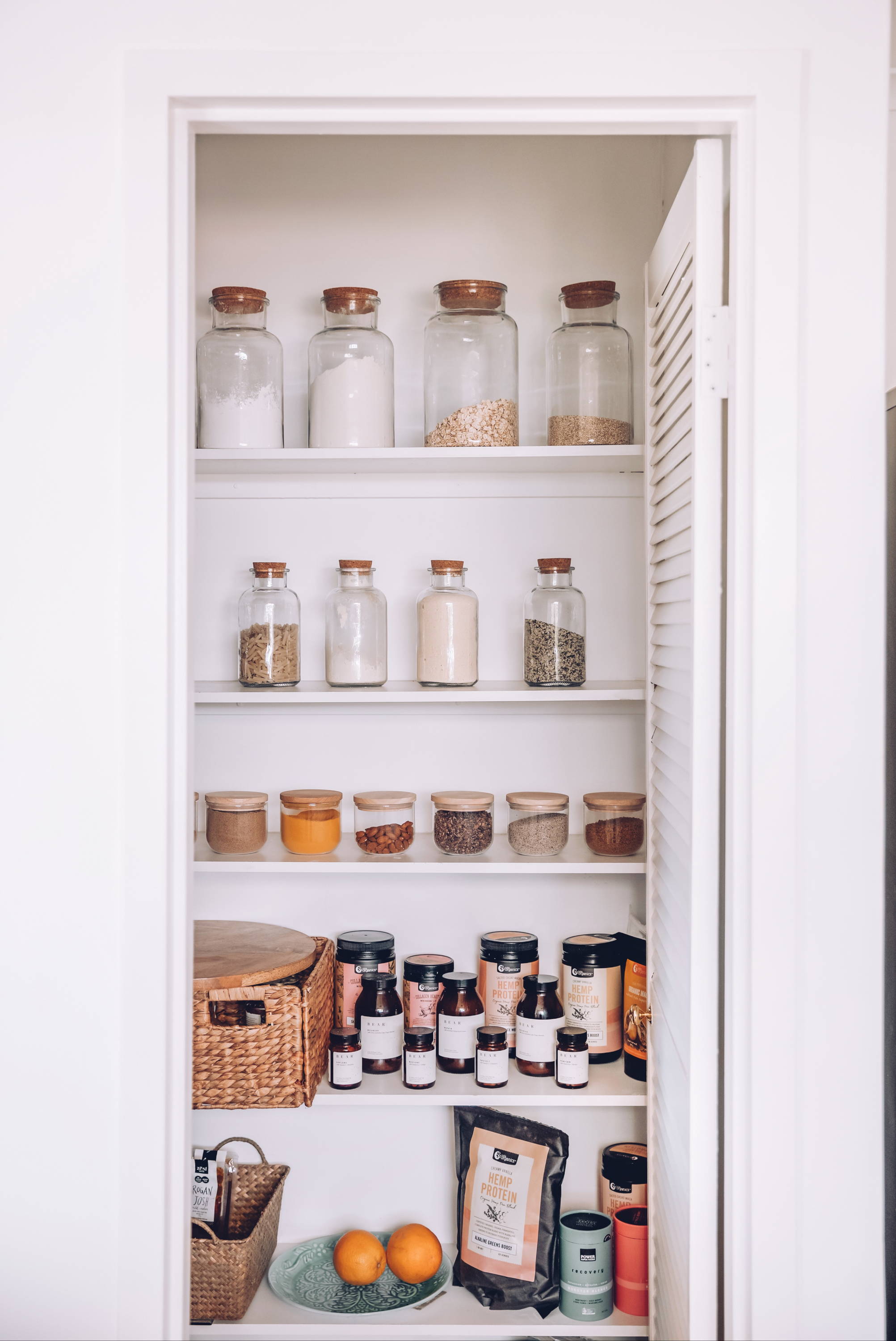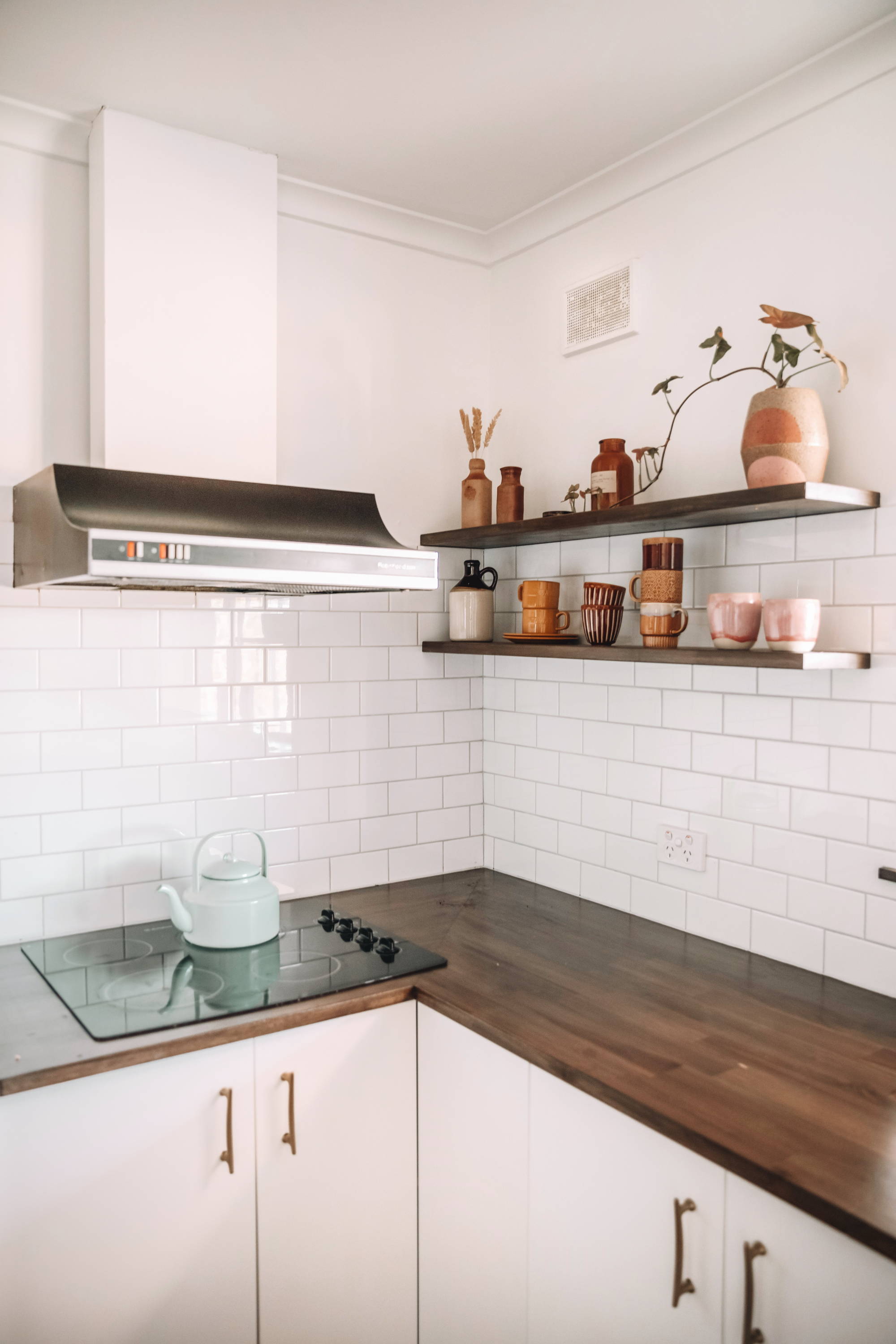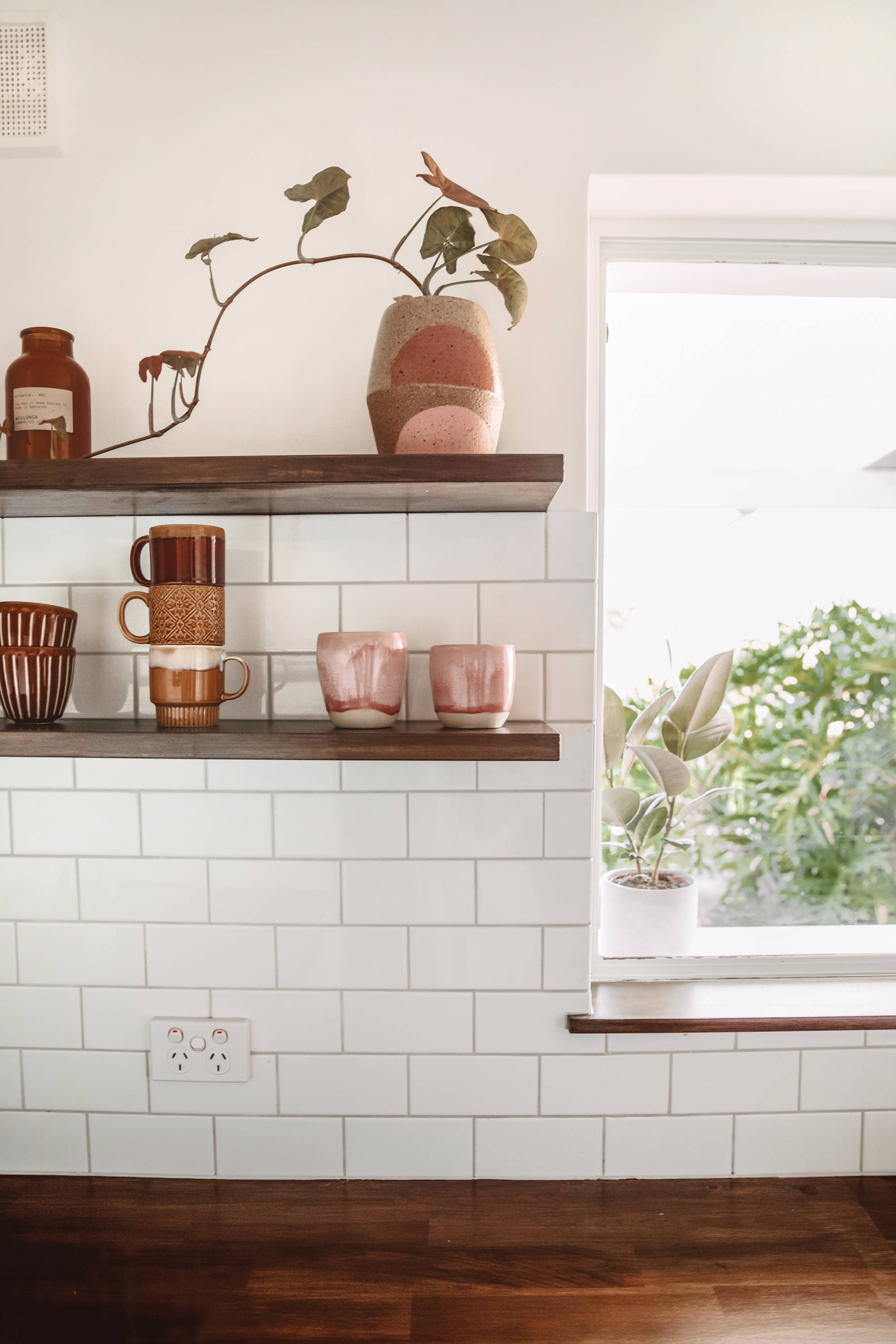 GUEST ROOMS
Since we began working on the house (and the whole property) we've been blessed with many guests. Old friends, lots of family, and new friends we met on the road. After having so many people open their homes to us as we travelled around, it has been so nice to be able to do the same. Although until just a few weeks ago it's been a construction site, and all we had to offer was a mattress on the floor.
The biggest task was renovating the wooden cupboards - but all worth it now.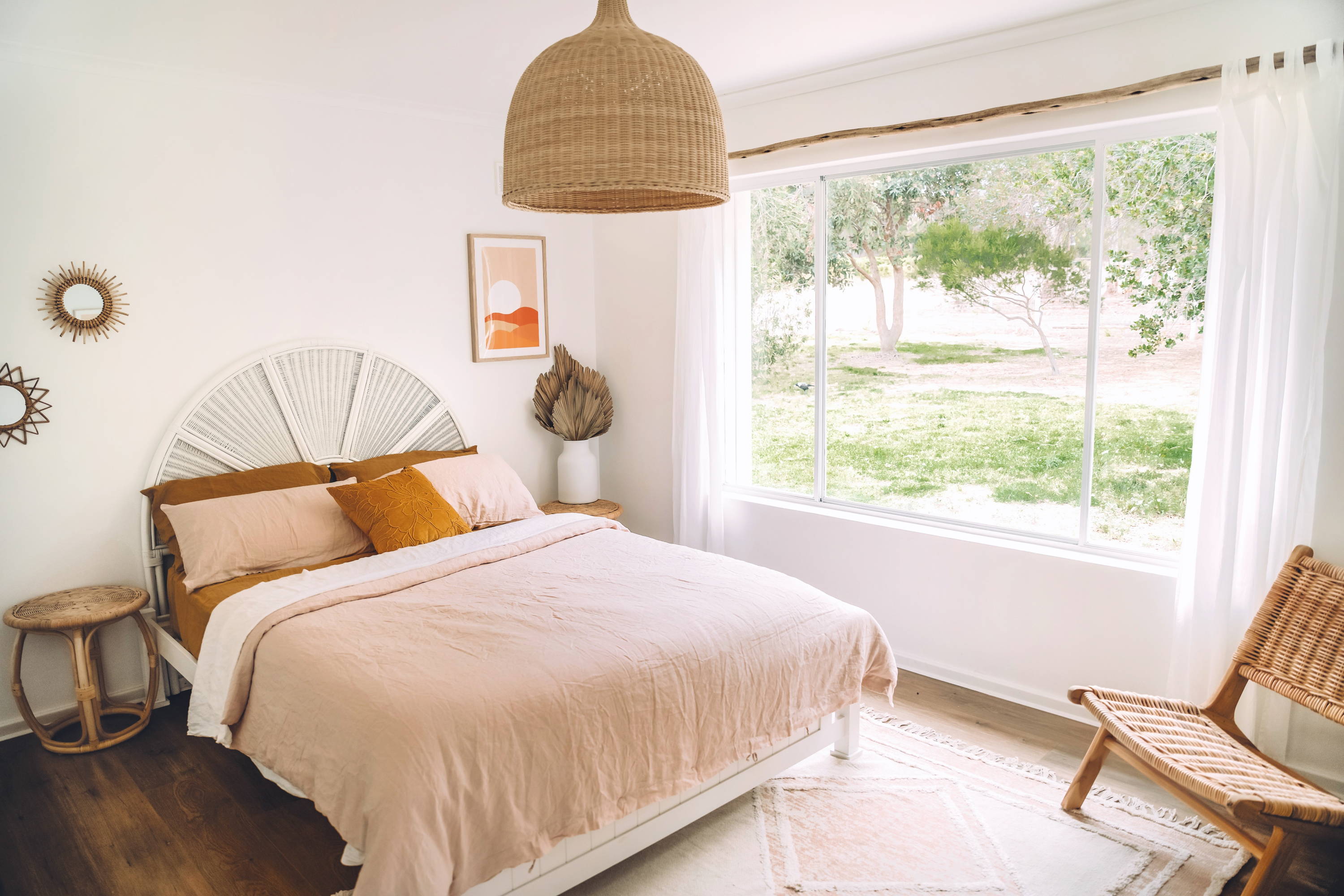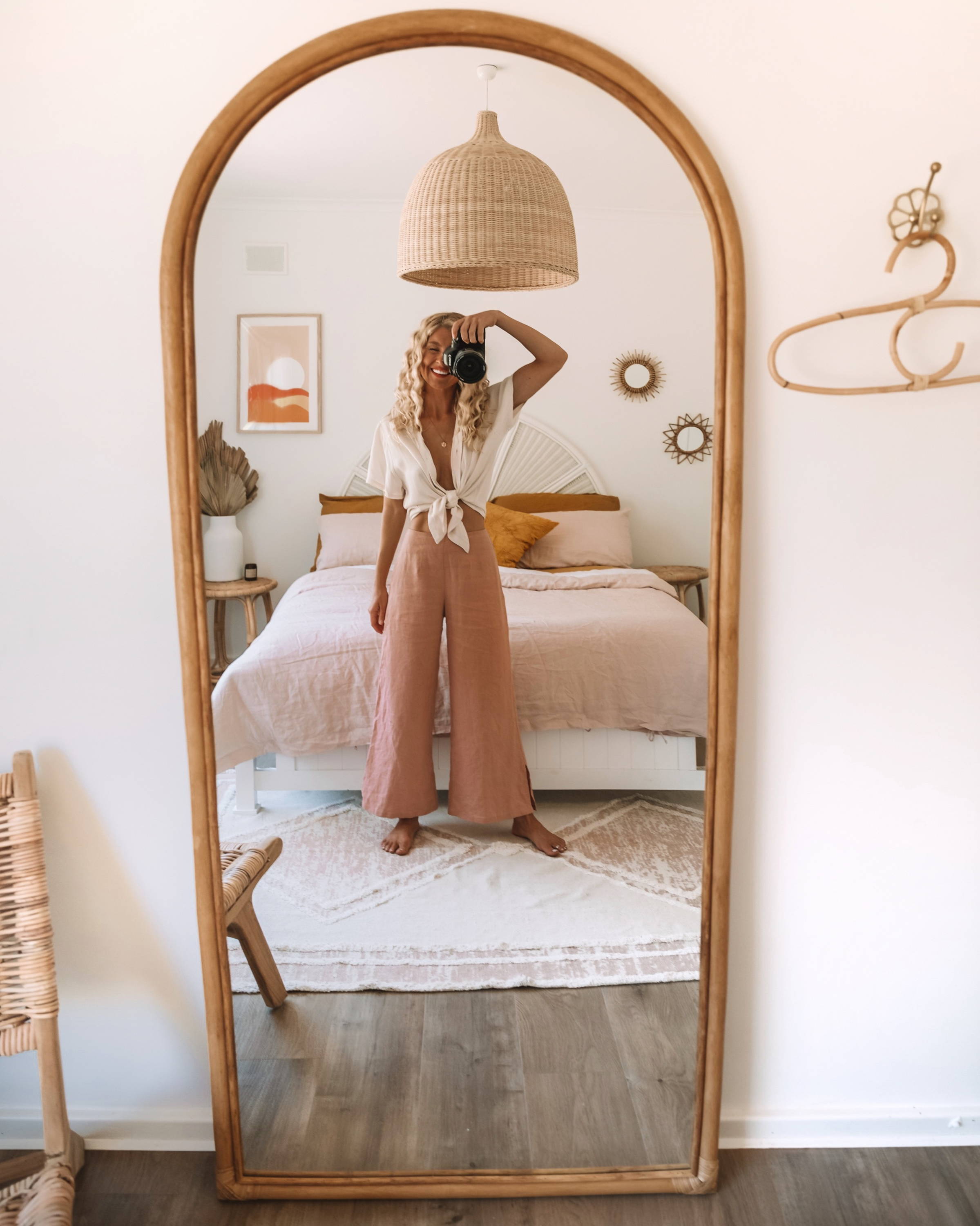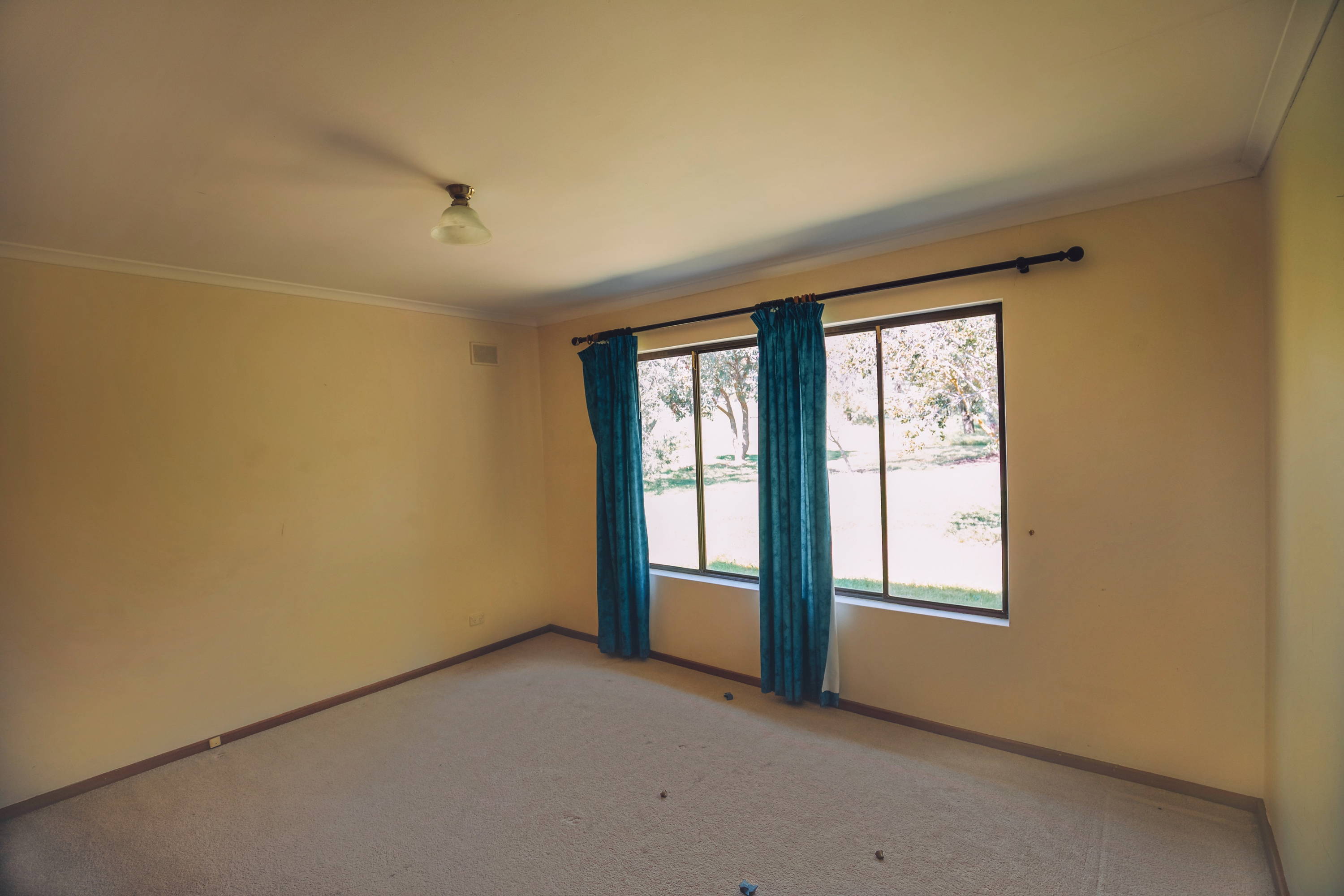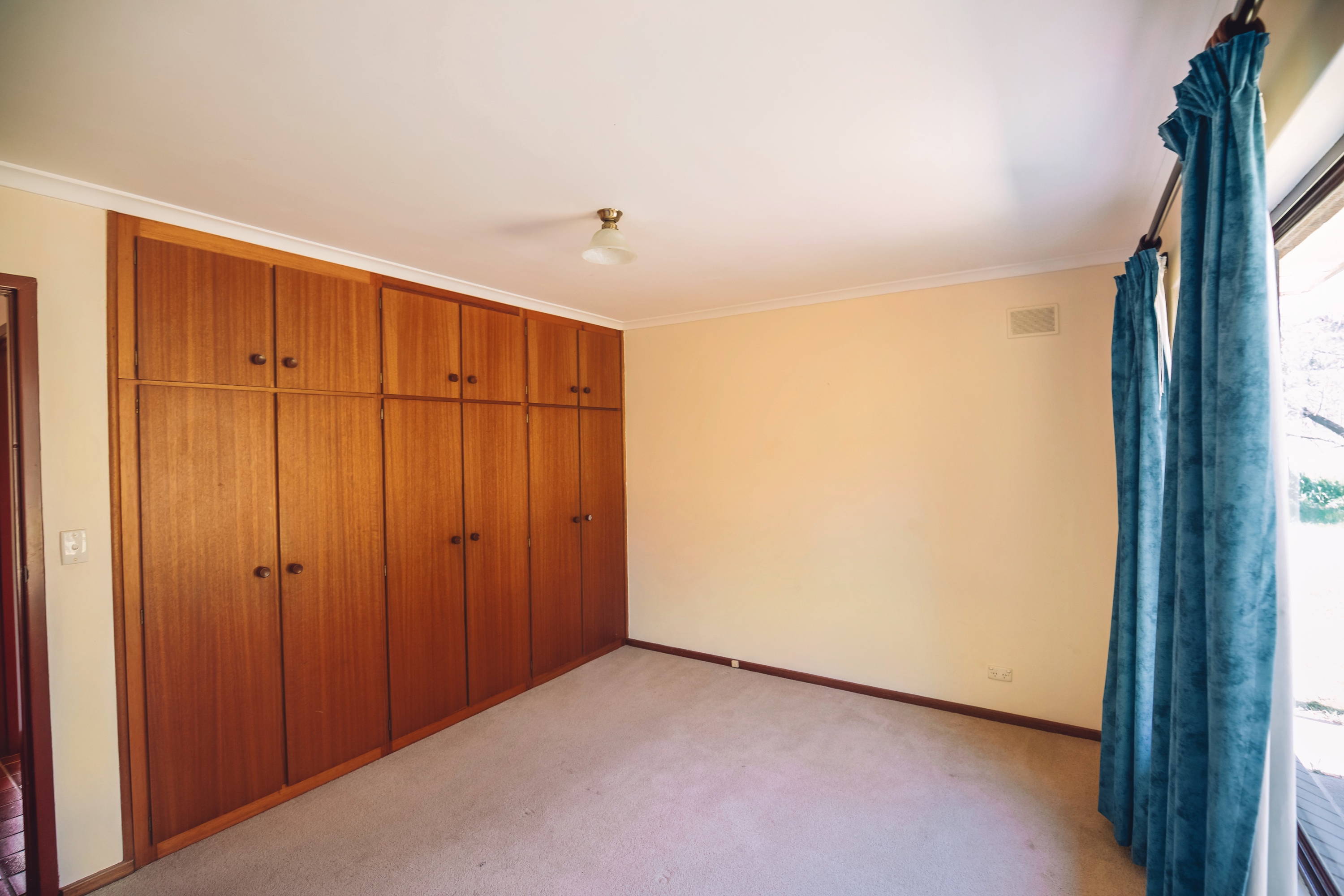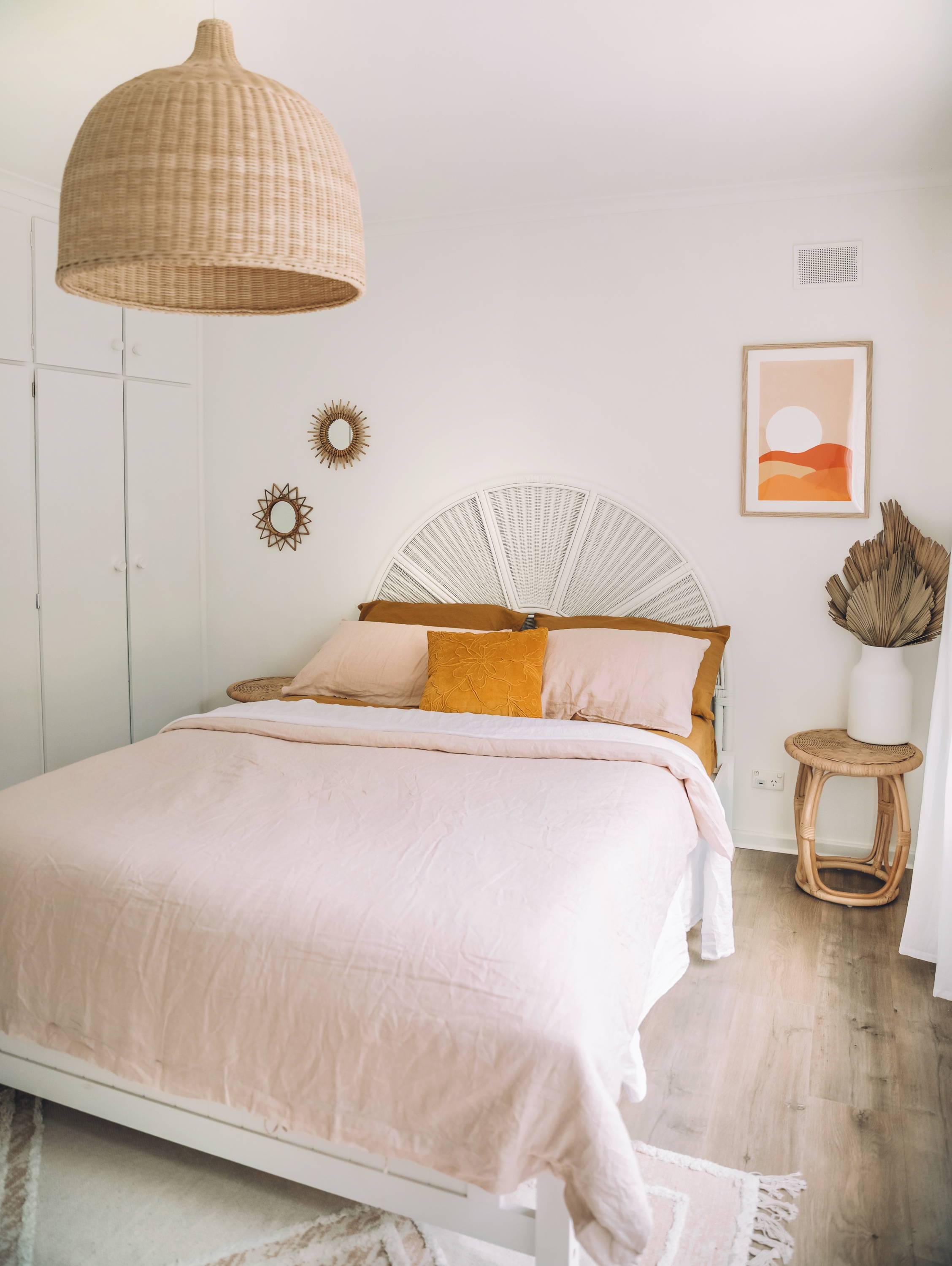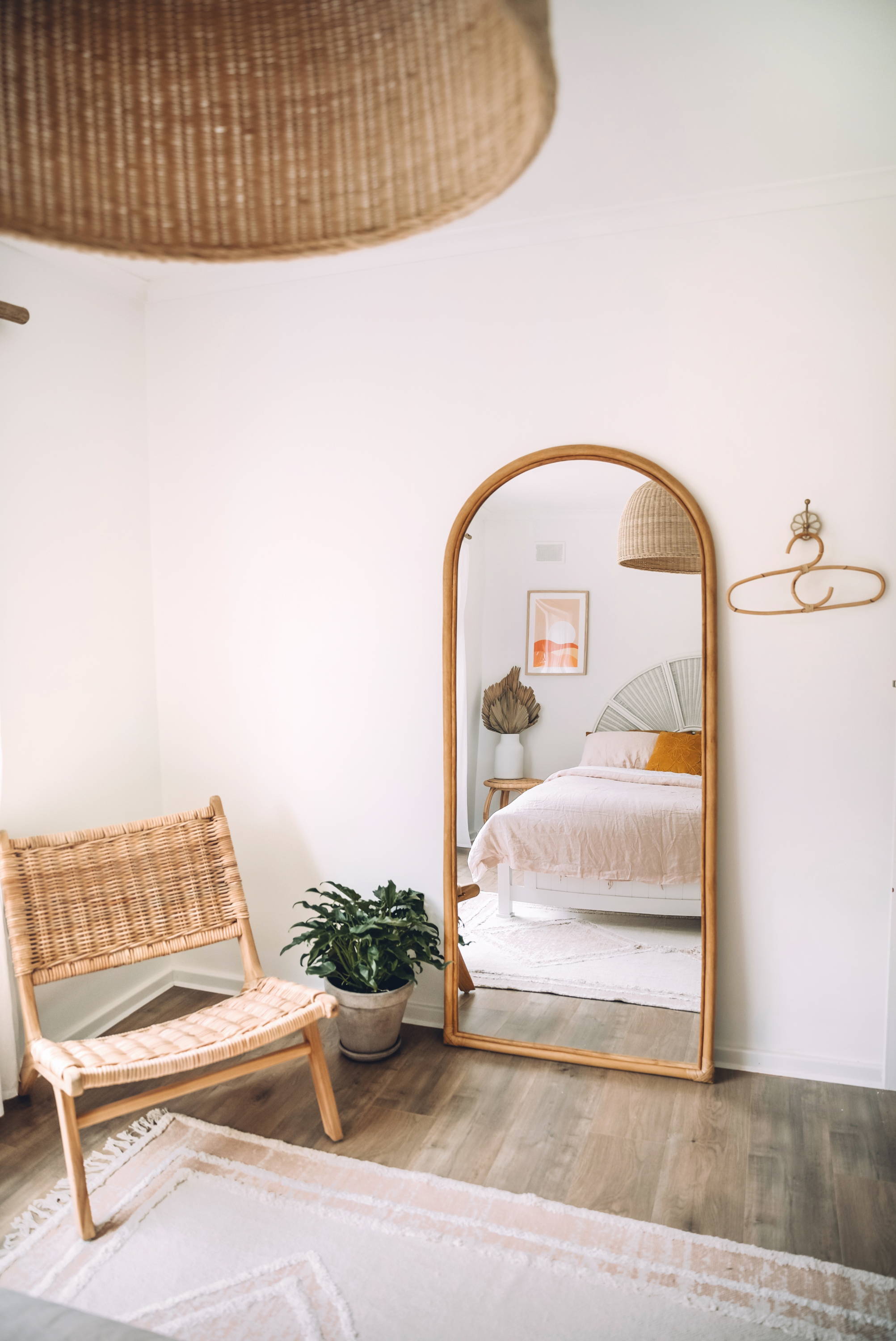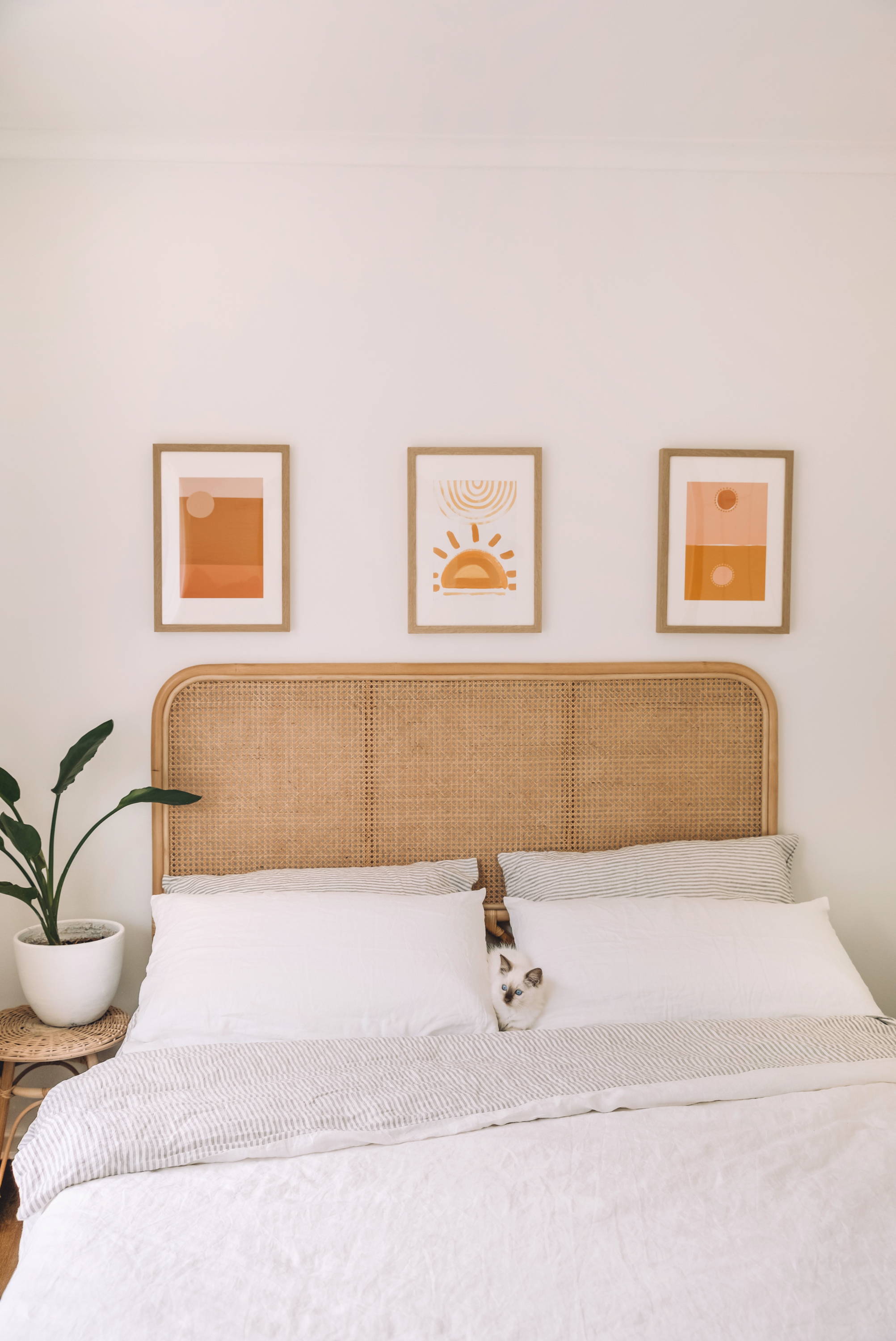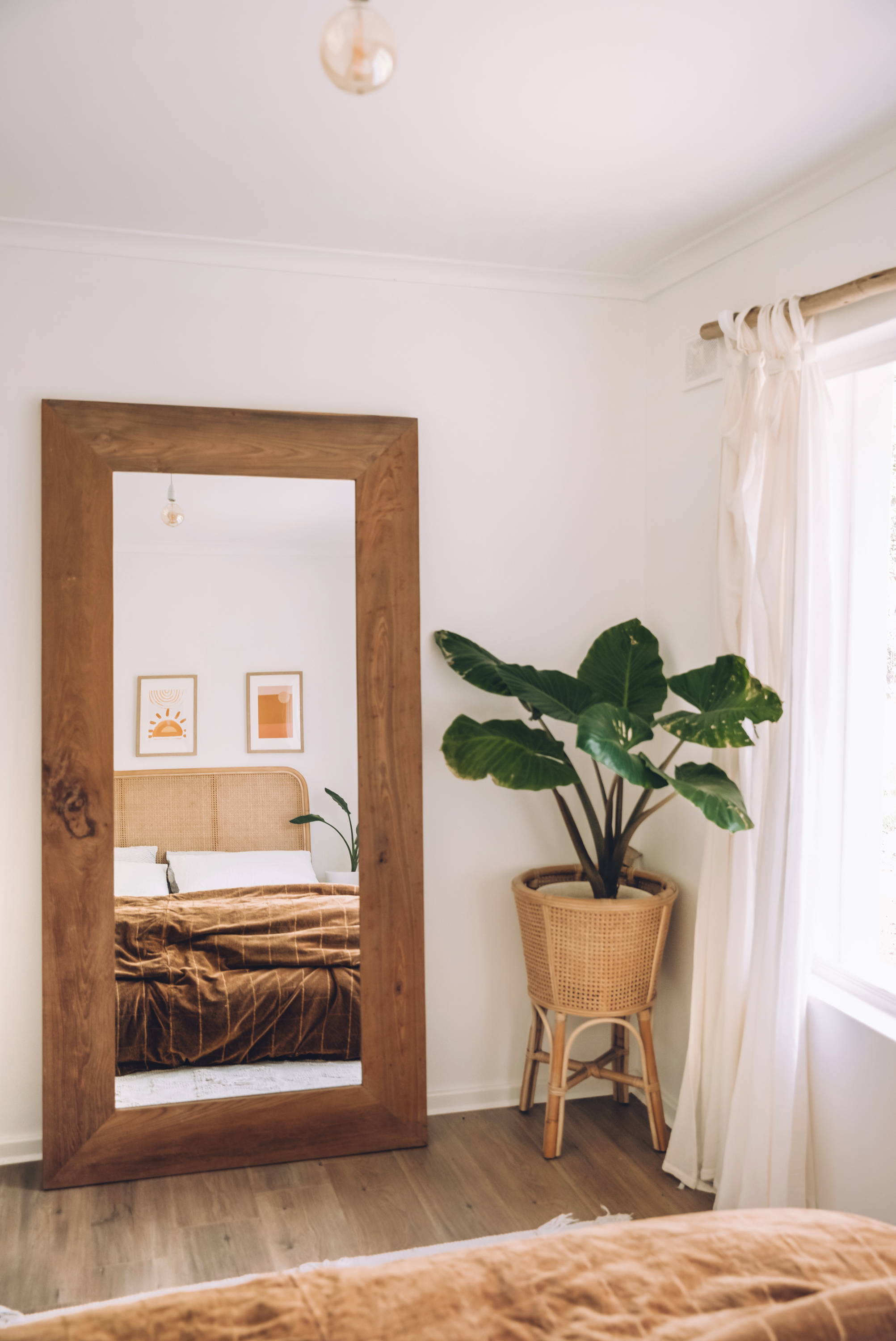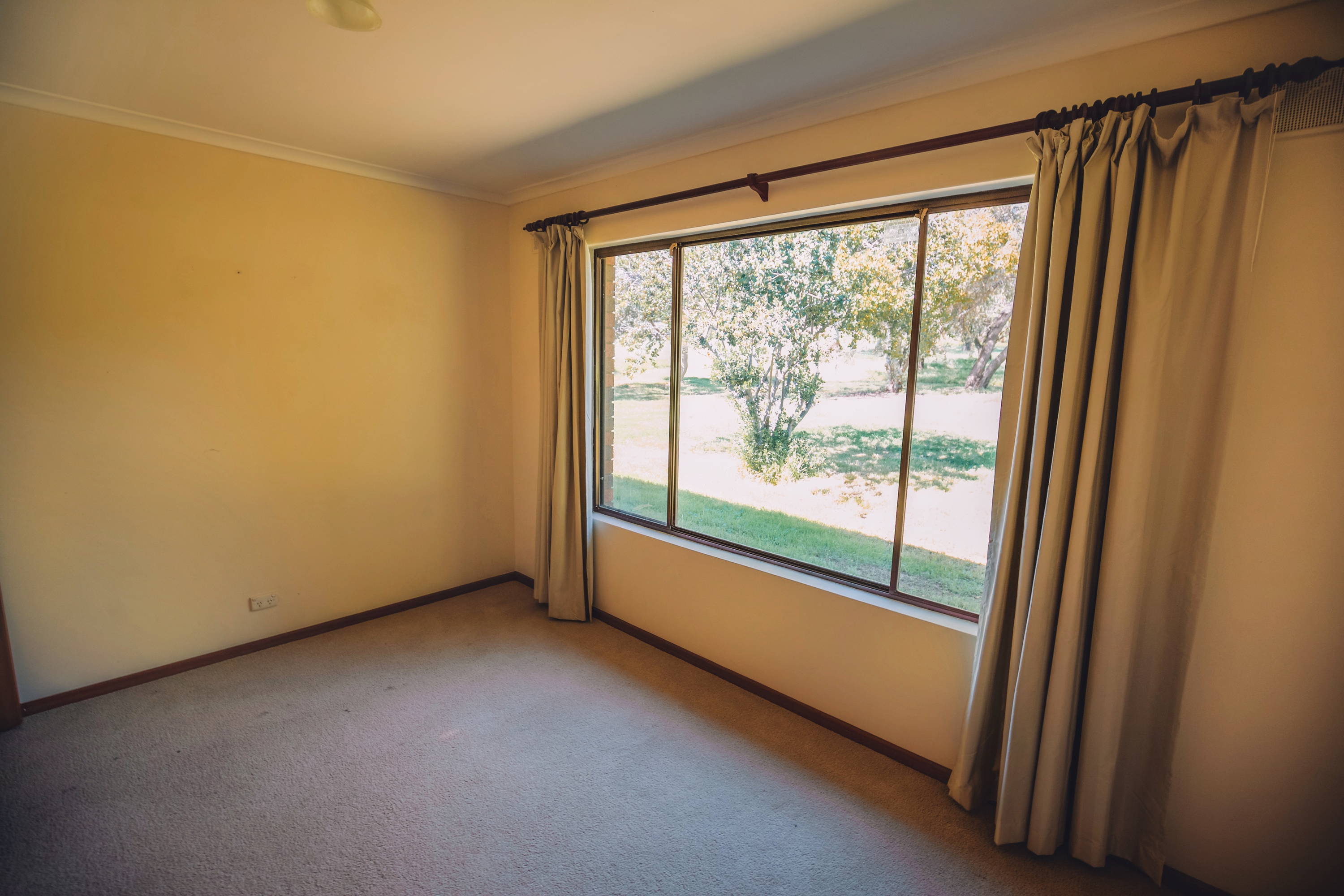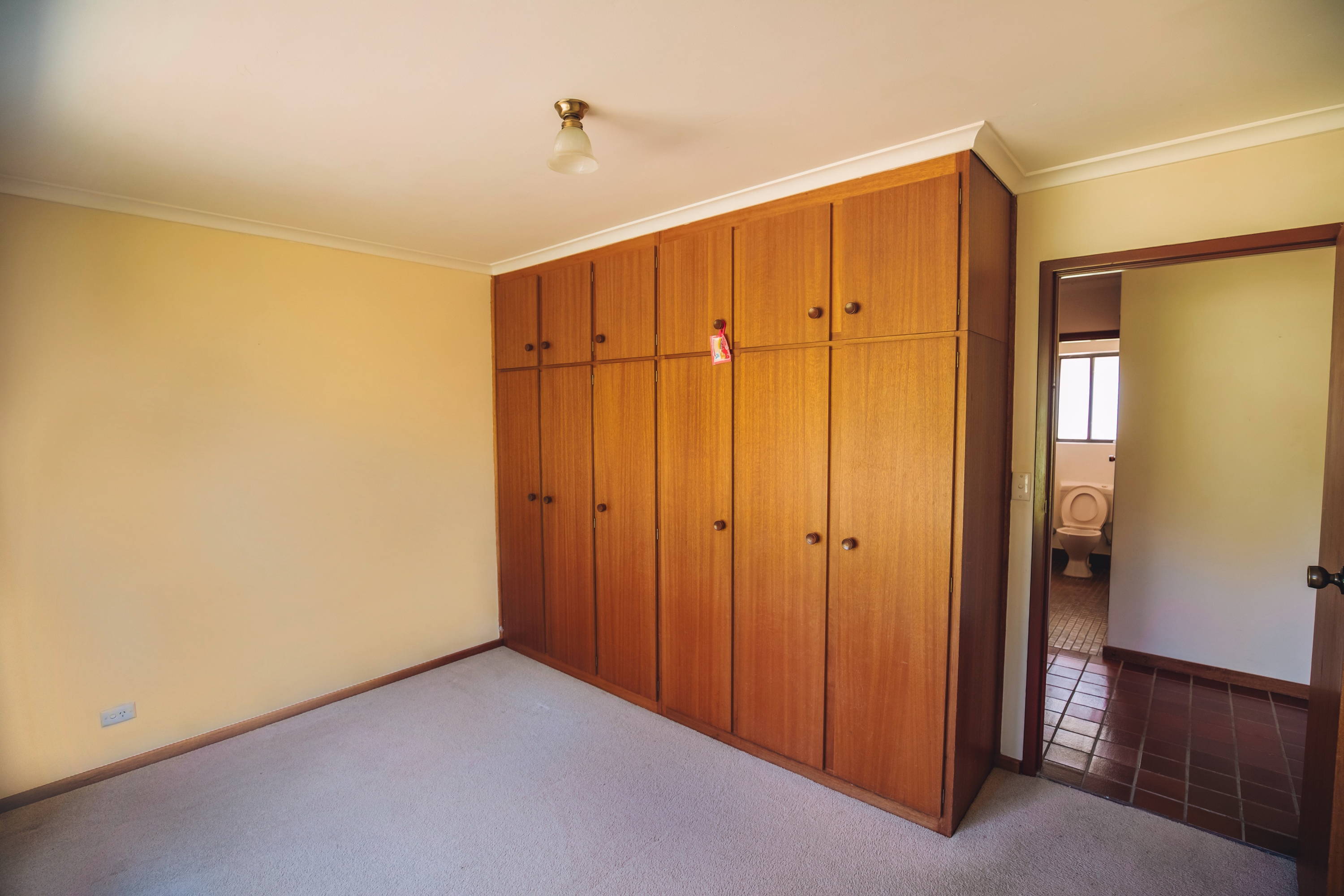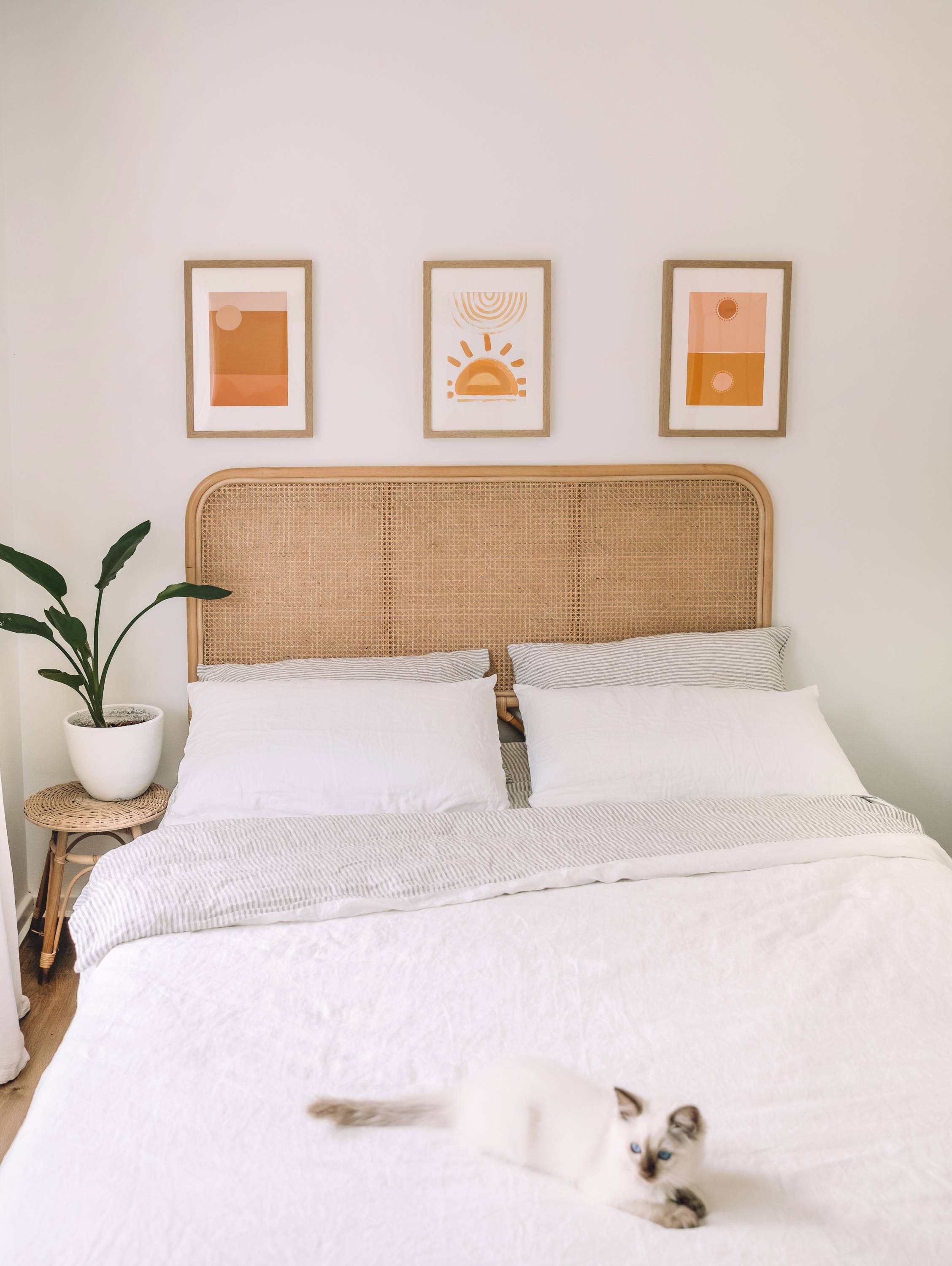 WILKIE'S BED
Although you can see him being a little ratbag all over the house, this is his little bed and he loves it! Sourced it from Sunday Isle (it's the small size).
I've never been a cat person, I got him for Dom - but I'm definitely one now - this little fluff ball has definitely made our house feel like a home.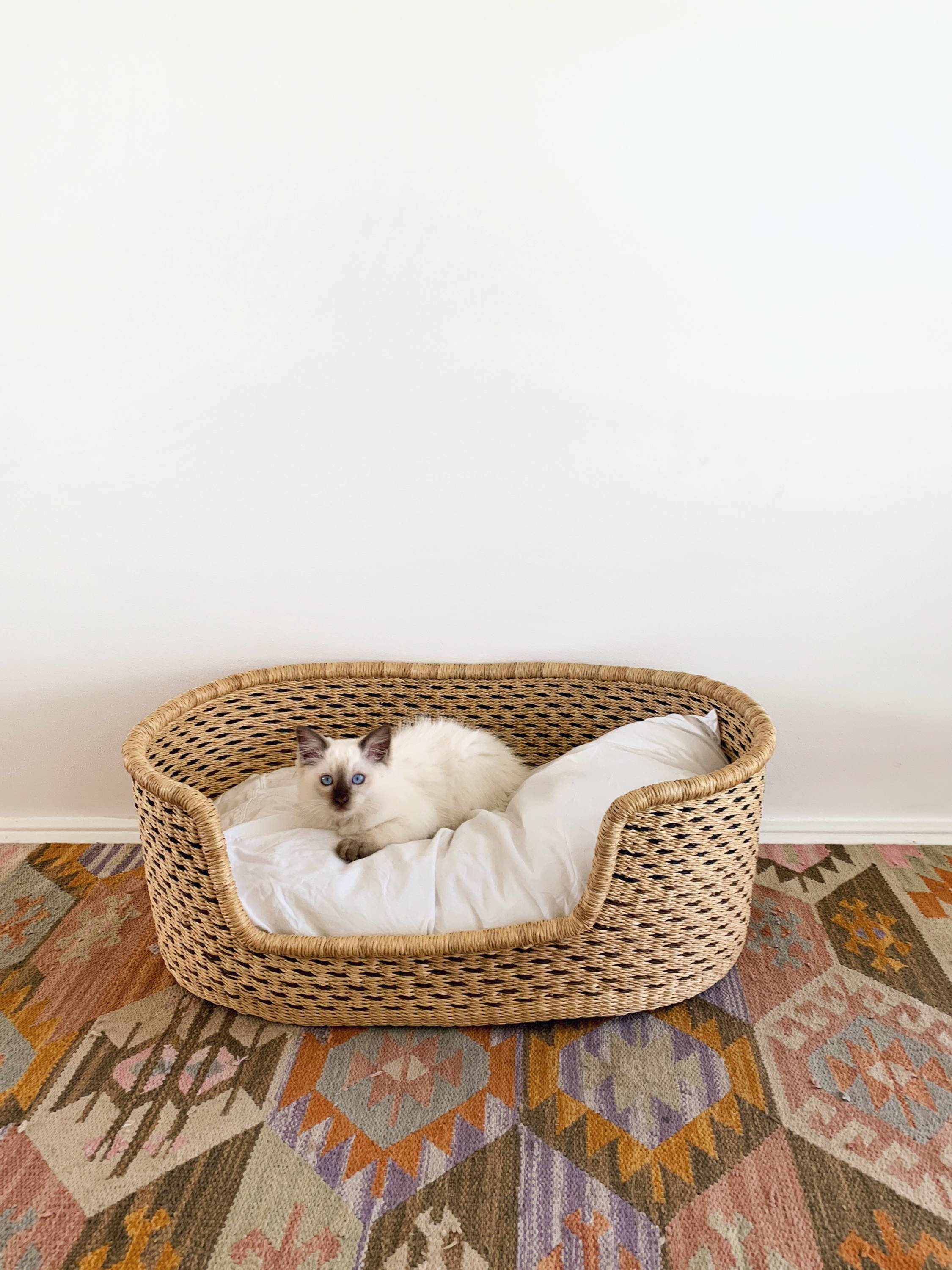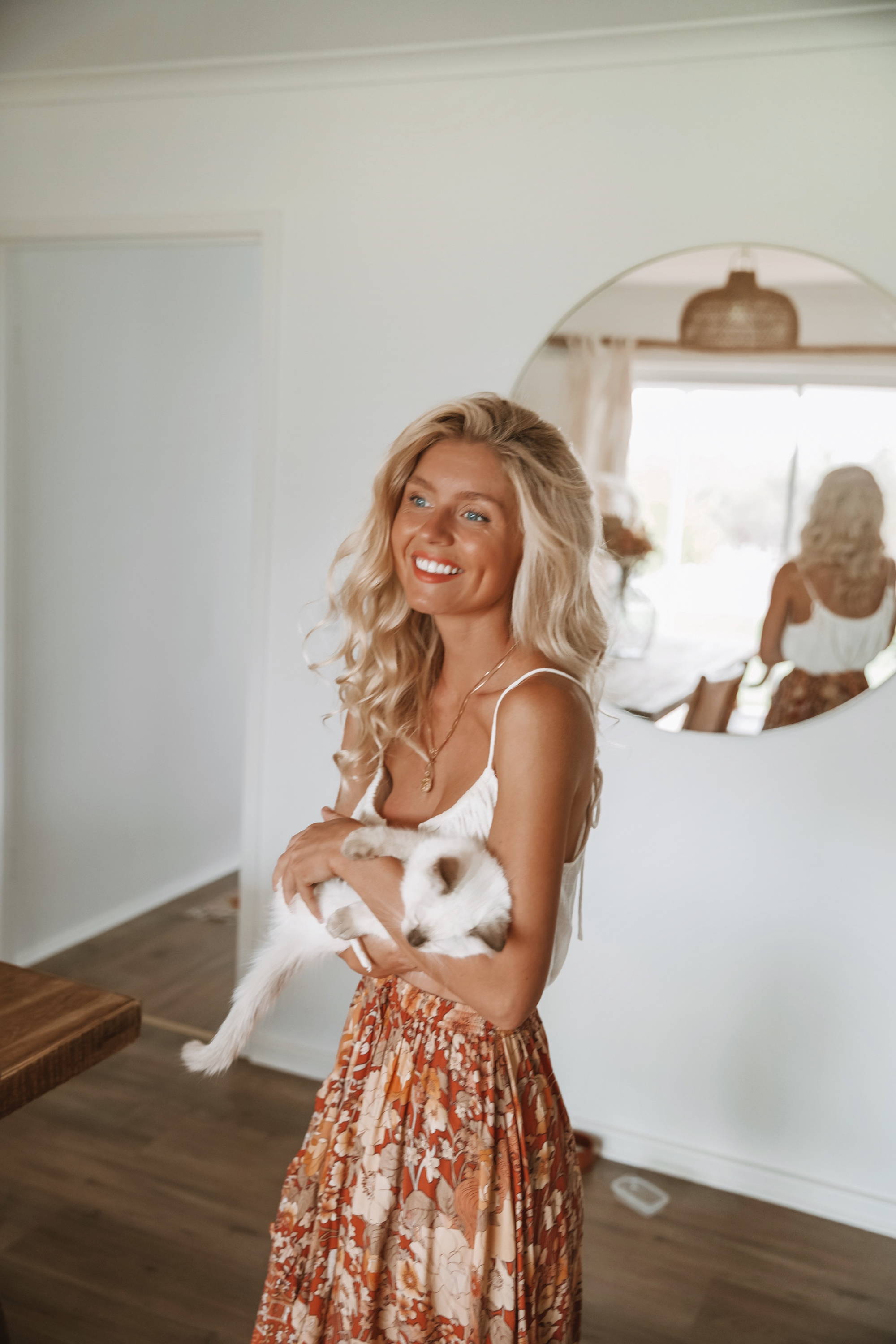 Thank you so much if you've read this far, or enjoyed this post - because it took me ages! Hahaha.
If you have any questions - or would just love to leave a note, please do so below, we'd really love it.
If you live in the South and are looking for any good tradies, please reach out - we can definitely pass on the number of an amazing Carpenter (but we need him a little longer! Then he's yours).
For our roof we used P & B Roofing, Paul was wonderful.
And for help with the tiles we used a great guys called Rhys - send me an email or message for his details :)